Florida House District 44's special election received little attention compared to other more high-profile races like St Petersburg Mayor and Senate District 40.  The district was opened when Rick Scott appointed Incumbent GOP Representative Eric Eisnaugle to be a circuit judge.  This meant a traditionally GOP seat that flipped to Clinton last year would be open.  The question was, how competitive would the race be?
House District 44
House District 44 sits in the Southwest corner of Orange County.  The district is home to the Disney World parks and resorts and upper-income suburban communities like Winter Garden.  The district has been traditionally Republican, but Hillary Clinton surge to win the seat last year.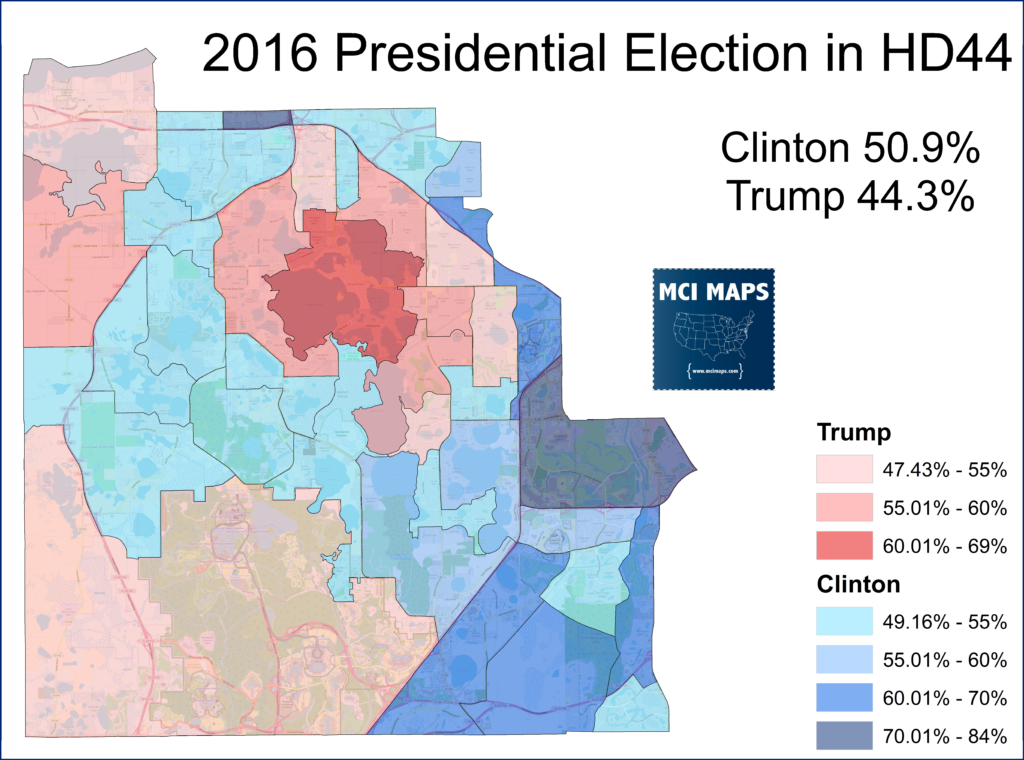 Clinton's win was thanks to well-educated, upper-income whites going against Trump, a phenomenon seen in other regions of the state and nation as well.  The district is one of the most educated in the state, with over 44% of its 25 and older residents holding Bachelor Degrees or Higher.  The district saw Trump do 9% worse than Romney as a result.  The most educated house seats in Florida are below.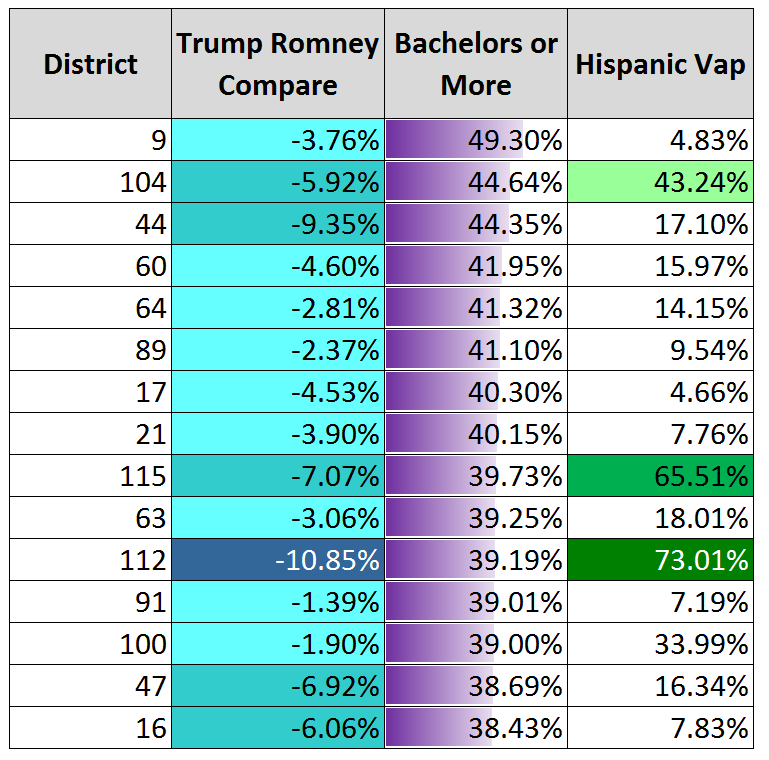 The biggest factors in any district's swing away from Trump largely came down to high education levels and high Hispanic share.
The district's most educated suburbs are in the western middle portion of the district, around communities in Winter Garder and Lake Butler.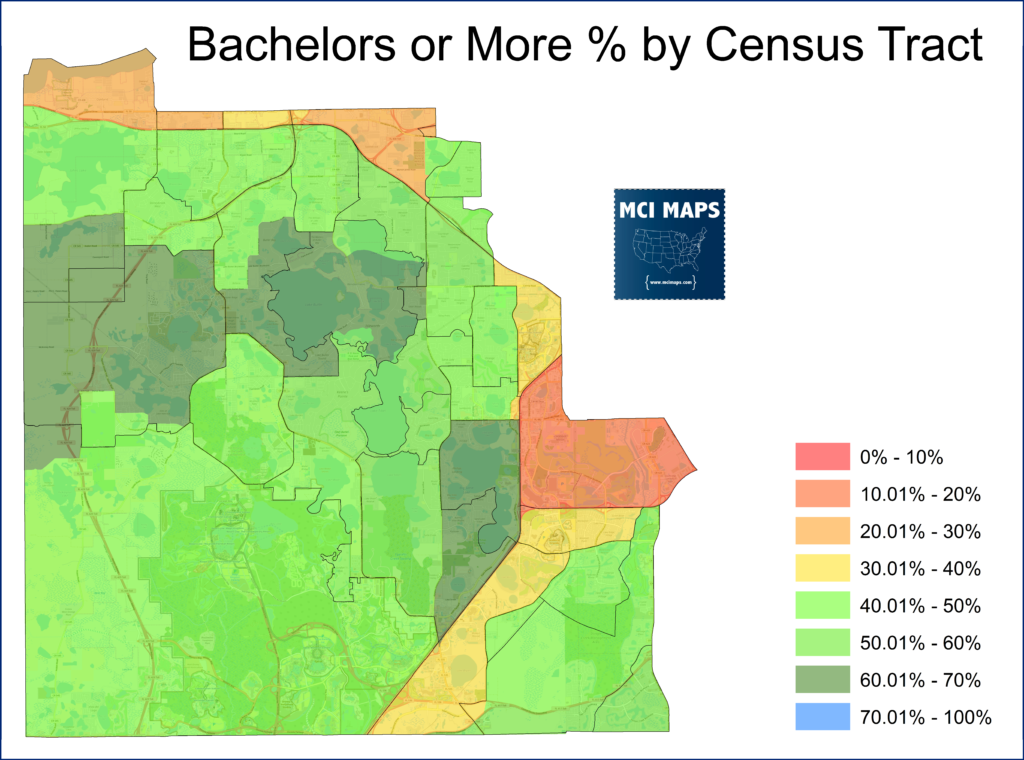 Likewise, upper income communities also lie in the center and western end of the district.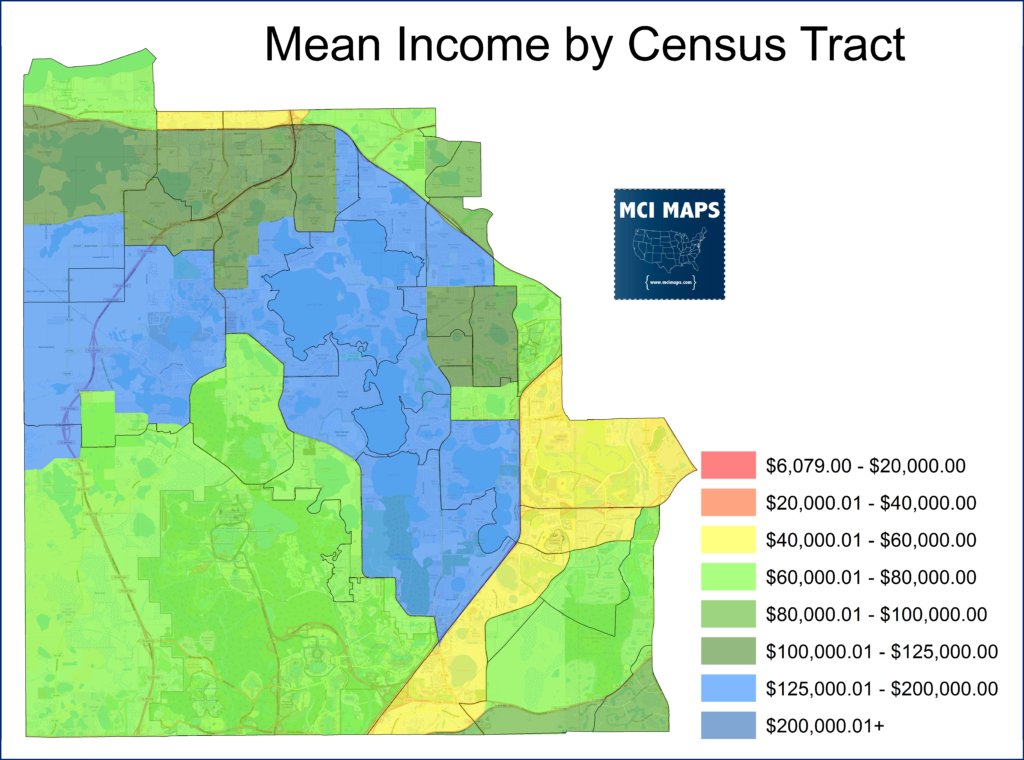 These upper-income and better educated areas were largey lukewarm to Trump but were much more friendly to GOP Senator Marco Rubio.  In the US Senate election, Marco Rubio won the district by 6%.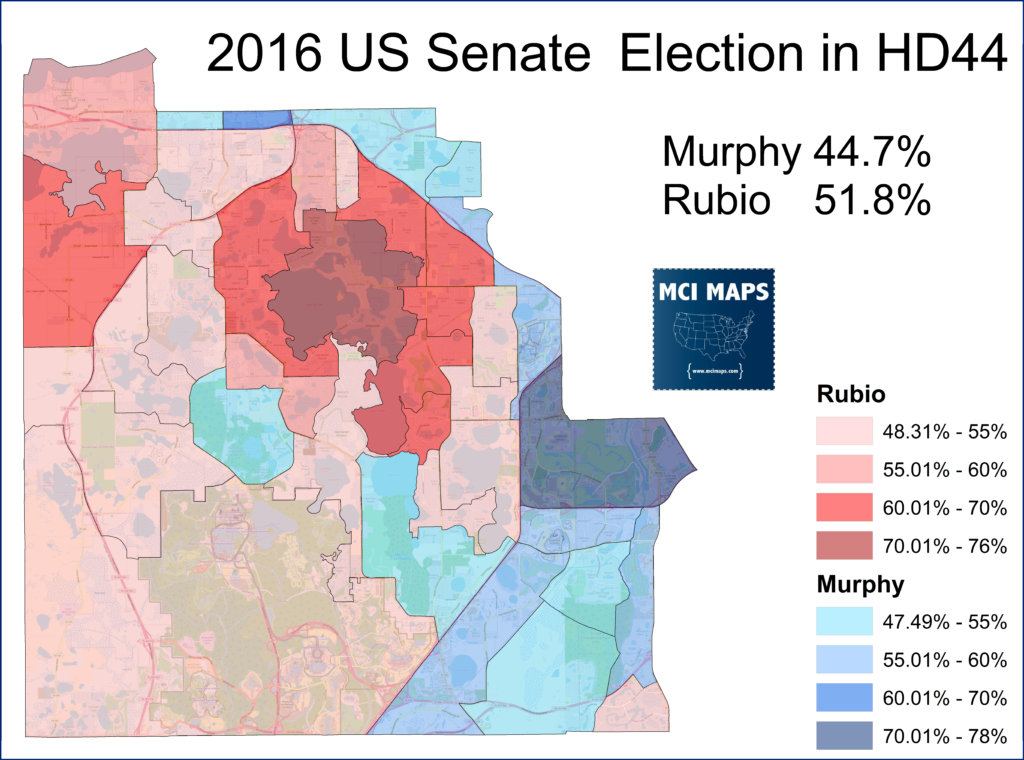 Rubio did better in the western suburban communities.  Meanwhile Trump did narrowly better in the precinct covering the Disney Parks and assorted housing around them.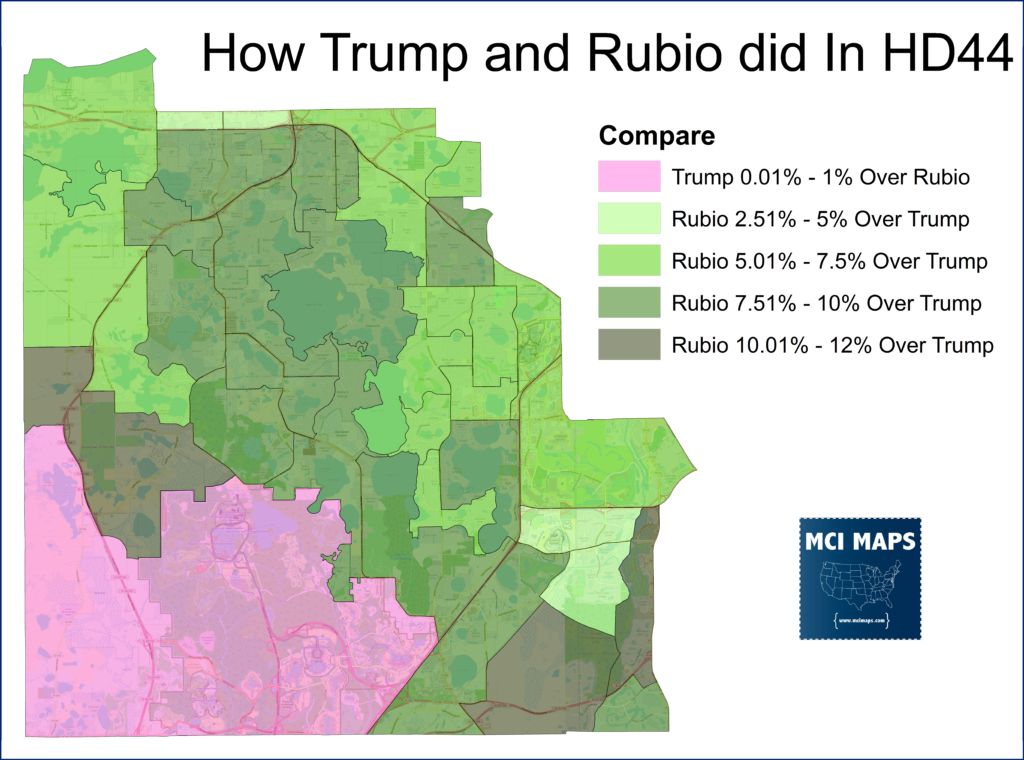 Looking at other elections show a clear regional pattern.  Republican do well in the western well-educated high-income suburbs, while Democrats do better in the more diverse, lower income eastern precincts.  The districts surrounding HD44 in Orange are minority-majority seats and the border precincts are less white than the district as a whole.  The biggest source of GOP strength is the Lake Butler community, which has a median income of over $110,000 a year.
Overall Republicans have solid wins in the district going back the last several years.  The exception being Bill Nelson is his 2012 re-election.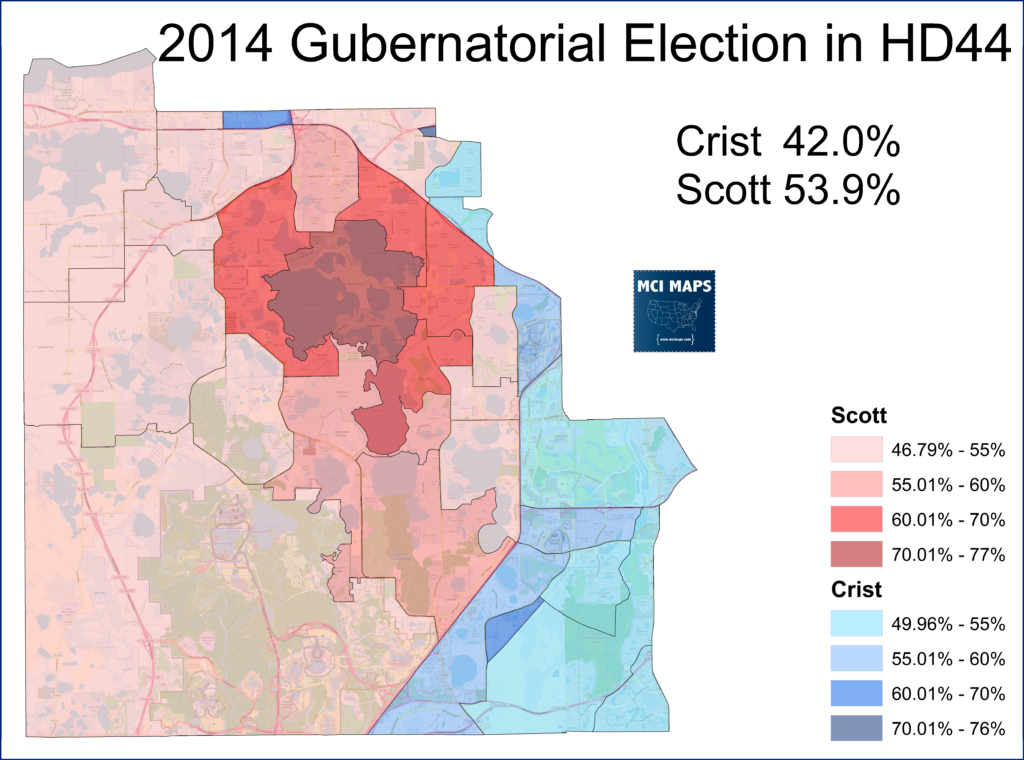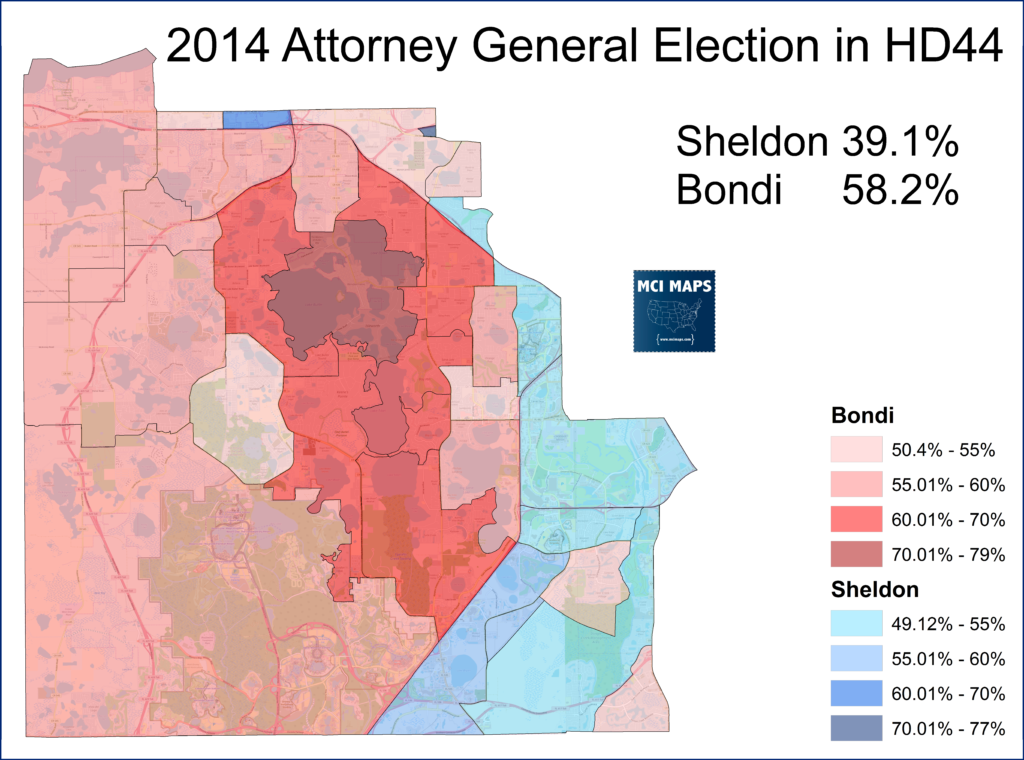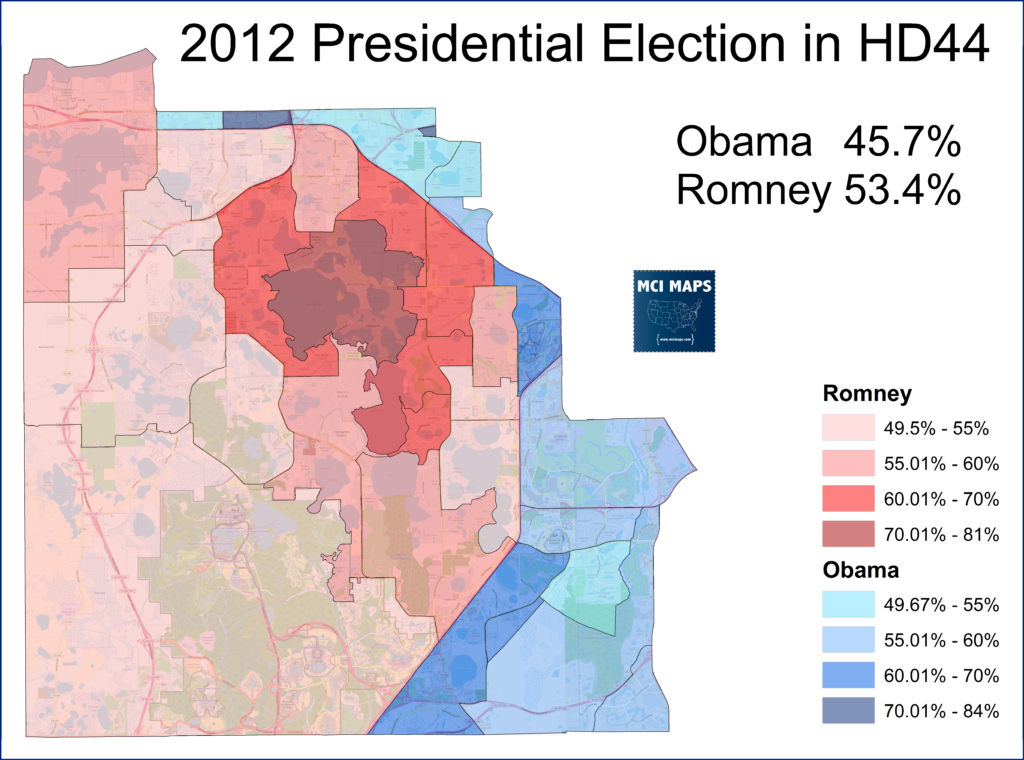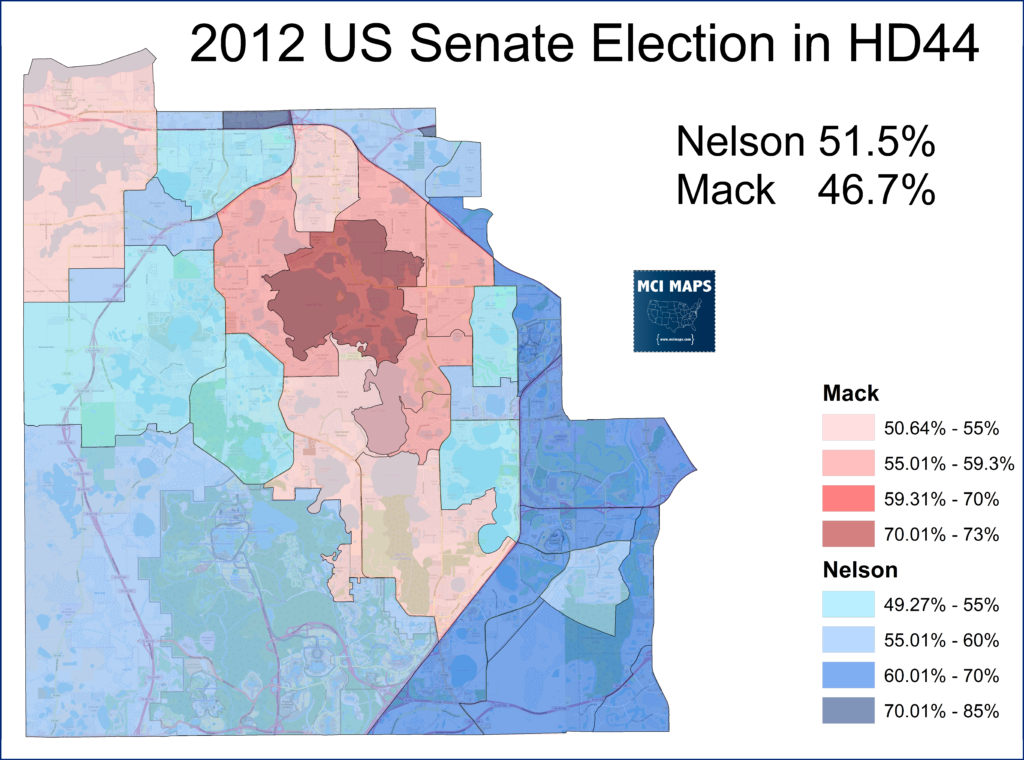 Nelson's win saw much support around Disney and in parts of Winter Garder.  The Lake Butler area stands out even more in the Nelson map, remaining in the GOP column.
The district's GOP lean toward the GOP in statewide races is modest but fairly consistent.  Clinton and Nelson stand out as the only two modern Democrats running statewide to take the seat.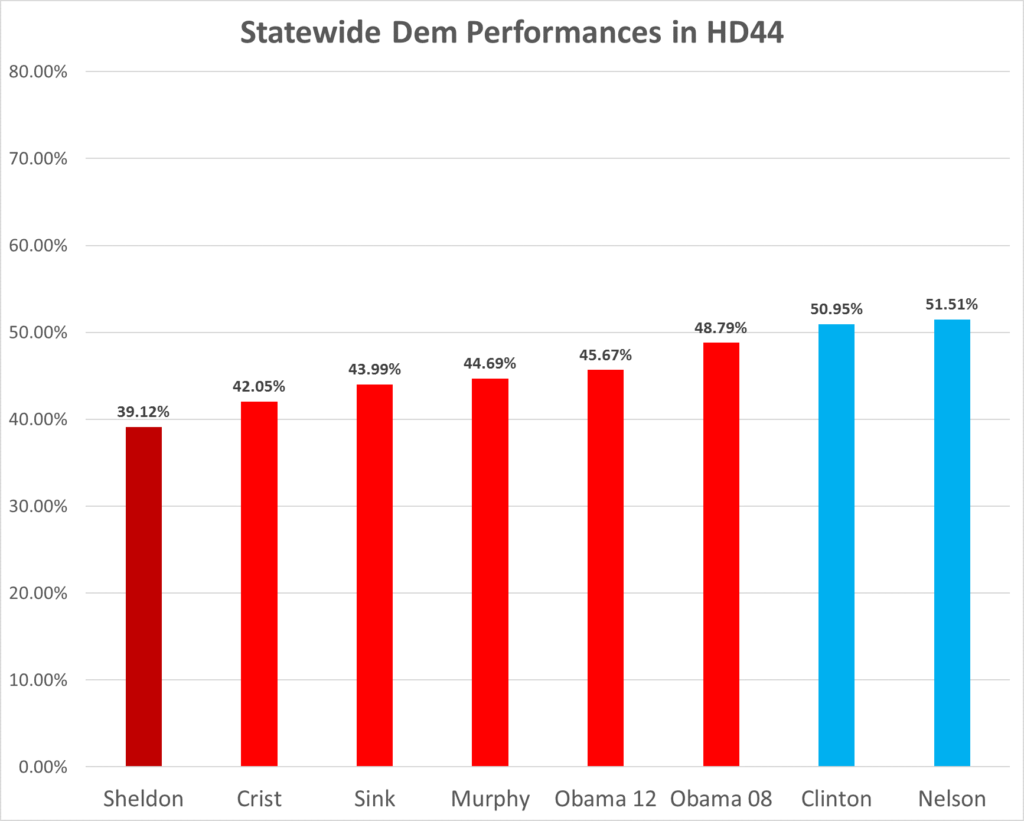 While the district is fairly Republican, that doesn't mean it can't back more local Democrats. The Democratic Sheriff and Property Appraiser won the seat (both outperforming Clinton in the county).   Sheriff Demings, who won 65% county-wide, took 58% in the district, winning all but the Lake Butler area.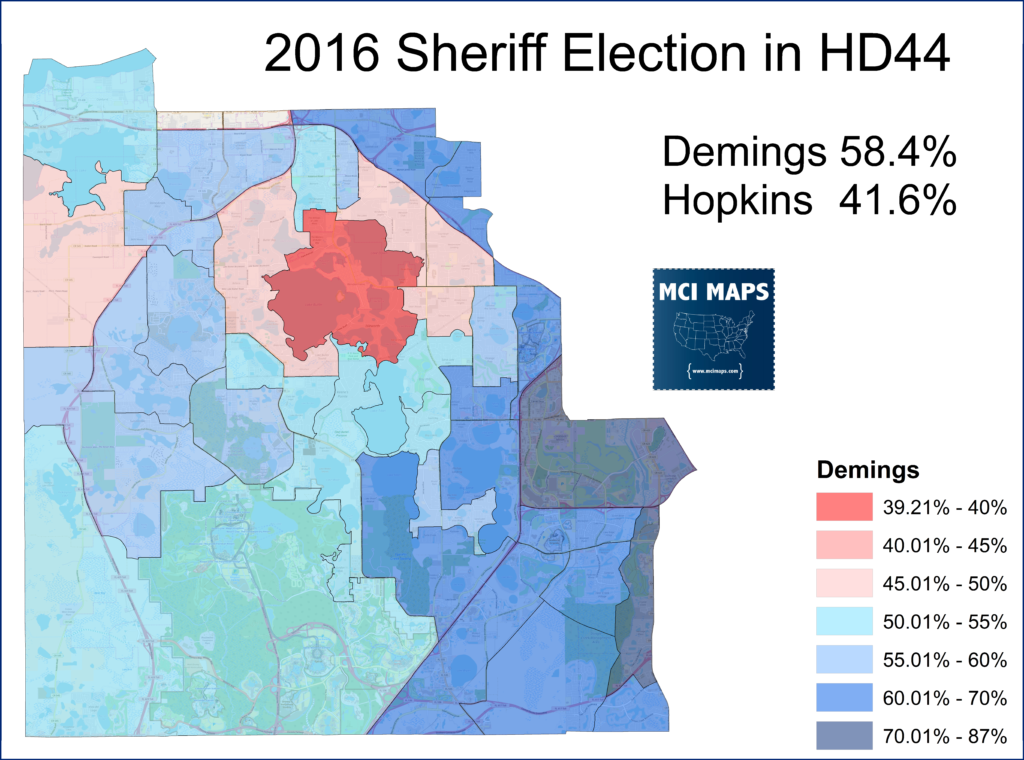 The district's overall performance is that of a modest Republican seat.  There was some interest from Democrats in challenging for it.  However, candidates and money would be the x-factor.  Democrats overall remained focused on St Petersburg Mayor (propelling Kriseman to a shocking 1st place in August) and SD40 (which saw Democrat Taddeo take the seat from the GOP).
2017 Special Election
Democrats managed to land a recruit, Democrat Paul Chandler.  The GOP, meanwhile, had a primary go get through first.  The primary was hard fought and generated more money than the general election did.  In the end, former Winter Garden Commissioner Robert Olszewski won; taking his home city and a slew of other suburbs as well.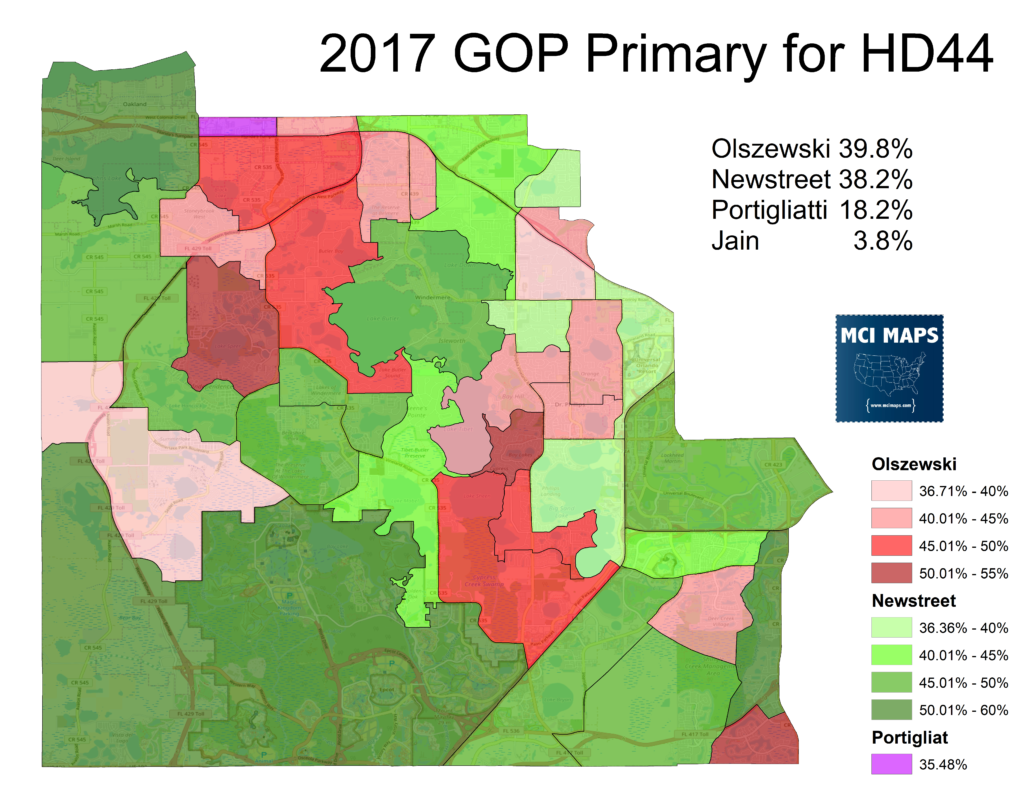 For Democrats, drama around Paul Chandler became a major issue in the general election.  It turned out Chandler, who has ties to Florida and Missouri, was registered and voted in 2016 in Missouri, not Florida.  Florida law requires candidates for office to be residents of Florida for two years.  A GOP-backed lawsuit sought to disqualify Chandler.  Originally Chandler said he would win the case, then it seemed he planned to drop out (just in time for his name to be replaced on ballots), then he decided to stay in.  Chandler finally dropped out, but after ballots were already printed with his name on them.  Orange County Democrats picked Eddie Dominguez to be their candidate with just weeks to go.  Voters were informed voting for Chandler on the ballot would mean voting for Dominguez.
While all this was going on, the GOP was building a strong turnout advantage in early and absentee voting.  Heading into election day, the GOP had over 52% of all ballots cast – well beyond their normal share.  Democrats, just coming off their SD40 win, put some modest last minute investment in to help Eddie.  Staff and office space were in-kinded to the campaign and the party pushed digital GOTV ads in the final week to get folks out on election day and at the close of early vote.  Canvassers went out knocking on doors, but at a fraction of what was done in SD40.  With St Petersburg's runoff a little under a month away, no major cavalry came in.
When the results came in for HD44, the GOP did indeed win, but by a closer margin than many expected, 56-44.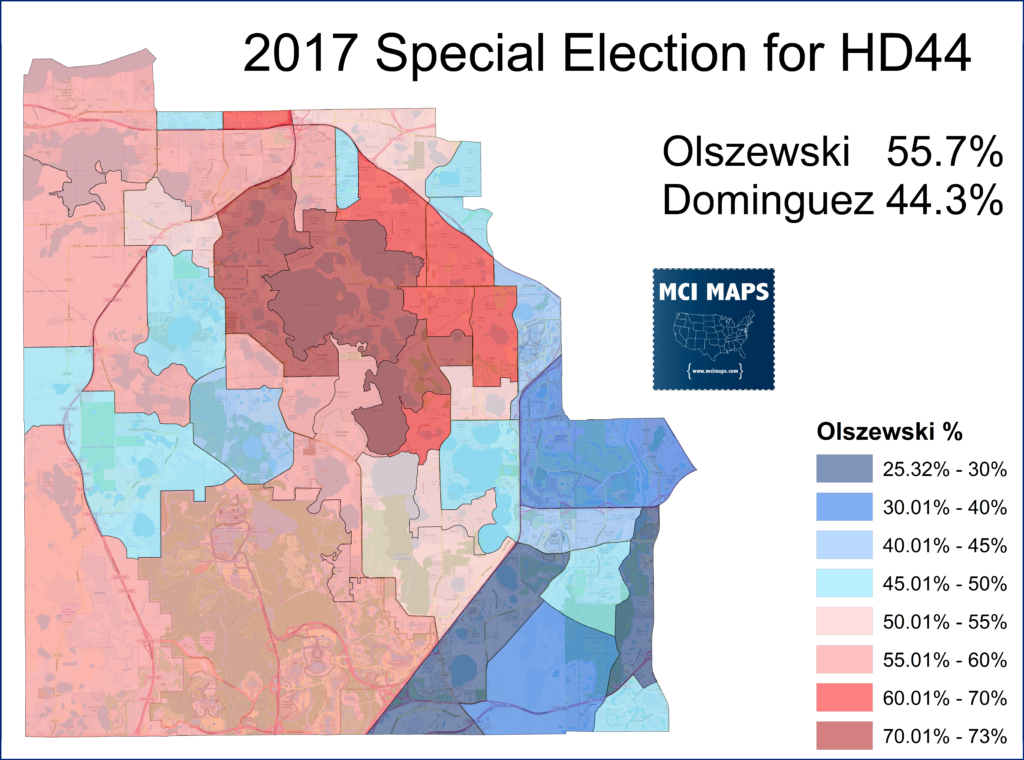 Eddie Dominguez managed to pull in 44% of the vote.   He has only raised $6,000 compared to Olszewski's $127,000 (much of that was in the primary). Overall, the GOP had not put much into the general but they still had far more resources invested than the Democrats.  Democrats lost early and absentee as expected, but actually won election day by 3%.   We don't have turnout data by party for election day yet, but its clear to me it featured more Democrats than Republicans.

I did want to estimate what election day turnout might look like.  Assuming 95% of Ds and Rs voted for their parties candidate, then NPA voters split 45% for Dominquez and 55% for Olszewski.  Assuming NPAs made up a similar share of the vote on election day than they did in early/VBM, I calculated an estimated partisan turnout for the district.

While this is just an estimate, I believe there is a degree of logic to the numbers.  Democrats likely had a modest turnout advantage on election day, which narrowed the overall GOP turnout edge, but still resulted in a turnout that was more Republican in 2016, but fairly close to the 2014 turnout share.

Considering the modest Democratic GOTV effort at the last minute, the turnout dynamic being as good as it was is rather impressive.  It confirms my general belief that Democrats are amped up and even a modest GOTV push can yield big dividends.
A look at HD116
This theory is further amplified by the special election in FL HD116, a heavily Cuban seat in Miami-Dade that happened the same day as SD40.  The seat, one of the most Cuban in Florida, has long been solidly GOP, with Trump being the lone exception.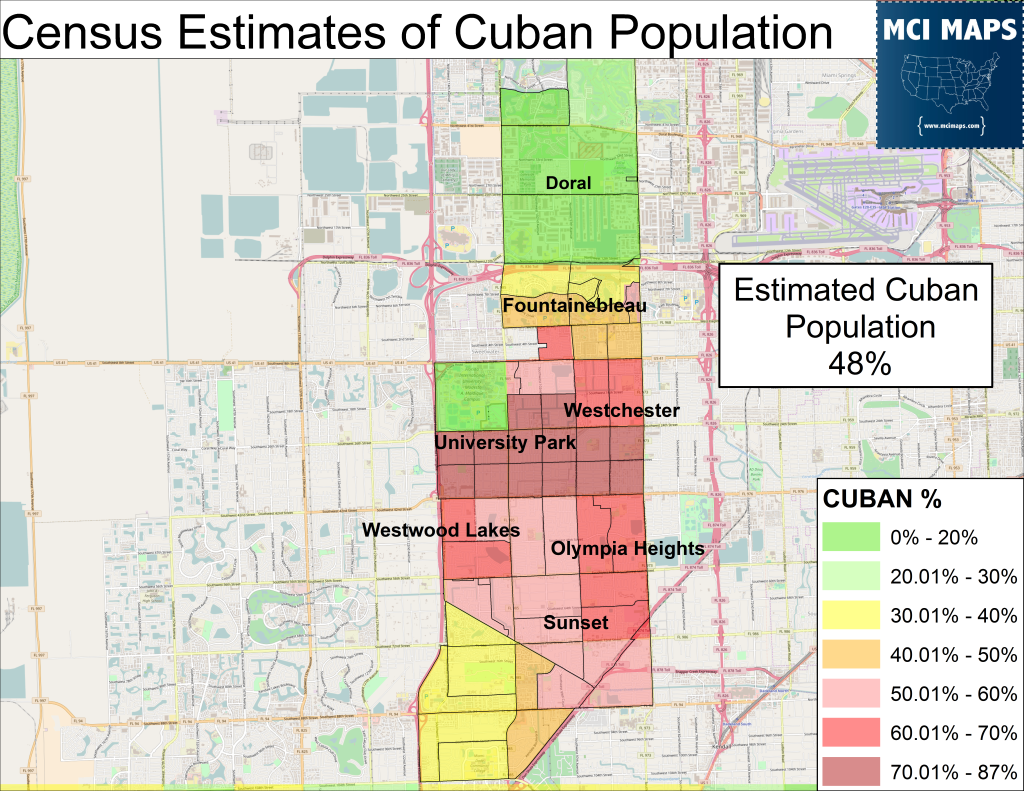 In that special election, the Democratic campaign was non-existent and Democratic GOTV operations were focused in SD40 (and more outside some of the Cuban precincts that overlapped with 116).  Despite Clinton winning the district, the GOP candidate won in a landslide.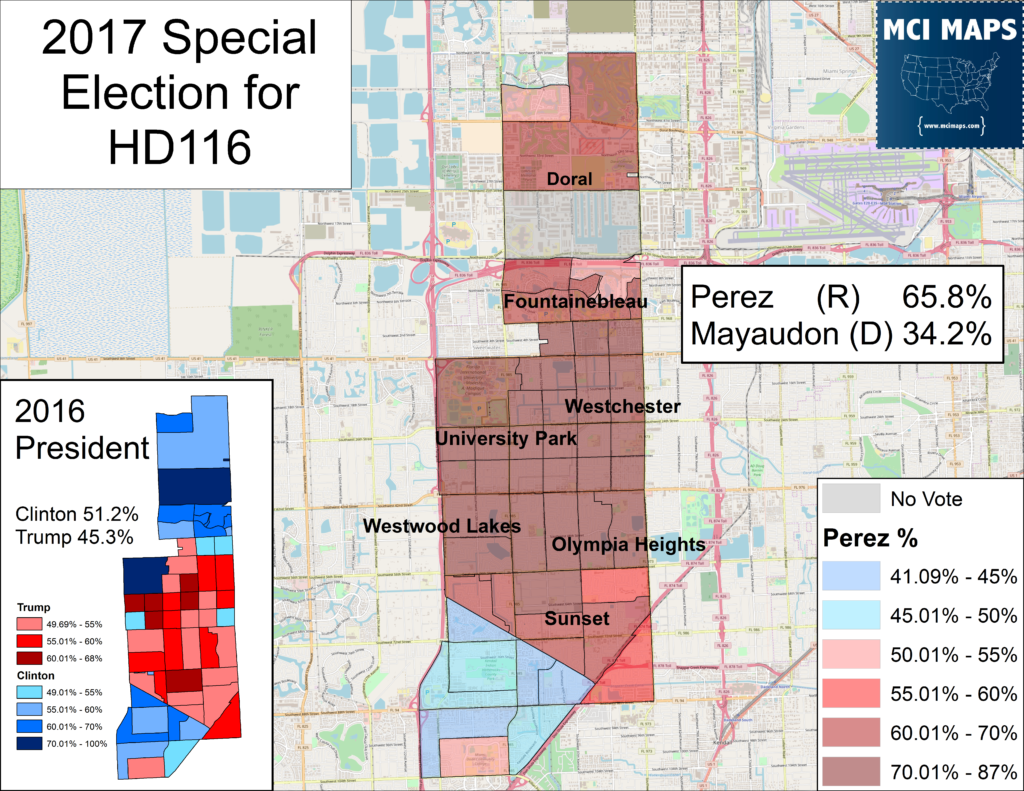 The district, more than any other Clinton seat, was never really in play for Democrats.  Clinton's win there was all about anti-Trump sentiment and the GOP normally crushes in the seat.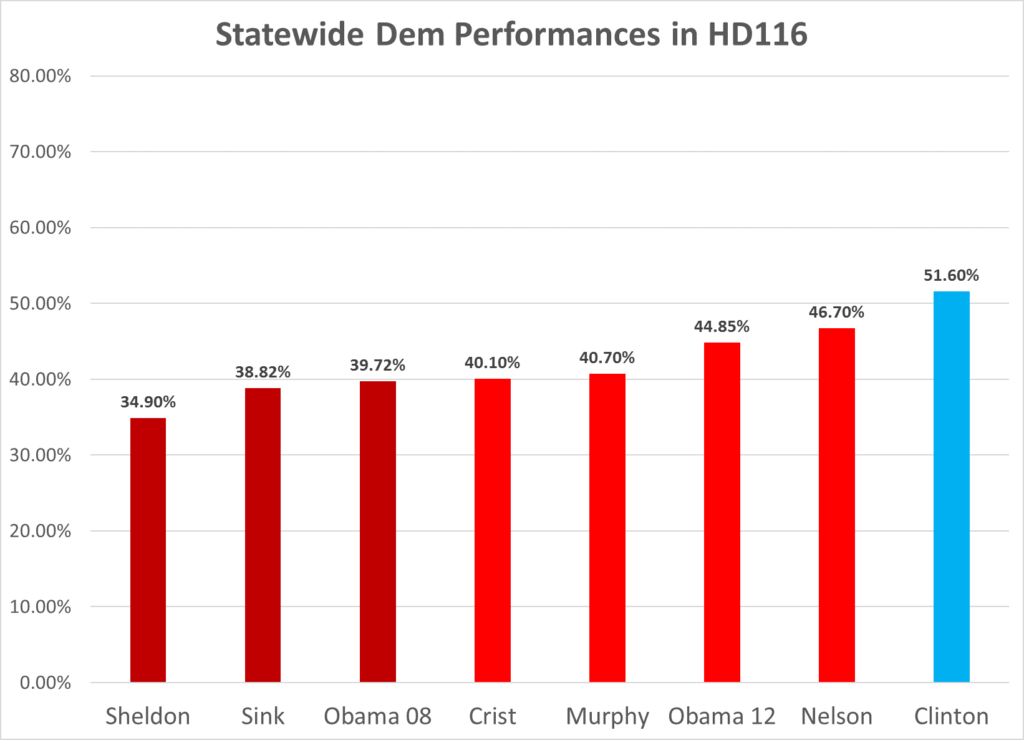 Clinton is perhaps the 1st statewide Democrat to ever win the seat, Nelson even lost it in his 2006 landslide re-election.  Because of the lack of Democratic investment, the nominee was crushed in early/absentee/ and election day.   The turnout figures available show the GOP advantage compared to 2016.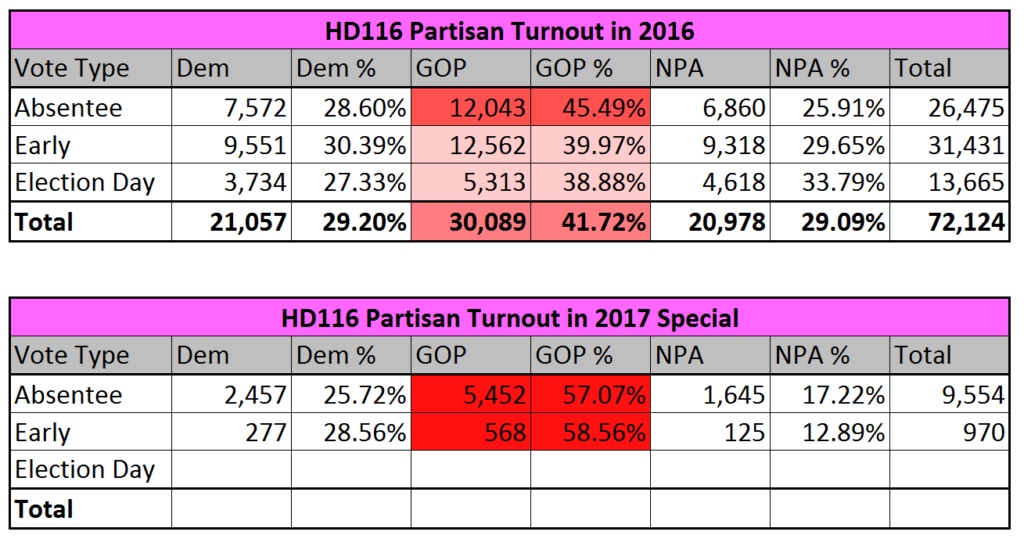 While we don't have election day date yet (annoying I know) the early and absentee data says alot.  The GOP was well over their 2016 share and considering election day broke 59-41 for the Republican, I am guessing election day saw a a solid GOP advantage (albeit a bit smaller than their early/absentee lead).
The lack of a GOTV operation in HD116 meant the GOP maintained its special election turnout advantage.  The presence of a modest GOTV push at the last minute in HD44 showed that Democrats are fired up; they just need to be pushed a little bit.
Moving Forward
These results show the atmosphere is good for Democrats. The base is geared up and GOTV operations are yielding solid results.  The closer-than-expected results in HD44 make the race at least worth watching next year as well.  If Democrats can improve the turnout more they could pull off an upset if next year becomes a blue wave.  The results confirm one thing for sure… Democrats in Florida do have reasons to be optimistic; those door knockers are worth more now than they have been in years.