Virginia Congressman Randy Forbes shouldn't have had any troubles getting re-elected in 2016.  The Congressman has been a member of the House of Representatives since 2001 and has faced little electoral trouble in his 15 year congressional career.  Forbes initially sat in the 4th congressional district, which following the 2012 round of redistricting, was a swing seat that voted for Obama in 2008 and Romney in 2012.   Forbes' closest call was in 2012 when he won re-election with 57% of the vote, 7 points better than Romney.   Forbes seemed set for as long as he liked.
Until Virginia's congressional map were thrown out.
2015-2016 Redistricting
In 2015, a federal court struck down the Virginia congressional map.  The issue was over the 3rd congressional district, a black-majority district that went from Richmond to Norfolk.  The court argued the district was illegally packing African-Americans, and that two African-American leaning districts could be created in the region, one tied to Richmond, another to Norfolk.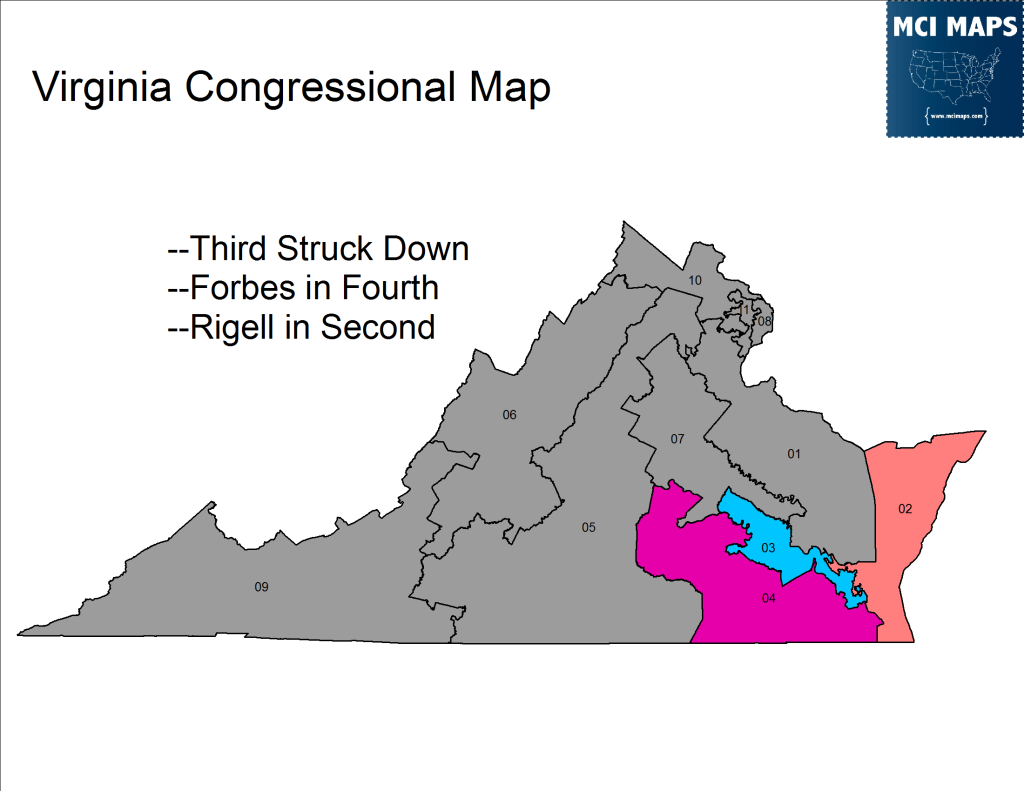 This instantly put Forbes in danger, as his 4th district was likely to be the one taking in Richmond.
When the legislature could not come to an agreement over a redistricting map (with the Democratic governor likely to veto anyway), the courts had University of California Professor Bernard Grofman draw up proposals, both of which made Forbes' district a new African-American seat.   The court's chosen map made the fourth district a 41% Black Voting Age Population seat that gave Obama 60% of the vote in 2012.  Forbes lost many Republican-friendly regions and gained heavily Democratic Richmond.  The new map can be seen here and here.
Forbes seemed doomed.   However, he lucked out when Congressman Scott Rigell, the Republican representative of the 2nd district, opted to retire.  The 2nd district, based out of Virginia Beach, was a swing seat, voting for Obama in 2008 and Romney in 2012, just like the old 4th.  Forbes announced he would run in the 2nd and seemed a lock for the seat.  While Democrats wanted to have a shot to win the 2nd, no serious Democrat filed thanks to the prospect of taking on the well-financed Forbes.
The 2016 Republican Primary
Forbes only had one serious challenger for Republican primary, state delegate Scott Taylor.   Taylor had run for congress in the 2nd in 2010 and run for Virginia Beach mayor in 2008, losing both times.  Taylor had won his state house seat in 2013 and badly lagged Forbes in fundraising.  However, Taylor hit Forbes hard for 'carpetbagging' into the district.  Taylor chastised Forbes for abandoning his constituents in the 4th to 'save his butt.'   Forbes, meanwhile, touted his seniority in Congress, especially the Armed Services Committee, and the benefits it would bring to the 2nd, which was the home to multiple military bases.  Forbes seemed to feel the heat from Taylor, spending money to attack Taylor in a television ad.  The race did get nasty, but not over policy, but rather personal accusations over FEC filings, traffic tickets, real-estate companies, and little policy.   Taylor touted his service as a Navy Seal and his heavy activity on military matters, aiming to counter Forbes' seniority on Armed Services argument.
All said, Forbes spent $700,000 to Taylor's $91,000.
When the results came in, Taylor won in an upset, taking 52% of the vote to Forbes' 40%.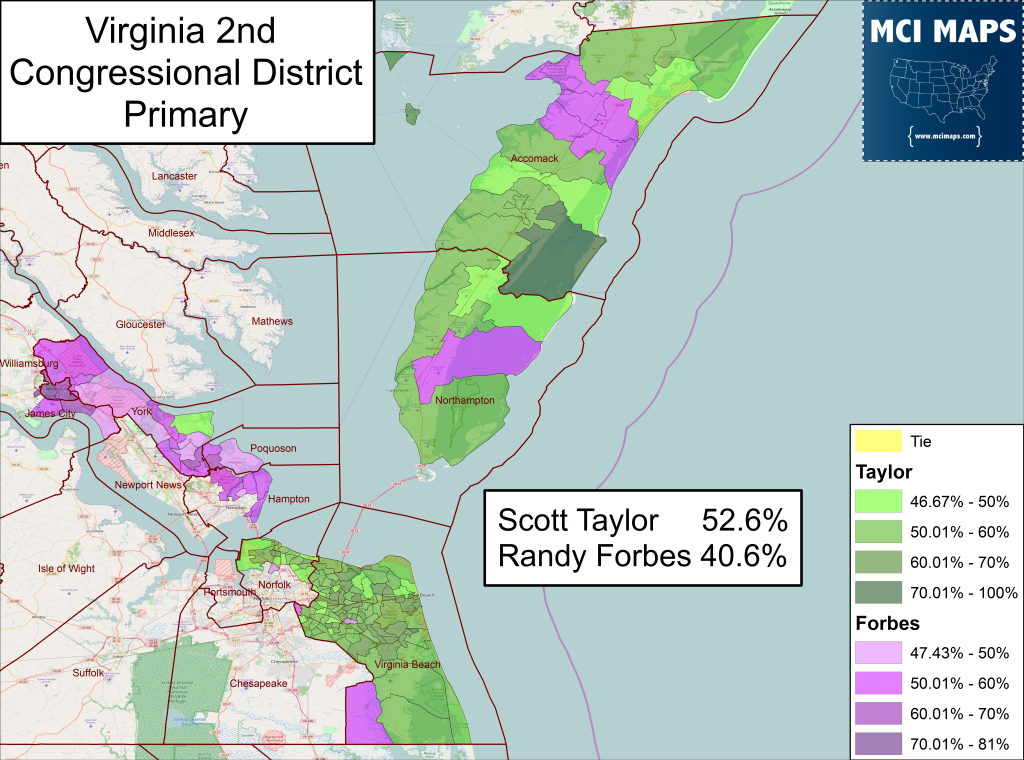 The key for Taylor was his utter domination in Virginia Beach, where he won nearly every precincts.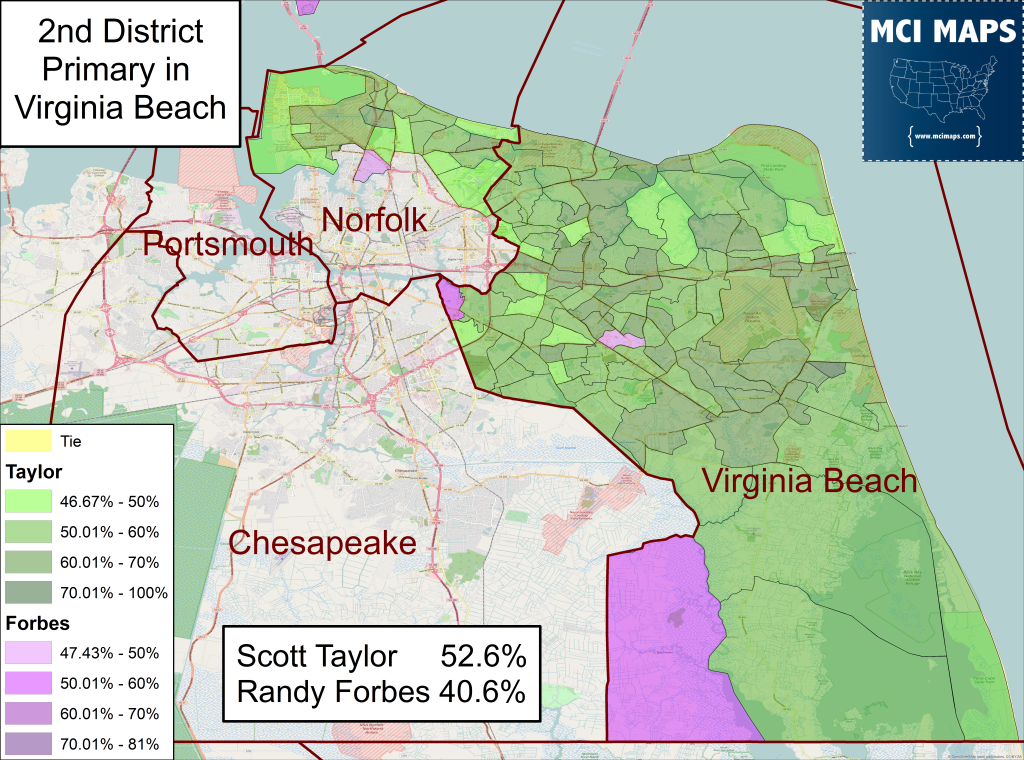 Virginia Beach accounted for 68% of the vote in the primary.  While Forbes narrowly won the combined vote outside of Virginia Beach, his 36-56 loss in the city made winning the district impossible.

Taylor's house seat is based out of Virginia Beach, but only accounts for 12% of the primary vote.   Taylor's strength stretched beyond his seat and into the region around it.  While Taylor had been unsuccessful in his bids for Congress and Mayor in the past, the voters clearly viewed him as someone more committed to the area.
From all accounts, no major policy disagreements separated the candidates.  Taylor was a conservative, much like Forbes, and the biggest issue seemed to lay on Forbes moving into the district due to redistricting.  Claims of carpetbagging have a hit and miss record, sometimes working and sometimes falling flat.  It could simply be that when all other things are equal, the issue can drive voters more than it otherwise would.  Forbes may also have given his opponent too much of a podium by heavily attacking him in the last few months.  Taylor wasn't a nobody, but Forbes definitely gave him exposure with attacks, which always gave Taylor a chance to respond in the press that Forbes didn't live in the district.  Some of Forbes' attacks over FEC filings where debunked by FactCheck.org and issues like FEC reports or traffic tickets may not have resonated with voters as much as an issue about who is committed to the district.  Forbes was also hurt by the fact he had publicly stated that if the Supreme Court has re-instituted the old congressional map, he would have resumed his plans to run in the 4th, something that likely added to the voter's concerns about his commitment to the area.
Forbes' loss in Virginia should serve as a stark reminder to other politicians that jump districts and run in new territory; don't count on your seniority bailing you out.  If the voter's don't think you are committed to them and they have a viable alternative, you may find yourself out of office.