New York Congressman Charlie Rangel opted to retire in 2016 after over 4 decades in Congress.  Rangel was a powerful figure in New York and Democratic politics, surviving ethics investigation and major changes to his Congressional District.  When Rangel won his seat in Congress in 1970, the district was an African-American seat, but over the years the region Rangel has Represented (Northern Manhattan and portions of the Bronx) has seen a growing Hispanic population.  Redistricting and demographic changes resulted in the 13th district, as drawn in 2012, being majority Hispanic.  The district is currently 54% Hispanic (many Dominican American) and only 25% black.  However, two key dynamics keep the African-American candidates in play in Democratic Primary in the district.  First, New York's closed primaries benefit African-Americans, who are overwhelmingly registered with the Democratic primary while a small, but notable, share of Hispanics are registered no party.  In addition, and a bigger factor, African-Americans have a higher turnout than Hispanics in the region, indeed a turnout trend seen in other parts of the country as well.  These dynamics helped Rangel beat back tough primary challenges in 2012 and 2014 from Hispanic State Senator Adriano Espaillat.  Espaillat almost beat Rangel in both elections, but the congressman narrowly held on.  In 2016, Rangel decided to retire.
The open race gave Espaillat a good opportunity to finally win the seat he had tried and failed to win before.  Espaillat benefited from a split black vote in the race.  Assemblyman Keith Wright was the strongest African-American candidate, boasting the most money of all the candidates and having the backing of prominent democratic politicians.  Another African-American candidate was Clayton Powell IV, a former assemblyman and son of the congressman Rangel beat in 1970.   In addition, a former DNC official, Clyde Williams, added to the list of African-American candidates.
Espaillat didn't have the Hispanic vote to himself though, as Assemblyman Guillermo Linares was also running.
The race was close, and as of now some ballots are still being process, but it appears Espaillat has won with a narrow margin of just over 1,000 votes against Wright.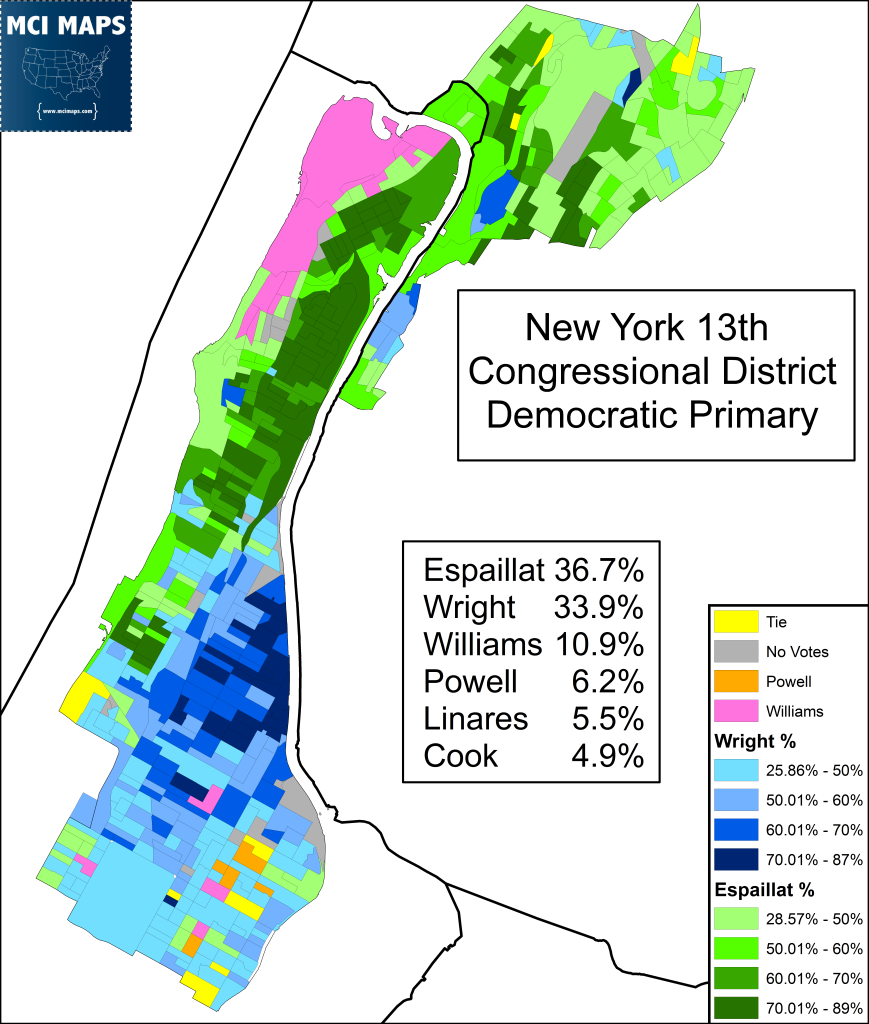 You can see street-view of this map here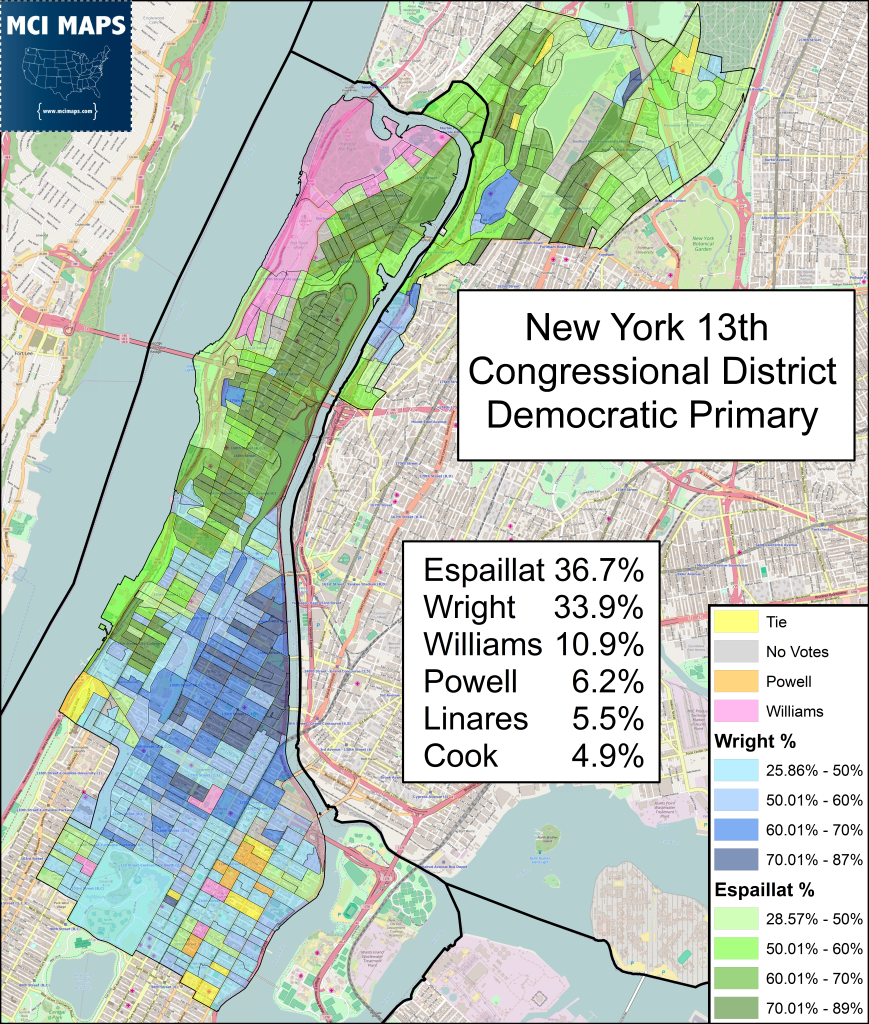 The race was very close between Wright and Espaillat.   What really stands out is the divide in the district.
Espaillat won in the Bronx and North Manhattan, where the Hispanic voters are.  He won the major Hispanic neighborhoods in Manhattan – Inwood, Marble Hill, Washington Heights; as well as the Hispanic areas of the Bronx like Kingsbridge.
Wright won Harlem handily and won Spanish Harlem with less than 50%, with Powell taking a strong share of the vote there.
The map below shows Espaillat's share of the vote only.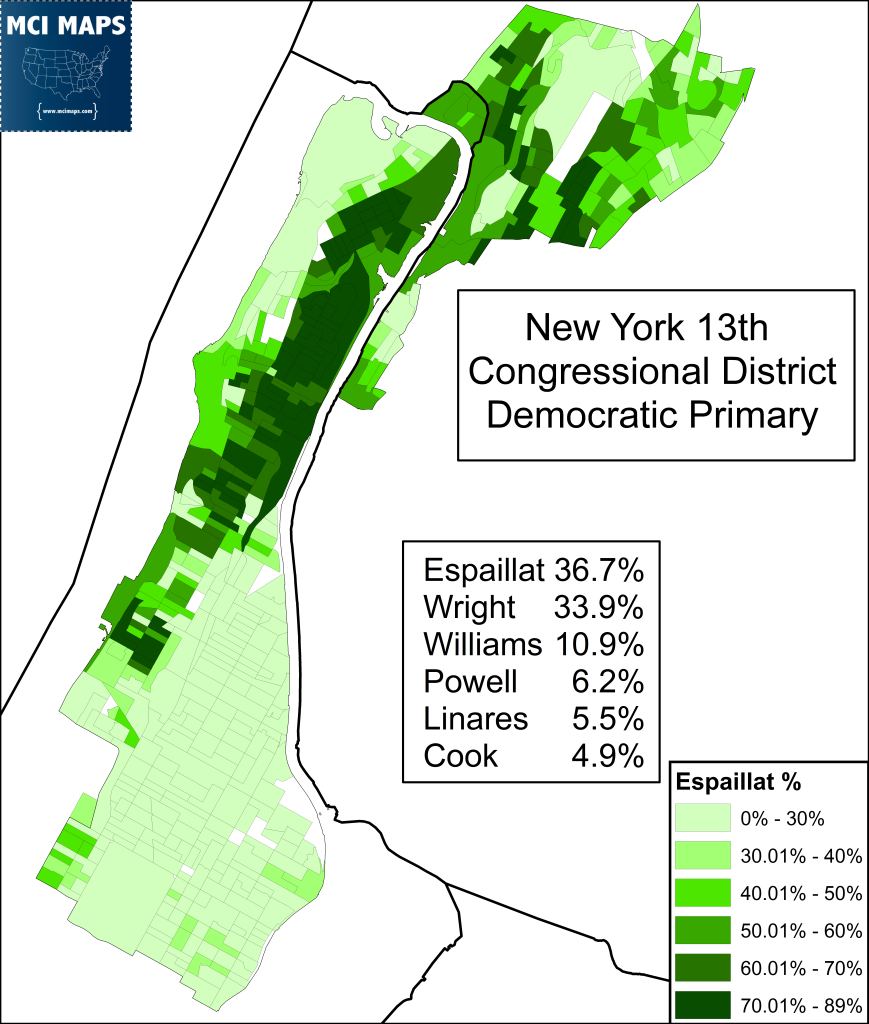 He did poorly in Harlem, no surprise, but even did poorly Spanish Harlem despite its prominent Hispanic population.
Wright's share of the vote map is below.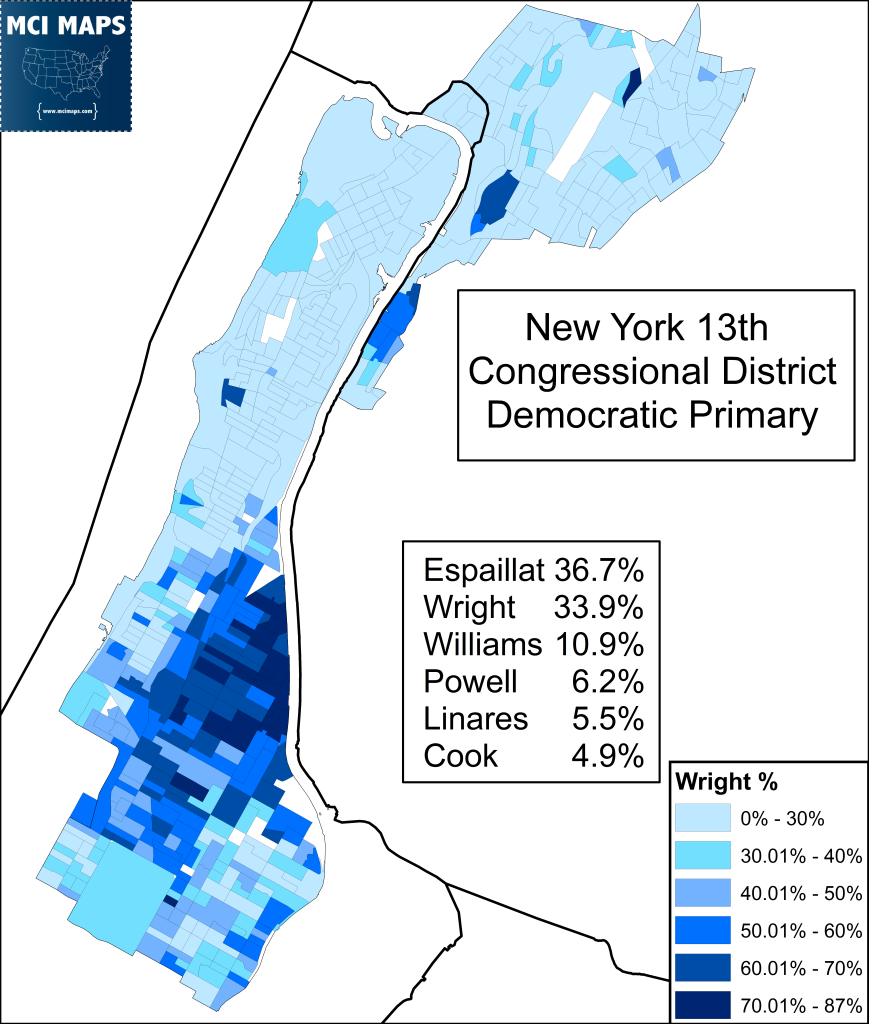 Wright's best showing was in Harlem and decent showings in the Spanish Harlem region.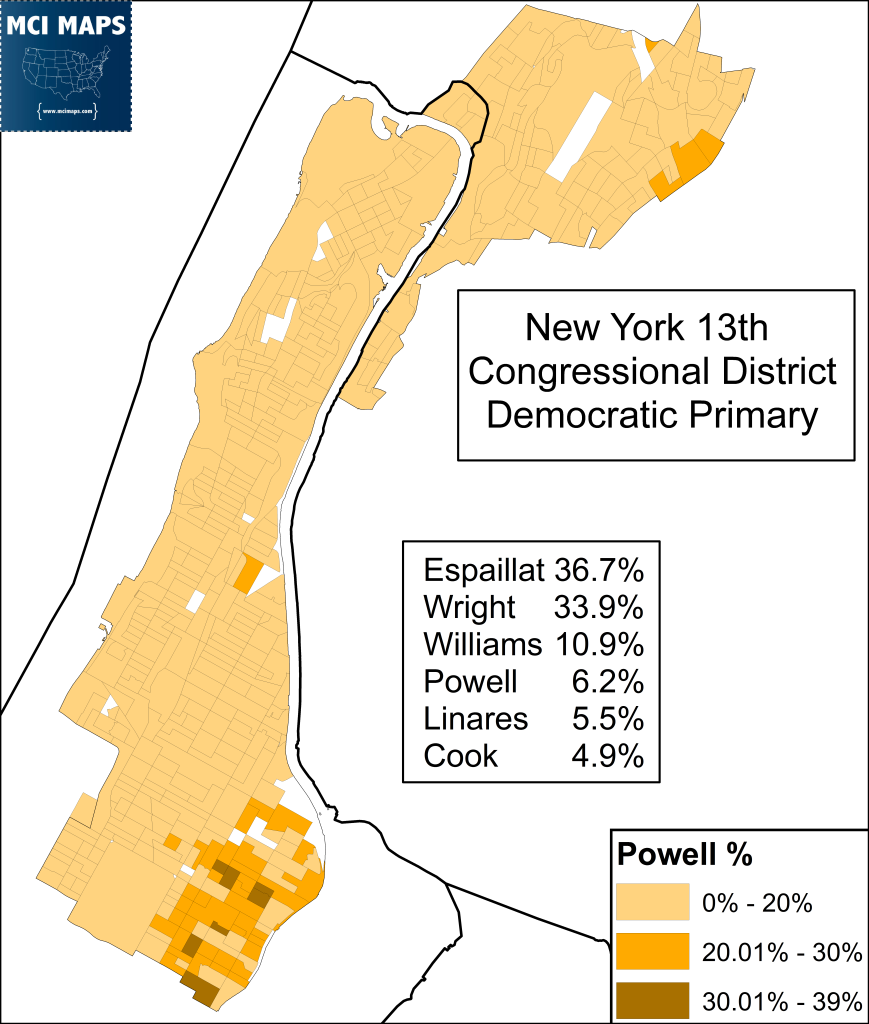 Powell, meanwhile, did best in Spanish Halrem, an area he represented in the state house.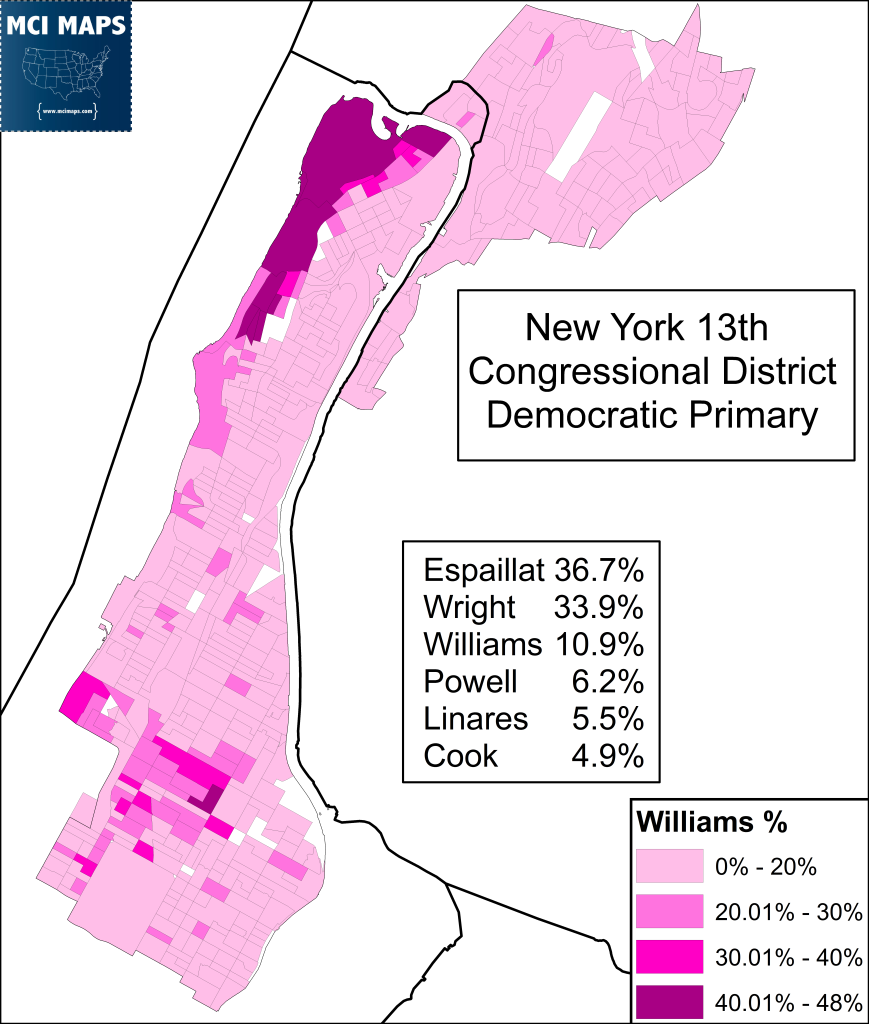 Williams did best in the Inwood/Hudson Heights area and Southern Harlem.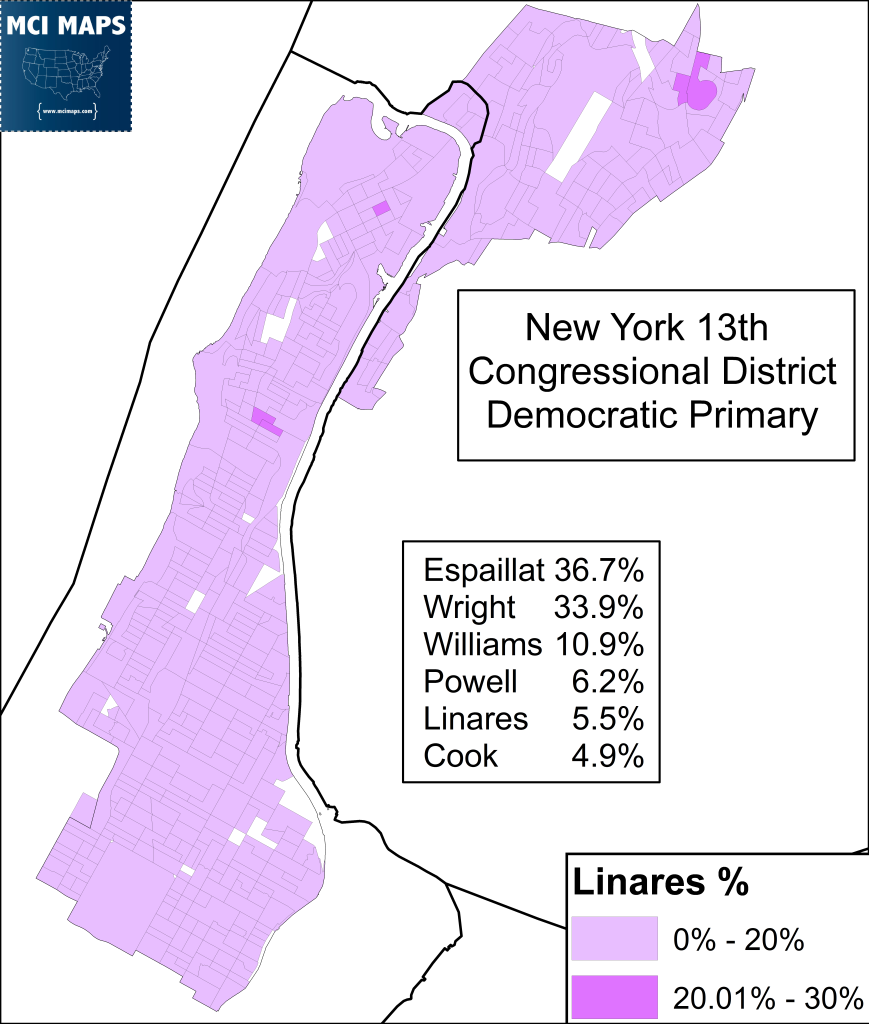 Linares, meanwhile, had no key base of support, under 20% in most areas.
When you combine the the African-American candidates that had at least a modest share of the vote (Williams, Wright, Cook, Powell) and the Hispanic candidates with modest showings (Linares, Espaillat), the African-American candidate share far outpaced the Hispanic candidate share.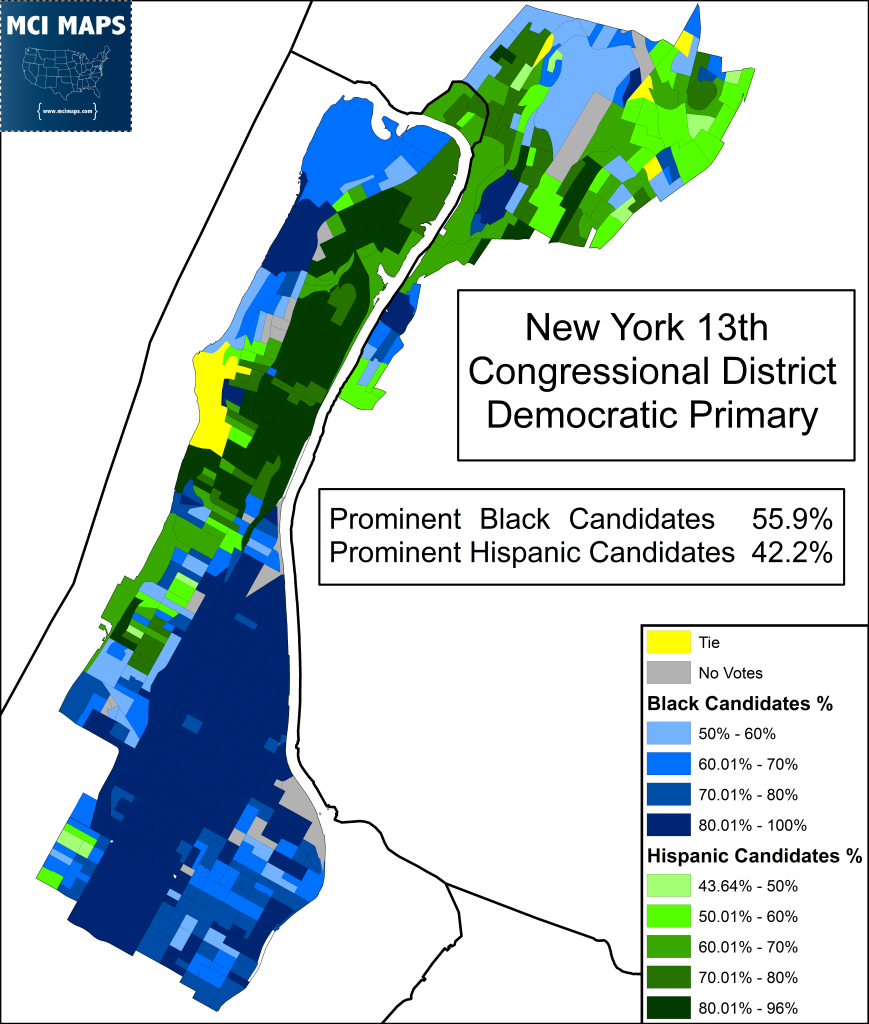 The map shows a strong geographic divide in the district between Hispanic and African-American candidates.  This split largely reflects the population split in the district.  We don't have turnout figures yet, but its likely the Hispanic candidate share under-performed its census numbers due to turnout disparity between African-Americans and Hispanics.
Espaillat narrowly won thanks to the split in the African-American vote.  In a one-on-one with Wright he likely would have lost.  Despite census figures making the district solidly Hispanic, the district remains fairly split in electoral strength between the two races.  A key fact pointed out on primary night was that this will be first time since 1944 that Harlem has not had an African-American congressman.  Espaillat won this time, but he may find himself a primary challenge from an African-American candidate in 2016.