This is a cautionary tale for all those future or past candidates out there.  The subject, Mr. Steve Stewart, is centered around politics in Tallahassee, Florida.  However, the lessons learned can be applied across the country.  It is the tale of going from being a legitimate contender for office to a full-blown perennial candidate.
If you have been following Tallahassee politics for the last four years, Steve Stewart has been a constant fixture, having run for office in 2010, 2012, and 2014.  Tallahassee has no shortage of candidates making constant runs for office who always fall short.  However, Stewart did not start off his electoral career as a perennial candidate.  In fact, Stewart started off in 2010 as a major Republican threat in Tallahassee politics.
Tallahassee Politics Crash Course
Before going any further, I should do a quick summary of Tallahassee politics for those who don't hail from the area.   Tallahassee is the home of three colleges:  Florida State University, Florida A&M, and Tallahasssee Community College.  As such, it has a large student population.  The city is over 30% African-American, largely concentrated in the southern end (known as the "southside") of the city.  The white voters of the district are much more liberal than the rest of the state, many of whom are state employees or tied to the University system.  The city is known for liberal white suburbs like Indian-head Acres and Meyers Park.  In addition, heavily populated upper-class white suburbs like Betton Hills and Woodgate are moderately Democratic.  The city only has select pockets of Republican voters.  Republicans are concentrated in the northern suburbs North of I-10. These largely white voters often work further downtown and the communities make up your classic suburb/exurbs.  Notable communities in the North are Killearn, Ox Bottom, and Summerbrook.   In addition, a large Republican suburb exists in the southeast end of the city; Southwood.  These Republican communities are very large (Tallahassee is the fifth largest city by land size in Florida) and often feel like their own cities.
The Republican suburbs are drowned out by the students, liberal white neighborhoods, and African-American population.  Tallahassee is and remains a very Democratic city.  Democratic candidates often get percentages in the high 60s.
A look at the the party registration by precinct shows you where the Republican sectors are and just how outnumbered they are by the Democratic base.  Republicans are confined to the north and southeast.  The one region that is plurality NPA/third parties is a precinct that is largely FSU dorms.  While NPAs dominate at FSU, the campus itself is a reliable Democratic block in partisan elections.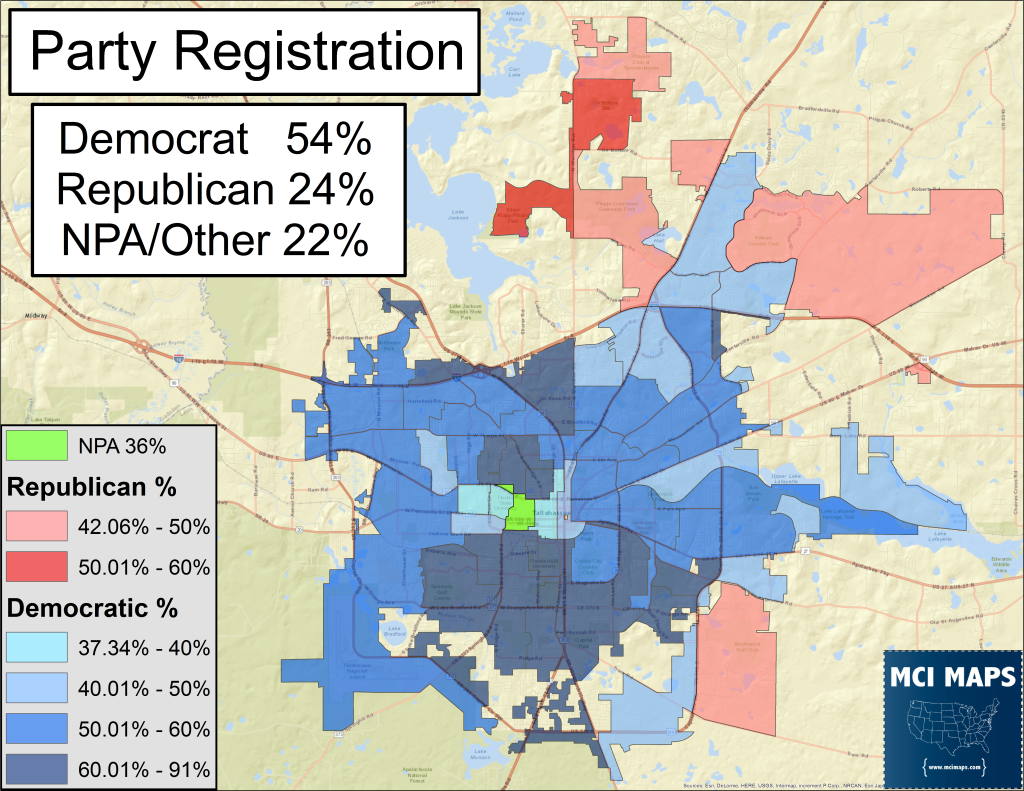 Registration by race shows African-Americans largely concentrated in the south and west while the suburbs are heavily white.  However, the white % of a precinct does not dictate its registration; as many heavily white areas are also very Democratic.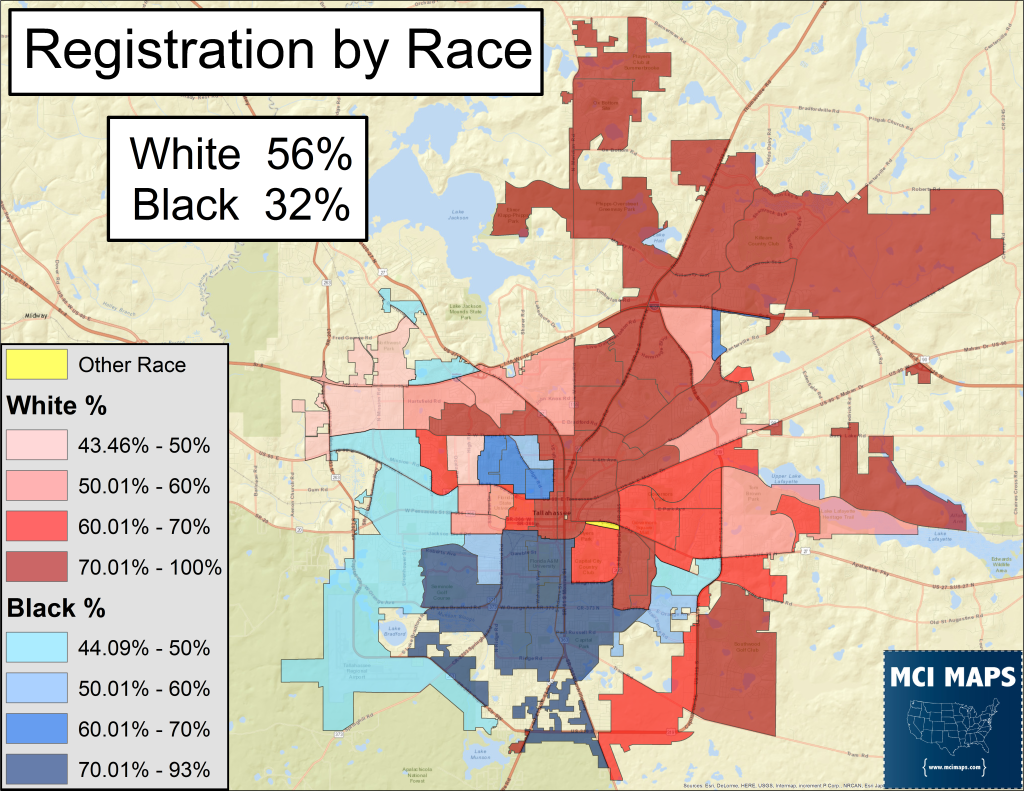 The general partisan dynamic for Tallahassee is that the north and Southwood vote for Republicans and everything else votes Democratic.  This holds true in most races.  However, big Democratic wins, like Bill Nelson, can result in the republican suburbs going blue, while big Republican wins can see more of the Democratic suburbs go red.  A key swing region exists along Thomasville Road, south of I-10.  It is a region non-Democrats must do well in to have any chance in the city/county.  The precincts in question are in yellow below.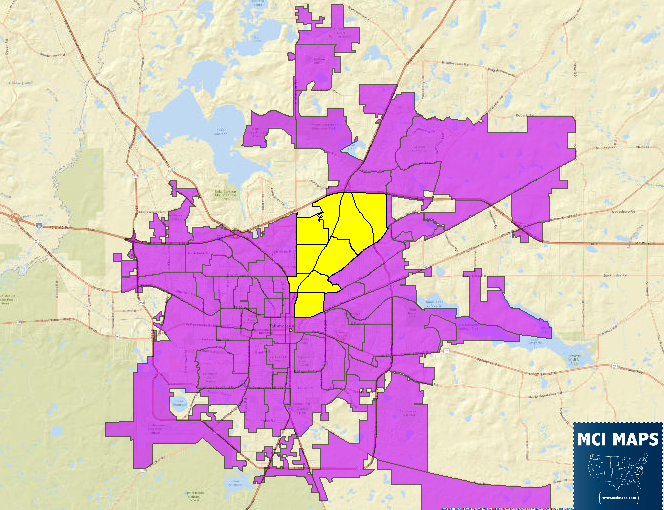 These yellow precincts comprise of several important middle and upper-middle class suburbs including: Betton Hills, Betton Woods, Woodgate, Eastgate, Waverly Hills, Lafayette Park.  These areas are largely white, Democratic, but more swingish than the rest of the city.  Republicans who have done well in the city/county pick up this region before any other.   These aren't the only swing precincts, but they are a collective community that often gives an insight into the strength of candidates.
There is a great deal more than can be said about Tallahassee's politics and neighborhoods.  For those interested I invite you to check out only articles I have written on the subject here and here.  Now back to Steve Stewart.
2010 Mayoral Election
Heading into 2010, a year known for upset Republican wins in a massive red wave that swept the nation, the Mayors Race for Tallahassee became much more competitive than many initially expected.  Mayor John Marks, an African-American Democrat, was running for a third term in office.  Marks was the second elected mayor of Tallahassee and his push for a third term was unprecedented.  Marks was subject to the backlash of a tough economy, budget cuts, and lingering ethics questions regarding conflicts of interest in certain votes being cast.  These ethics issues would blow up in 2011 and 2012, but the Mayor was cleared of any malicious intent.  Nevertheless, the election season was a good opportunity to oust a Democratic incumbent with some questionable issues.  Steve Stewart, a first time candidate, ran as a real Republican threat to the mayor.  Stewart was a local businessman, owning a printing shop, and fashioned himself a watchdog of the Tallahassee budget.  Stewart pushed an image as a conservative outsider.  He focused on ethics issues with the mayor and utility rates among the city-operated utility company.  The races for Tallahassee are officially non-partisan, but Stewart made his ties to the Republicans well known.  He got his photo taken with State Senator John Thrasher (a major Republican player in Florida) at a Republican fundraiser, and he openly flirted with the tea party.  In addition to the mayors race, two other city council seats (all elected city-wide) were up in 2010.  Commissioner Gil Ziffer, appointed to the position in 2009 and running for a full term, was being challenged by conservative Democrat Erwin Jackson, who argued the commission was corrupt and unfair to businessmen like himself.  Jackson, who made his money as a landlord to crummy student housing, put over $100,000 of his own money into the race.  The Ziffer/Jackson race was especially nasty, as Jackson got personal about Ziffer's younger life, and Ziffer attacked the state of the student housing properties Jackson managed.  In addition, an open city council seat saw Democrat Nancy Miller, a businesswoman and member of many prominent planning commissions, such as BluePrint 2000, face off against Stephen Hogge, a former Republican who changed his affiliation to independent.  Hogge/Jackson/and Stewart all ran as outsiders who would change things in city hall, doing their best to ride the wave of anti-establishment sentiment across the nation.  Political observers wondered (and in my case worried) that all three would be swept into office in the August elections.  Stewart, especially, seemed like a major threat to taking the mayors race. Heading into election day many were unsure what the final outcome would be.
The results did not go Steve Stewart's way, he managed 45% of the vote.  However, Marks got 51%, just avoiding a runoff, while a perennial candidate, Larry Hendricks, got 4%.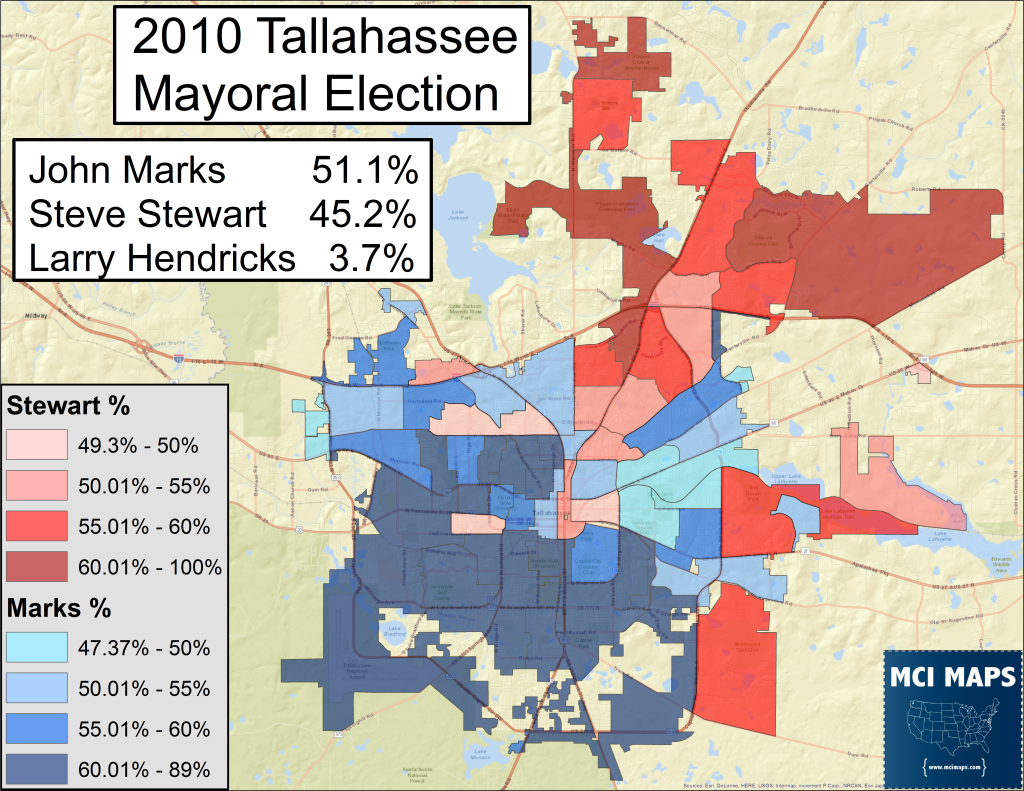 In addition, Erwin Jackson ended up being crushed by Gil Ziffer, who beat him 50% to 35%, and the last 15% going to a James Moran.  In the open seat, Nancy Miller, who had been outspent 2-1 by Hogge, got 47% to Hogge's 42%.  This crushed Hogge's momentum, and he lost 55%-45% in the November runoff.
Sewart wound up being the strongest of the three outsider candidates.  He dominated in the northern suburbs, racking up 60% in many of the precincts.  (A note, the precinct boundaries were different in 2010, but I reconfigured the numbers to match the current boundaries).  Stewart won all major Republican-friendly areas, south of I-10.  These included Southwood in the southeast and Buck Lake in central-eastern boarder of the city.  Stewart also won the swing neighborhoods along Thomasville road but got cut off around Lafayette Park.   Stewart even won a student-oriented precinct.  However, it should be noted the primary was the day after classes started, and turnout in the student areas hovered around 5%, making it a small sample.  Stewart fell short, despite all his wins, for a few reasons.  He was destroyed in the African-American southside and still lost many white, liberal suburbs by large margins.
Stewart fell short but came closer than any prominent Republican had since the early 2000s/late 90s.  Stewart was aided by a very favorable Republican wins already developing by the summer of 2010.  In addition, Stewart benefited from extraordinarily high Republican turnout in the August primary.  Republican turnout was 9 points higher than Democratic turnout in the August primary, a record gap in Tallahassee.
Stewart came up short, but also won in defeat.  Stewart's close margin in such a blue city ensured he would be a rumored candidate for other offices in the future.  Speculation of a run for county commission and state house were floated for the near future.  For some time, Stewart remained mum on his plans.
2012 Run for City Commission
In mid 2011, City Commissioner Mark Mustian began dropping hints that he would not run for re-election in 2012.  This lead to a great deal of speculation over who would run for the open seat. Speculation turned to major political names like former Representatives Lorraine Ausely and Curtis Richardson.  Former Mayor Scott Maddox was also rumored to be interested in the seat.  At the time I was working for Daniel Parker, a planning commissioner, who announced his intentions to take the seat.  In late 2011 Steve Stewart decided to make a play for the seat as well.
Stewart's decision to run in 2012 was not terribly surprising, but a risky venture.  Stewart had done well against an incumbent and perhaps thought an open seat was his for the taking.  However, Stewart failed to account for the fact that the city was still very liberal, and the anti-democratic sentiment of 2010 was passing.  Stewart, perhaps realizing his tea party favoritism did not help in 2010, began to take on a more moderate persona.  He still favored himself a watchdog of spending and utility rates, but took to speaking softer and less bombastic than he had in 2010.  When Scott Maddox decided to enter the race, it set up a titanic fight between the former Democratic mayor and the up and coming Republican.  The local paper fixated on the Maddox v Stewart dynamic, largely ignoring the four other candidates in the race (including mine… which yes was frustrating).  The race heading into August was heated but did not get nasty off the bat.  Candidates spent their time advocating their own issues.  Stewart did benefit from being the only Republican in the race, with all 5 of his opponents being Democrats.  There was a chance that Stewart could end up in first place in August, giving him momentum heading into a runoff.  In July, the Democratic Party of Leon county sent out a mailer attacking Stewart and comparing him to Rick Scott.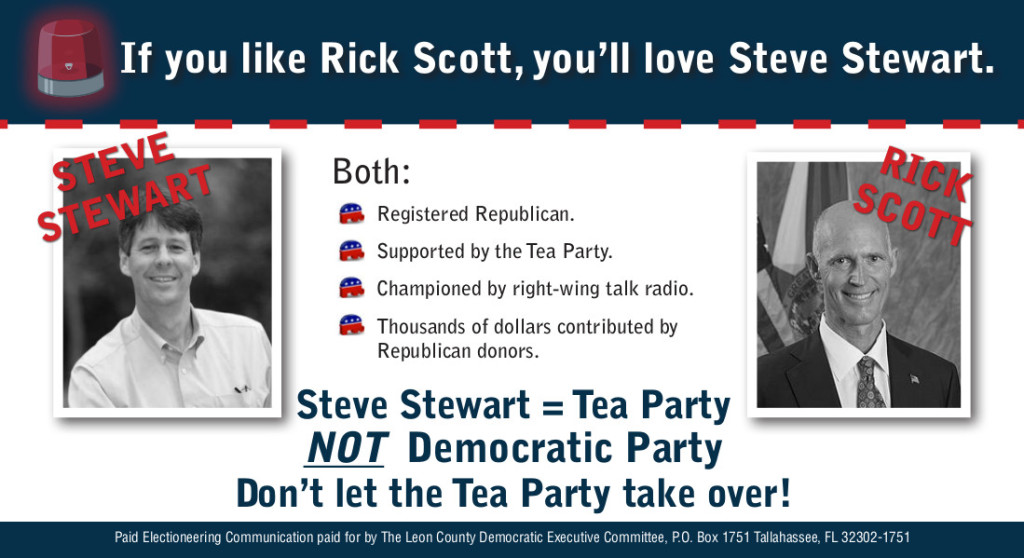 Stewart cried foul over the attack.  However, the mailer was completely legal and the attention brought to it only reinforced the notion that Stewart was a Republican.  The attention toward the mailer certainly did not help Stewart, as local media continuously talked about it.
When the August election came, Stewart finished much poorer than expected.  He fell from 45% in 2010 down to 33% in 2012, finishing second behind Scott Maddox.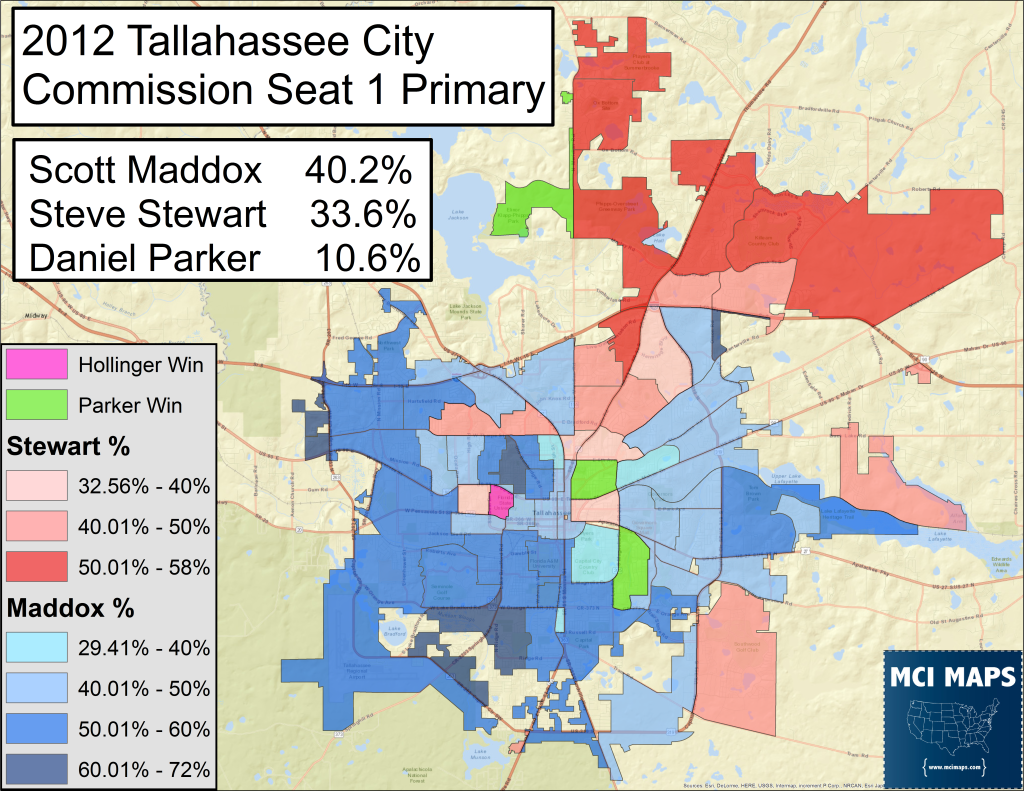 Stewart should by all accounts have come in first in the August round; instead finishing 7 points behind Scott Maddox.  Stewart won the north and the Thomasville communities, but not by the margins he had in 2010.  Stewart did not clear 50% in any precincts south of I-10, meaning more than half the voters of those precincts wanted a Democratic candidate.  Stewart was unable to hold onto everyone that cast ballots for him in 2010, showing that many of them were more anti-Marks than pro-Stewart.
Stewart lost ground from 2010 in nearly ever precinct in the city.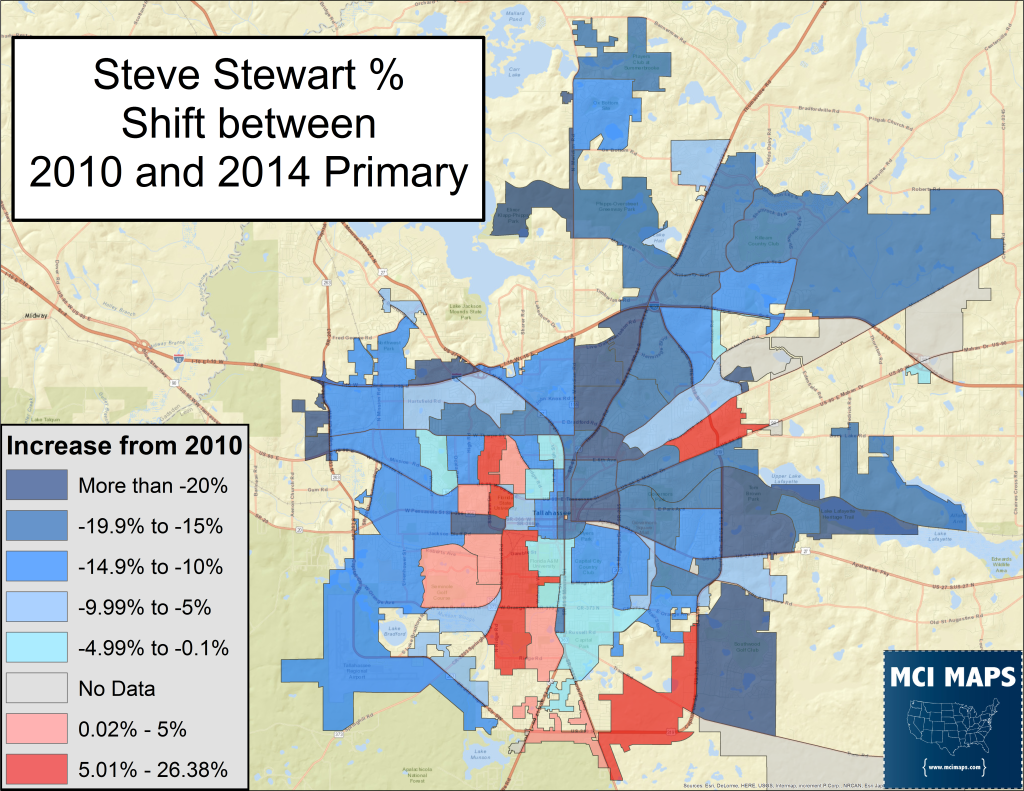 Maddox got 40% by winning many white suburban areas in addition to getting over 50% in the African-American community, all the while running against two African-American candidates.  Daniel Parker, my candidate, won the liberal suburb of Indianhead Acres, moderate Lafayette Park, and had strong second and third place showings in the Thomasville road suburbs discussed before.  One student precinct voted for Delatrie Hollinger, a 18 year old civic activists making a run for the commission.
The results meant a runoff on the November ballot.  Stewart emerged from the primary very weak.  He was heavily outspent by Maddox, and he made a series of missteps in the race.  Stewart first big misstep was showing up to a Scott Maddox press conference.  Maddox was the subject of a third-party attack over the fraternity he had been a part of in college.  The mailer tried to tie Maddox to the fraternity practices at an Alabama School (for racist activity) even though Maddox went to school in Florida and was part of the Florida chapter that had no such policies.  Maddox was also a well-documented supporter of minority communities and was well-regarded in Tallahassee's African-American community. The group responsible was delaying releasing its financial report and by all accounts trying to hide those responsible.  The attack was ridiculous and caused Maddox to hold a press conference to decry the attack and demand the donors be revealed.  Stewart showed up to the press conference, got in Maddox's face, and demanded clarification that he wasn't part of it.  The whole event was dramatic and did not make Stewart look like a polished professional.
The second mistake of Stewart's was his obvious race-baiting during the runoff.  Stewart ran a mail piece attacking Maddox for the attacks he had leveled on an African-American FSU College Professor, Charles Billings, when the two were running against each other for Mayor in 1997.  Maddox won the race, and Billings won a city council seat in 1998.  Stewart sent the mailer into the African-American community, repeating attacks Maddox had leveled on Billings in response to editorials Billings had written.
Billings had passed away many years back and his widow decried Stewart for using her husband's memory in such a political manner.  She affirmed her support for Maddox and reminded the press that Billings and Maddox had developed a friendship after the campaign.  The whole episode reflected very poorly on Stewart, who looked callous, manipulative, and like a race-baiter.
After a very nasty runoff, the results came in and Stewart was crushed.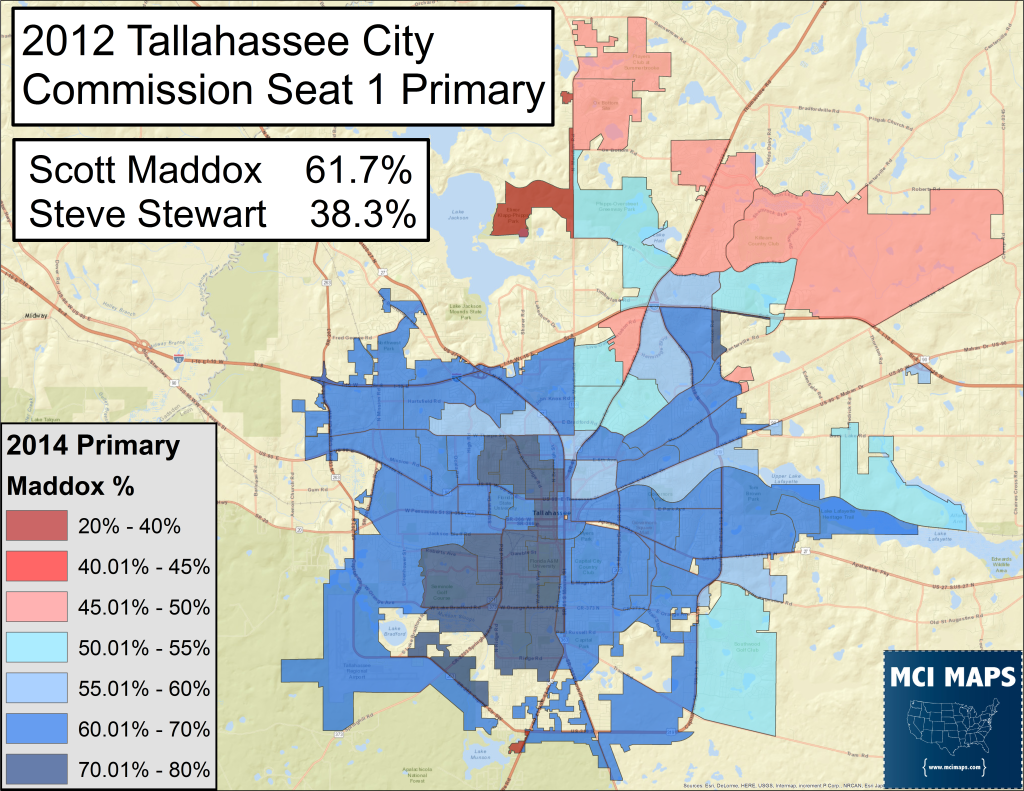 Stewart lost with only 38% of the vote.  At that point, the 23 point margin represented one of the biggest margins for a seriously contested city council race.  Stewart was rejected in nearly ever precinct south of I-10.  His only prominent wins were in the northern suburbs and the upper-income Live-Oak Plantation community just south of I-10.  Stewart failed to win in Southwood and his wins in the north were barely over 50%.
Stewart did 8 points better than Mitt Romney, but his share of the vote strongly correlated with the share of the vote Romney got that same night.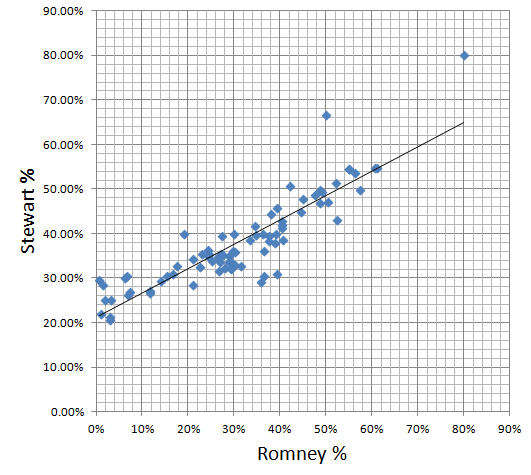 The areas were Stewart over-performed Romney best were in the African-American community.  This was not because of his Charles Billings mailer.  Rather, it was the common result of the non-partisan ballot in Tallahassee.  Without an "R" next to his name, Stewart was not dragged into the 5% range like Romney was in the African-American precincts.
Stewart's 2012 run was a disaster for his image.  His strong showing in 2010 was exposed as a fluke aided by the national environment, a weak incumbent, and a Republican-surge in turnout.  Stewart's 38% was just above Erwin Jackson's embarrassing 35% in 2010.  While Maddox was a formidable challenger as a past mayor with strong fundraising, Maddox still had Republican detractors because of his time as the chair of the Florida Democratic Party.  Nevertheless, Maddox beat Stewart in Republican Southwood and kept Stewart close in the north.  Stewart even ran behind Romney in the northern suburbs.  Stewart was no longer seen as a major threat in city politics.  A run for state house district 9, much more swingish than the city, may have still be in the cards.  However, Stewart's best course of action at that point would have been to take some political time off and regroup.  Stewart decided not to stay out of the spotlight for long.
2014 Run for City Commission
In the time following his 2012 run, Stewart maintained a general presence through his website, Tallahassee Reports, which focused on political stories and fancied itself a muckraker of Tallahassee politics.  Many articles tried to expose corruption of local officials, largely with little basis, and served mainly as an anti-democratic site.  Stewart would also speak on local conservative radio shows like Preston Scott.  Stewart faded from the memory of the average voters until he popped back up with little warning.  In the last week of qualifying to run for office in the 2014 cycle, Stewart filed to run for Tallahassee City Commission against Nancy Miller, who had beaten Stephen Hogge for the then-open seat in 2010.  Stewart said he had important issues to discuss about the state of the city, and pledged to run an aggressive campaign.
Everything about this run seemed strange.  Stewart had given no hints that he intended to run again so soon.  In addition, he was challenging a popular incumbent who sat on over $80,000 in campaign cash.   Stewart would have to raise money fast to not only make himself likable, but make Miller unlikable; all in the span of two months.
Stewart's campaign was an unmitigated, absolute disaster.  In the two months, he only raised $20,000 while Miller peaked at $120,000.  Stewart focused his campaign on one signature issue; funding for police officers.  During the summer, Tallahassee experience an increase in shootings.  The most prominent was the shooting of an FSU Law School professor at his front door.  The investigation is ongoing, but the lack of a clear suspect kept neighbors wondering if the incident was a breaking gone wrong or a targeted killing.  The incident, which occurred in Betton Hills, a crime-free suburb, became a major news story as neighbors, unexposed to such violence, began to demand answers.  Stewart exploited the ongoing crime issue and argued that the commission was not doing enough to fight crime.  Stewart argued the city should have taken money dedicated to construction projects to pay for police officers.  However, Stewart stubbornly ignored the fact that money raised/collected for construction projects cannot always be legally transferred to general use.  Stewart ignored this fact, and insisted the funding of more police officers was easy and would solve the crime problem.  Stewart also ignored the fact that Tallahassee sits in a juridiction with FOUR law enforcement departments:  Tallahassee police, Leon Sheriff, Campus Police, and Capital Police.  Stewart lambasted construction projects in the areas just south of the FSU Campus, which turned a largely warehouse district into a vibrant college town with businesses and social events.  Stewart's arguments were simplistic and mis-informed.  He counted on the notion that the public would accept his view that money legally dedicated to construction could fund police (it could not) or that turning warehouse districts, formerly crime-ridden, into safe college-friendly areas was a bad thing.  Overall, Stewart seemed to be taking advantage of the crime issue going on at the time.  This was no better exemplified than when his Facebook page posted the link to a shooting that had happened the day before, and to remind everyone to vote for him for safer streets.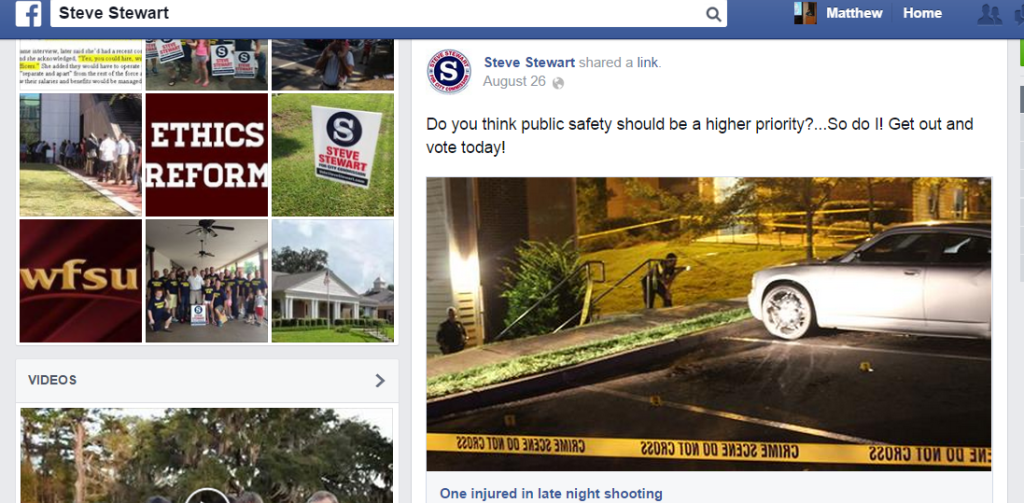 Stewart's simplistic arguments resulted in Nancy Miller receiving the endorsement of the Tallahassee Democrat (the local paper) and in it they rebuked Stewart's campaign message harshly.
Stewart got himself in more hot water when he was again accused of race-baiting with a mailer.  Stewart ran a mailer attacking Miller and showing a photo of Al Lawson, a prominent African-American leader and former state senator.  The text over Lawson's name said Stewart was not part of the tea party.  The mailer was designed to make voters think Lawson had endorsed Stewart.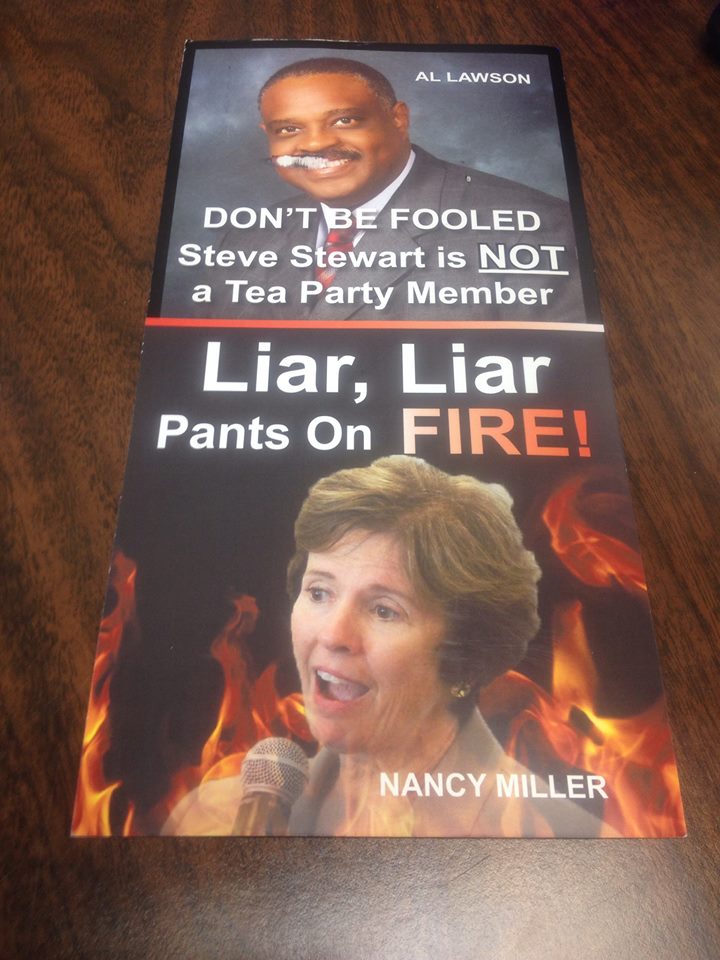 Lawson rejected the ad and blasted Stewart for trying to mislead voters.  The move didn't work and only caused problems for Stewart's already flailing campaign.
To make matters worse for Stewart, the Democratic Party of Leon County sent out a mailer attacking him just as they had in 2012.  Stewart tried to get the papers to write about the story. However, the papers apparently found that "local Democratic Party backs local Democratic candidate" was not a particularly interesting read.  Stewart was not helped by the Leon Republican Party largely due to their lack of money and organization.  Honestly, they barely exist as a group.
No serious person thought Miller would lose on election night.  However, the sheer magnitude of her win was shocking.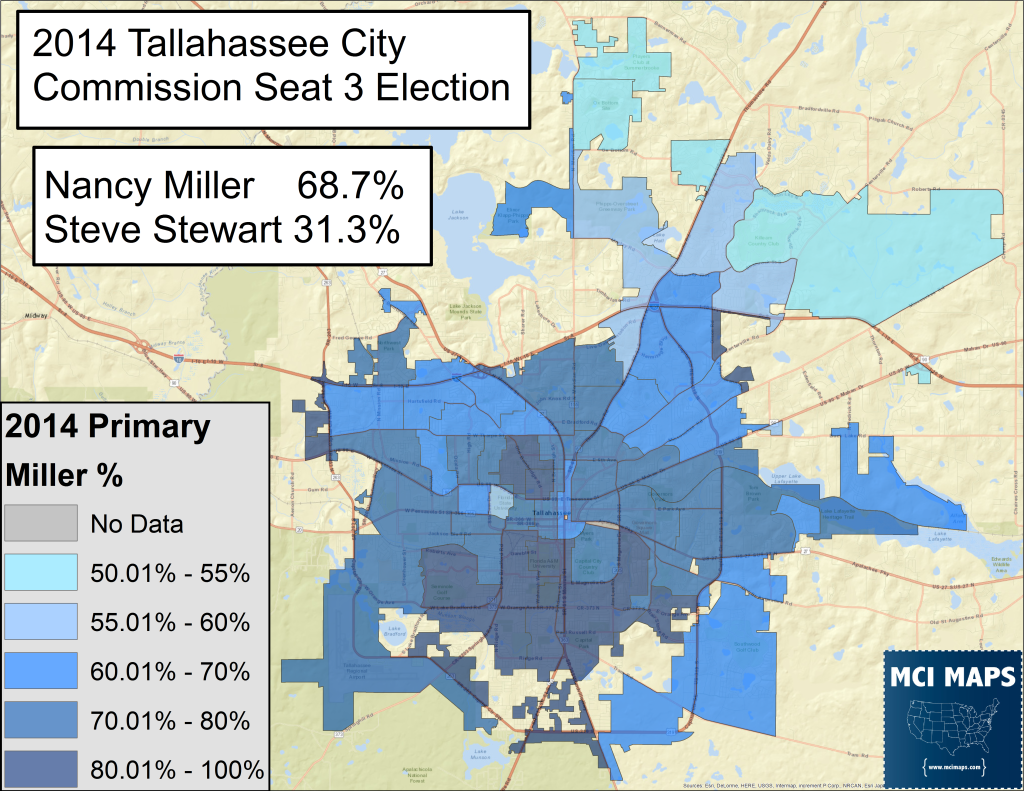 For the first time in a decade, a major candidate (though his status as major may now be disputed) failed to win a single precinct in his/her bid for city council.  Incumbents normally win every precinct when facing perennial challengers, not well-known Republican candidates who nearly knocked off the mayor four years earlier.  Stewart lost across the board.  He got less than 40% in Southwood and Betton, got less than 30% in his home precinct, and lost the northern suburbs that always stood by him.  The 37 point margin was a massive humiliation for someone who once showed promise in the local political scene.
Comparing his loss to his 2010 run.  Stewart bled support in the suburbs that backed him over Marks.  His improvements were mostly concentrated in the African-American community, no doubt aided by the fact his 2014 opponent was not African-American.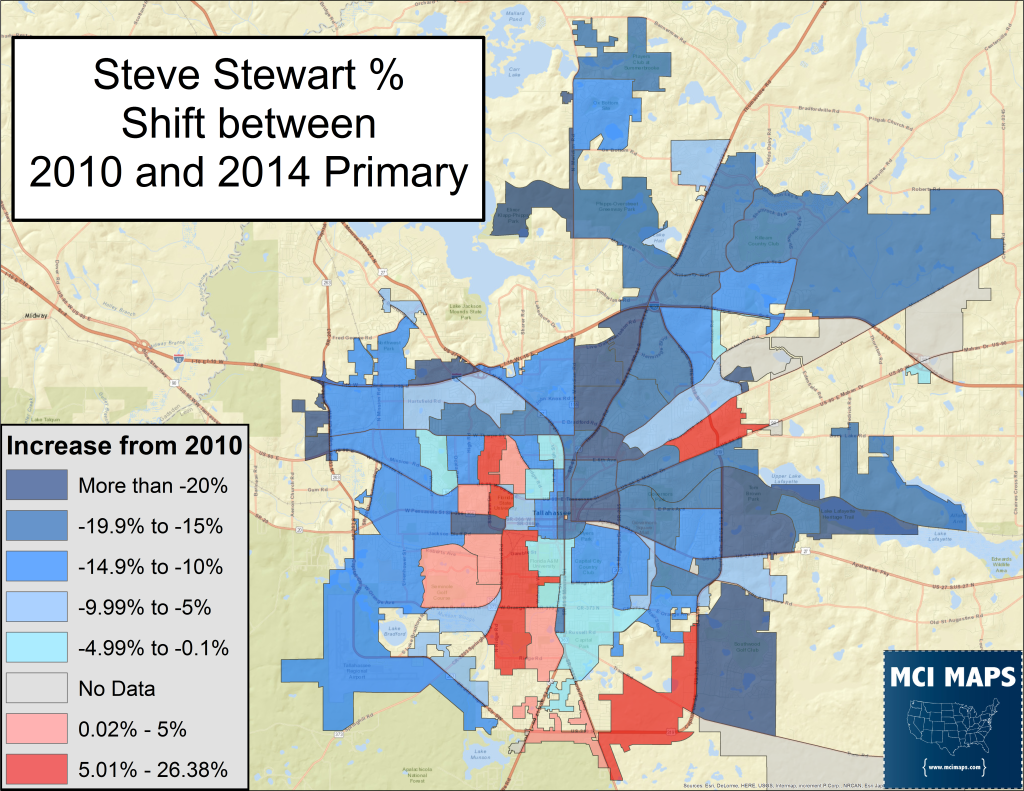 Stewart's last minute bid for city council ended in an massive loss that he is unlikely to recover from.  Plans for future office are out the window.  Donors gave to Stewart in 2010, and stuck with him to some degree in 2012.  However, Stewart raised little in 2014.  For prominent donors of Stewart, many of them in real estate, they will be asking themselves, "how can I give to a guy who lose three times, each loss worse than the last?"
Lessons Learned
Stewart's story is one many aspiring candidates can take to heart.  A strong showing in 2010 was exposed as a fluke by a 2012 run under a much different climate.  Stewart's 2010 run was aided by the red wave.  However, that 45% showing could have been used to show he was a real candidate with potential.  It could have been used building a bigger donation base, support with the Republicans of Florida, and to lay the groundwork for a run for different office. Instead, Stewart played his hand to quickly.  His 2nd and 3rd runs exposed him as an amateur and erased any potential he had.  Stewart went from legit to perennial candidate in the course of four years.  On a national level, I cannot help but compare Stewart to Harold Stassen. Stassen was the Governor of Minnesota in the 1940s and resigned to serve in WWII.  Stassen seemed to have a bright political future.  However, he ruined it with a serious of runs for President, Senate, and Congress over decades; eventually becoming a national joke.
Stewart is unlikely to recover.  He now occupies the role of Erwin Jackson and Preston Scott; the rabble rousers of Tallahassee politics; complaining but never fully winning over the public.  For Stewart, it is too late to change his position at the bottom of the political ladder.  For future and current candidates, it is not to late.  Perhaps they will learn from the mistakes of Steve Stewart.