November 4th, 2014 was a bad night for Democrats across the nation. Democrats fell short in several Gubernatorial elections, lost nine Senate Seats, and lost over ten House seats. Democratic fortunes in the South were abysmal. The Arkansas Governors Mansion went Republican, Senators Prior and Hagan lost their re-elections, and Senator Landrieu in Louisiana was forced into a runoff. Republicans also finally knocked off Congressman John Barrow and Democratic efforts to win seats Congressional seats in Arkansas, Virginia, and North Carolina came up short.
Democrats had bad news in Florida as well. Democrat Charlie Crist failed to win the Governors Mansion, Congressman Garcia lost re-election in Miami, and Democrats lost six seats in the state legislature. However, despite the bad results in Florida and in the South overall, there was one bright spot for Democrats; and it came from Florida's 2nd Congressional District.
The District
The 2nd Congressional District is quite large, the largest geographical district in the state, and is made up of scattered rural voters and a few urban centers in North Florida. The district contains 14 counties, with the bulk of the population located in Tallahassee-based Leon County and Panama City-based Bay County.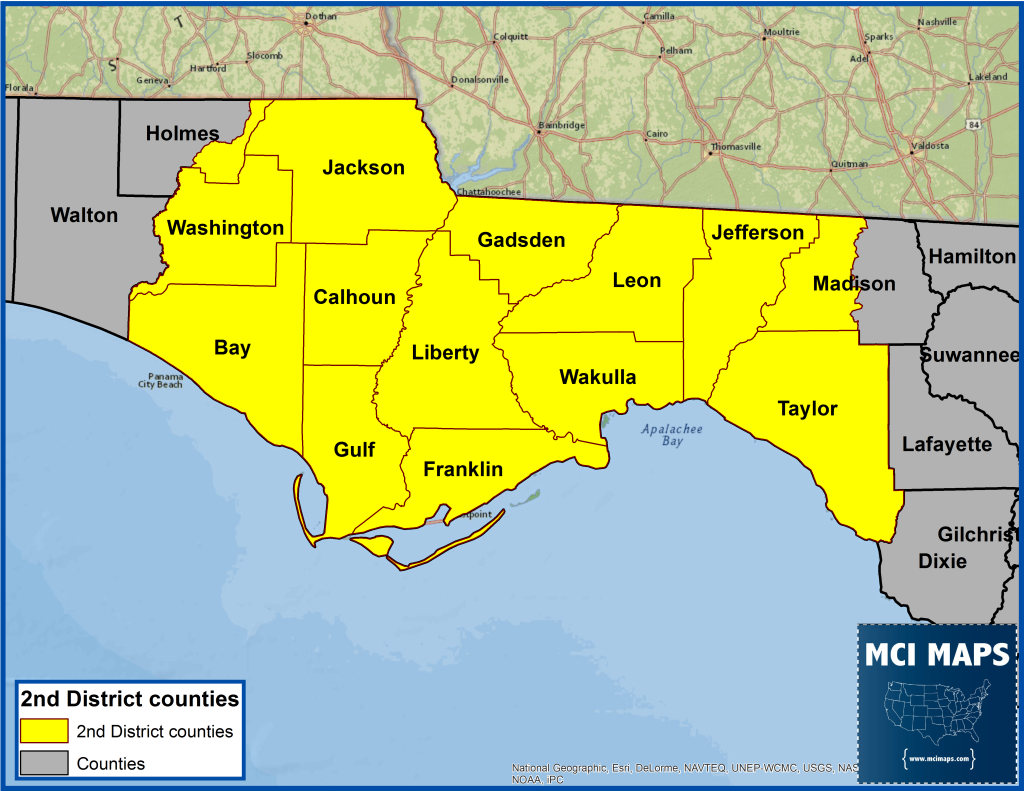 The district is primarily Democratic, with only Bay County having more Republicans by registration. The district has a long Democratic heritage and loyalty. Most of the county commission and constitutional offices in the various counties are controlled by Democrats.  However, local party strength has not stopped Republicans from gaining the advantage further up the ballot.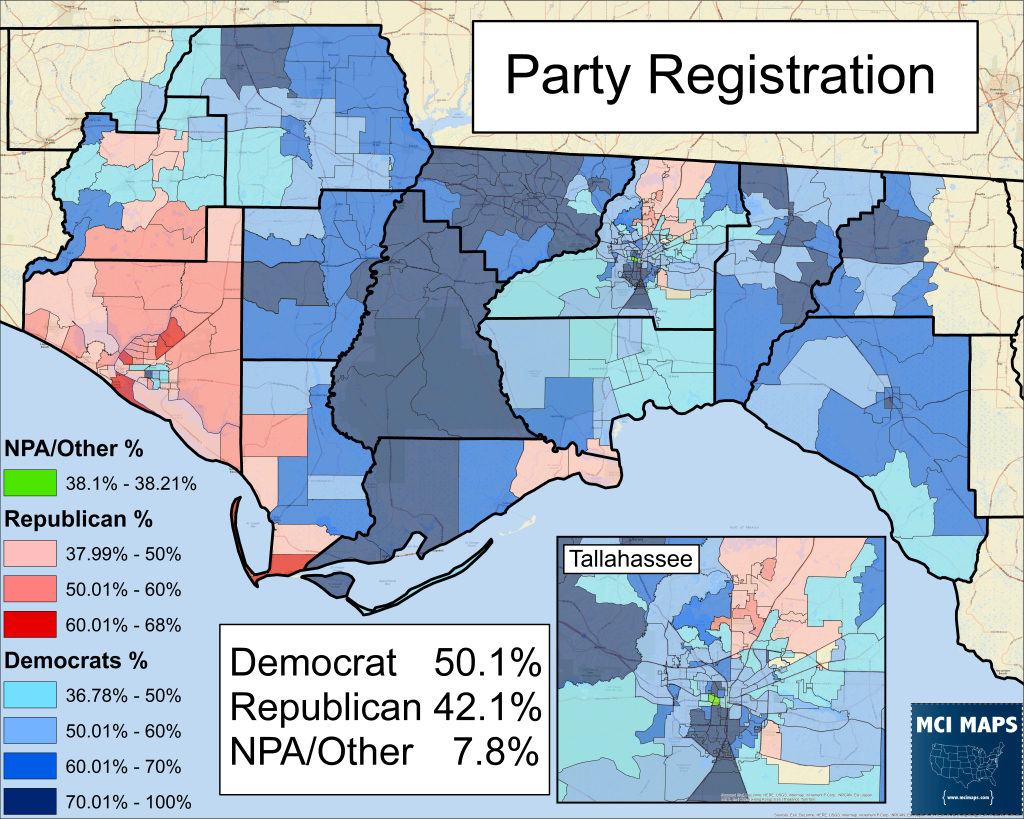 The district is around 71% white, with the remaining voters largely African American and a small Hispanic and Asian population. For Democrats to win the district, they must overwhelmingly win the African-American vote and win between 35% and 40% of the white voters (depending on turnout). The African-American voters are heavily concentrated in the northern areas of the district.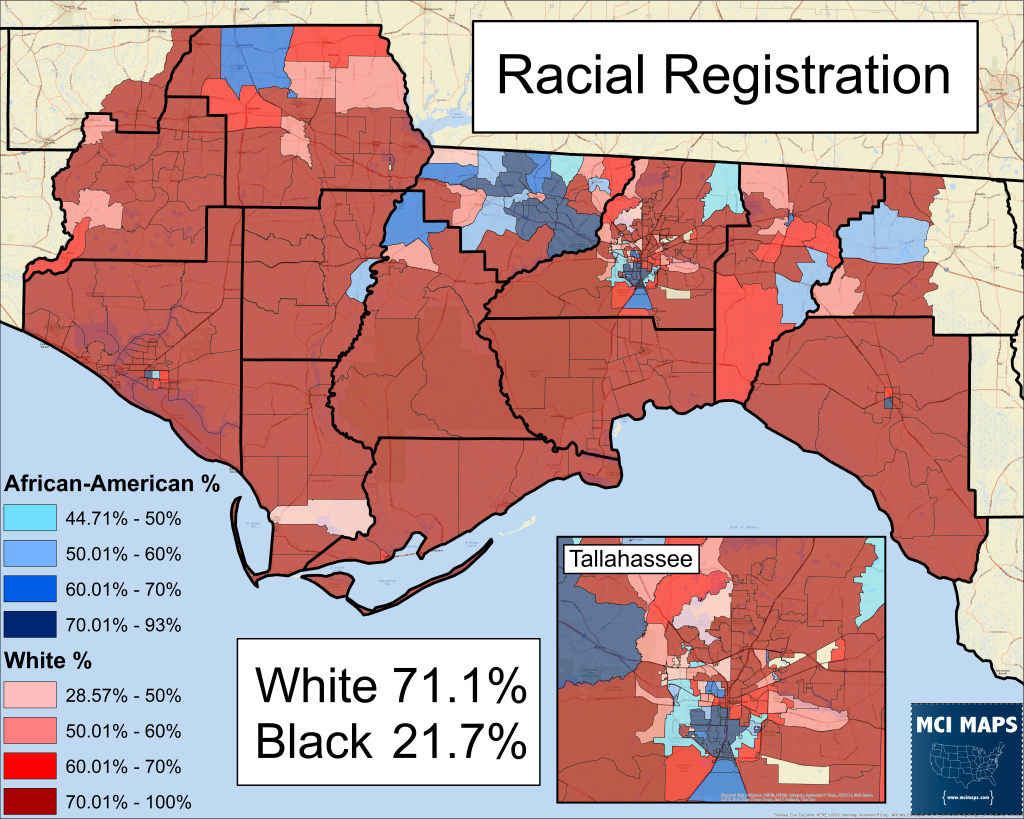 History of the District
Florida's 2nd congressional district is your classic southern, ancestral Democratic district. It's a district that is Democratic in registration and in control of local offices, but has become more Republican further up the ballot. Democratic strength is tied to heritage and loyalty. Rural residents feel that they are average working-class Democrats, and are moderate to conservative on most issues. They still identify with the Democrats of generations passed, but have grown more disillusioned with the national party. This disillusionment has not gotten any better with Barack Obama as President. While the numbers indicate race has played a small role in Obama's weak showings in North Florida, the trend toward Republican support predates Obama's election.  While Obama has not done well in the area, many white candidates have done poor as well.
The major liberal center for the district is Leon County, home to Tallahassee. Tallahassee features two universities, a community college, a large African-American population, and white suburbs filled with liberal white voters who are government workers or work with the University system. Gadsden County, the state's only majority African-American county, also votes heavily Democratic in elections.
For decades, Democrats managed to hold onto the 2nd district. Democrat Allen Boyd held the seat from 1996 until 2010 when he lost re-election to Republican newcomer Steve Southerland. Southerland benefited from the red wave of 2010 as well as local fallout from Boyd's tough votes in favor of the Affordable Care Act, Cap and Trade, and the Economic Stimulus Bill. With Boyd's loss, the 2nd Congressional District was held by a Republican for the first time in over 100 years. That same night, Southern Democrats across several states lost their re-elections as well and several southern state legislatures became GOP for the first time since reconstruction. This Southern Democrat wipe-out was indeed an acceleration of the  southern realignment that has been happening in American politics for decades.
With the loss of Boyd, taking back the district proved over the next several cycles to be a monumental task. Former State Senator Al Lawson, who had almost beaten Boyd in a primary in 2010, challenged Southerland in 2012 but lost by 5%. Obama only got 46% in the district in 2012, winning just the urban Democratic Leon County, majority-African-American Gadsden County, and lean-Democratic Jefferson County.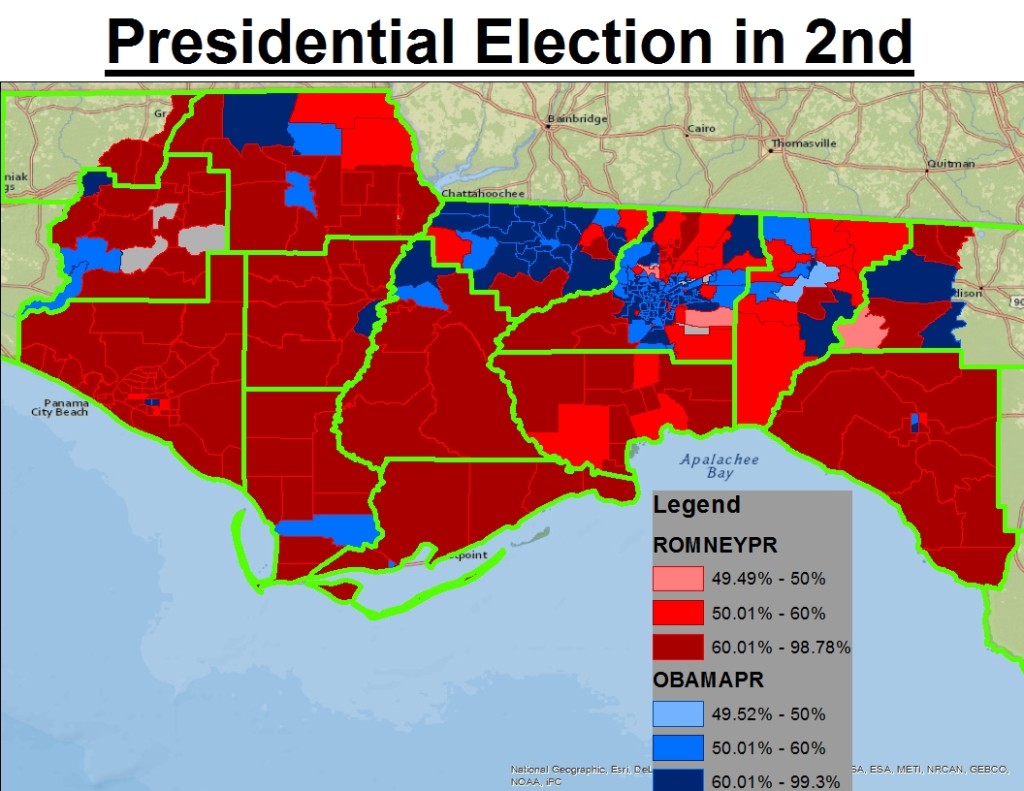 Meanwhile, Democratic Senator Bill Nelson got 54% in the district in 2012, winning Liberty and Franklin Counties in addition to Obama's wins, and getting better margins in the other counties.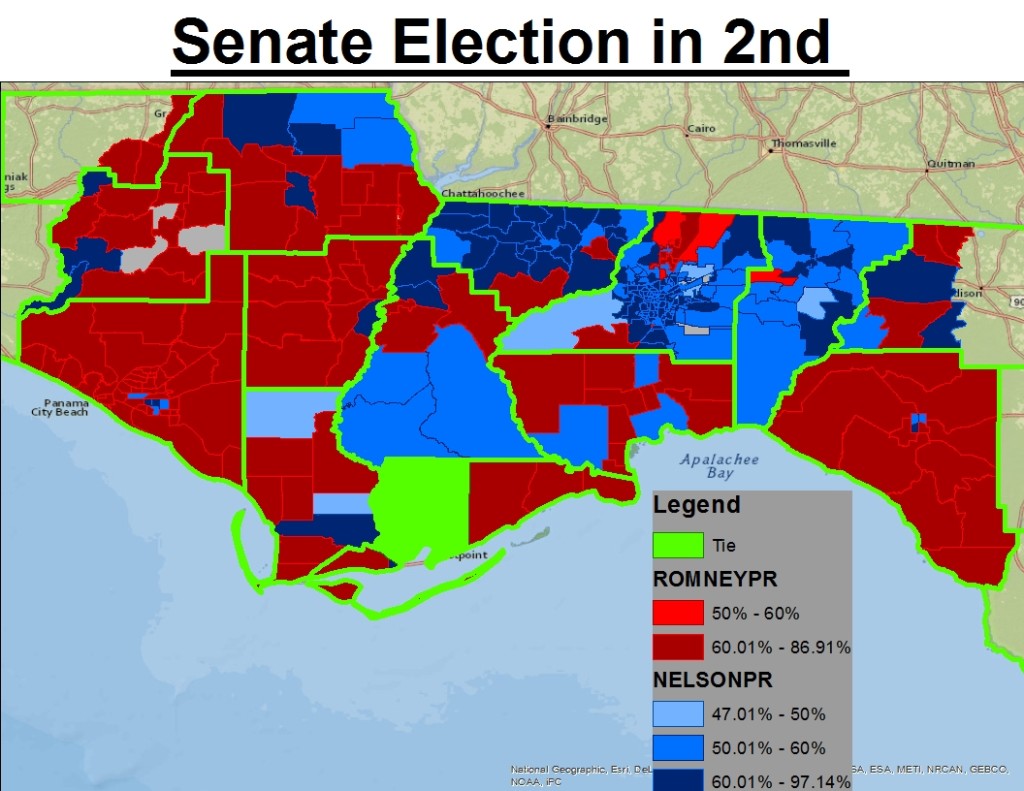 As such, Nelson's win serves as an important blueprint for Democrats in the 2nd Congressional District. While the district also voted for Democrat Alex Sink for Governor in 2010, the district typically has a federal bias when it comes to Democratic candidates. On average, Democrats running for state offices manage to get larger shares of the vote than those running for federal offices- the only exception being Nelson.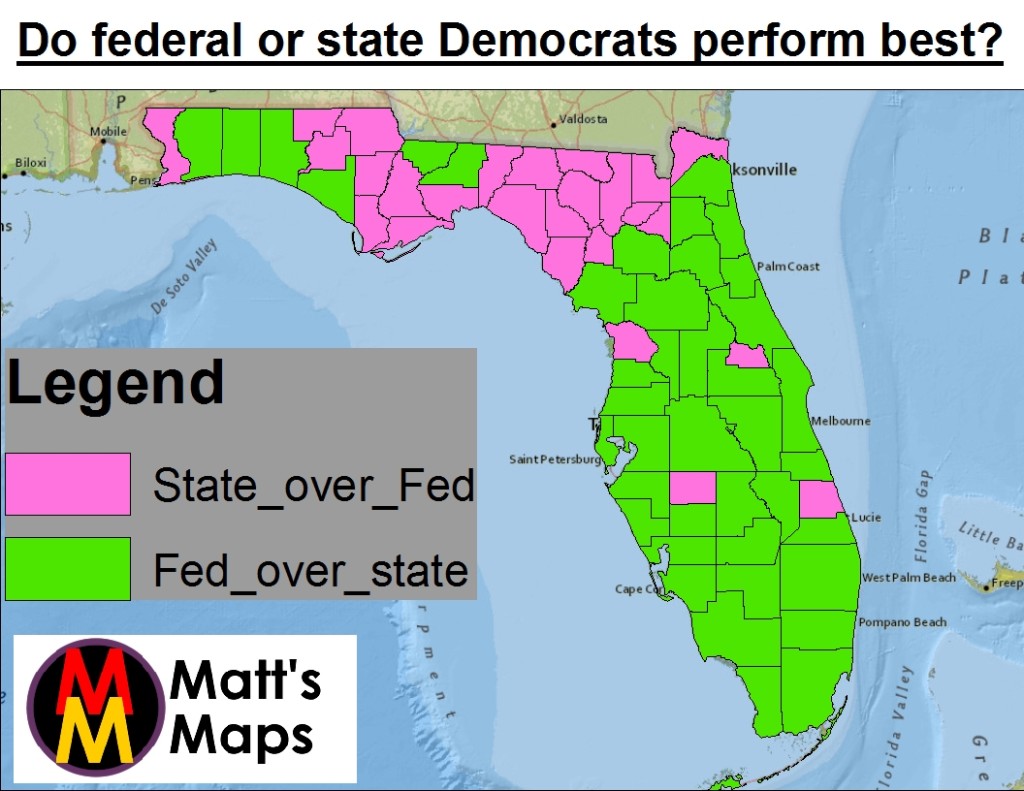 The main reason for this federal bias seems to be rural voters in the district are hesitant to send a Democrat to Washington. This hesitation has grown as federal elections become less about local issues and instead become proxy wars for the national parties and their leaders.  The counties listed below are the ones which have demonstrated a bias against federal candidates on average.  The chart also shows the average percent federal Democrats under-perform their state counterparts.  More analysis on the federal versus state issue in North Florida can be found here
| | |
| --- | --- |
| Calhoun | -2.77% |
| Franklin | -3.84% |
| Gulf | -0.34% |
| Holmes | -4.46% |
| Jackson | -2.37% |
| Jefferson | -2.15% |
| Liberty | -5.60% |
| Madison | -0.07% |
| Taylor | -1.81% |
| Wakulla | -4.51% |
Nelson's 54% in the district certainly indicates that Democrats still have a chance in the area, but the path to reclaiming the seat was still considered a daunting task leading into this cycle.
2014:  The Emergence of Gwen Graham
Heading into 2013, there was a great deal of speculation on who would run, or should run, against Southerland in 2014. One daunting issue was that 2014 would be a midterm during Obama's second term, which historically favors the party out of power. Speculation centered around several local officials in the Tallahassee area. However, one name began to emerge in early 2013: Gwen Graham.
Graham, an attorney who worked for the Leon County School District, began to be floated as a possibility early on. As the daughter of former Governor and Senator Bob Graham, a legend in Florida politics, she seemed like a strong choice for office. However, Graham was fairly unknown in the beginning. There was also a very real threat of a primary challenge, particularly from Al Lawson, that would have likely stopped the candidacy in its tracks.
However, Graham started the campaign at a fever pace, going to Democratic events, meeting voters, and winning over activists and average voters early on. The campaign brought on a talented campaign manager with a strong fundraising background, Julia Gill Woodward, 18 months out from Election Day. The campaign raised over $300,000 in its first fundraising quarter, immediately garnering major attention in the national press and establishing Graham as a formidable candidate for the district. While critics tried to claim Graham was trying to ride on her fathers name, those critics were silenced by her strong
work ethic, impressive fundraising power, and personal likability. Graham, committed to running a true 14-county campaign, wooed crowds in the summer of 2013 across the entire district.
Meanwhile her campaign continued to build a powerful finance team to raise money through the fall of 2013. The campaign hired Elizabeth Davis as its Finance Director and Brendan Olsen as its Deputy Finance Director. With this team in place, the campaign continued to raise hundreds of thousands of dollars at an impressive rate.
In early 2014, the campaign began to build a field team as well, bringing on Jenn Whitcomb, the Obama Regional Director for the region in 2012, as the Field Director. With this unusually early investment in Field, the campaign began registering voters, collecting petitions for ballot qualification, and grassroots communication with voters. The field program quickly established itself as one of the best operations in the nation.
The campaign continued to grow into a juggernaut in North Florida throughout the year. The field operations were poised to surpass that of the Obama campaign of 2012 within the district. Graham's personal commitment and discipline as a candidate allowed the campaign to continue raising money at an astonishing rate, out-raising Southerland nearly every single quarter. The campaign also brought on Eric Conrad, a seasoned communications guru in Florida, as Communications Director. Graham accomplished early on perhaps one of the hardest tasks for first-time candidates: bringing on smart strong hires and then trusting them to execute.
The campaign and its communications staff came up with what may be the best campaign slogan of the cycle: The North Florida Way. By summer of 2014, when Gwen Graham decided to go on air (and had the airwaves to herself for several months), the slogan was used in every spot. Graham promised to work across the aisle and derided the partisan nature of both Congress and Congressman Southerland. She promised to work for the betterment of the community and to always represent North Florida's interests in Congress.
This tactic was brilliant. By going on television early and ensuring the voters she was "one of them," Graham had helped inoculate herself to the eventual attacks that would come from Southerland and his allies, as well as subdue the district's bias against electing federal Democrats. The eventual attacks that came were predictable– that Graham was just a Tallahassee liberal who would support Barack Obama and Nancy Pelosi. Graham pushed back, saying she would not back Pelosi for speaker and argued that new leadership was needed in both parties. Graham also hit Southerland for his partisan voting record, for not voting to end of the Government shutdown, and his vote against the Violence Against Women Act, after he claimed to have supported it.
Southerland did himself no favors when it was revealed he had organized a 'mens only' fundraiser for his campaign. When confronted on the issue, Southerland laughed off the concern and asked the reporters if Gwen had, and I am quoting here, had ever gone to a "lingerie party" before. The national press seized the story and Southerland was painted as a sexist. As election day got closer, the national press declared Southerland one of the most endangered GOP incumbents in the nation. Republicans quoted off the record were furious that the seat was in play at all, much less the campaign's responses to Graham's attacks. By the time election day came around, everyone knew it would be close.
The Results
Election night was a roller-coaster when it came to Florida's 2nd District.  Gwen racked up a strong margin as the first returns came in from the eastern region of the district. Leon County counted quickly and at one point Graham had 55% of the total counted vote in the district.
The concern, of course, was the western region and the rural counties. The Graham campaign didn't need to win the rural counties, they just needed to not get killed in them and mitigate Southerland's wins. The biggest concern was Bay County, stationed in the west. Bay was Southerland's home base and it only gave Lawson 27% when he faced off against Southerland in 2012. In fact, in 2012 Bay's raw vote margin for Southerland had cancelled out the margin Lawson got from Leon (despite Leon's population being higher). The Graham campaign had hoped to both increase its Leon County margin and narrow Southerland's Bay County margin. While there were many different paths for the Graham campaign to achieve victory, getting 30% in Bay, 65% in Leon, and slightly better percentages than Lawson and Obama in the rural counties was the most likely strategy for winning.
As the western counties began to come in, it was clear Graham had a real chance of doing just that. Bay's turnout was only 51%, while Leon's was 57%. By the time Bay really started reporting, Leon was largely in and was giving Graham 65% of the vote, just where she needed to be. Bay was hovering around 30% for Graham. With the higher support and lower turnout, the Bay margin failed to erase the Leon margin. Graham netted 32,000 votes from Leon, while Southerland netted 22,000 from Bay. This left Graham with a net 10,000 votes. Graham netted an additional 8,000 votes from Gadsden and 800 more from Jefferson.
As the rural counties trickled in, voting for Southerland but not by the margins they had in 2012, the lead began to slowly shrink.  Graham's improvements in the rural counties made it so that they could not completely erase her lead, and with only a handful of precincts left in rural counties and Graham still leading by 3,000 votes, it became clear Graham would win.  When the final numbers were in, Graham had won by just over 2,200 votes.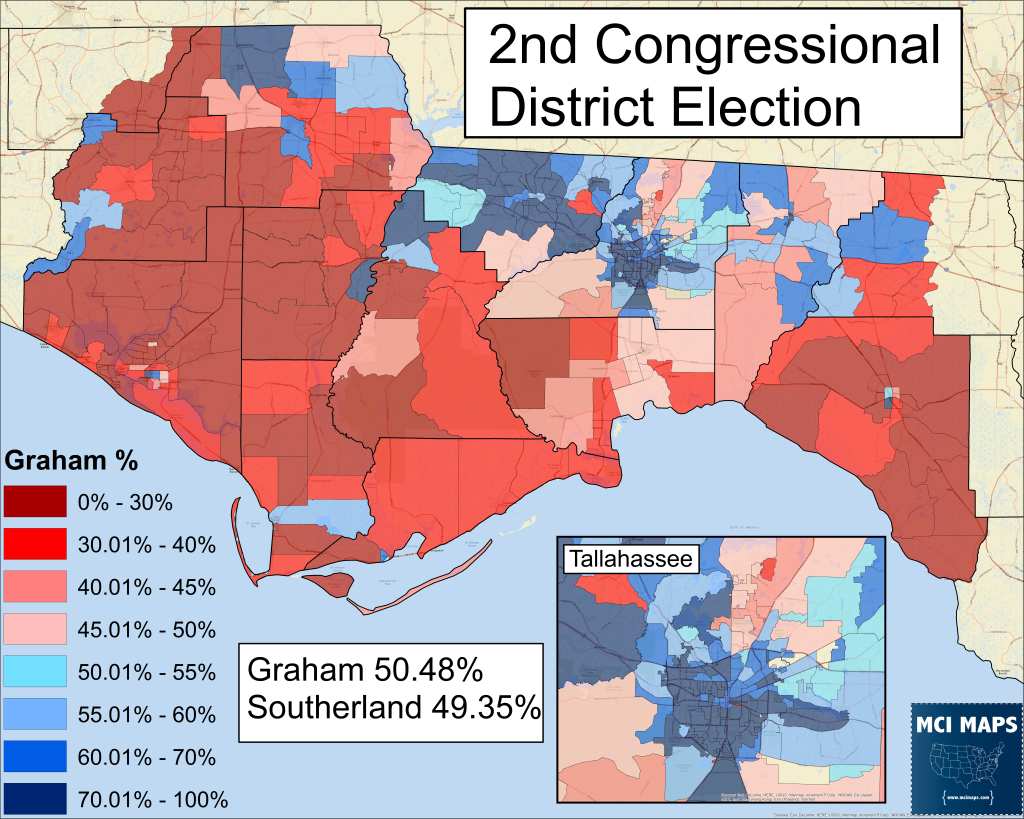 Map Note:  The margin factors in a write-in candidate, and Jefferson precinct results are election day only.
Graham's win served as one of the few bright spots for Democrats on election night. In Florida, Democrat Charlie Crist failed to beat Rick Scott in the Governors Race, and lost the 2nd district with only 46% of the vote.  Both candidates won the three Democratic Counties, but Graham had better percents than Crist in every county.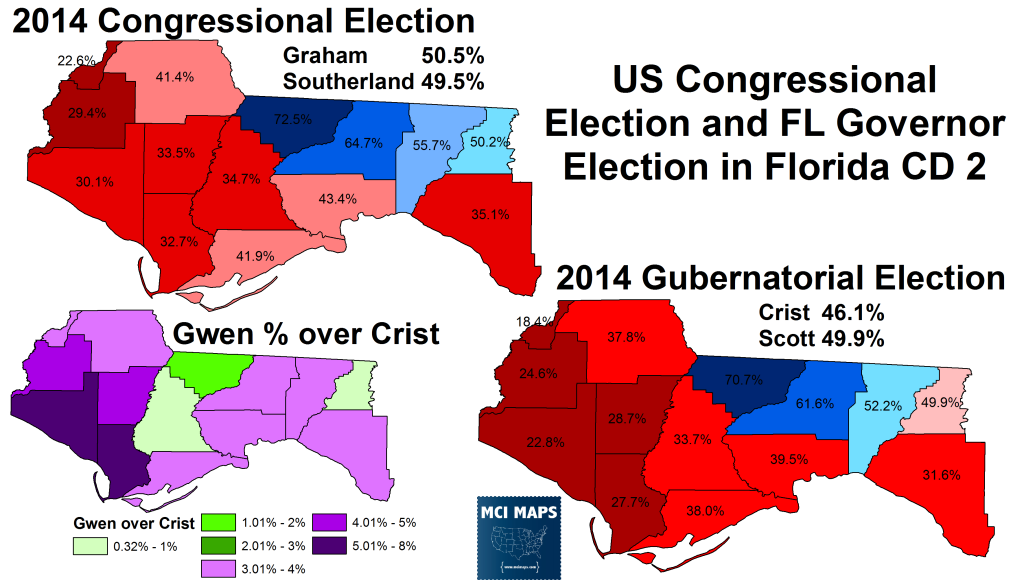 Graham over-performed by 7 points in Bay County.  This is especially notable considering that Graham's opponent hailed from Bay County.  Crist under-performed Graham across the board, only doing better in select precincts.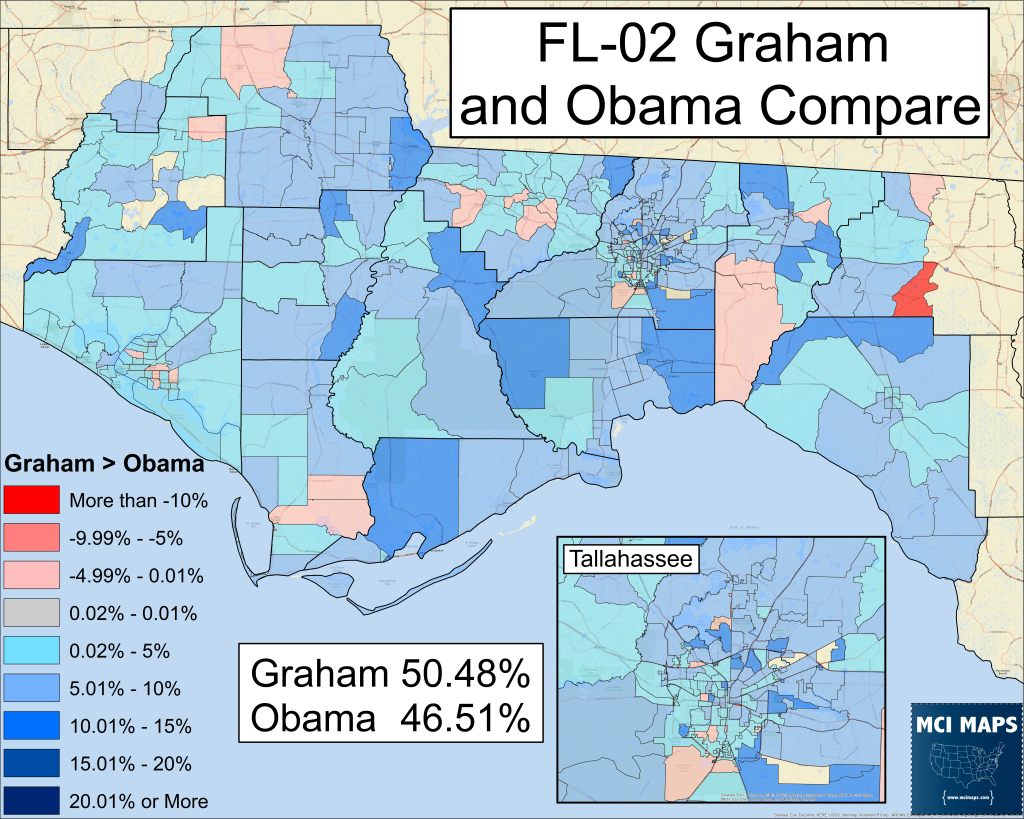 Graham's near-universal improvement over Charlie Crist is also notable for the fact that as a federal Democrat, she had the disadvantage.  The gap shows the strength of Graham and the weakness of Crist.
Crist's under-performance of Graham was not due to people skipping the Gubernatorial race either.  In fact, more voters were cast in the 2nd district for Governor than for Congress.  Around 4,000 more votes were cast in the Gubernatorial Election in the district.  This number is slightly inflated by the fact that Holmes and Madison split precincts (in districts 2 and 3), so in those precincts, the numbers for Governor are for the whole precinct, not just within the 2nd District.  However, even taking those precincts out, slightly more voters were cast for Governor.  The map below shows the percent of the voters who cast votes for congress as well as for Governor by precinct.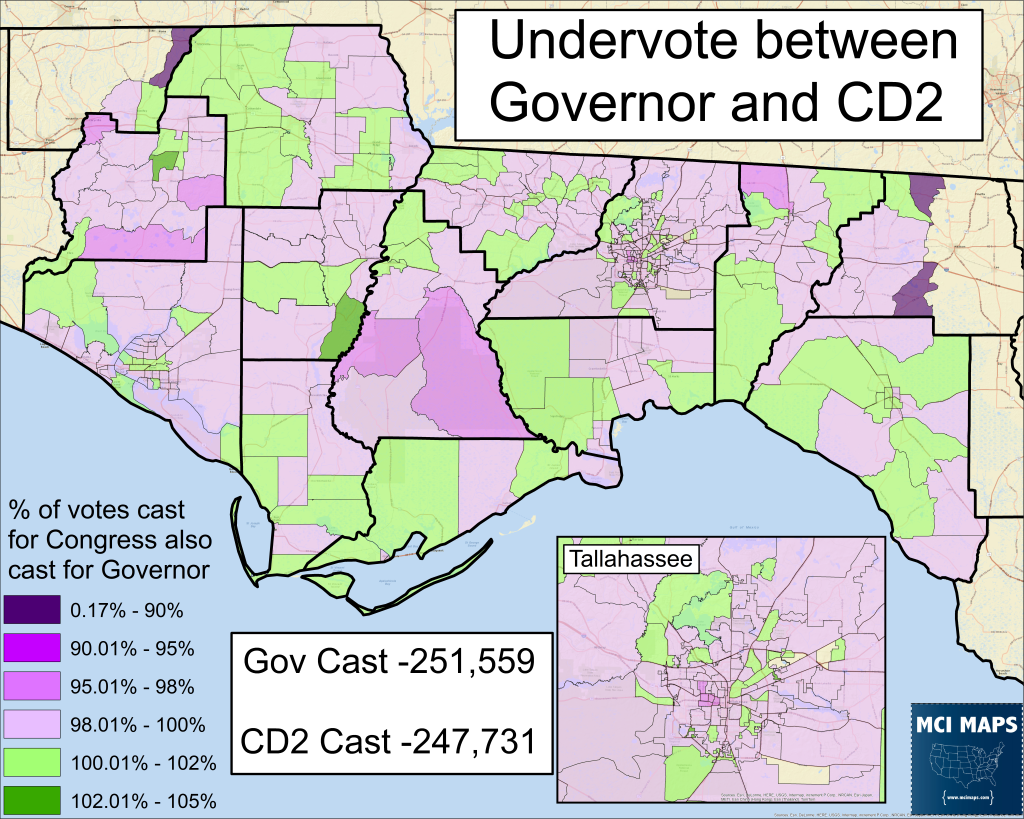 As the map shows, a vast majority of precincts had vote totals for congress than were at least 98% of those cast for Governor, indicating few left either race blank.  The green precincts show where more voters were cast for Congress than for Governor. There was no clear partisan pattern in whether more votes were cast for Congress or for Governor.
Despite Graham's improvement in the margins, there were still many Democratic areas that rejected both Graham and Crist. The map below shows precincts over 50% in Democratic registration, but voted largely Republican.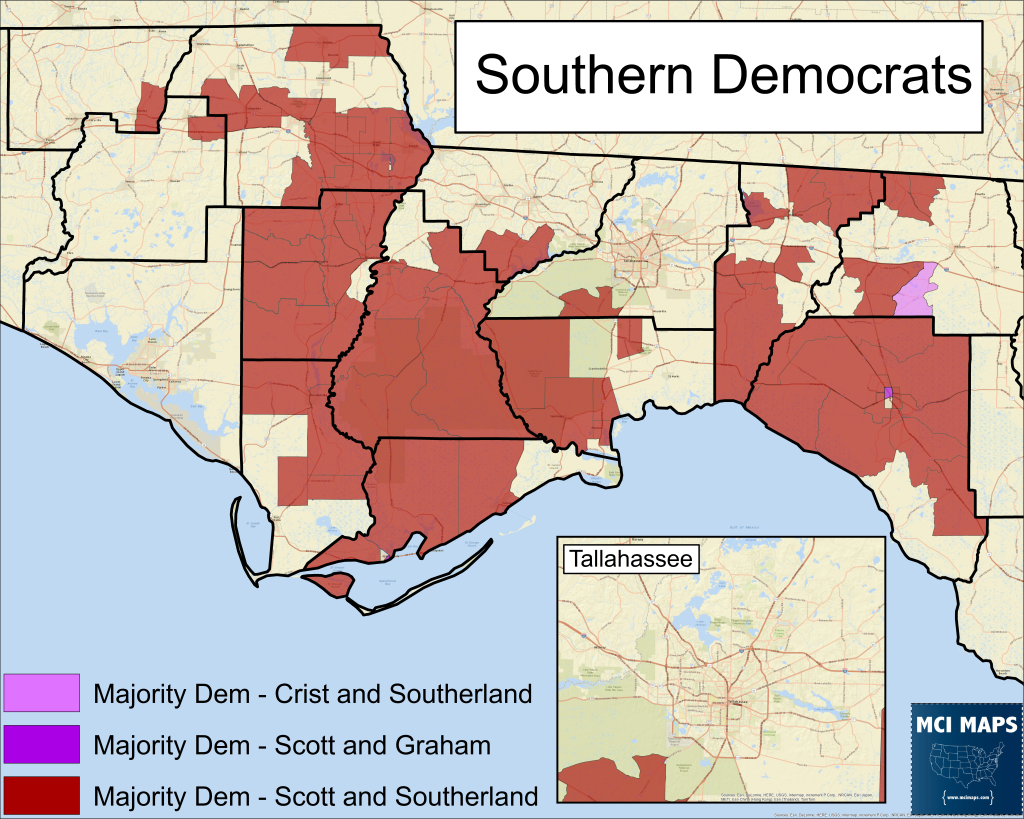 Graham's win is amazing, but it hasn't stopped the red slide of Southern Democrats in North Florida just yet.
Looking at a precinct map of Graham's win and Obama's loss from 2012, the precinct map is largely the same.  Graham only won a few precincts that Obama lost.  Meanwhile Obama won two precincts Graham lost.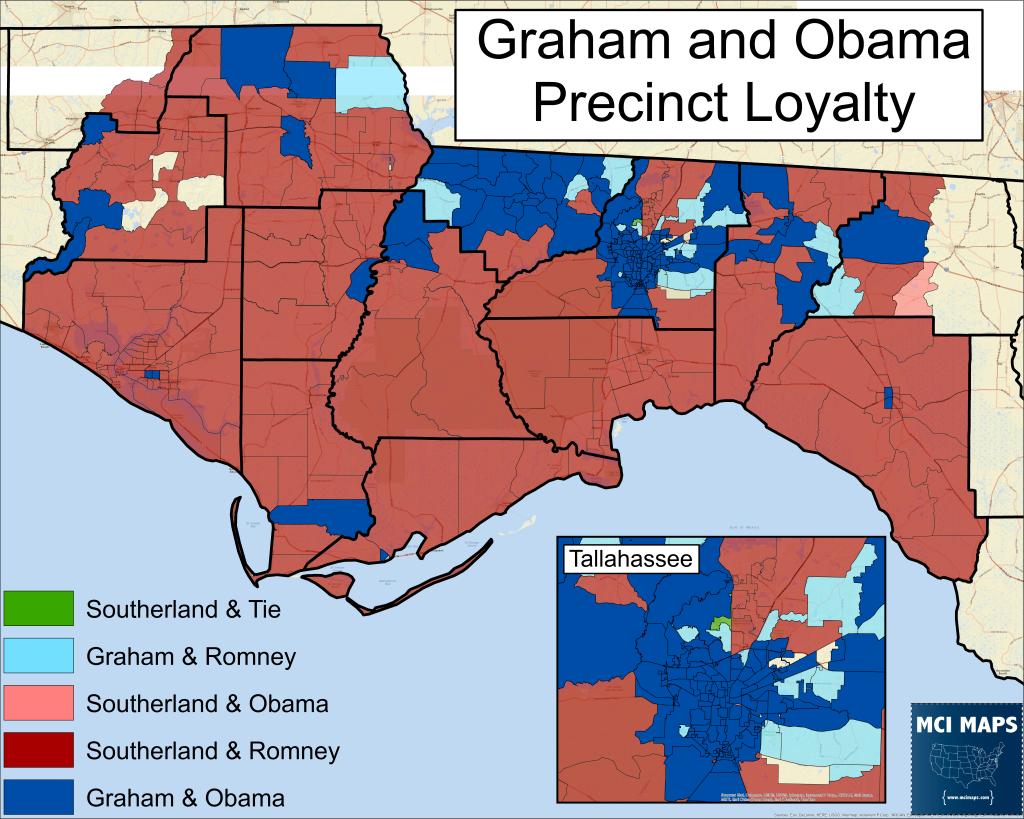 Map Note:  It should be noted that the Madison precinct that voted for Obama but not Gwen is a split precinct, and its Presidential (and any Gubernatorial results) represent the whole precinct, not the section that was in Congressional District 2.  Any comparisons in the 5 or so split precincts in Madison or Holmes are imperfect for this reason.  
The key for Graham wasn't winning areas the President had lost.  It was simply doing better than him across the board, regardless of the precinct being red or blue.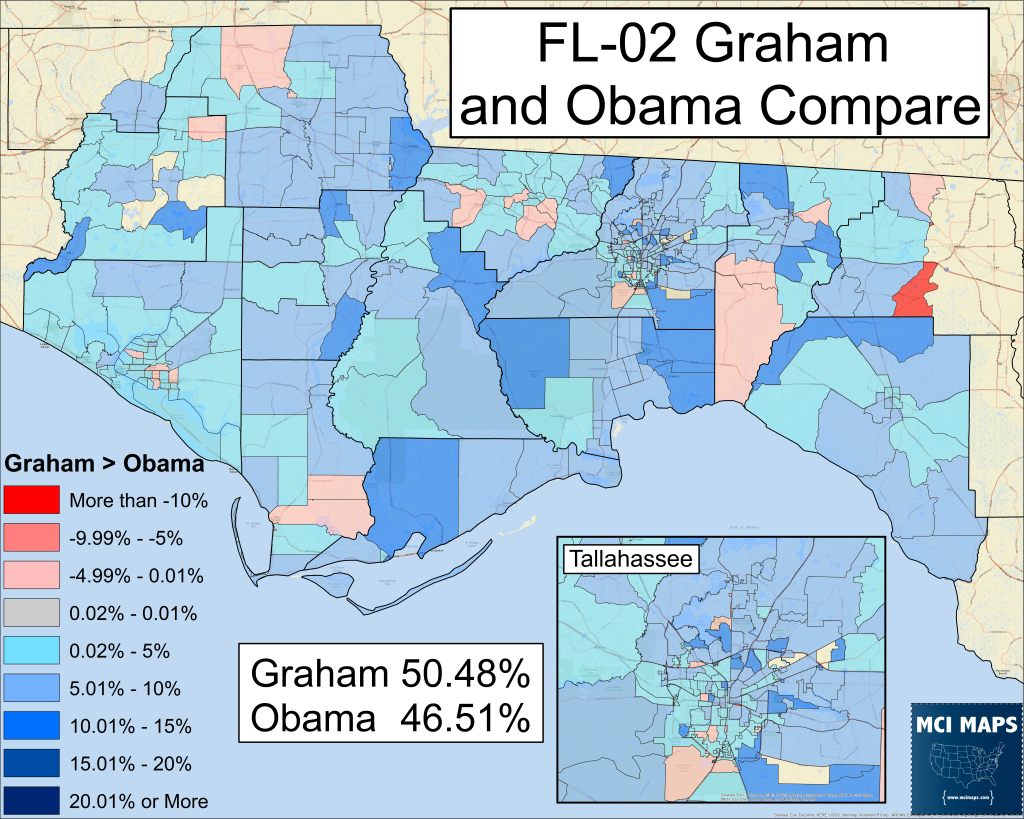 Graham over-performed President Obama across the board in the district. She only under-performed him in scattered precincts.  The precincts where Obama did better were 37% African-American. The loss of support can be attributed to the white voters moving more Republican or higher Republican turnout in those areas.   Graham actually over-performed the President in many African-American areas, particularly in Leon County.  Graham did better than Obama in Tallahassee's southside, beating the President in precincts that were over 90% African-American.  One particular note, Graham got a higher share of the vote than Obama had in Florida A&M University, a largely African-American college.
Graham's biggest bases of improvement from Obama were with white voters.  As precincts became whiter, her increase from the President's percent grew.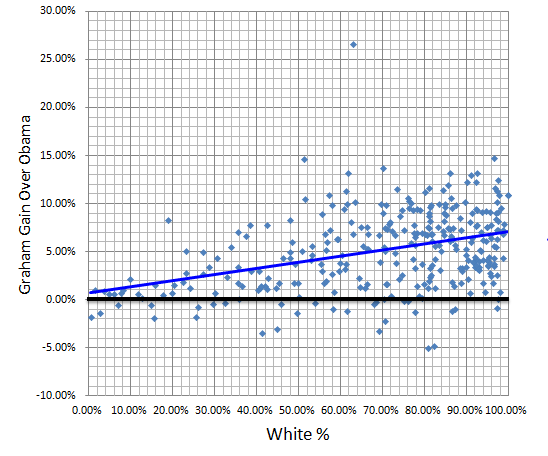 Still, Graham's over-performance with African-Americans was something even Bill Nelson could not do.  Nelson won the district by limiting losses with white voters.  However, he did not get as high of percentages as Obama in the African-American areas.  While Graham did not do as well with white voters as Nelson had, she did better with African-Americans than both Nelson and President Obama.
The scatter-plot below shows Graham (blue), Nelson (red), and Obama (green) percentages by precinct and how they fluctuated as precincts became whiter.  The left end are the least white precincts (essentially African-American) while the right side are the whitest.  As the plot shows, Graham and Obama started off higher than Nelson in the African-American precincts.  As precincts grew whiter, support for all candidates fell.  Graham and Obama fell at a quicker rate than Nelson.  However, Graham did not fall as far as the President.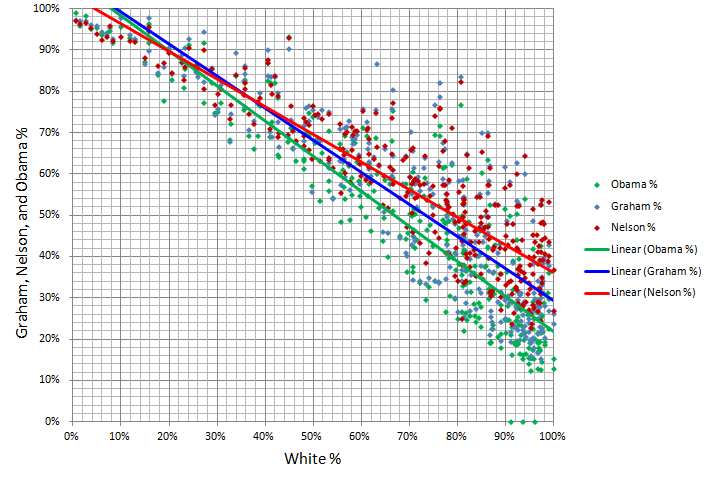 Graham starting off high with African-Americans and not falling to far with whites were instrumental to her win.
Graham's improvement of Nelson with African-Americans can be seen in the map below showing where Nelson or Graham performed best.  Nelson, who has long been popular in rural Florida, did better than Graham in most of the rural parts of the district.  However, Graham did better than Nelson in African-American precincts and in several white suburbs in Leon County.  Graham improved over Southerland in swing Leon suburbs like Betton Woods and Waverly Hills, in addition to Republican suburbs like Killearn Estates and Southwood.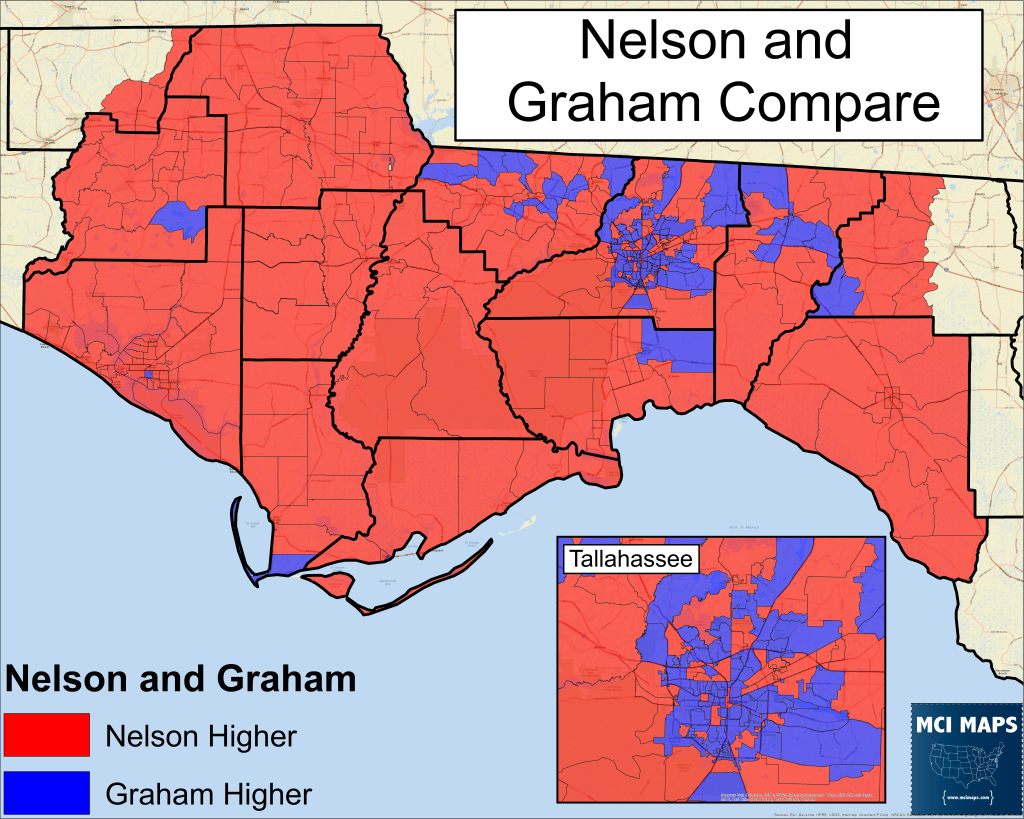 Nelson's strength in the rural regions of Florida date back over a decade, so his over-performance of Graham shouldn't be surprising.  Nelson's stronger over-performing areas were in Taylor, Franklin and Liberty; in very low populated precincts.  Meanwhile, Graham's improvement over Nelson in the well populated suburbs were instrumental in increasing her needed margins in Leon County.
Where Graham succeeded, Crist failed.  Despite being a former Republican, Crist ended up as "just another Democrat" in North Florida.  Crist over-performed Obama in the eastern end of the district, but lost ground further west.  This was especially notable in Bay County.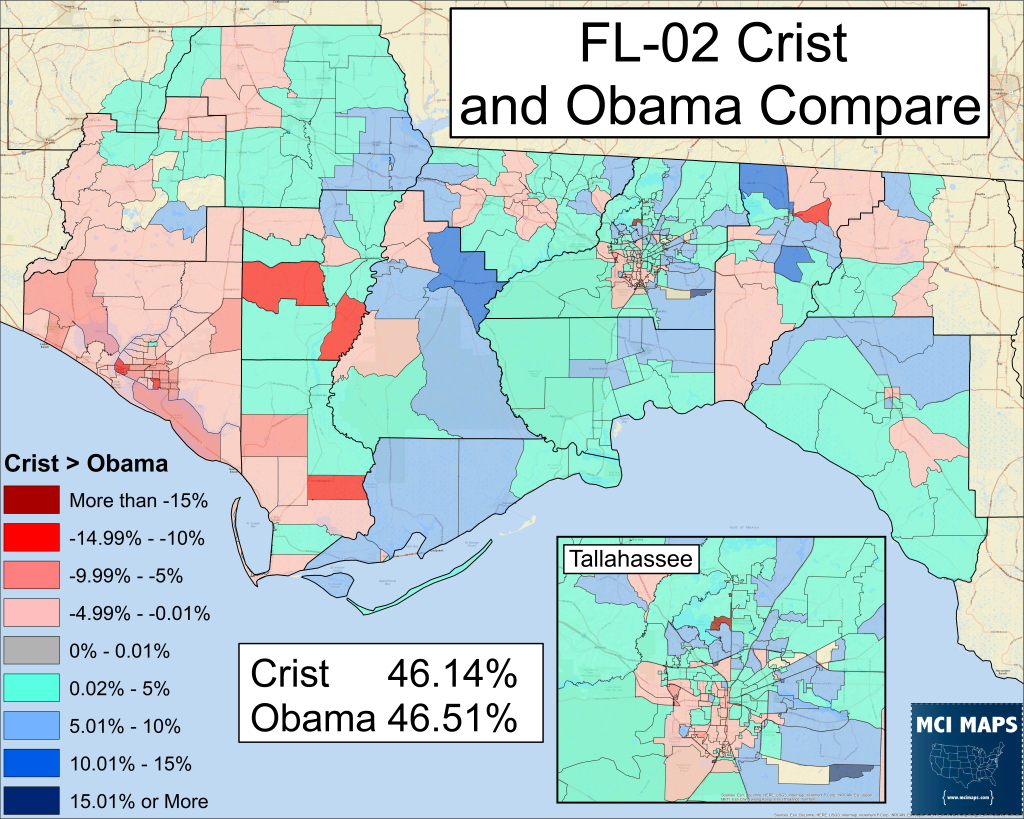 Crist lost ground to Obama in all of Bay and in scattered rural precincts.  In addition, he lost ground to Obama in much of the African-American community.  Crist's losses with whites in Bay and African-Americans throughout resulted in him getting a lower percentages than Obama had in 2012.
Crist's percentages-by-precinct closely correlates with Obama's. The red line in the scatterplot below would represent a perfect correlation (Crist gets a certain percentage, Obama has exact same). Nearly all the precincts, and the yellow line representing Crist's trend, falls close to that perfect correlation line. Overall, whether it was under or over-performing the President, the differences in percentages between the two were minimal.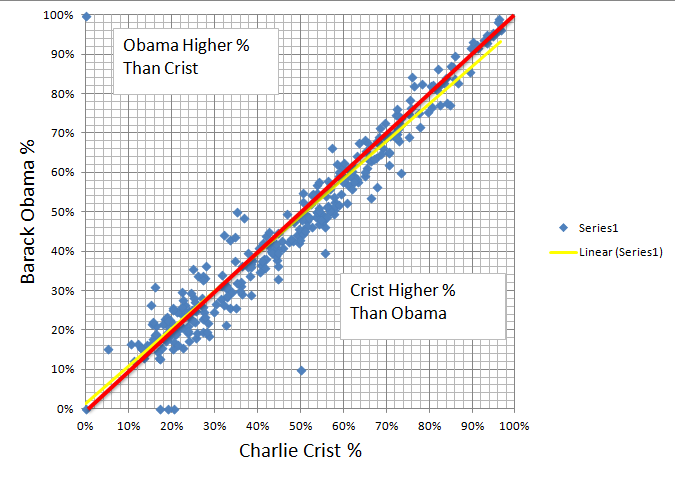 To show again how Graham did better at separating from Obama's weaknesses in the 2nd district, lets look at a scatter-plot of Graham and Crist percentages compared to Obama's.
The plot below shows Obama's percentages by precinct from right to left, and Crist's (red) and Graham's (blue) up and down.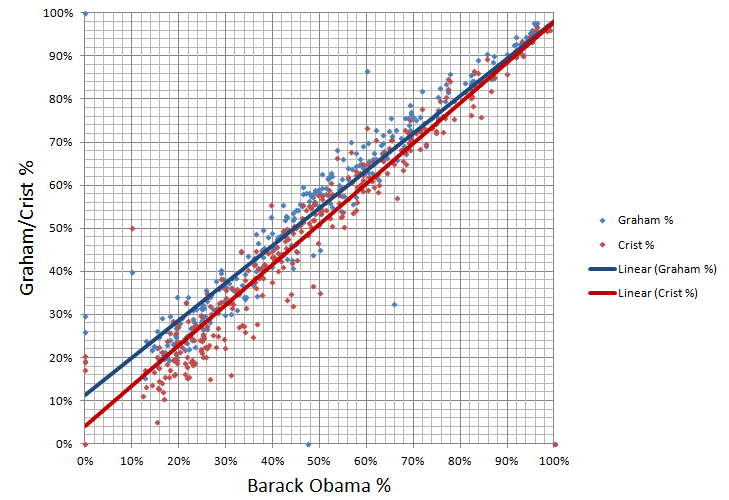 The plot shows a great deal of correlation for both candidates.  Overall their support was closely tied to the President's support.  However, the big difference is Gwen got a higher percentages in the weak Obama precincts (the bottom left).  Precincts where Crist and Obama might only get 20%, Graham would manage 30%.  Graham over-performed Crist and Obama in the redder precincts.  The gap narrowed as precincts became more Democratic, but Graham managed a narrow over-performance until the they reached the most Democratic precincts.  Those gaps in the red areas were very important for Gwen's win, as the race came down to margins.
One final piece of analysis in the second district revolves around Nan Rich.  Rich, a liberal, Jewish, former State Senator, did best in the conservative panhandle counties thanks to opposition to Crist.  A vast majority of voters didn't know who Rich was and their vote for her was a reflection of the conservative Democrats' opposition to Crist.  Rich got 31% in the second district, higher than her statewide total, winning several precincts.
Rich's precincts where 42% Democratic and over 85% white.  These were not liberal enclaves, but rather areas filled with very conservative Democrats who had grown disillusioned with the party and voted for the unknown Rich as a protest.  Crist got 20% in those precincts compared to the 26% Graham got.  In fact, as precincts supported Rich by a higher margin, their support for Graham or Crist went down.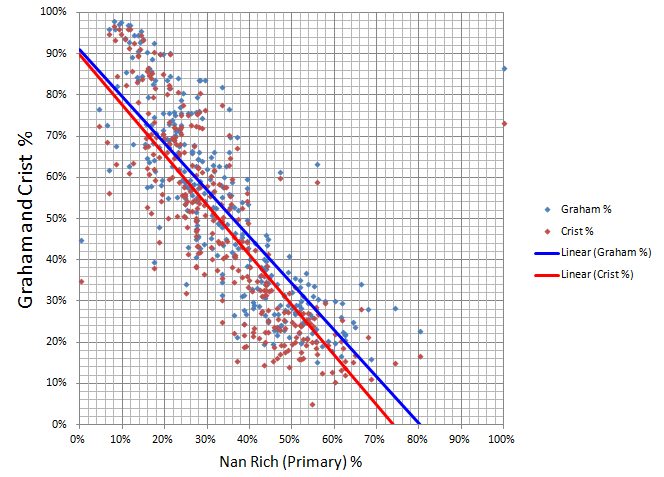 Graham managed to bleed support less than Crist in the heavy Nan Rich precincts.  This stands out as another example of Graham outperforming Crist in the heavily conservative areas.
Field Wins Elections
Field doesn't get nearly as much attention or money as TV and direct mail do, but it is a critical component of any well-run campaign. While field got more attention than usual in the course of the Obama campaigns, it is still not the fixture of others. Most campaigns use field operations, but often with limited financial resources, or outsource entirely. The former was seen in the Crist Campaign this cycle, where field programs outside of southeast Florida were lacked resources and goals. In fact, the Crist campaign's lack of presence in North Florida resulted in them losing the district despite Scott's immense unpopularity with state employees, a major voting block in Leon County.
The Graham campaign, meanwhile, had one of, if not the, largest congressional field programs in the country.  The program included efforts focused on volunteer recruitment, voter registration, persuasion and get out the vote drives during Early Vote and on Election Day. In addition to that, Graham's campaign focused Vote By Mail, signing up a record number of supports to use that method of voting in CD2.  The campaign was successful in registering over 11,000 new voters in the district.   The campaign's hiring practices were also commendable.  The field program hired staffers based on skill, knowledge, and how they reflected the communities they would be responsible for working in, with a great deal of diversity throughout the field hierarchy.  The campaign maintained a presence in every county of the district and left no area neglected.  The campaign's dedication to reaching all voters and community involvement can be seen in Graham doing better in the African-American community than even President Obama.
When looking at the final margins for Graham, just over 2,000 votes, it is clear that if any one piece of this massive operation had gone wrong, Southerland would have prevailed. But the field campaign was a well oiled machine that worked to get out Democratic voters as well as persuade rural whites. Without the field program, Leon's turnout would have fallen lower. The campaign's early investment in Bay also ensured Graham got 7 points higher than Crist.
The Graham and Crist numbers truly highlight the importance of field.  Both candidates had good name recognition by election day, ad both has large sums of money on TV and mail.  Crist was known in the area, had won the district in 2006 as a Republican, and had won Leon as an Independent in 2010.  Both Graham and Crist were running against flawed GOP incumbents. Graham's margins over Crist, and path to victory, was thanks to the well-oiled machine that was its field program.  That cannot be stated enough.
Conclusions
Gwen Graham's win is important for two reasons.  First, it is a testament to how good campaigns can matter.  Anyone who has worked in campaigns knows the sting of running a good campaign but falling short due to outside circumstance.  The Graham campaign, however, managed to defy the Republican year and the Republican lean of the district to be one of the few Democratic pickups in 2014.  Second, the Graham win has slowed the tide that has been growing stronger in the 2nd congressional district.  The region is still trending Republican.  Crist's loss in the 2nd district is a reflection of both its lack of investment and a Republican trend.  Republican gains in local offices in North Florida on election night are a reflection of the continuing realignment in the area.  Graham's win stands completely counter the the growing Republican sentiment in North Florida.  It stands as a testament to what can be accomplished with a strong campaign.  She will need an equally strong operation in 2016.  Demographics and electoral trends can be hard to overcome.  However, as Gwen Graham shows, good campaigns matter.