Democrats across Florida are eager to see the results of the Governors Race between Charlie Crist and Rick Scott.  In addition to the Crist v Scott match up, Democrats are invested in the Attorney General Election between George Sheldon and Pam Bondi, two major congressional races, and a handful of state house and senate elections.  Democrats are hoping to win the Governor and Attorney General elections, knock off Steve Southerland in CD2, and keep Republicans from getting a veto-proof majority in the state house and senate.  All of these races are important.  However, there are also a great deal of local races that Democrats should have an interest in.  Below are a listing of county commission and constitutional officer elections that I believe Democrats should keep an eye on Tuesday night.
It should be noted that this list if not of every Democrat versus Republican race at the county level.  Rather, this list if of the races that have implications for control of commissions, or serve as a sign of party strength.  Democrats have strong local bases of support in rural and North Florida Counties that are being increasingly threatened. Meanwhile, Democrats are hoping to make gains in blue counties that they have traditionally under-performed in at the local level.
Below are maps of the partisan control of county commissions and constitutional officers (tax collector, property appraiser, clerk of courts, supervisor of elections, sheriff, and superintendent) in Florida.  The data in the images is current up until December 2013.  You can read my article on local party strength in the link.  In addition, I invite you to read my article on the southern realignment coming to North Florida. The article includes looks at Republican growth in North Florida at a state and local level.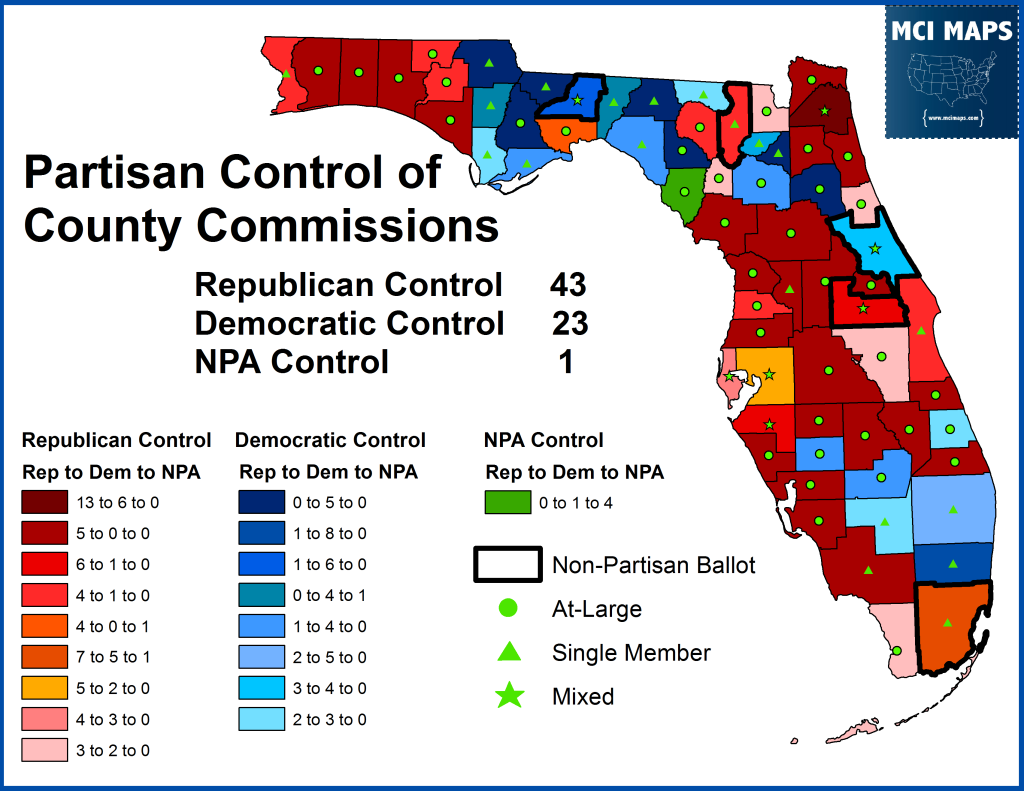 Now onto to the races Democrats should be watching…. (Disclaimer note:  I have done work for the Democrats running in Escambia 4 and Manatee At-Large).
Bradford County Commission: Districts 2 and 4
Bradford County still serves as one of the ancestral Democratic rural counties of Florida.  It is 45% Democratic registration and currently has an all-Democrat County Commission and all constitutional officers are Democrats.  However, the county is a reliable red vote in most statewide and legislative elections.  Bradford might elect its first Republican commissioner in district 4, where Republican Helen Hersey has put $13,000 of her own money into an election that normally has only a few thousand spent.  She is challenging incumbent Danny Riddick, who has raised $3,300.  If Riddick wins, it will be thanks to incumbency and the ancestral Democratic nature of the county.  In district 2, Incumbent Doyle Thomas has a Republican opponent who has raised $2,500 to Doyle's $1,400.  If both Democrats win, then Bradford's local-democratic strength stands.  If both were to lose, it would be a sign of a growing GOP strength down-ballot.  An important note, Bradford commissioners are elected in single-member districts.  Only a handful of votes will decide the winner.
Broward County Commission District 4
Broward County is the great blue savior of Florida.  The county is overwhelmingly Democratic and the second largest county in the state, always ready to pad the margins of statewide Democrats.  Broward's only issue has been turnout in midterm elections.  Turnout in 2010 hovered around 40%.  However, Democrats are optimistic by increased early voting and absentee voting in 2014.  Democrats used to control all 9 county commission districts.  However, Republican Chip Lamarca won District 4 in 2010 over Democratic Incumbent Ken Keechl.  Lamarca benefited from a bad year for Democrats and the fact the district, which covers the Republican coastline of the county, leaned GOP — having voted for McCain in 2008.  However, the Democratic commissioners redrew the lines in 2011 as part of redistricting and made Lamarca's district more Democratic by adding in African-American precincts.  The new district gave Obama 53% in 2012.  Lamarca is facing Keechl again, and has out-raised the Democrat $400,000 to $100,000.  However, Keechl is framing the race as D v R, and it might be enough to take back the district if he can ride Crist's coattails.  Lamarca stands as a threat to Lois Frankle for CD-22, and his ouster must come sooner rather than later.
Calhoun County Commission:  Districts 2 and 4
Democrats still dominate in Calhoun County.  The couny is 65% Democratic, but votes overwhelmingly Republican for state, federal, and most legislative elections.  Cracks in the Democratic monopoly at the local level have begun to show in 2012.  Calhoun elected NPA candidates to the Sheriff, Supervisor of Elections, Clerk of Court, and Superintendent positions.  The Clerk of Court winner was a registered Republican while the others were Democrats.  In addition, an NPA candidate (registered as a Democrat) was elected to the county commission.  The election of NPA, personal registration aside, shows that the voters are no longer willing to just elected Democrats to these seats.  There is still no strong local Republican Party, and the election of NPAs shows voters wavering on Democrats at the local level.  The fact that Democrats are also running as NPAs may represent a discontent they have with being identified with the national party.  A similar phenomenon occurred in Dixie county a few years ago where an all Democratic commission shifted to an majority NPA commission.  In 2014, two commission seats, 2 and 4, have Dem versus NPA challengers.  NPA wins would signal a further eroding of Democratic strength down-ballot in Calhoun.  Commissioners are elected in single-member districts.
Escambia County Commission:  District 4
Escambia County, home to Pensacola, would normally be seen as a prime opportunity for Democrats.  However, in Escambia District 4, a dogfight is going on between Democrat Mike Lowery and incumbent Commissioner Grover Robinson.  The district sits on the counties eastern border, overlooking Escambia Bay.  The district is home to some small Democratic strongholds and many upper-income Republican suburbs.  The district gave Obama less than 40%, but backed Democrats for Tax Collector and Property Appriaser with over 60%.  Lowery has hit Robinson for his close ties to BP, whose oil spill is still fresh in the mind of local residents. Robinson's lack of support for environmental concerns and water quality have hurt him with beach-side residents who care about their view remaining pristine.  Lowery, meanwhile has run an aggressive door to door ground game to persuade voter.  In addition, he kept the money fight essentially tied with Robinson.  While top of ballot democrats will fail in Escambia 4, Lowery may well squeeze through.
Franklin County Commission:  District 2
Franklin County has one county commission district advancing to the general election, district 2, held by Democrat Cheryl Sanders.  Sanders faces a Republican in a eastern rural district that gave Obama 31% and Bill Nelson (who won the county) 38%.  The Republican Party of Franklin County gave Sanders' GOP opponent, Mark Nobles, $2,500, showing a commitment to the race.  Both candidates have raised just over $3,000.  Franklin only has one GOP commissioner and an all-Democrat slate of constitutional officers.  However, this rural panhandle county counties to trend red.  If Sanders loses, it will be a further sign of growing GOP strength down-ballot in North Florida.
Glades County Commission:  Districts 1 and 4
Two commission districts are up in Glades county, and the winners could determine control of the commission.  This rural, agriculture-dominated county in south-central Florida as been leaning Republican more and more, voting against Obama by a wide margin and rejecting Bill Nelson after giving him previous support.  While Democrats are 52% of the voters, they, like their north Florida counterparts, are moving further away from the party of their ancestors.  However, the commission was 4-1 Democrat and all its constitutional officers are Democrats.  A vacancy on the commission allowed Governor Scott to appoint another Republican and a special election is being held in November to fill the remainder of the term. If Republicans hold the seat for the special election (district 1) and pick up district 4, where the incumbent Democrat is retiring, they will have 3 of the 5 seats.  Commissioners are elected county-wide.  Fundraising reports are unavailable, but money is likely low in this rural county.
Gulf County Commission:  District 2
If there is one county commission most at risk of falling to Republicans, its Gulf County.  Gulf, like its North Florida neighbors, is a ancestral Democratic County that has been growing redder on the top of the ballot.  The county is 51% Democratic, but rarely gives its votes to federal, state or legislative Democrats anymore.  Gulf only gave Democrat Bill Montford 51% of the vote in 2012 in the State Senate race; even while Montford beat an unknown opponent with 72% district-wide.  Four of the six constitutional officers are Republican and the county commission is currently 3-2 Democrat.  In the August primaries, one Democratic commissioner lost his primary.  In the general election, incumbemt Ward McDaniel faces a tough fight from Republican Tom Semmes.  Ward has only raised $2,000 (all his own money) while Semmes has $9,000.  The Gulf Republican Party gave Semmes $3,000.  Ward McDaniel seems like a clear underdog in this northern Gulf district that only gave Obama 25% of the vote.
Hillsborough County Commission:  At-Large
Despite the fact Hillsborough voted for Obama in both 2008 and 2012, and Democrats holding a 60,000 person registration advantage, Republicans control the county commission by a 5-2 margin.  Democrats do, however, control 3 of the 5 elected constitutional officers in the state.  This year, a GOP incumbent is retiring from one of the at-large seats and Democrats have a strong candidate to win with.  Democrats have nominated Patricia Kemp, a prominent lawyer and former Hillsborough Dems chair.  Republicans have nominated Al Higginbotham, who serves on the county commission as the representative for district 4, which represents eastern Hillsborough.  Higginbotham is termed out from his district and has opted to run for the countywide seat. However, Higginbotham's past conservative votes (his district was more Republican than the county) are being used against him,  Higginbotham has used his ties to raise over $360,000 dollars to Kemp's $100,000.  Kemp may win thanks to party ID and Crist's lilikelihoodo win the district.  Winning this seat should be a priority for Hillsborough Democrats.
Jackson County Commission:  Districts 2 and 4
Jackson County has never elected a Republican to local office in its history.  Ever.  Or so I am told.  It is another one of the North Florida ancestral Democratic counties that have been growing redder at the top of the ticket.  With a large African-American population in its north and rural white Democrats in the south, the county is 60% Democratic in registration.  The large African-American population allowed Obama to manage 36% in 2012 while Bill Nelson got 46%.  All six constitutional officers are Democrats and the 5 member board are all Democrats.  In district 2, Incumbent Edward Crutchfield is in a heated 2010 rematch against Republican Clint Pate.  Pate nearly knocked off Crutchfield in 2010, losing 53% to 47%.  Pate is aiming to finish the job, and has raised $15,000 to Crutchfield's $7,000.  Pate has also received $4,000 from the Jackson County Republican Party.  The district gave Obama around 33% of the vote.  In district 4, vacated by retiring commissioner Jeremy Branch.  Democrat Avin Roberts has out-raised his Republican opponent Eric Hill — $18,000 to $2,200.  Three NPA candidates are also running.  The districts is dark red, giving Obama around 24% of the vote.  However, the Democrat appears better positioned over his Republican challenger.  Either district going GOP would be a major event in the political history of Jackson County.
Lafayette County Commission:  Districts 2 and 4
Lafayette is ANOTHER one of the rural, North Florida, ancestral-Democratic counties that is fighting off growing Republican sentiment further down-ballot.  The district is solidly Republican at the top of the ballot but retains an all Democratic commission and all Democrat constitutional officers.  Democrats make up 65% of the registration in the county. The August primaries were intriguing, as both Democratic commissioners up for re-election lost primaries with less than 30% of the vote.  The primary winners face Republicans in the General.  Information is scarce, so it is hard to say if both commissioners lost due to controversies or other reasons.  Republican wins would be another sign of cracks in decades-long democratic dominance in local contests in North Florida.
Liberty County Commission and Superintendent
Liberty County is perhaps the ultimate of the North Florida ancestral-Democratic counties.  The county gave Obama less than 30% of the vote, yet is over 80% Democratic in registration.  Liberty swings between red and blue for Governor and state legislative races, even giving Bill Nelson its votes in 2012. However, its Republican-lean is clear in most elections.  The county has an all-Democrat commission, and until 2012 all its constitutional officers were Democrats.  Liberty elected an NPA over the Democrat for Sheriff in 2012, marking the first crack in the local Democrat monopoly.  Now in 2014, commission seats feature Dems versus NPAs.  Both races show neither side with major money advantages (no candidate has raised up to $3,000).  On the same ballot, a special election for Superintendent features three NPA candidates and one Democrat, David Summers.  The Democrat would likely be favored, except he has raised the least money — $700 to the top raising NPA, Kathy Nobles,' $4,100.  Like Calhoun County, local Republicans are unorganized and NPAs often serve as an opposition or alternative to the Democratic Party.
Manatee Commission At-Large
Manatee County is rarely on the radar of political  observers.  The county is part of the Republican suburban coast of southwestern Florida.  However, Manatee is less Republican than its southern neighbors; 42% Republican, 32% Democrat, 26% NPA.  The county gave Obama 43% and gave Nelson 49% — a plurality win over Connie Mack.  The Crist campaign is no doubt hoping for a win or strong showing in Manatee, as it servers as a suburb for Pinellas, Crist's home county.  In the at-large county commission race, Democrat Terry Wonder faces off against Republican incumbent Carol Whitmore.  Whitmore has far out-raised Wonder, $25,000 to $100,000, but the Democrat is running a fierce ground game.  Manatee has a large batch of NPAs and moderate Republicans for Wonder and Crist to pull from, making the numbers in Manatee worth watching.
Orange County Commission and Clerk of Courts, Amendment C
The only Republican Constitutional Officer in democratic Orange County (home to Orlando) is Clerk of Court Eduardo "Eddie" Fernández, who was appointed to the post in 2013 by Governor Scott when Lydia Gardner passed away.  Fernandez is now running for the post in a special election to fill the last two years of the term.  The Democrat running is County Commissioner Tiffany Moore Russell.  The race has attracted huge sums of money, with both candidates raising $220,000.  Local Democrats hope to retake this position for their party and dent the political rise of the 33 year old Fernadnez.  Orange county is a very diverse county:  46% white, 27% Hispanic, and 20% African-American. The Hispanic voters of Orange lean Democratic, but no doubt Fernandez hopes to win over many of those voters while Russell, who is African-American, hopes to consolidate her base of African-Americans and Democratic whites.
Another high profile race is for Orange County Commission.  Orange county is one of a few counties in the state that do non-partisan elections for county commissioners.  The result has been a 6-1 Republican controlled commission.  The race for district 2 (Northwest Orange) has been a heated affair between Democrat Alvin Moore and Republican Bryan Nelson.  Moore, the vice-chair of Eatonville, has raised $168,000.  Nelson, a state representative, has raised $218,000.  Both political parties have backed their respective candidates, helping each raise money.  Obama got 57% of the vote in the district, so the Democrat SHOULD be favored.  However, since candidates don't have a party label next to their name, Moore and Nelson cannot rely on standard party line voters.
This brings us to the last major issue for Orange County.  Amendment C would change the Orange Charter to make county commissioners elected with partisan affiliation.  This is supported by Democrats but opposed by Republicans.  Another measure, Amendment D, would make the constitutional officers (who are elected in partisan elections) non-partisan and impose term limits.  Democrats oppose D, while Republicans support it.
Osceola County Commission:  Districts 2 and 4
Osceola has become more Democratic over the last several election cycles thanks to a growing Hispanic population.  The county is currently 47% Hispanic and gave Obama over 60% of the vote in 2012.  Most of the counties population is in its northern end, just south of Orange County.  The county elects commissioners At-Large and is 2-3 Republican.  Two Republican commissioners are up this year  Democrat Viviana Janer is challenging Republican incumbent John 'Q' Quinones in district 2, while Democrat Cheryl Grieb is challenging Republican incumbent Frank Attkisson in district 3.   In both instances the GOP incumbent has ourtaised the Democrat.   Quinones has raised over $100,000 to Janer's $30,000, while Attkisson has raised over $120,000 to Grieb's $50,000.  Quinones is fairly popular (last I checked) in Osceola and is likely to hold on, while the Attkisson v Grieb race is very heated.  Attkisson recently caught flack for trying to replace "Republican" with "Rep" (which could easily be thought of as Representative) in the disclaimer of his mailers.   Attkisson clearly thinks his Republican affiliation may be a problem in a blue county. There is also a concern from Democrats in the race that Nelson Perez, a Hispanic NPA candidate, is being used to siphon off democratic voters
The district 2 race had a shakeup when Janer was fired from her job at at Marriott when she refused to drop out of the race against Quinones, who had received contributions from Marriott International.  The story could give symptahy to Janer; whether it will be enough will be seen Tuesday.  Democrats should be working to take at least one of the seats and gain control of the commission in a county that is becoming bluer with each cycle.
Palm Beach County Commission:  District 4
Boca Raton is home to the hot county commission race for Palm Beach this year.  Republican incumbent Steven Abrams is facing off against Democrat Andy O'Brien.  The district swings, giving Obama 49% and Bill Nelson 56%.  O'Brien has lent his campaign $100,000, which covers most of his money spent, while Abrams has raised well over $200,000.  Abrams is a favorite to win, but look to see how O'Brien does if Crist beats Scott big in the district.
Pinellas  County Commission:  At-Large and District 4
Pinellas' county commission is made up of four members elected from districts and three seats elected county-wide.  If there is a single county commission district Democrats should win in 2014, its the Pinellas At-Large election.  In 2012, Democrats knocked off two of the Republican At-Large commissioners in high profile match-ups on the same day Obama and Nelson comfortably won the county.  The wins reduced the GOP majority on the commission to 4-3 and a win on Tuesday for Democrats would give them control of the commission.  In the at-large election, Democrat Patricia Gerard has raised $200,000 to go against Ed Hooper, who has raised $240,000.   Hooper, a term-out state representative, beat incumbent Republican Norm Roche in the August primary to advance to the general election.  The race has been high profile and with Crist expected to win Pinellas by a strong margin, Gerard should be in a good position to win.  A lose for Gerard should make Pinellas Democrats look hard at themselves when it comes to party building.
In addition to the at-large race, their is an election for Pinellas District 4, which is the northern part of the county.  Both candidates, Democrat Mark Weinkrantz and Republican Dave Eggers, have raised around $80,000 and if Crist wins this more Republican area, Weinkrantz could pull out a win.  However, I expect Eggers to win in this suburban Republican-friendly district with a degree of cross-over support from Crist voters.
Taylor County Commission: District 4
You've heard it before in this article, Taylor is one of the ancestral Democratic, North Florida rural counties that votes Democrat down-ballot but is growing more red further up ballot.  Taylor is so Republican that it barely gave its votes to Democrat Bill Montford in the 2012 Senate race against underfunded, unknown Republican John Shaw.  Shaw's entire platform was to legalize hemp, and that Taylor gave Shaw 49% of the vote and only gave moderate, rural-raised Bill Montford 51% says just how Republican this county is becoming.  Taylor maintainsa 4-1 Democratic County Commission and all its constitutional officers are Democrats, for the moment.  This year, the Democratic commissioner for district 4, which is northern Taylor, is up for re-election.  Democrat Pam Feagle has raised $2,000 to her GOP opponent, David Woods', $1,000.  The district only have Obama 24% of the vote.  If Feagle falls, it will be another sign of growing GOP strength down-ballot in North Florida.
–
Conclusions
Tomorrow night's election results will have far-reaching implications for the state and county.  However, the importance of the local races cannot be underestimated.  Republican gains in North Florida will be a sign of growing GOP strength in the region.  Meanwhile, Democratic wins in Broward, Orange, Pinellas and Osceola will show Democratic strength at the top of the ballot in the urban counties is beginning to work its way down-ballot.  Wins at the local level also allow the parties to build benches for higher office.  Hang tight folks, a lot of elections to watch on Tuesday.