The US Senate Primary for the Democratic Party was a landslide with for Patrick Murphy.   Murphy got 59% of the vote, with Alan Grayson, the disgraced congressman, down at 17%.   Murphy won by dominated the Southeast counties and performed strong in Tampa Bay.  Grayson managed to hold the Orlando area, where he has been a fixture for a decade.On Monday, I wrote that there would be a high protest vote in North Florida.  The dynamic is straight-forward: conservative democrats in the rural counties back anti-establishment candidates to voice their disillusionment with the national party.  I definitely recommend reading that article for backstory before continuing here. After examining tonight's results, I can verify there indeed was a protest vote in this election.
First, lets take a look at the results.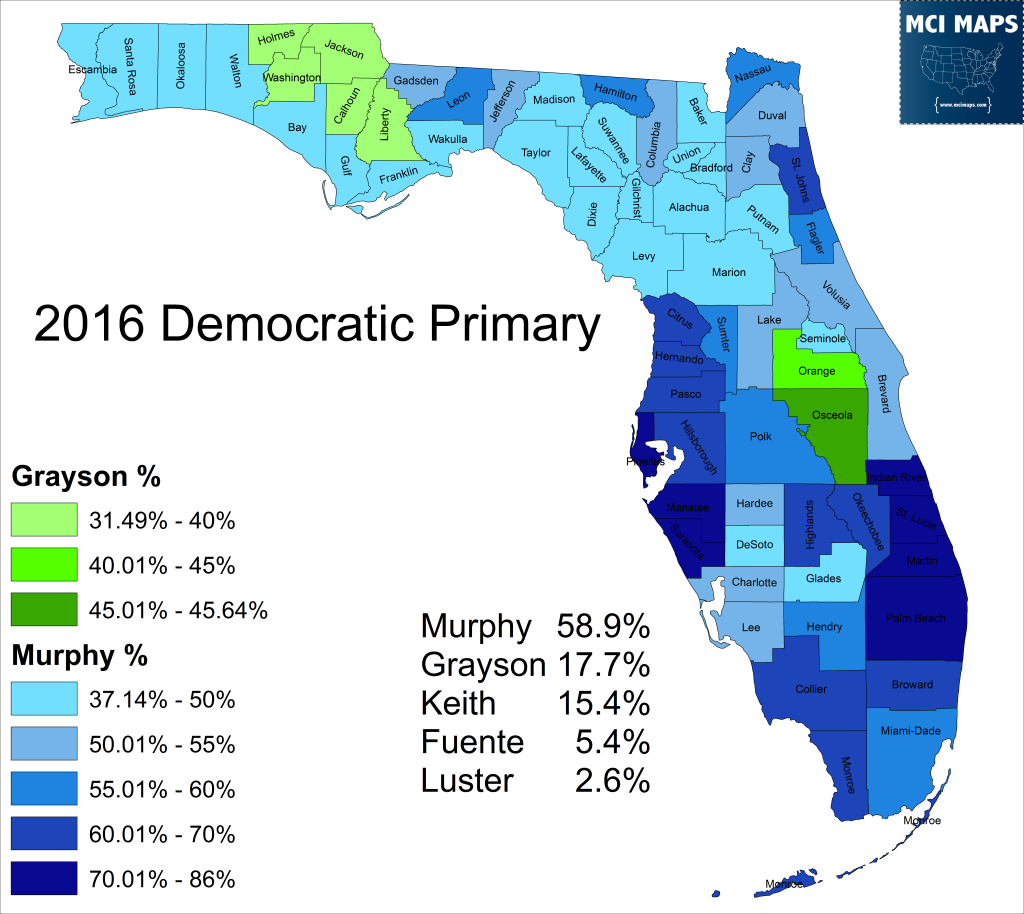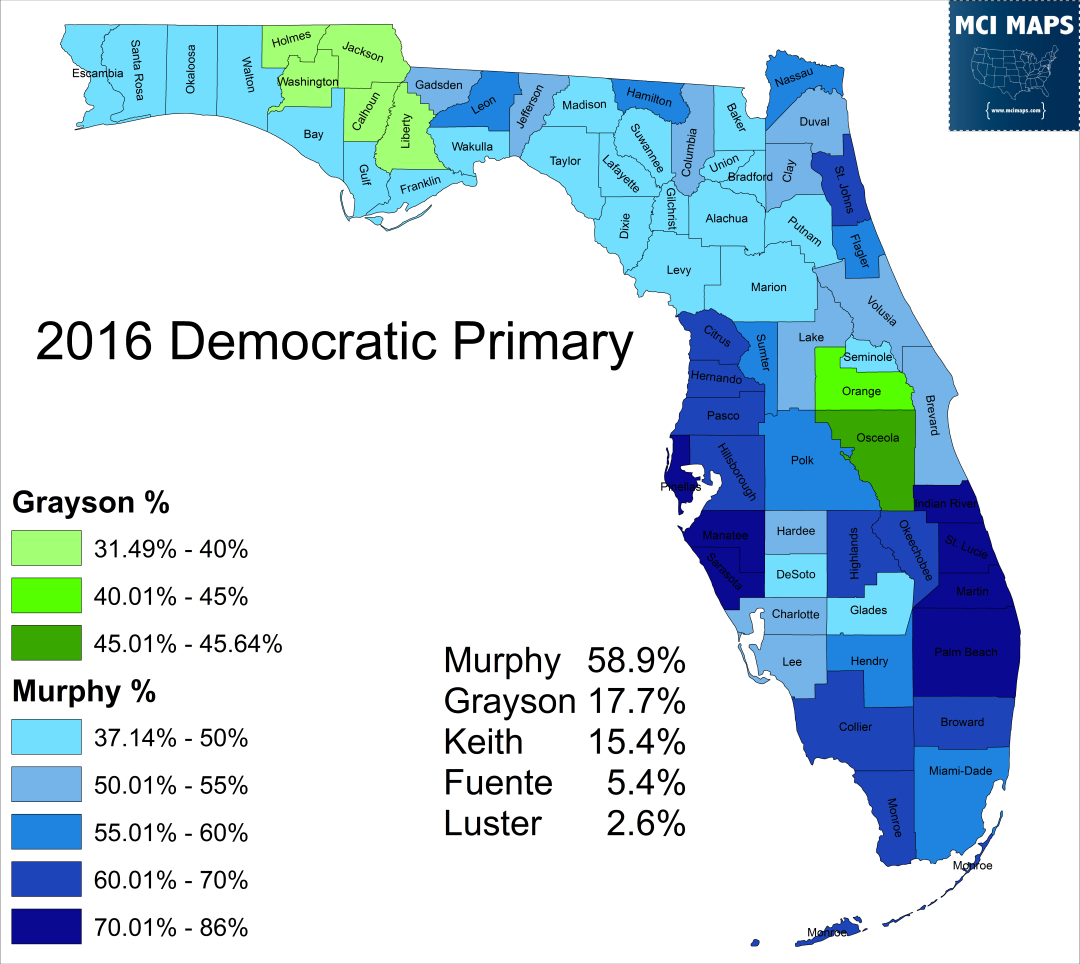 Murphy won across the state, only losing in the Orlando area and parts of the rural panhandle.  However, Murphy's win in the north was very weak, under 50% and 40% in many counties.  Grayson won some panhandle counties with under 40% of the vote.
Grayson's vote share is interesting.  While he won the Orlando area solidly, he did better than his state-wide share in North Florida.  He got vote shares in the 30s and 40s in the North.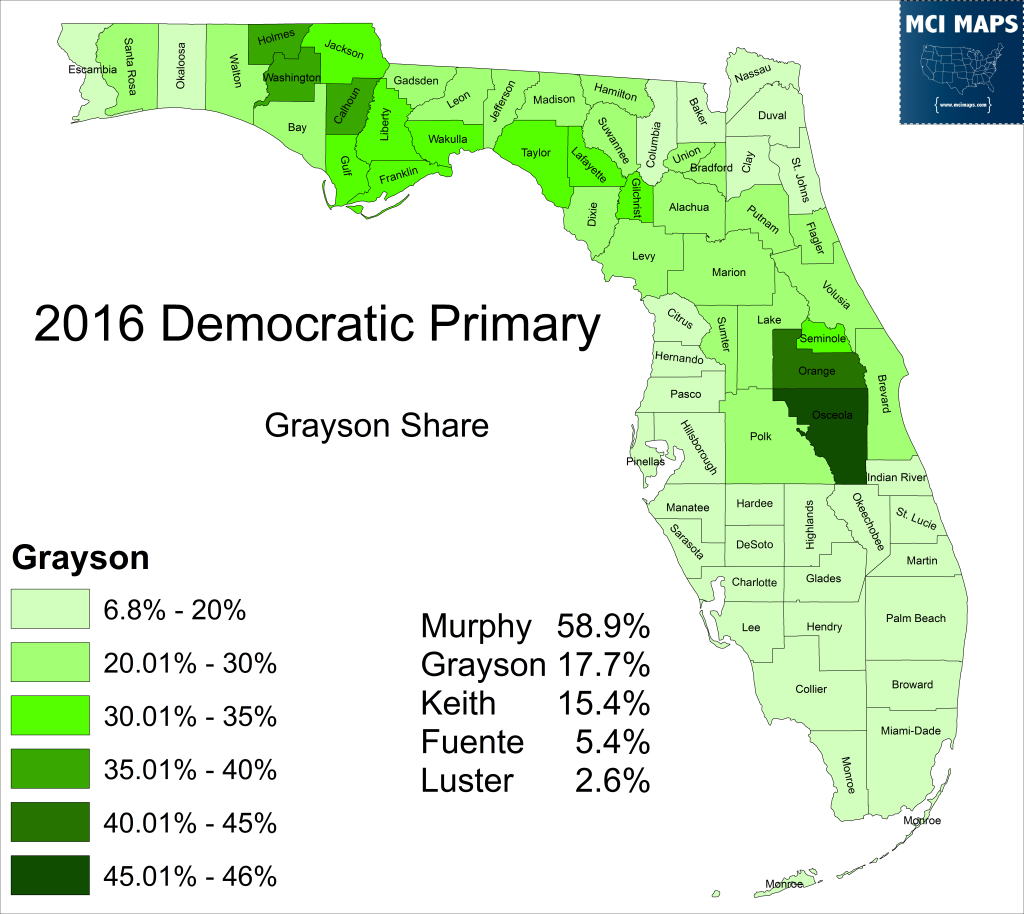 Grayson was an avowed liberal and his politics have little appeal in the North.  Grayson's vote shares themselves can be seen as a protest by conservative Democrats.
A similar situation occurred in the 2016 Democratic Presidential Primary.  In addition to rural counties giving O'Malley high shares of the vote, Sanders won many conservative rural regions.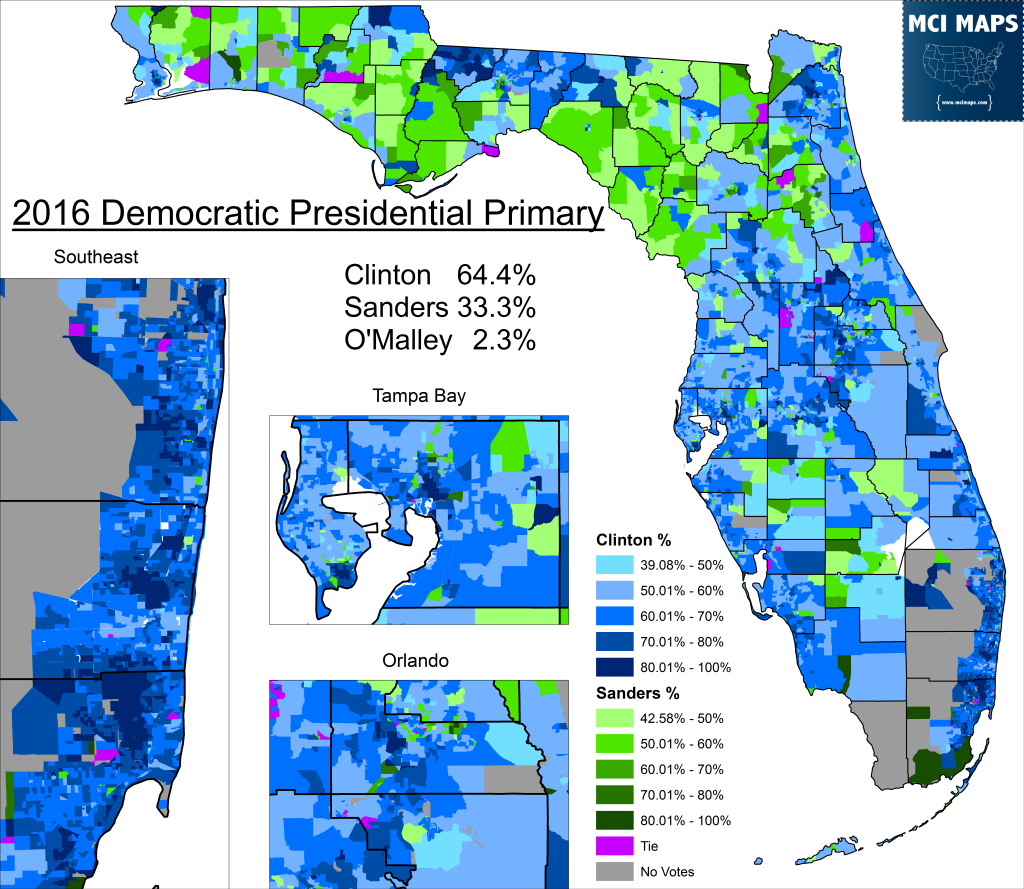 Sander's similarly won solid shares of the vote with conservative Democrats in Kentucky and West Virginia as a protest vote.
The Other Candidates
Three other candidates were on the ballot.  Pam Keith, an African-American veteran who ran as a solid liberal, and Rocky Fuente and Reginald Luster.  Keith wasn't well known, but did travel the state.  Fuente sent some mail but he and Luster were largely unknown.
The combined vote of all three candidates topped 30% in many of the same counties that had strong protest votes in the 2010, 2012, and 2014 primaries.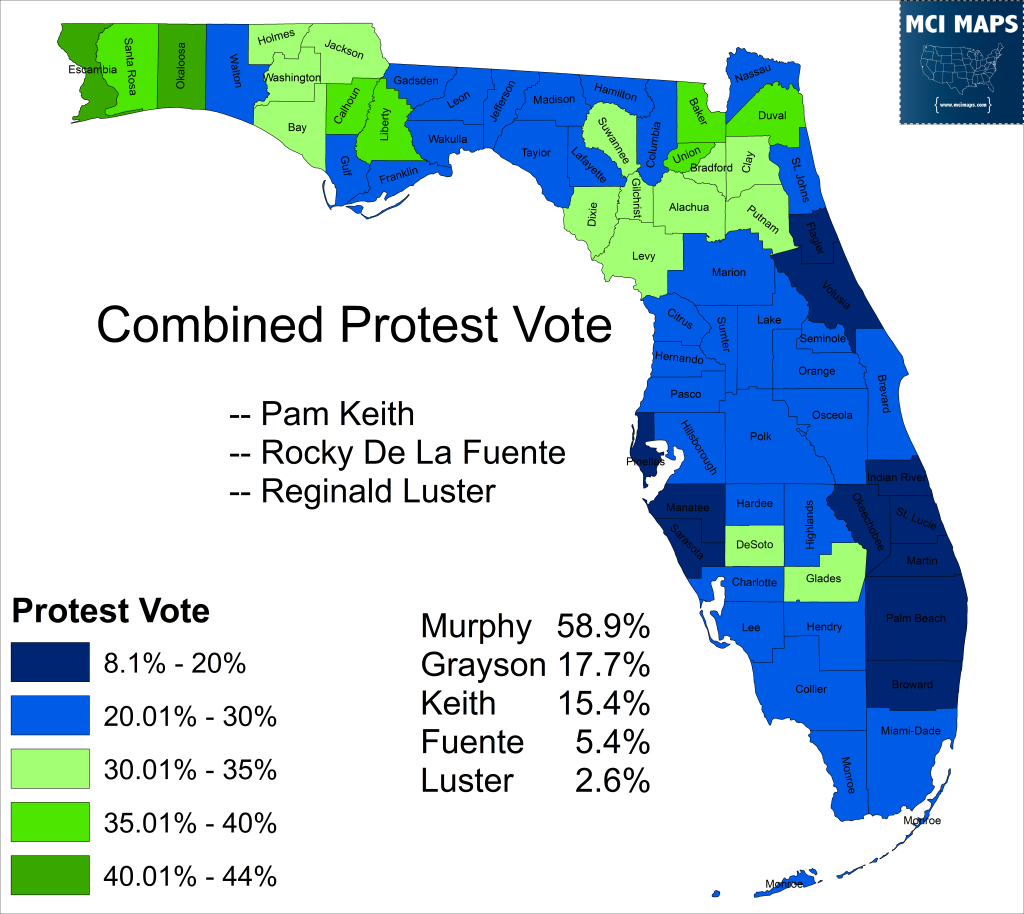 Keith was the biggest share of protest votes.  While she no doubt took from some liberals who were disgusted with Grayson, she was still largely unknown.  She had her best showing in Escambia and in the western panhandle.  Keith likely benefited from the African-American vote in Escambia and she likely won military Democrats that knew of her in the Western Panhandle. Keith did not win the African-American vote in most counties though (they backed Murphy) and her other strongest areas are a cluster of more conservative counties that are largely white.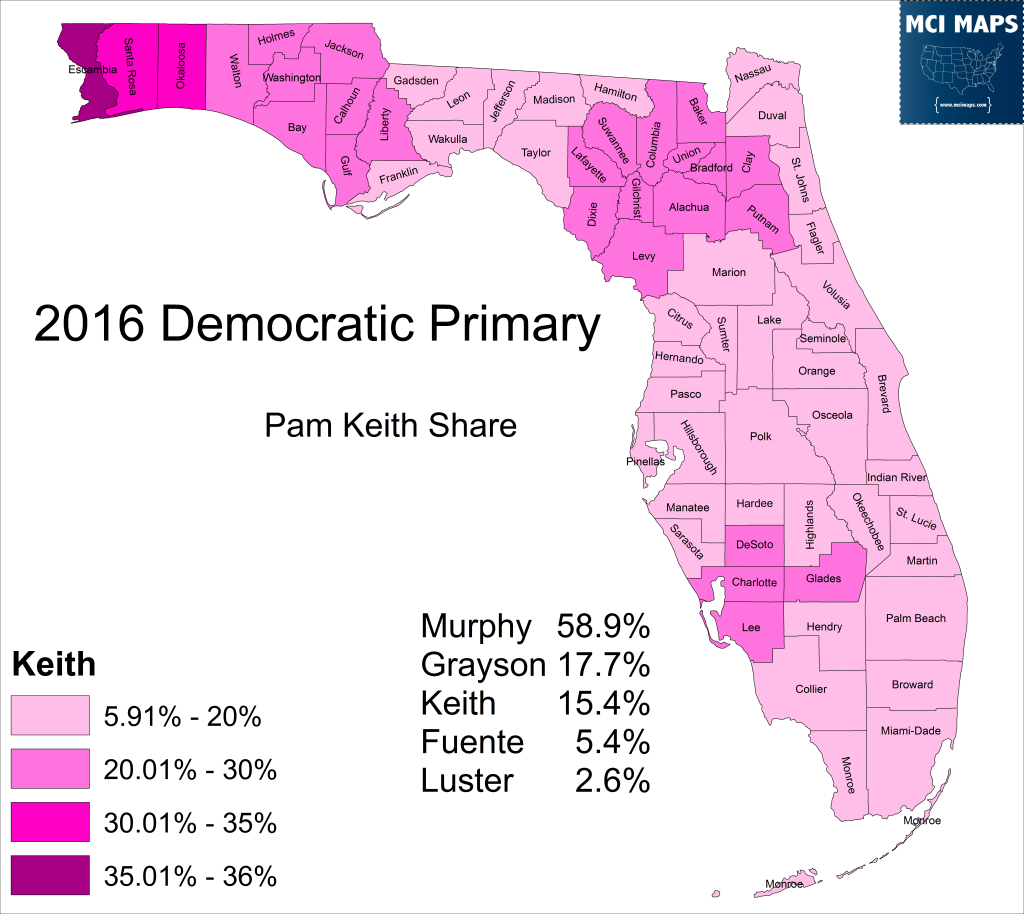 Keith's 20%+ margins in suburban counties in the southwest show she started to gain some ground with liberals (she did receive a few newspaper endorsements and was an aggressive campaigner), but a decent share of her vote in the north was a protest vote.
Keith did beat Grayson in several counties across the state.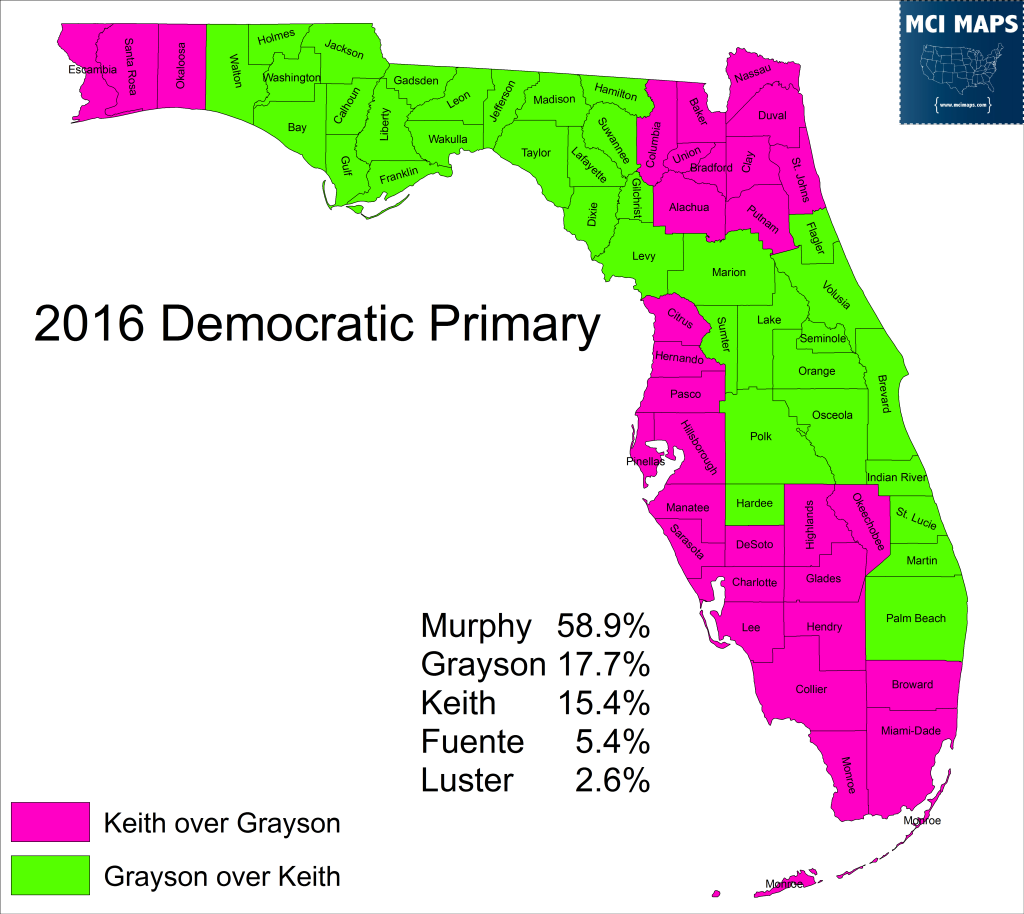 Murphy's vote share overall was weak in the Northern portion of the state.  He pulled under 30% in a handful of rural counties.  However, he did buck the trend in the farm counties around Lake Okeechobee, which could be a factor of him representing the region for 4 years (though those counties were not in his district).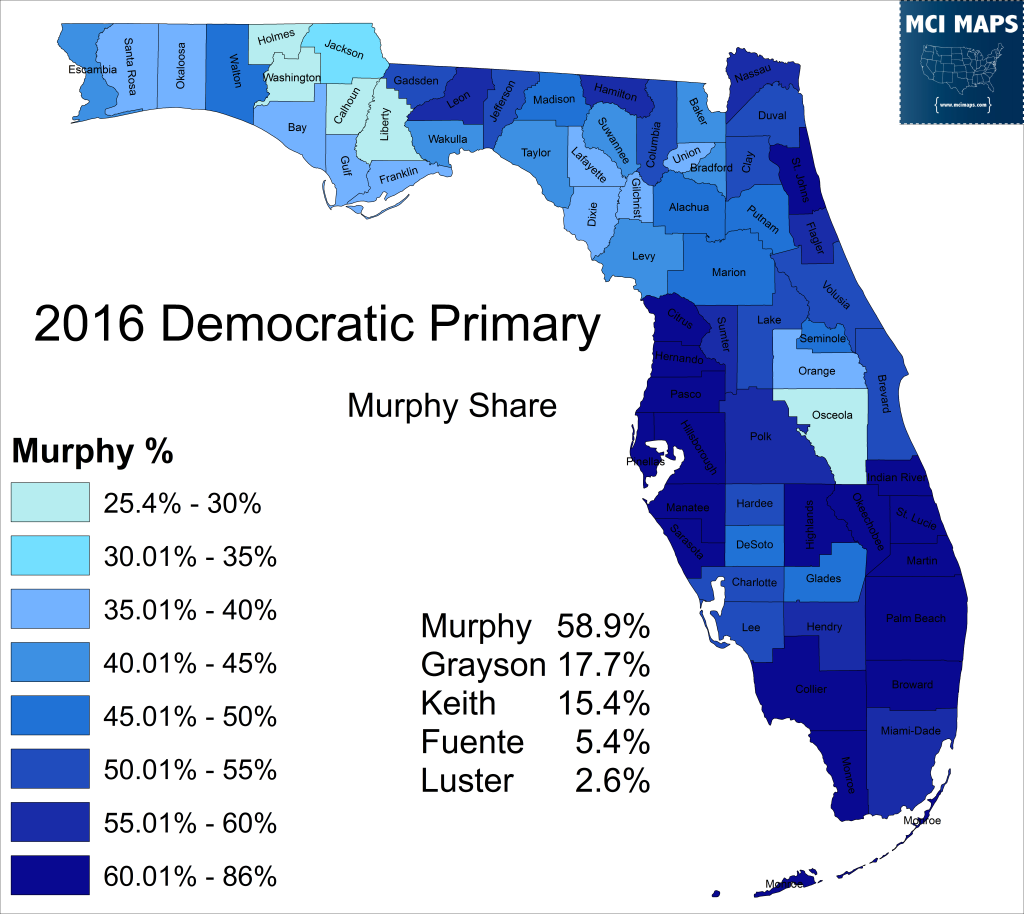 If we look at the share of the vote that Fuente and Luster got combined, the results are telling, but also a little odd.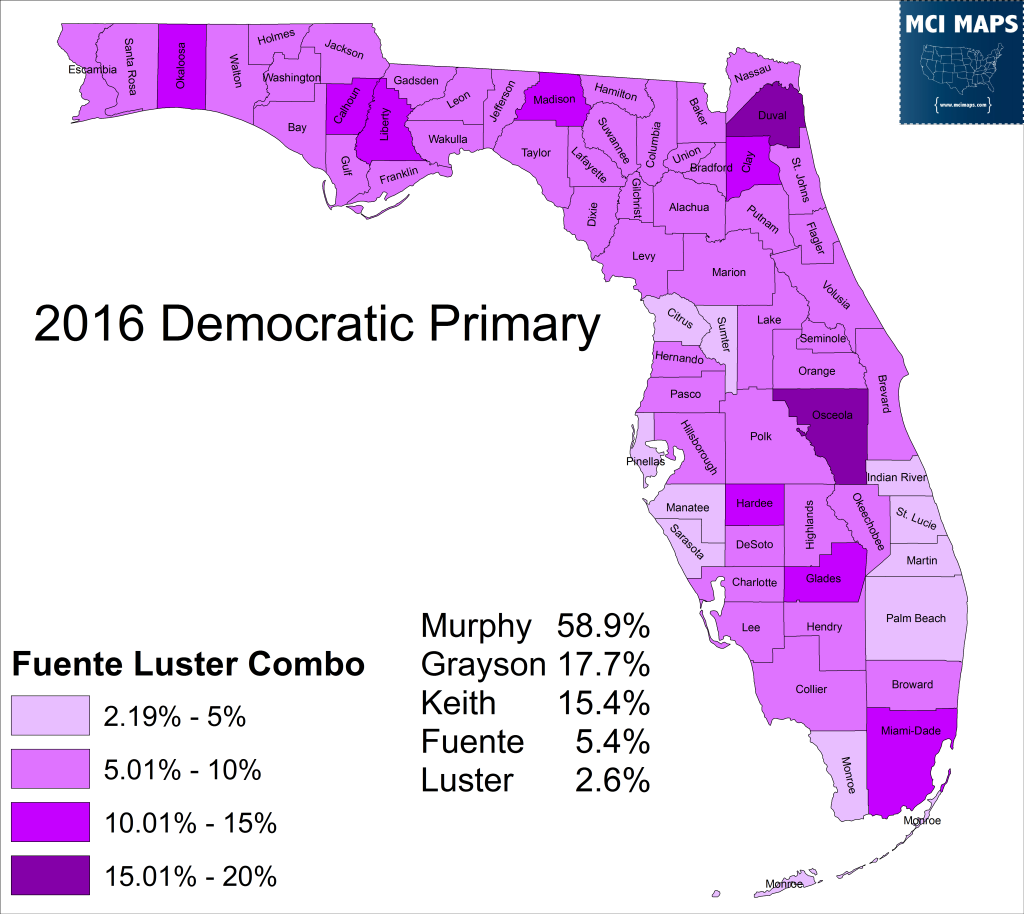 The Fuente/Luster combo got 10% or more in some rural counties with a common protest vote:  Glades, Hardee, Libert, Calhoun.  However, they also did well in Dade/Duval/Osceola.  Fuente, who is of Mexican heritage, did his best in Osceola and well in Dade as well.  However, his and Luster's shares in the panhandle are pure protest.
Conclusion
Once full precinct results are available, more will be discernible regarding the voting in the rural white regions.  One key data point will be the undervote, the number of blank ballots cast.  As of this evening, undervote is only available in some counties.  But, it is worth noting that in many of the rural counties with undervote available, the % of ballots left blank for the Senate race was quiet high.
| | |
| --- | --- |
| Liberty | 22.00% |
| Calhoun | 21.00% |
| Holmes | 18.30% |
| Washington | 8.40% |
| DeSoto | 17.90% |
Once the list of total voters is released, the undervote will be available for all counties.  That blank vote, after all, is the biggest protest of all.