A handful of Broward's 30+ cities held their municipal elections on March 14th.  While more cities are moving their elections to correspond with the federal/state races; plenty, citing a desire to keep low-key races from getting lost in the shuffle, opt for spring elections.  Some elections where contentious while others proved to be blowouts.
Deerfield Beach
The most contentious race of the night was the Mayoral Election for Deerfield Beach.  Incumbent Mayor Jean Robb opted not to run again. Robb was often controversial and won a very narrow election four years earlier.  The front-runner was Incumbent City Commissioner, and Robb critic, Bill Ganz.  Former State Representative Gwyndolen Clarke-Reed, who lost a state senate primary last year, jumped into the race as well.  Businessman Ken Wayne was the candidate of choice for the GOP and Ken Preston, a former commissioner, was also running.  Ganz won with 39% of the vote in the four-way race.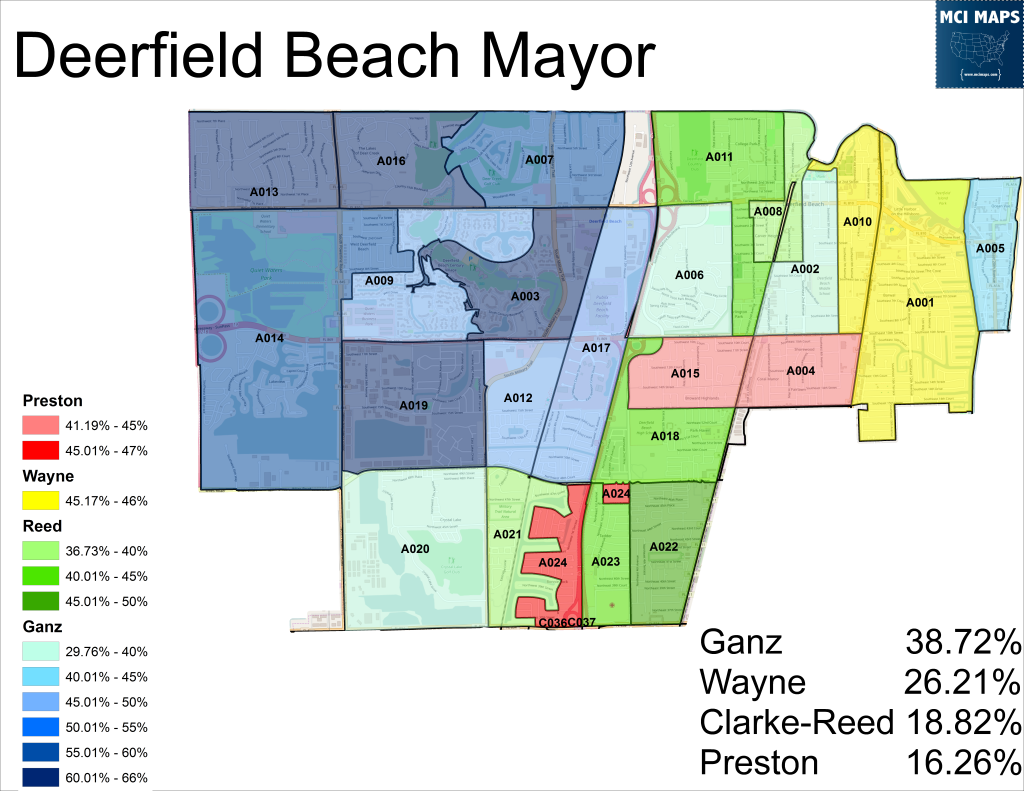 Ganze won the western side of the city handily, picking up strong wins in the northern neighborhoods and picking up strong wins in Century Village, a prominent senior condo community in the city.  Ganz dominated areas around 10th street, which long have feared a proposed overpass being built to connect I-10 and the turnpike.  The issue has dominated Deerfield politics for years and Ganz has been a strong opponent of the idea.
In the district 3 race, Democratic activist Bernie Parness defeated Incumbent Richard Rosenzweig in close race.  Parness and Rosenzweig both hail from Century Village, which dominates the district.  Parness narrowly took the community and outpaced the incumbent just enough to pull off a 2 point win.  Parness has been an active opponent of the proposed 10th street overpass.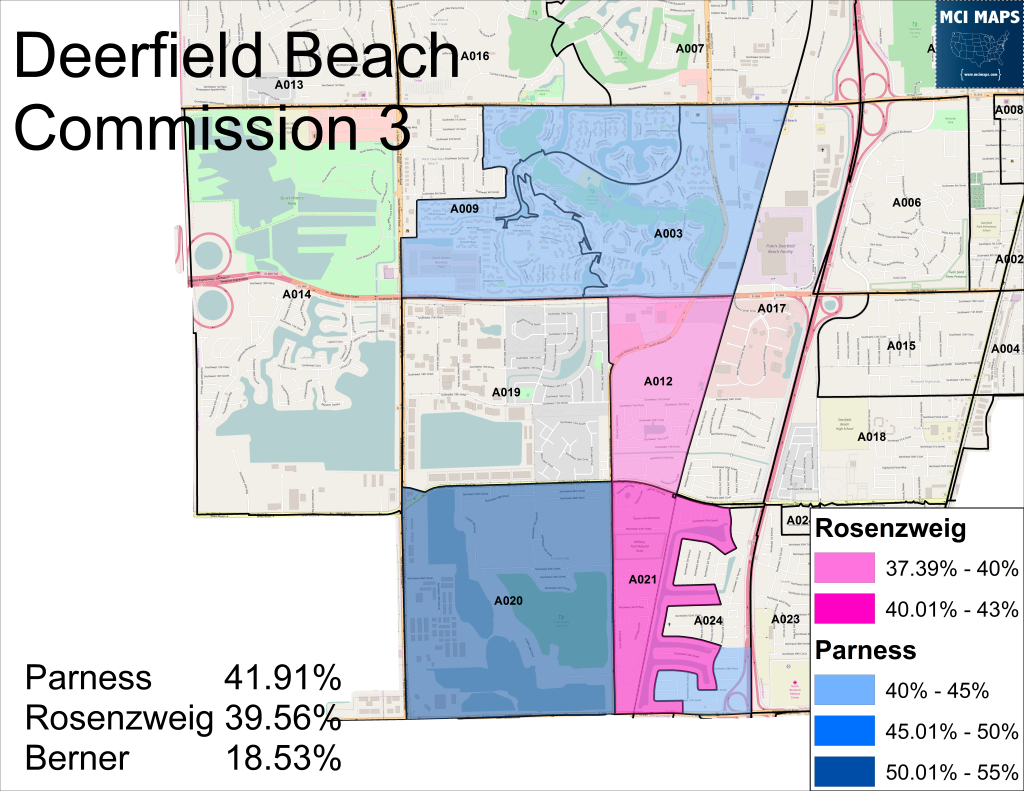 In the race to replace Ganz on the commission, lawyer Todd Drosky crushed his competition.  Drosky won every region of the district and was a major opponent of the 10th street overpass.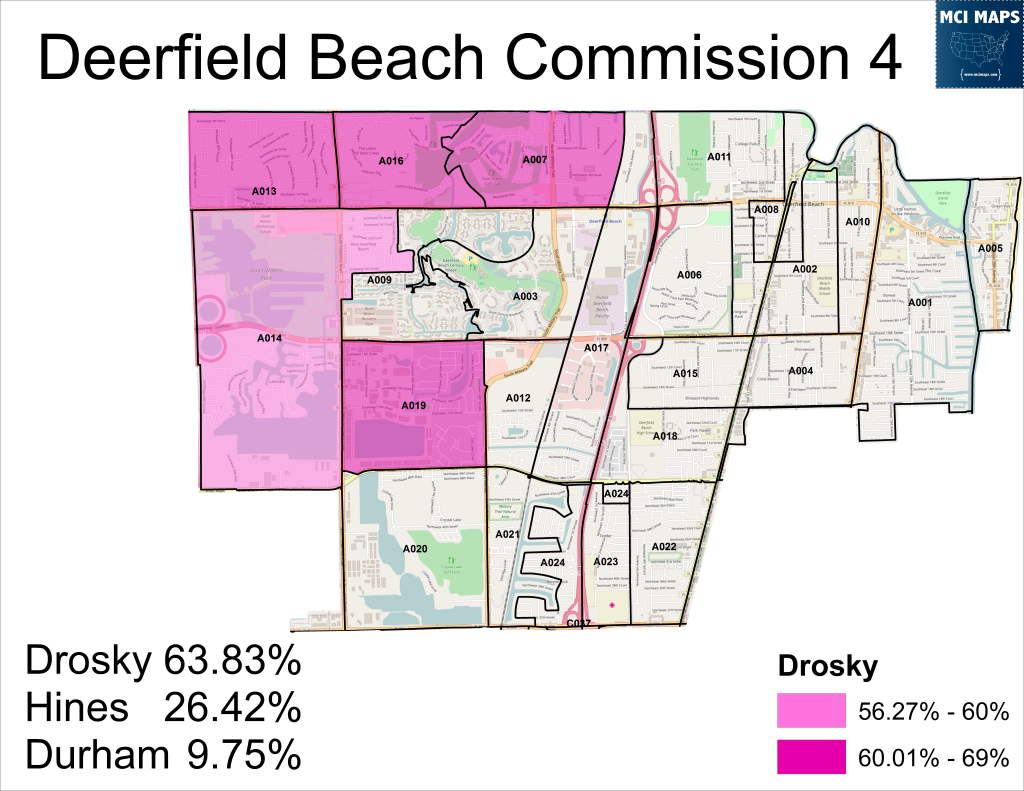 Weston
Weston had to hold a special elections when City Commissioner Jim Norton resigned to run for County Commission last year against Nan Rich – where he got crushed.  Norton delayed his resignation so that the special would take place during the spring elections instead of in November 2016, which would have saved the city money.  Norton then opted to run for his old seat and actually argued that it was his opponents fault for the election's cost.  Political newcomer Bryon Jaffe promptly crushed Norton in his attempt to reclaim his seat, winning every precinct in the city.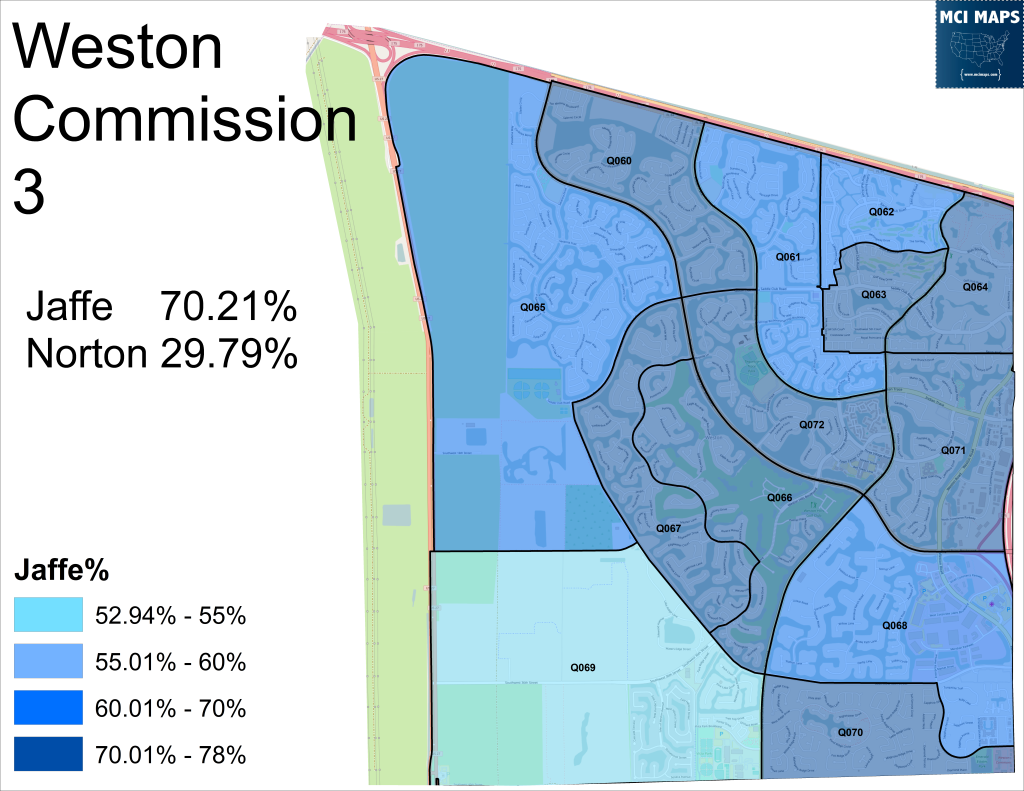 Miramar
Three Miramar commissioners were up this year and all won their re-elections from by comfortable to blow-out margins.  One notable point about these races was a slight hint of the city's notable east-west divide.  Miramar is geographically divided by race and history.  The west side is heavily African-American and much older.  The eastern side is more Hispanic and newer, the source of continuous growth.  All three commissioner's won by more in the west than they did in the east.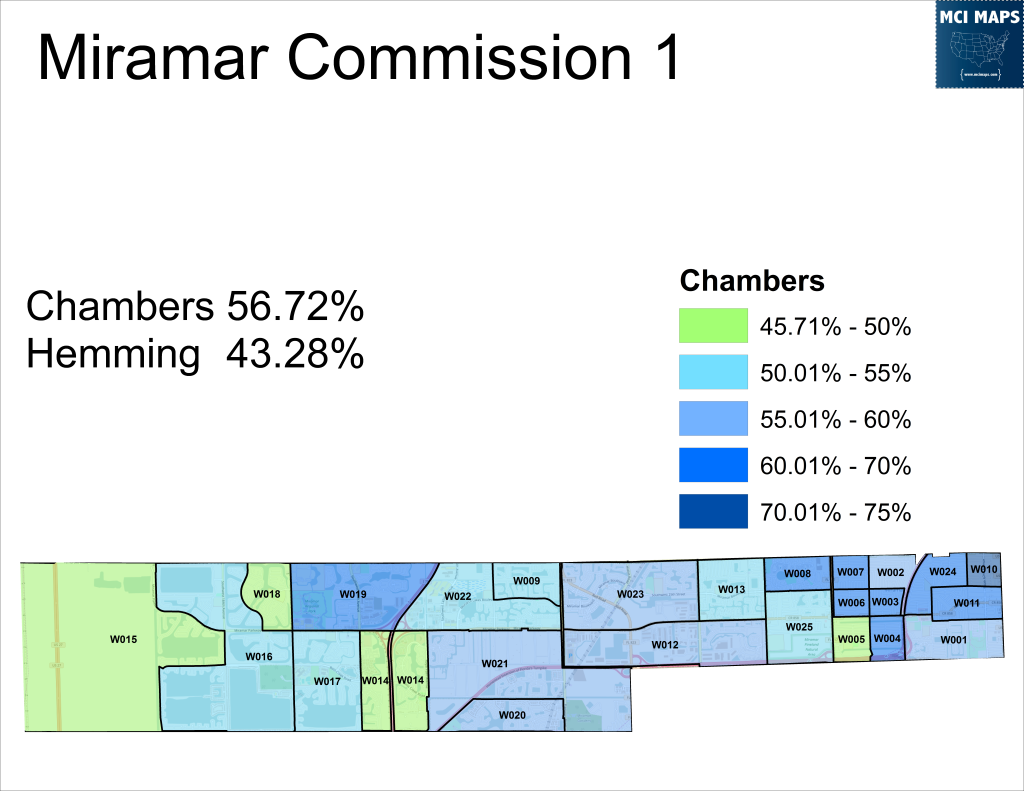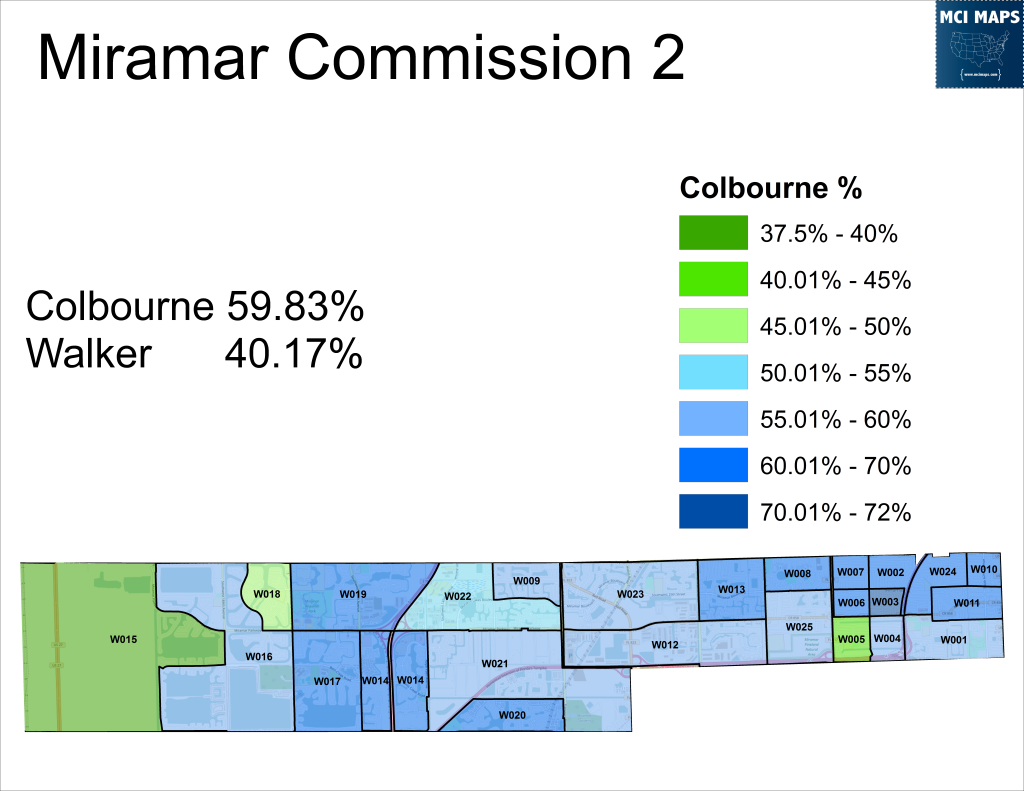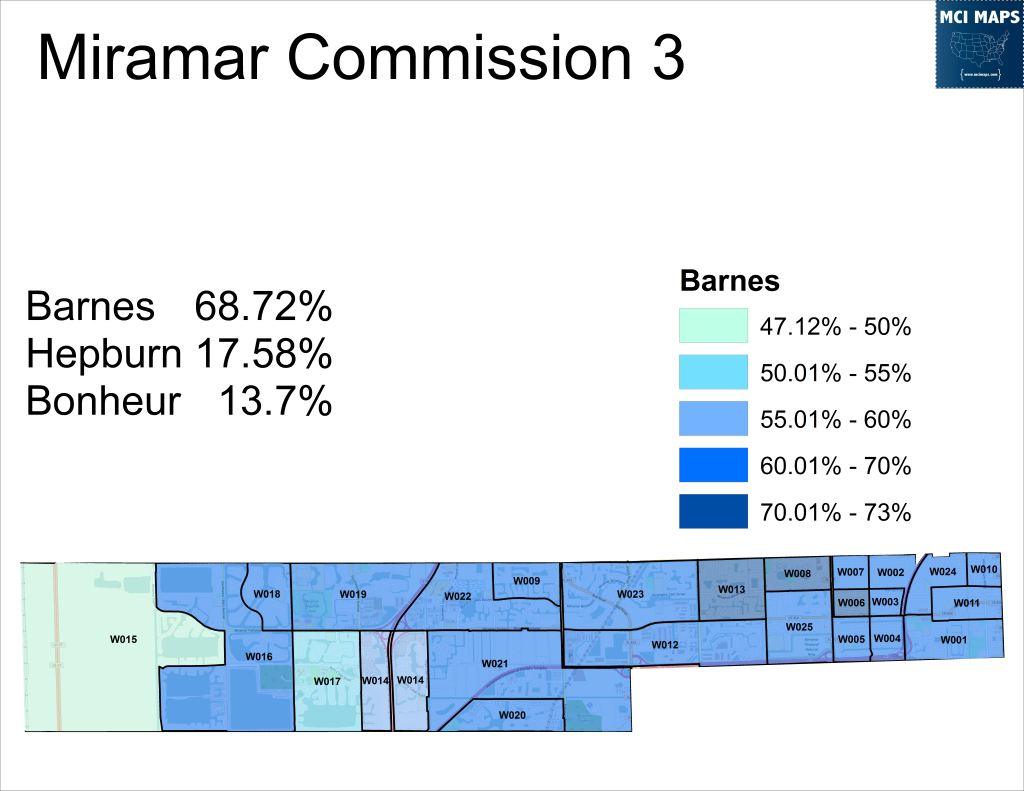 The east-west split here is much more subtle than past elections have demonstrated.  Overall the incumbents enjoyed support across the district, even if a bit more modest in some regions.
Coconut Creek
A very low-key affair here.  Incumbent Commissioner Sandra Welch easily won re-election to her Coconut Creek city council seat.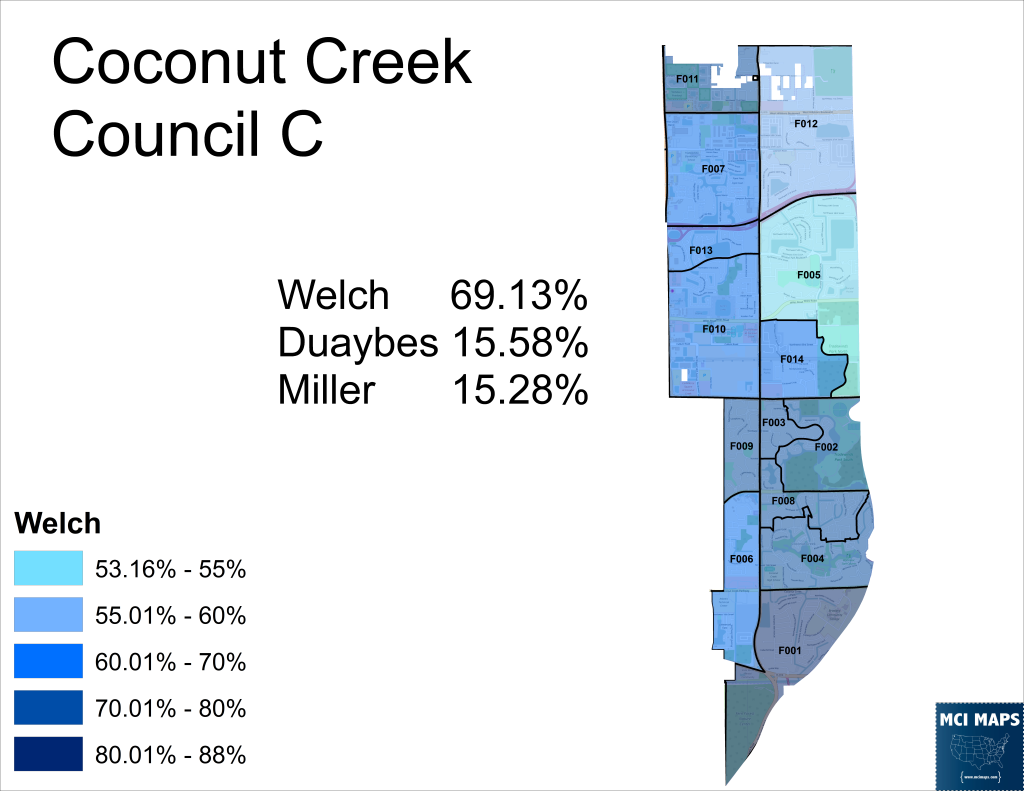 Lighthouse Point
In the least shocking result of the night, Incumbent Mayor of Lighthouse Point Glenn Troast crushed his opponent for re-election.  Lighthouse Point is one of the few Republican cities in Broward, a well-off, coastal city.  Maria O'Donnell ran as an unabashed crazy person – claiming her signs where being stolen by the city (when she put them in illegal areas) and claiming sober houses where popping up all over town.  Never-mind the disgusting attacks on homes designed to help people post-rehab get back on their feet.. the claim wasn't even true.  O'Donnell managed to get a whopping 10%.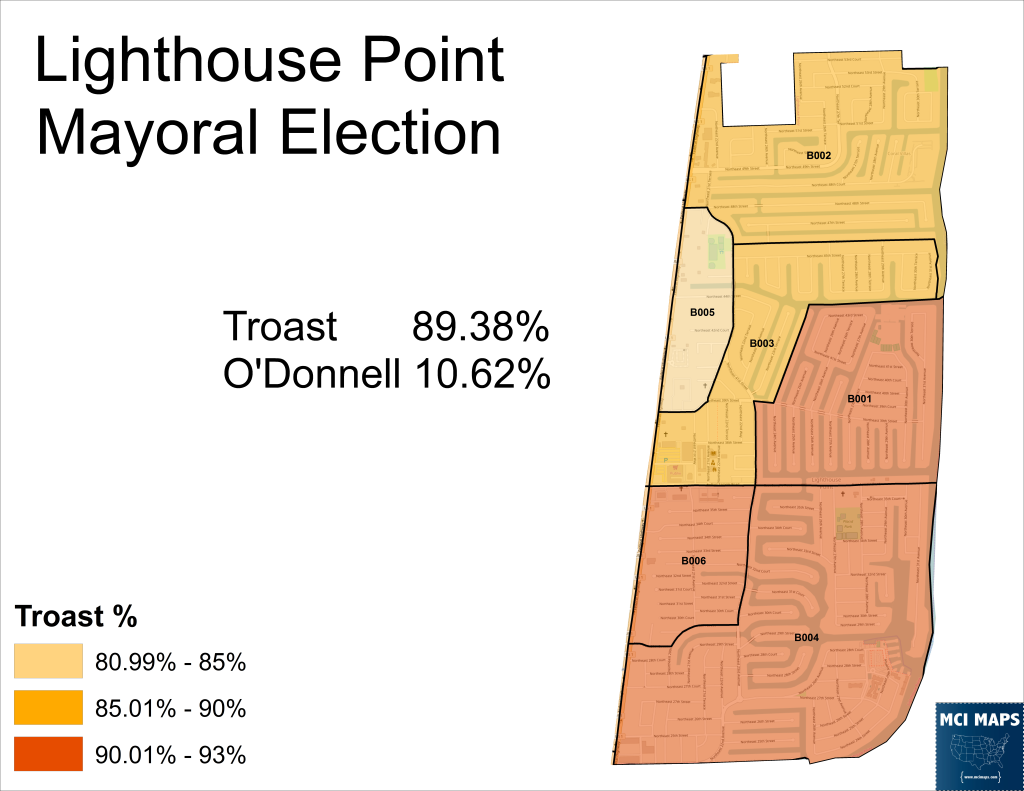 Conclusions
The spring elections were a largely low key affair this go around.  Some interesting characters, some arrogant former office-holders, and some new faces now joining local government. Most likely more cities will move their elections to Presidential and midterm years in coming years.