In 2015, Florida's Congressional and State Senate districts where struck down as GOP gerrymanders that violated the Fair District Standard of the Florida Constitution.  However, Florida's state house districts never saw a similar challenge.  The plaintiffs that successfully sued over the U.S. House/Florida Senate maps plainly stated that the cost of research into so many districts was much of a financial burden.  Thus, Florida's 2016 elections commenced under the same map from 2012.
Donald Trump won Florida by 1.2% and got 55% of the state house districts.  Trump won 66 districts to Clinton's 54.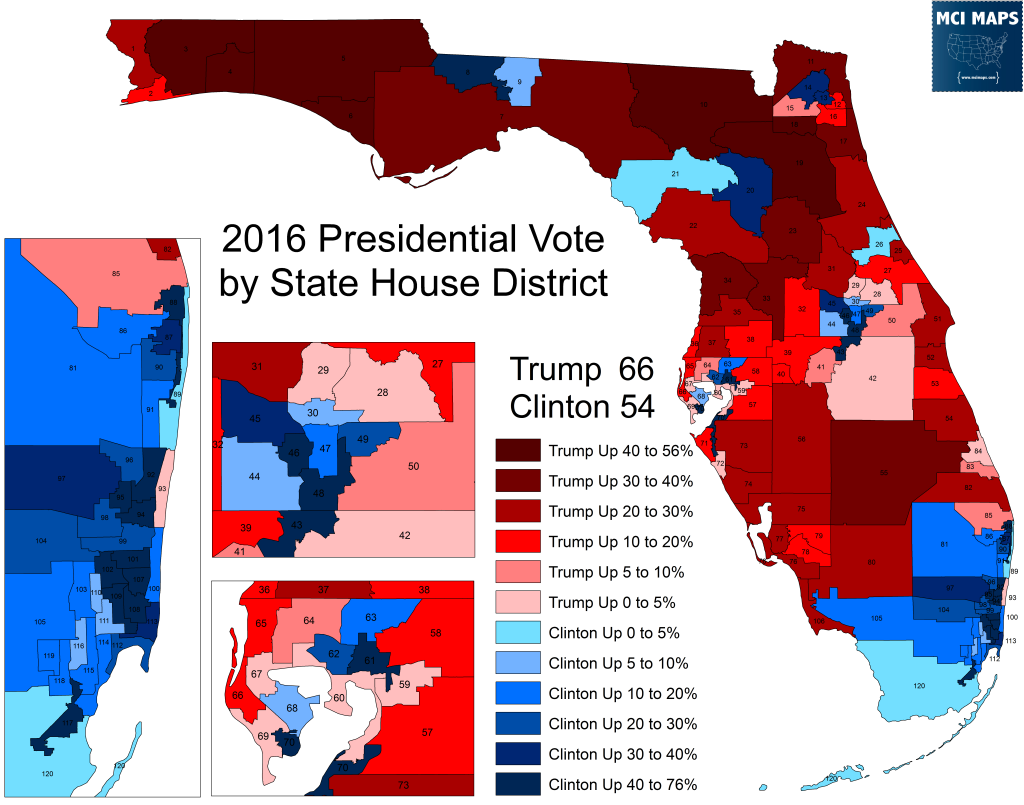 Clinton won in the urban areas of Orlando/Tampa/Tallahassee/Jacksonville and all but 2 districts in Southeast Florida.
59 Florida House Districts voted for Trump and Romney compared to the 48 for Clinton and Obama.  Clinton managed to win 6 districts Romney won while Trump took 7 districts Obama took four years earlier.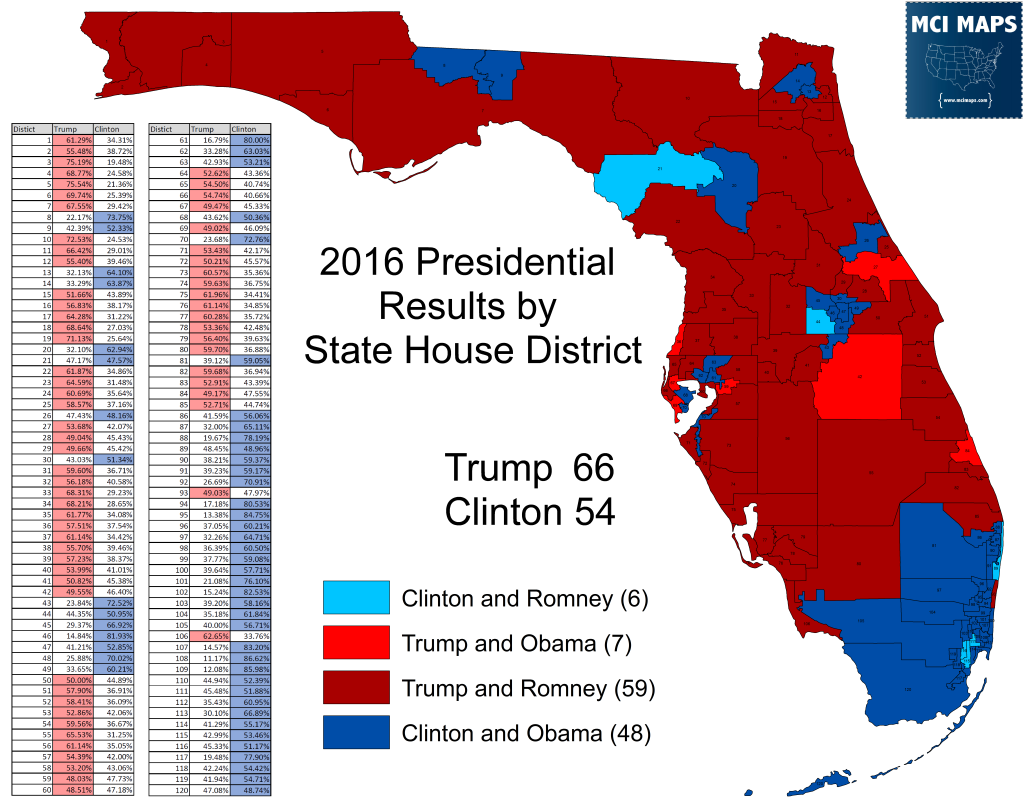 The Romney districts that Clinton won were:
HD21 — Largely based out of the Gainesville suburbs as well as rural Gilchrist and Dixie Counties
HD44 — White, upper-class suburbs in Southeast Orange County; location of Disney World
HD89 — White, upper-class coastal district in Palm Beach County
HD111, 115, 116 — Heavily Hispanic districts in Miami-Dade
The six districts Clinton took from Romney mirror where her best improvements over Obama where nationally — Hispanics and upper-income, well-educated, suburbs.
The districts Trump took from Obama where HD27, HD36, HD59, HD67, HD69, HD42, HD84. All of these districts can be defined as white, working-class regions of the state. The districts where largely white with a lower level of college graduates and areas struggling economically—a key group that Trump won resoundingly when he picked up wins in the Midwest.
Trump over-performed Romney across most of the rural and working class regions of the state. However, he did worse than Romney across the suburban and Hispanic districts. Trump notably did worse than Romney in the suburbs around Jacksonville, Tampa, Orange and Southwest Florida. Trump also managed to due slightly better than Romney in African-American districts, albeit while still losing them badly.
Trump's best improvements where right around the Pasco/Hernando region. HD36 saw Trump do 10 points better than Romney, turning a narrow Obama district into a solid Trump district. HD35 saw the second biggest increase for Trump, 8%.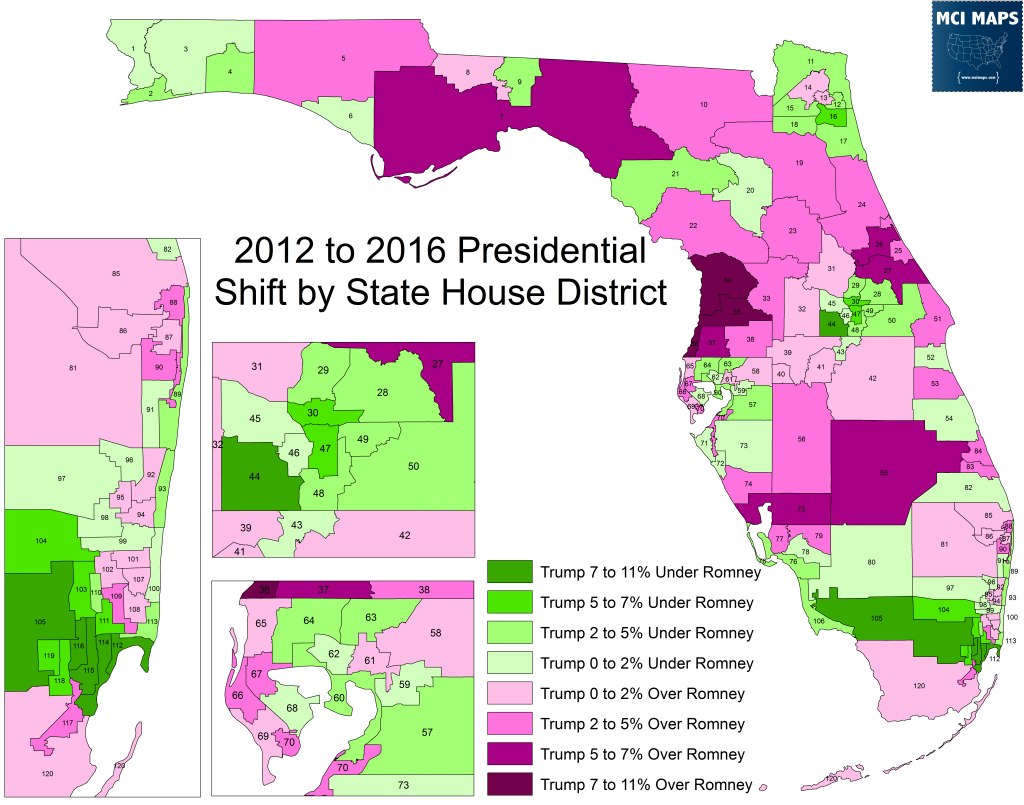 There were some districts where both Clinton and Trump did worse than their 2012 counterparts.  The map below shows how the margin between the Democratic and Republican candidates shifted.  The shift toward the Democrat was highest in the Dade Hispanic district as well as white suburbs in Orlando and south of Jacksonville.  HD112 saw the biggest improvement for Democrats, going from Obama +7% to Clinton +18%.  Seven of the ten districts with the best Democratic improvement came from Dade.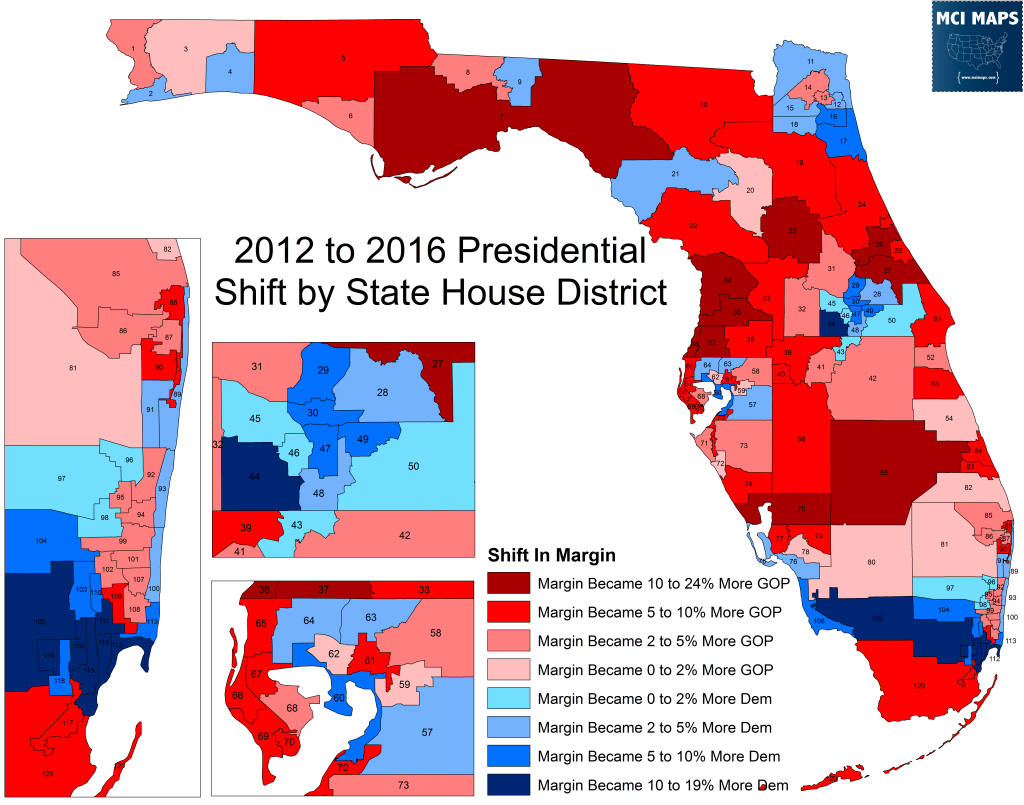 The 2016 State House Elections
A flurry of districts across the state where challenged by both parties.  At the end of the night, 4 changed hands.  Democrats picked up three seats, HD49, HD114 and HD118 (all open) while losing HD36, putting them at 41 districts.   Democratic pickup hopes in the suburbs of Tampa and Orlando where cut short by Republican incumbents outpacing Trump.  While all Dade districts went to Clinton, many districts where not actively targeted by the Democrats due to strong GOP Incumbents and an expensive media market.  As of now, 14 Clinton districts have GOP Representatives, while one Democrat sits in a Trump district.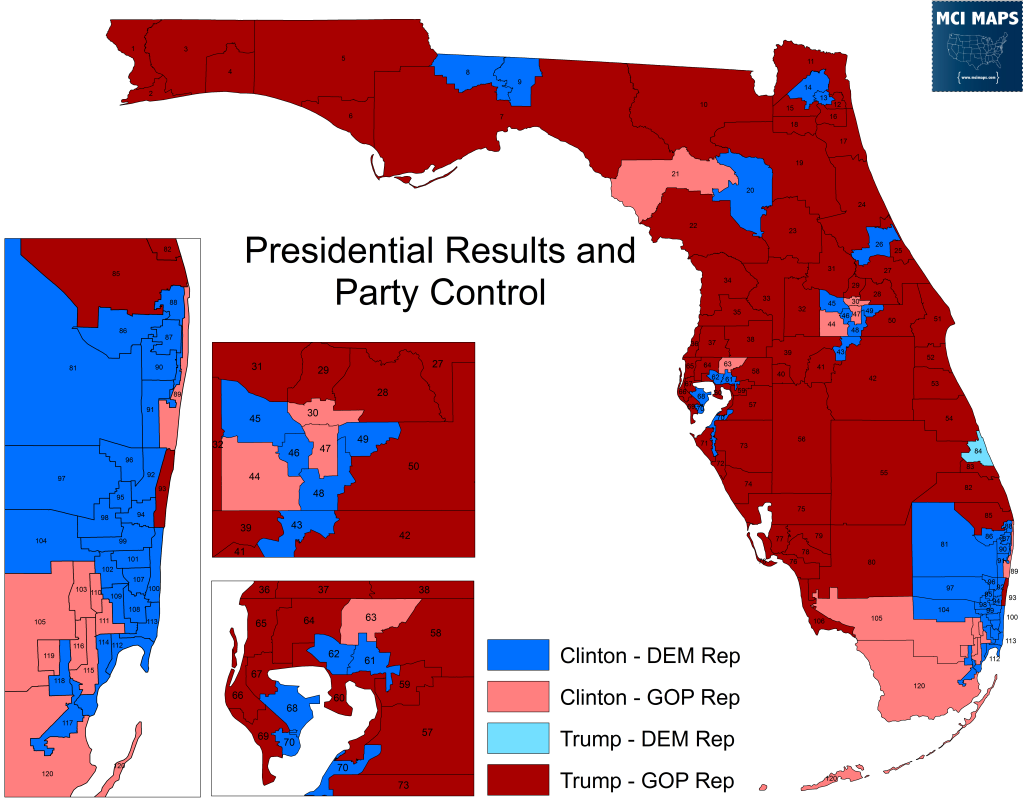 Overall there was a strong correlation between the vote for President and the vote for state house candidates.  In districts that featured a D vs. R race for state house, the correlation with the Presidential vote was 0.72, indicating a clear trend.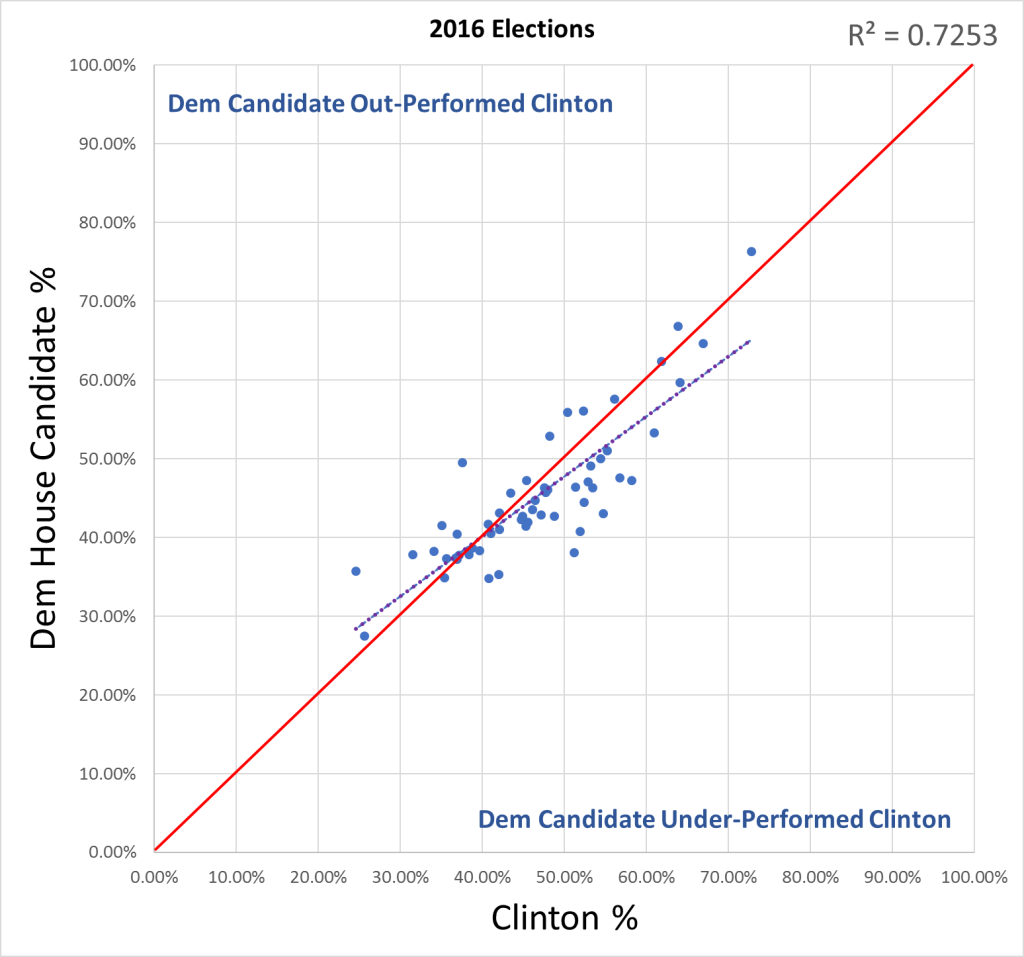 The trend is even stronger when not accounting for the Dade districts.   That region was home to GOP candidates, all of whom were Hispanic, heavily outperforming Donald Trump.  The numbers are slightly skewed, however, by the fact the Democrats did not make strong plays for many districts where the strong GOP incumbents where running for their last term.  The chart below shows the districts that saw the largest under-performance for state house Democrats compared to Clinton.  Eleven of these districts come from Dade.

Democrats managed to take the open HD114 and HD118, but attempts to win in Tampa and Orlando did not pan out.  While these voters were unhappy with Trump, they did not hold him against candidates for state office.  Part of this ticket splitting could have been due to voters assuming Clinton was on the verge of a win.  Now in 2018, as Trump faces the possibility of a backlash midterm, these suburban seats could again find themselves in play.
In 2018, five Dade districts will be open due to term limits.  Democrats only made a strong play for district 103 in 2016, while the rest received less or no focus.  However, in 2018, all of these districts could be put into play as anti-Trump backlash in the Hispanic community continues to grow.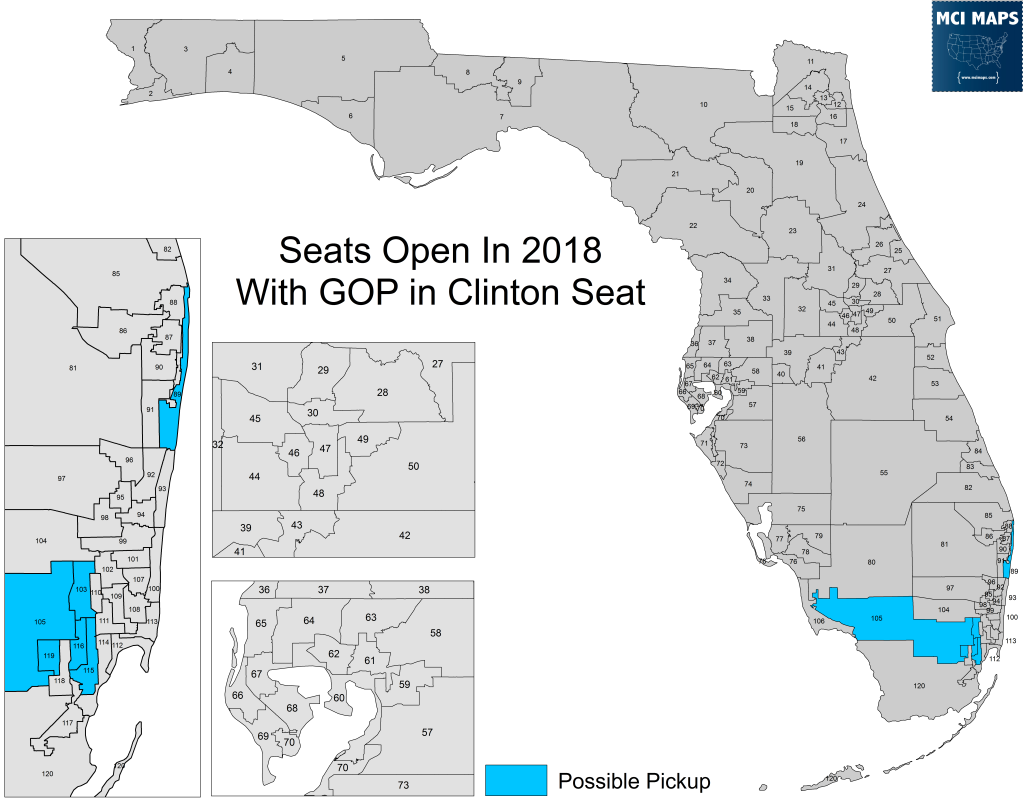 Thanks to ticket-splitting suburbanites and Dade Hispanics, far more districts saw major Dem under-performance than over-performance.  However, one contested district that saw the Democratic candidate most over-perform Clinton was also the district where Trump improved the most over Romney, HD36.
Incumbent Democrat Amanda Murphy won a heavily contested and expensive special election in 2013.  She managed to hold on in 2014 as several of her Democratic colleagues fell.   However, in 2016, she could not withstand the strong headwind against her party's nominee in the coastal Pasco district.  Clinton lost the district by 20 points, losing every precinct.   Murphy was facing off against the daughter of a county commissioner, 21 year-old UFC student Amber Mariano.   Mariano did score the backing of Rick Scott and Marco Rubio and was aided by a political committee run by her father spending money promoting the family name.  Mariano won by 1%, upsetting Murphy to become the youngest state representative in Florida history.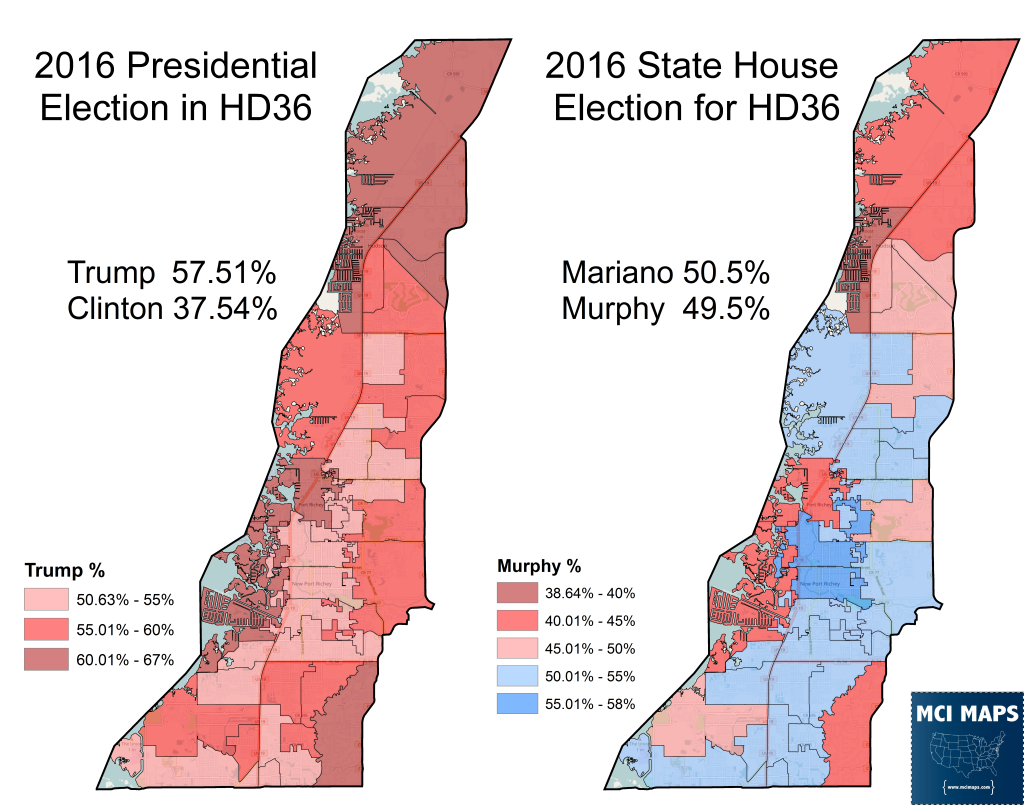 While Mariano's win was an upset considering her age and Murphy being a well-funded incumbent, the results still make sense considering how much the district swung to Trump.  Murphy did twelve points better than Clinton, the best of any Democratic incumbent or challenger for the year.
Looking Ahead Toward 2018
Republicans remain overextended in the state house, holding 14 districts won by Clinton, six of which will have no GOP incumbent in 2018.  Open seats are likely to dominate the 2018 landscape.  In addition, Democrats may make plays for the well-educated suburban districts that heavily rejected Trump but retained GOP lawmakers.   If the midterms are bad for Trump, these suburban Republicans could get swept out in a blue wave.  Down in Dade the fight will be for Democrats to continue their trend of slowly increasing their seats in the county that was for so long a GOP enclave.