In  2015, Florida underwent mid-decade redistricting for its state senate lines, around the same time it was forced to redraw its congressional boundaries.  Unlike the congressional case, where the state supreme court ordered a redraw, the legislature avoided a verdict and agreed to redraw their lines after evidence came to light that the legislature had worked to circumvent the Fair Districts Amendments passed in 2010.  After a special session that resulted in no final map, the court picked a plan chosen by the plaintiffs that sued over the lines.   The case was closed and Florida conducted its elections with new state senate lines.
Donald Trump went on to win Florida by 1.2% and subsequently won 21 of the 40 state senate districts.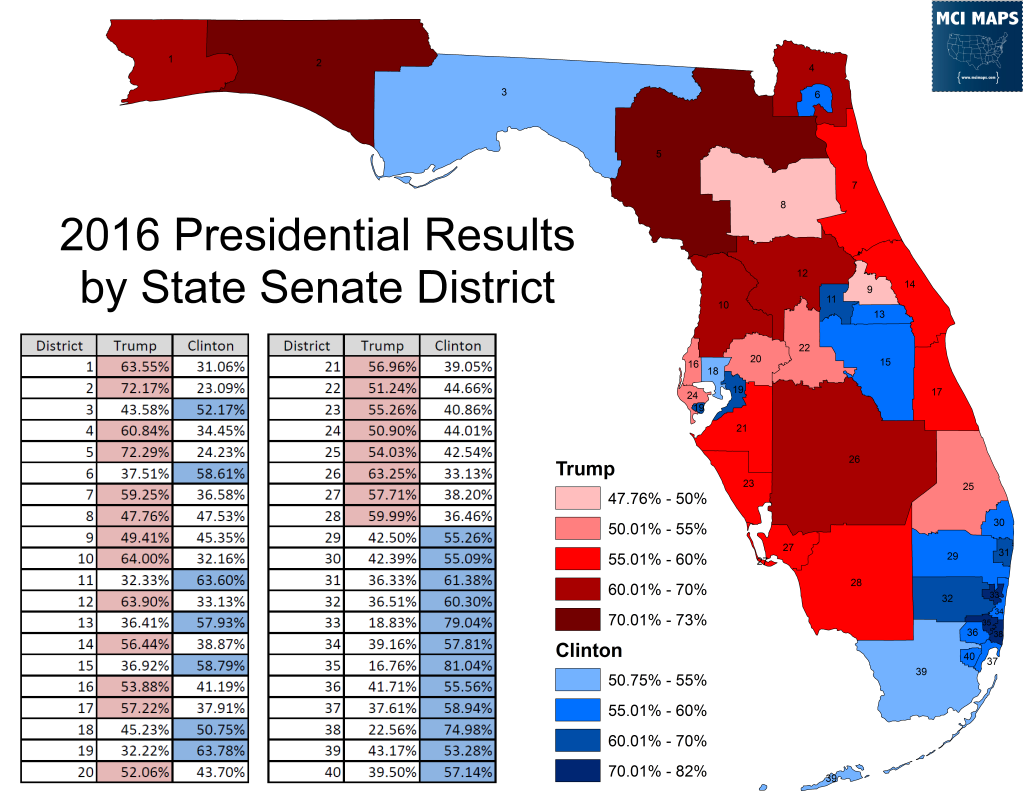 Trump won most of his districts by respectable margins, with the exception of SD8, which was decided by less than 1,000 votes.  Trump won two districts Obama had won, SD8 (Obama and Trump both had narrow wins) and SD24 (which went from narrow Obama to a solid Trump win).  All the Clinton districts backed her by more than 5 points, with the closest being SD18, based out of Tampa.
Trump did better than Romney in the eastern rural regions of the state, the suncoast (white, upper-income, midwest retirees) and saw his best improvement in the working-class regions of Pinellas/Polk/Hernando/Citrus.  Trump also did nominally better than Romney in African-American districts.  However, he did worse in the military-influenced 1st, 2nd, 4th and did especially worse in Central Florida and Dade thanks to weaker showings with Hispanic voters.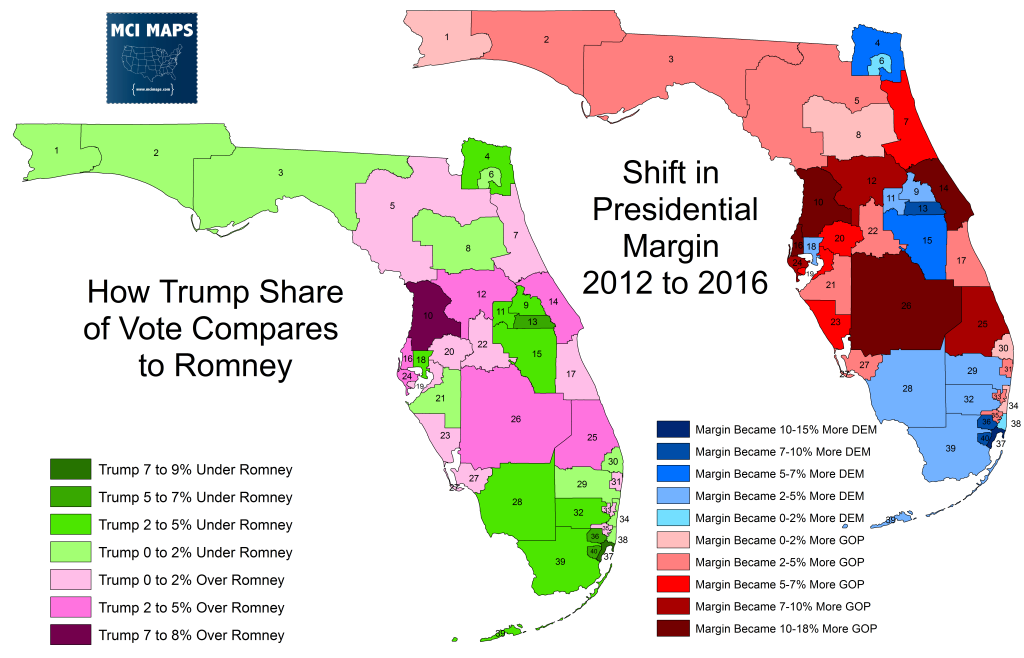 Areas where Trump fell didn't always mean a Clinton gain.  The map on the right shows how the two-party margin shifted.  The west coast saw Trump do worse than Romney, but Clinton fell more, making the district more GOP-friendly.  Clinton did, however, see notable improvements in the the major Hispanic districts in Dade and the Orlando region, where Hispanics and suburban voters went more Democratic, and the Jacksonville area, where military and suburban voters were less keen on Trump than they had been on Romney.
The State Senate Elections
With a new map passed, there was a good deal of hope Democrats could make gains in the chamber.  The new map had given Obama 21 of the 40 Senate seats, while the old GOP map was only 17 Obama seats.  There was never a realistic scenario of Democrats taking the chamber thanks to the GOP and its allies having a large financial advantage plus three strong Republican incumbents in Miami-Dade, all of whom sat in Democratic districts.
When the results came in, Democrats netted one seat, bringing them to 15, compared to the GOP's 25.  All 15 Democrats came from Clinton districts, with four GOP senators sitting in districts Clinton won.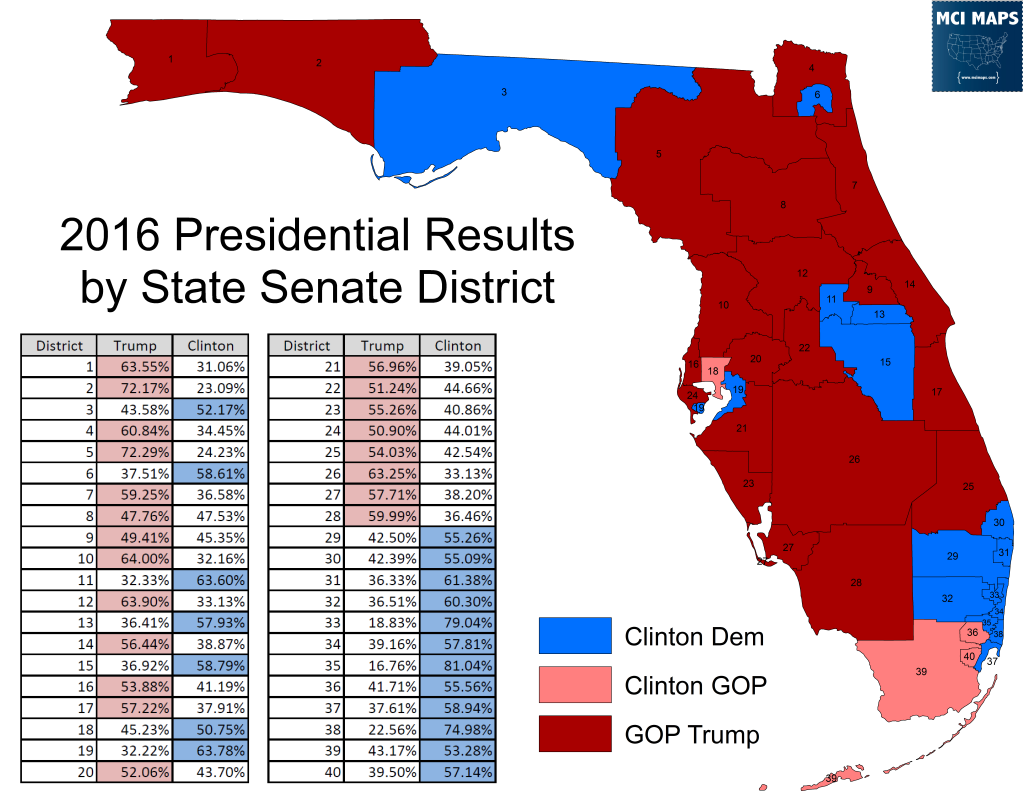 Let's do a quick breakdown of the contested races.   The chart below shows every race that featured a Democrat versus a Republican.  It shows how the Presidential race went, how the state senate race went (GOP and DEM columns), if the race was seriously targeted, and how the candidates compared to their party's nominee.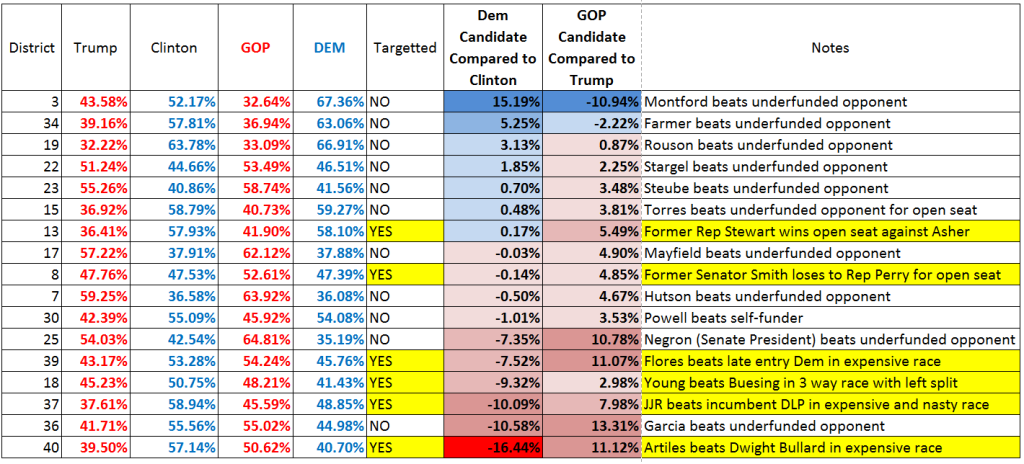 So lets talk the six targeted races, five held by Republicans and one held by a Democrat.
State Senate District 8
Democrats had high hopes that former State Senator Rod Smith would beat State Representative Keith Perry in this seat, which had narrowly gone Obama in 2012.  However, while Clinton only lost the district by less than 1%, Smith under-performed Clinton in Alachua County (Gainesville), which erased his over-performance in Putnam and Marion, resulting him getting a nearly identical % of the vote as Clinton, well below winning in a two way race.
State Senate District 13
Before redistricting, this was the one race Democrats were looking at for 2016.  The old map made the district a narrow Romney seat, but the new lines made it solid for Obama in 2012.  Then Senate President Cory Gardiner's wife was looking at a run, but opted against post-redistricting.  The Democratic candidate was heavily favored and the seat was seen as a likely pickup for Democratic nominee Linda Stewart.
State Senate District 18
When Republican State Representative Dana Young opted to run for the newly formed Senate seat, it was a seen as a likely GOP hold thanks to Young's strong fundraising and base.  However, Democrat Bob Buesing made the race very competitive in the ensuing months.  What hurt Buesing was the presence of a third party candidate that took more from the left than the right.  Young was able to win with 48% in a district that went to Clinton by 5 points.
State Senate District 37
In a titanic fight, Democratic State Rep Jose Jovier Rodriquez beat Incumbent GOP Senate Miguel Diaz De La Portilla for this coastal Dade seat that went solidly for Clinton.  The race was very expensive and nasty, but JJR pulled out a tough race.  On a personal note, DLP is no fan of this writer after I called him out on trying to draw a safe district for him and his brother during the redistricting special session.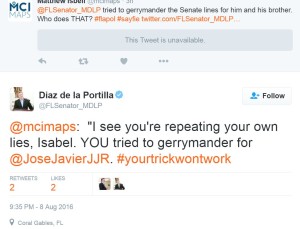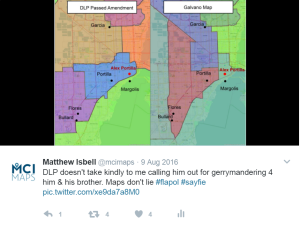 State Senate District 39
This seat technically counts as a GOP pickup. Democratic Incumbent Dwight Bullard was drawn out of the 39th and opted to run in the 40th.  Republican Incumbent Anitre Flores opted to move from the 40th to the 39th to run there.  She was always the favorite thanks to her strong fundraising but had the heat kept on her by a late entry Democrat, Debbie Mucarsel-Powell.   Different outside groups went into the District, but the race was largely considered a dark horse that would have only gone blue in the biggest of waves.
State Senate District 40
No race angers this writer more than SD40.  The previously mentioned Dwight Bullard opted to run in the 40th, a majority Hispanic seat that had got 54% for Obama in 2012.  Bullard got a major challenger from State Rep Frank Artiles, who had garnered bad headlines with things like punching college students, but nonetheless, was known in the area and a strong fundraiser.  Bullard proceeded to do everything wrong in his race.  He went to the DNC convention and overseas trips instead of fundraising and knocking on doors and didn't listen to groups trying to help him.  He went on to lose by 10 points in a district Clinton won by 16, the record for under-performance of any candidate of the cycle.  This made the 40th a GOP hold.
The final results, two Democratic gains (37th and 13th) and a GOP gain (39th), meaning the Democrats netted one seat.
The scatter-splot below shows how each Democrat did compared to the Presidential candidate, with the Dems above the line doing better than Clinton.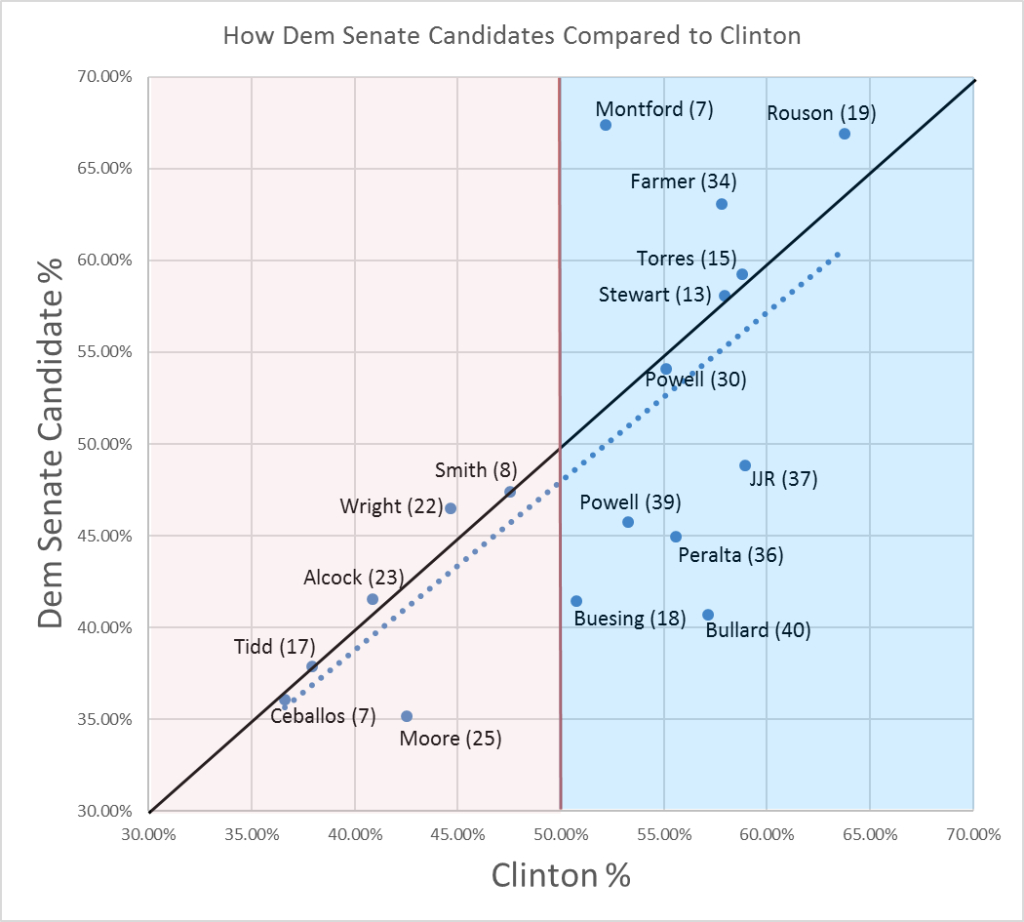 The Democrat with the best performance compared to Clinton was none other than my State Senator, Bill Montford.   Montfort beat a Gulf County Republican and first time candidate Nancy Miller in a landslide.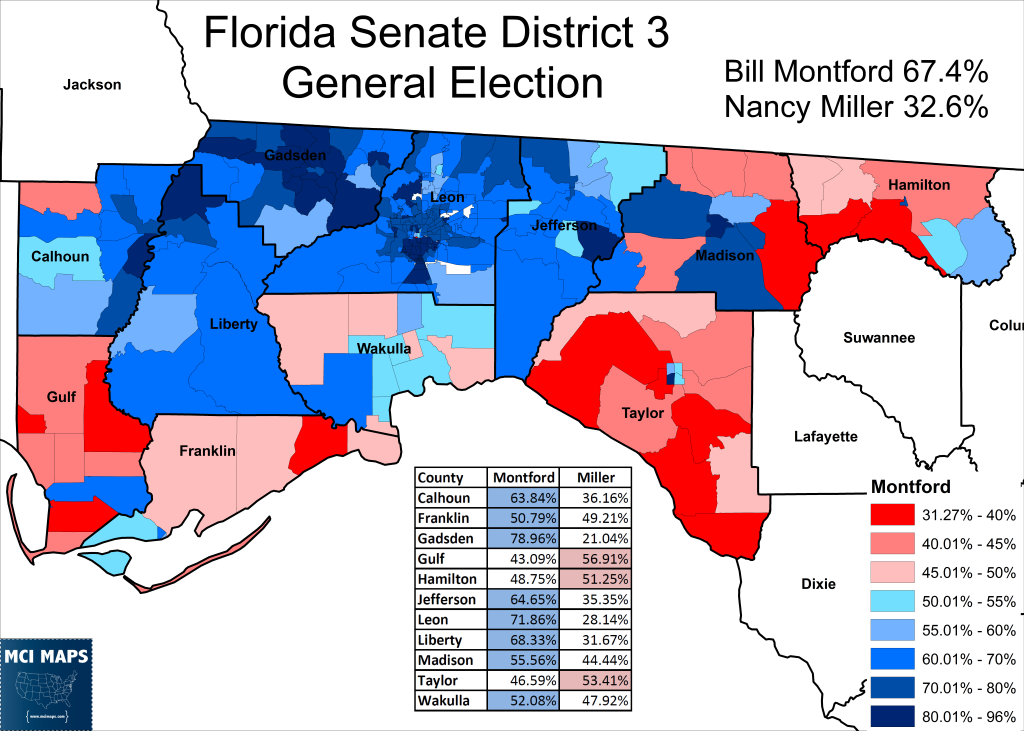 Miller was an unknown who raised little money and ran almost entirely on the platform that Montford was wrong to vote to remove a statue of a Confederate General from the Capitol.  Miller's Facebook page included pro-confederate musings, but it's unlikely many even knew what she was running on considering her lack of funds.  Montford still lost three counties he had won in a similar blowout in 2012.  However, he won six counties Clinton did not.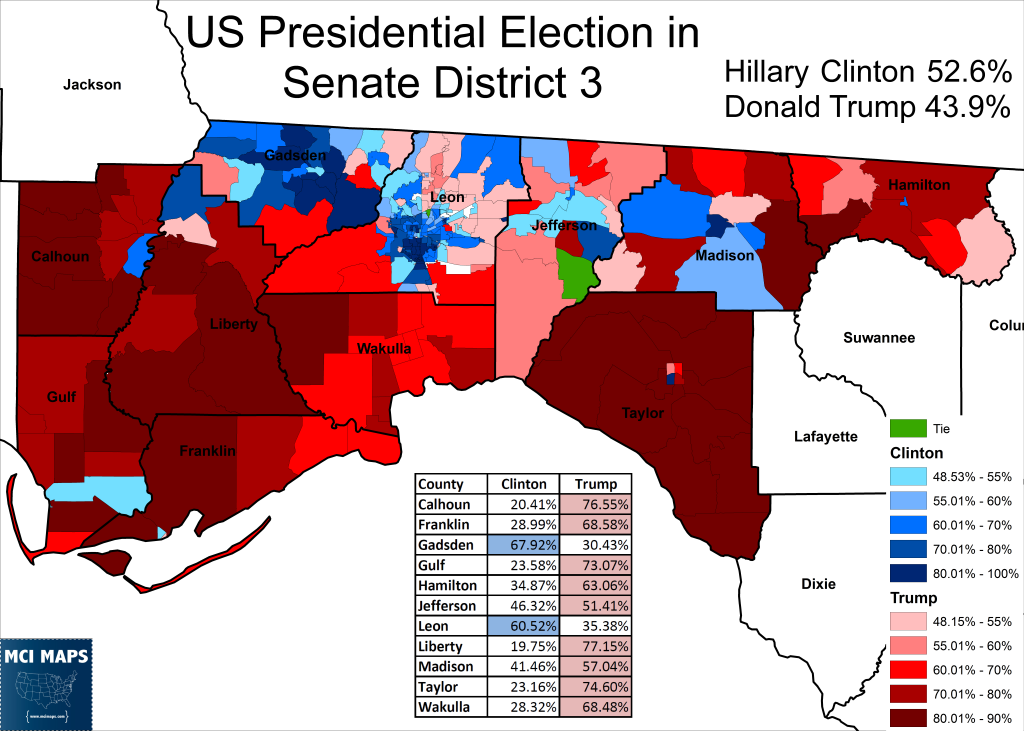 Clinton's win in SD3 was entirely thanks to Leon County, which counts for over 60% of the district's vote.
Montford over-performed Clinton the most in the eastern counties, especially Liberty and Calhoun, the region Montford hails from before he got into Leon County politics.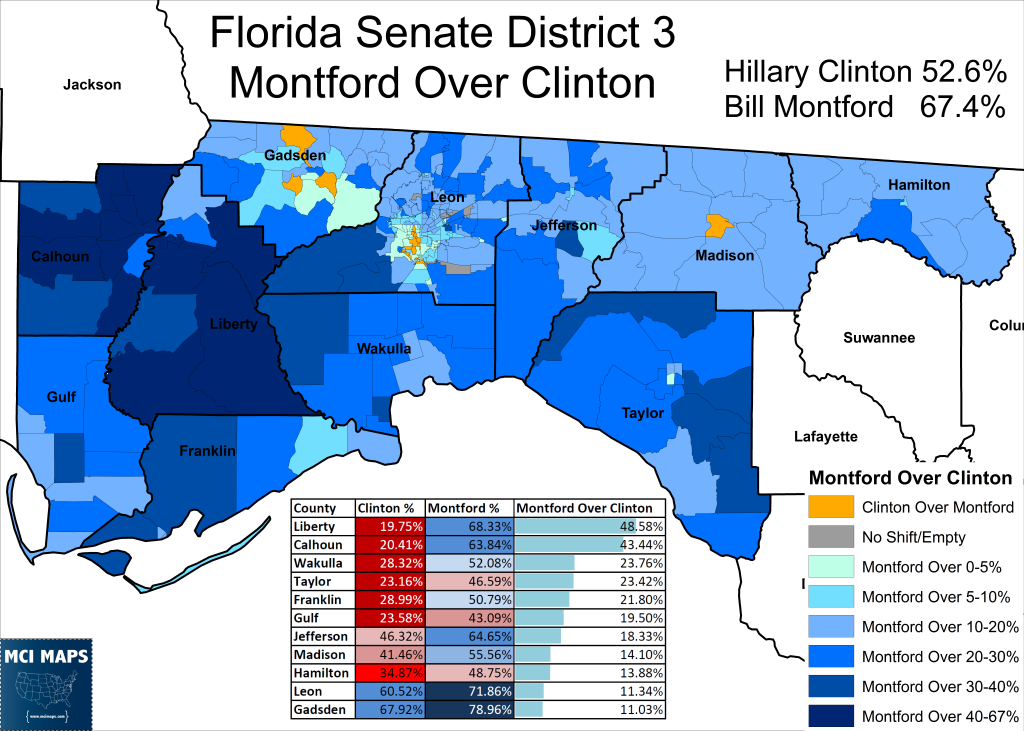 Montford was a well-funded, well-respected, moderate Democrat with a southern drawl who had a no-name opponent.  Its safe to say Miller's best regions are solid GOP for a long time to come.
Did Redistricting Effect the Elections?
The night of the election, many questioned if redistricting had any real effect since the party makeup only changed by one seat.  I would argue that, emphatically, it did have a role.  To break this down, first lets look at the new lines compared to the old lines from a partisan perspective.  Below are the 2016 results based on the new and old lines.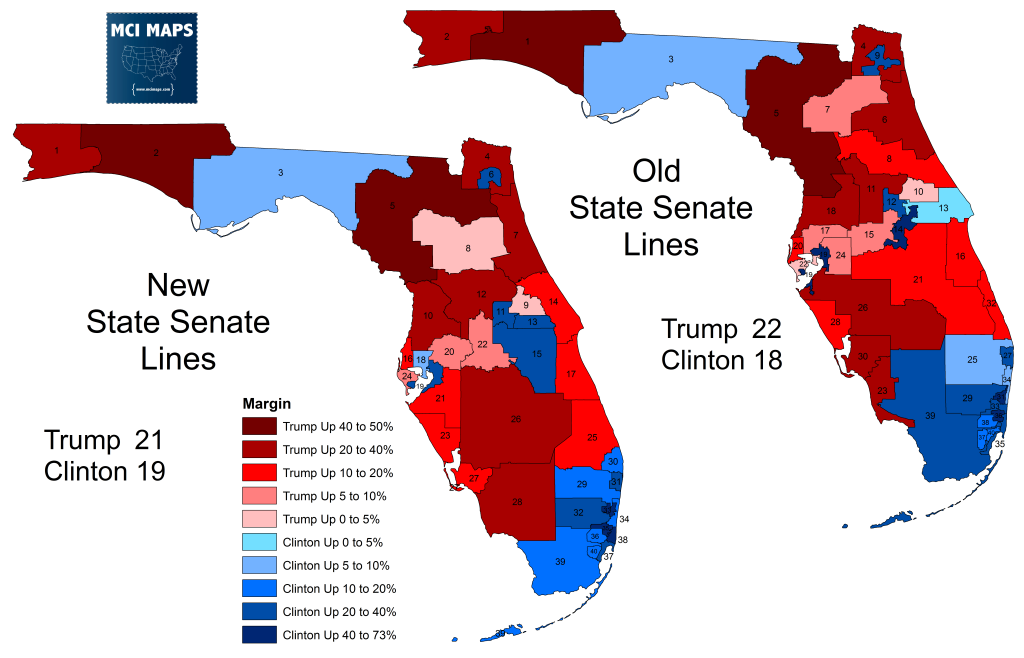 Under the old map, Clinton would have won 18 districts, only one less than under the new map.   However, in terms of state senate races, the old map was very strong for down-ballot Republicans.  Some key notes on the old map:
The 8th is steadfast Republican thanks to taking in Clay County; Rod Smith doesn't run under this scenario
The 13th is narrow Clinton but votes Rubio; Gardiner's wife likely runs.  She or Asher likely win thanks to money and ticket splitting suburban whites
There is no swing-ish Tampa seat for there to be a real challenge
The 24th (held by GOP Senator Jeff Brandes in Pinellas) is actually better for Dems here, but the self-funding Senator doesn't likely see a challenge as Dems wait for him to be termed out
Dwight Bullard is re-elected in his old 39th Senate District
Anitre Flores wins her old 37th
Miguel Diaz De La Portilla wins his old 40th.  Jose Rodriguez stays in the state house (only ran due to redistricting)
Jose Garcia wins his old 36th with no real target against him from Democratic groups (just like this time)
The old 35th, still hugging the cost and much more white, is held by Democrat Gwen Margolis
Pre-redistricting, there was likely to be only one targeted race in 2016–the 13th district.   Thanks to redistricting, six districts saw heavy contests.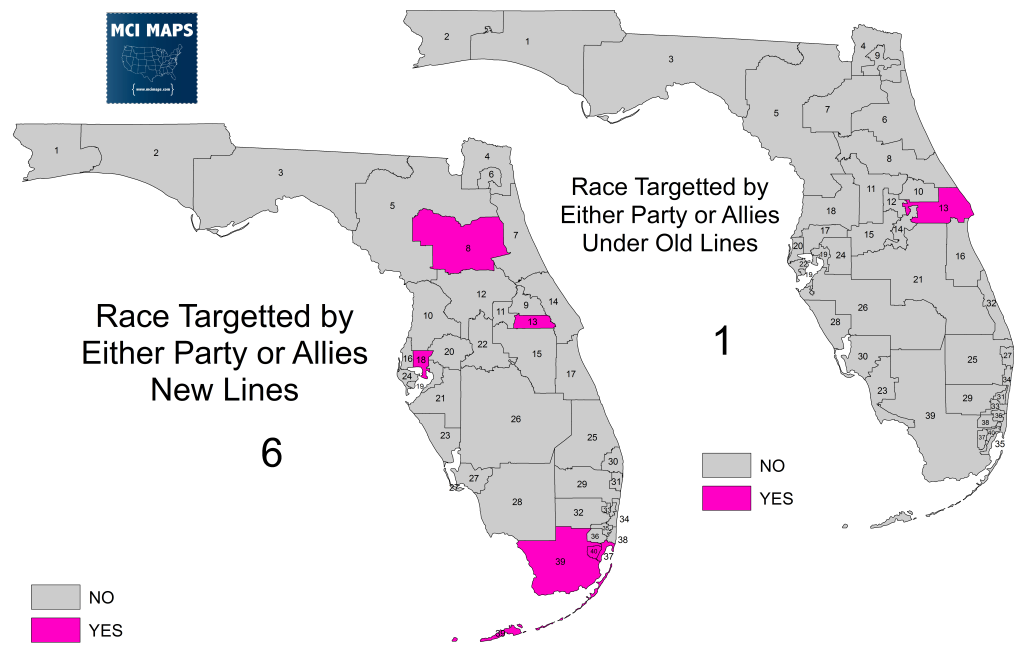 As stated above, without redistricting, the partisan makeup would have likely remained the same.  Democrats would have fought for the 13th, but ticket-splitting in the white suburbs likely would have led to a GOP hold.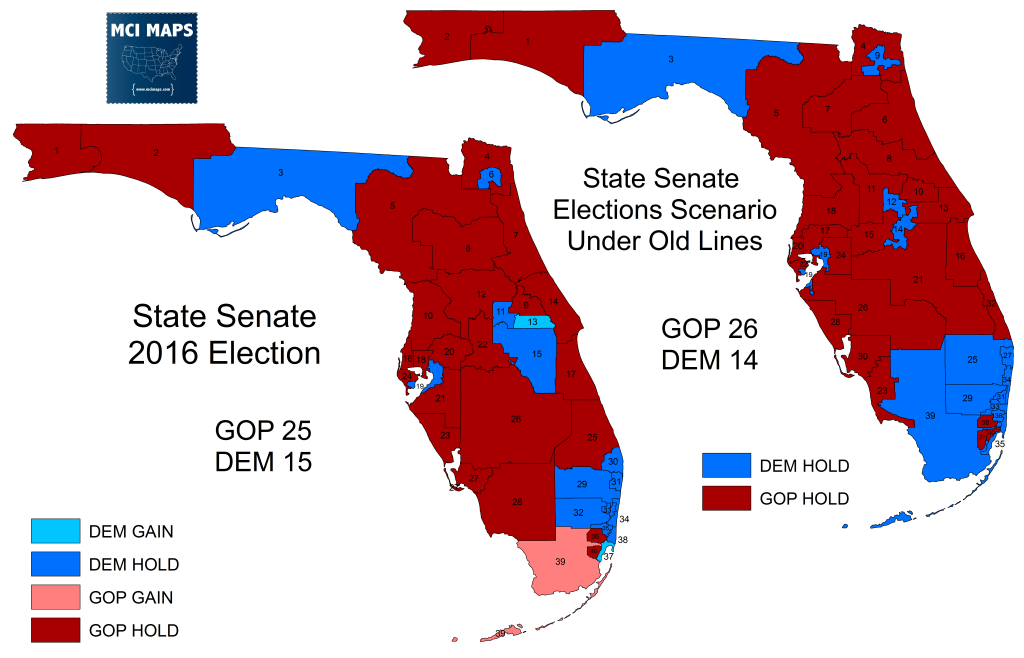 Overall, the Democrats didn't make the 2-3 gains for which they were hoping.  However, that was in a scenario where Donald Trump was losing the state.  Despite Trump winning Florida, the Democrats still netted a state senate seat.  Heading into 2018, there is no Dem-held seat the party must worry about defending (only even seats will be up).   Democrats will continue to be on the offense while the Republicans remain overextended.  The results of these elections are also not the only thing that matter.  The sheer number of contested races is a proven result of redistricting.  Thanks to the lawsuit and new map, we can count on more lawmakers feeling electoral pressure than before.