Cooper City, FL likes to refer to itself as "someplace special."  It is a quiet little city with a population of just over 30,000–a small suburb planted in the middle of the dense urban environment of Broward County.  It can be easy to miss Cooper City, but if you look for it, it's right there in the middle of a very liberal county.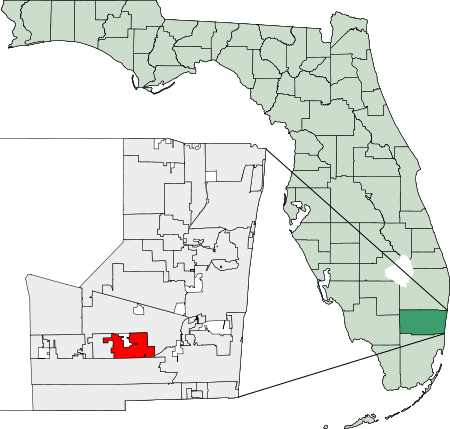 Cooper City has worked hard to maintain its image as a bedroom community.  Many of its residents work outside the city due to the low number of businesses based within.  Residents aim to keep a quiet and family-friendly atmosphere.  The schools are all "A" rated and considered some of the best in the county.  The Optimist Club (a group that runs sports programs) is visible in the city due to the thousands of kids enrolled in different sporting activities in Cooper Cities' three parks (and a fourth is in the works).  The city has a modest sized government–a four person city council and a mayor–all elected at-large.  The residents are 65% white and 22% Hispanic, and average income is over $80,000 a year,
Such a small, quaint town wouldn't normally attract a great degree of contentious politics.  Indeed, the politics in Cooper City is fairly moderate. The city generally backs Democratic candidates, but will shift toward Republicans on occasion.  Commissioners used to be elected in the spring during off-year elections which would feature turnout below 20%.  The politics got much more contentious, however, when John Sims emerged on the political scene.
The Communities of Cooper City
Before we get into John Sims, tets take a look at Cooper City on a deeper level.   Below are the precinct boundaries that Cooper City used for years before re-precincting took place in 2014.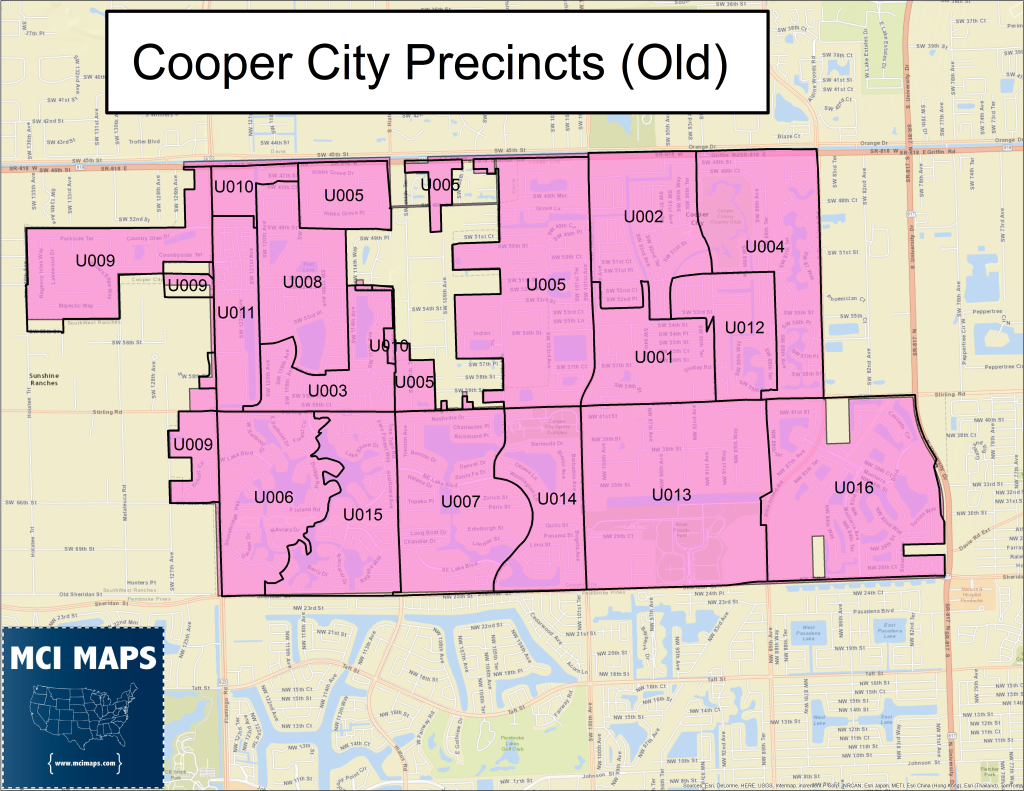 I will use these boundaries for analysis since these are the precincts past city elections were conducted other.
Old Cooper City
Cooper City has slowly expanded through the years.  However, its northeast section, covering precincts U001, U002, U004, and U012, has changed the least. This region of the city is a mixture of middle and lower income housing.  Its contradictory nature is notable in that just a few blocks from the country club are section 8 apartments. Precinct U004, the country club and its surrounding houses, is the whitest precinct.
Outskirts of United Ranches
Precinct U005, which has a huge chunk of Davie going through it, represents the scattered lands in the central north region of the city.  The area surrounds United Ranches, which was an unincorporated, well-to-do area that voted several years ago to be part of Davie instead of Cooper City.  The vibe in the area is much more rural and less suburban.
The Family Burbs
The northwest neighborhoods are made up of precincts U003, U008, U010, U011. This area is largely family-oriented neighborhoods  Located in here are several parks, Griffin Elementary, and a patch-work of family communities.  The area is key real estate for parents who want the school in walking distance.  The area also hosts Bill Lips Park, one of the busiest parks for the Optimist sports program.
Country Glen
Precinct U009 is the western most edge of the city, and also stands as one of only two Republican-leaning areas in the city.  The largely-gated community exists west of Flamingo Road.  The area is surrounded by Southwest Ranches, the city to the west of Cooper City.  Southwest Ranches is one the few cities in Broward to back Mitt Romney for President.
Rock Creek
Precincts U006 and U015 make up Rock Creek.  This community is a dense suburb with its own park, public pools, and several restaurants.  Many houses are built right on the coast of the scattered lakes and creeks in the neighborhood.
Embassy Lakes
Precincts U007 and U014 make up Embassy Lakes; a gated community.  The area is also one of the most Democratic in the city.  While most gated areas tend to reflect more Republican voters, Embassy Lakes stands out as more Democratic and Liberal area.
The Southern Ranches
Precinct U013 makes up assorted houses, many of which are on ranch-style one acre plots of land.  The area tries to maintain a rural, spacious atmosphere, and is the second Republican enclave in the city.  Only the northern half of the precinct has houses; the southern half is home to Brian Piccolo Park.
Monterra/Estada
Precinct U016 represents the communities of Monterra and Estada; the newest additions to Cooper City.  Monterra used to be the Waldrep Dairy Farm.  However, in 2006 the city annexed the dairy farm into its bounders, and the family sold off the land for development as a residential area. The issue was contentious at the time, but the pro-development side won out and Monterra was formed.  The population has exploded from a handful of voters in 2010 to over 1,500.  This new voting block has only participated in one city election, 2012.  The community is made up of gated homes and affordable apartments.  The area is the only part of Cooper City that isn't majority white and is fairly Democratic.  More will be discussed about Monterra later in this article.
The raw vote numbers that come out of each reason (and the party breakdown) can be seen below based on the precincts that will be used in this cycle.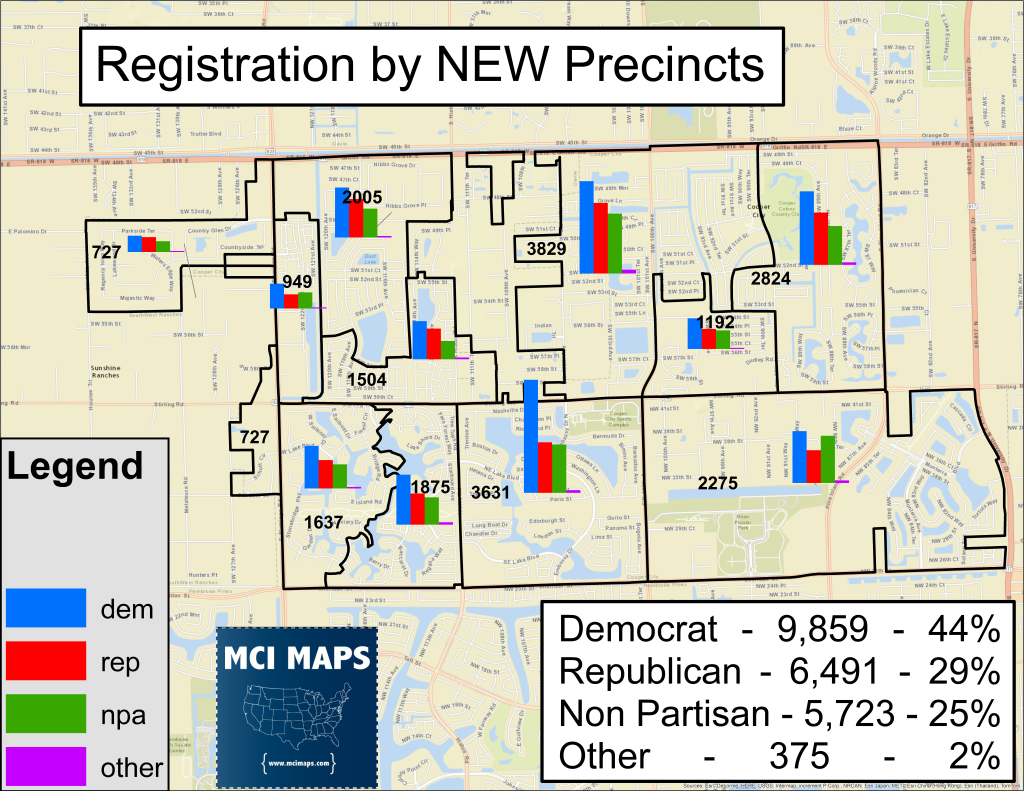 The Introduction of John Sims

John Sims was just an average resident in Cooper City in 2006.  He owned a house in the northeast neighborhoods of Old Cooper City.  However, one issue sparked his emergence into politics in the city.  The issue was an ordinance requiring that anyone who owned a boat on their property to keep the item out of sight with either a garage or fence.  Sims questioned the ordinance, arguing it was his property, and there was no home owners association requesting the rule.  Sims attended meetings arguing against what he perceived to be an over-step by the city.  In the wake of this, he discovered that the city commissioners and mayor would meet before meetings at a restaurant, and alerted the press.  Footage of commissioners and the mayor drinking at a restaurant before meetings gave rise to a concern that the commissioners were colluding on issues.  The action was not illegal (but did spark an investigation).  However, the commissioners and Mayor Debby Eisinger made the mistake of attacking Sims in response to the revelation.  They should have apologized.  Instead they acted arrogant and defensive, giving voters more reason to lose confidence the commissioners were acting properly.  Elections for two commissioners were on the horizon, and Sims decided to challenge an incumbent.
Sims opted to run for City Council in the 2007 spring elections, which featured no major races except in the city itself, thus ensuring a low turnout. Sims challenged incumbent John Valenti; while Lisa Mallozi, another outsider, challenged incumbent Linda Ferrara.  Sims, put up signs leading up to the election saying "Remove the Doubt, Throw them Out."  Riding a wave of distrust for the council, both Mallozi and Sims won their elections.  However, Mallozi won by an 18% margin while Sims only won by 3%.
Sims' win is seen below.  He won most the cities precincts, but lost in the Rock Creek and Embassy Lakes region.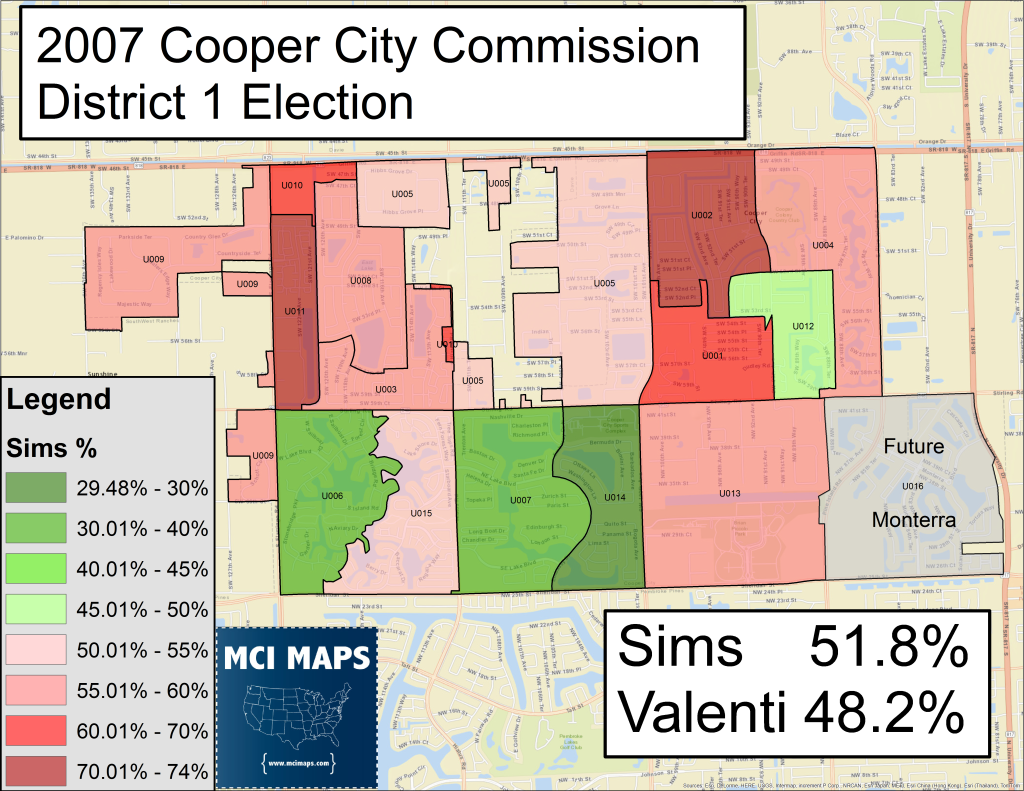 Sims' margin remained low due to his large losses in Rock Creek and Embassy Lakes, which made up 30% of the total votes cast.  While Sims won the eastern rock creek precinct by a few votes, he was crushed in the west.  Monterra was just the dairy farm at the time and did not participate in the election.
On that same day, Mallozzi won her city council election by a stronger margin that Sims.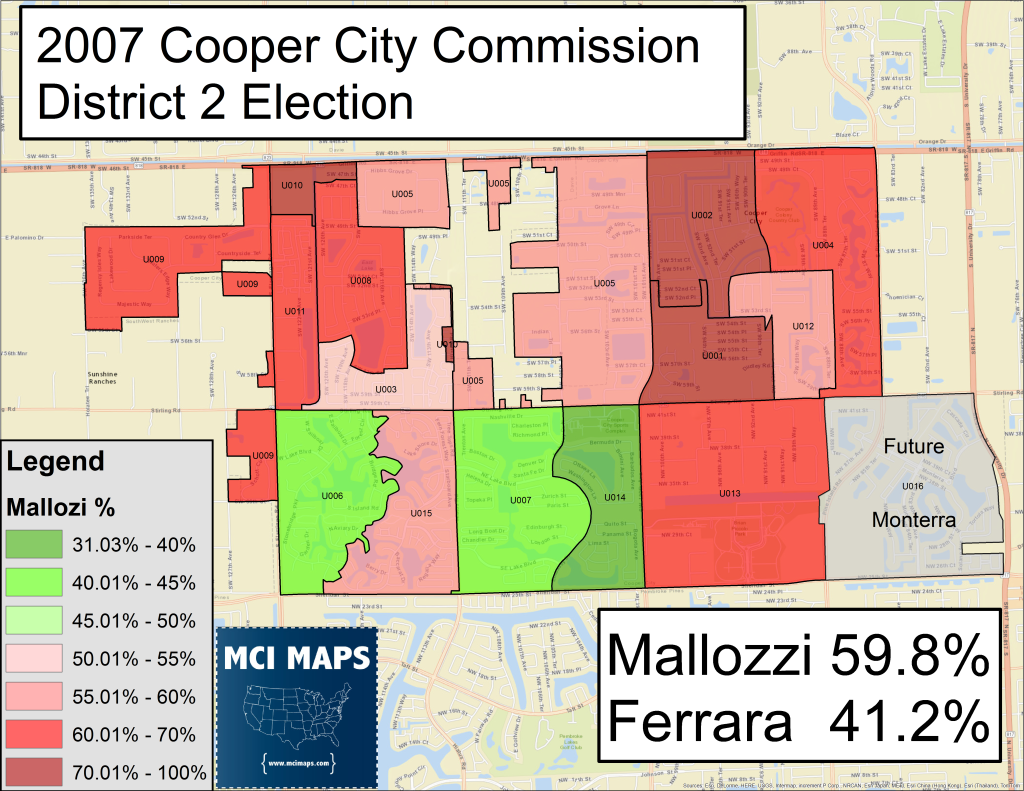 Mallozzi and Sims won and lost the same precincts.  However, Mallozzi won higher margins in her wins and didn't lose as badly in Rock Creek and Embassy Lakes.  Both candidates won on anti-incumbent sentiment.  Why did Sims win by a weaker margin? In my opinion, this probably has to due to with Sims personality and issues from his past.
Sims displayed an extreme aggression when addressing city matters–something that seemingly suggested a sincere  passion for the issues.  It probably reflects Sims overall aggressive attitude.  Years earlier, Sims was sentenced to probation and anger management due to his conviction of aggravated battery against his then-pregnant wife!  The issue came up during the election and was covered to a small degree by the press.  However, in a small town like Cooper City, where the elections rarely generate major money, past indiscretions can be missed by the voters.  The major news source for the city is the Sun Sentinel paper, which devoted little time to the city elections.  Residents of Cooper City often have to rely on word of mouth or online media to hear about such scandals.  Sims' dark past was likely unknown by a large number of voters in the district.
Sims' past was covered fairly mildly by the press. As this link details, Sims is accused of many indiscretion,most of which did not get major press coverage, which include
Being dishonorably discharged by the Navy for improper behavior
Plagiarizing other people's writings on his website, then claiming he was hacked
Found by a court to be delinquent on over $25,000 in child support payments
Ordered to undergo psychological testing as a result of his legal issues, results were not great (found to be aggressive, blamed his wife for his assault upon her)
Details on the above and MORE can be found here
A great deal of these issues were not know by the voters when he was elected.
The turnout for the 2007 election was 13%, a product of the election being off year.  That same day, the voters approved an amendment to move city elections to the November ballot for even numbered years, with the first year planned being 2010, the same time Sims would be up for re-election.
Sims' 1st Term and the 2008 Mayoral Election
The three years between Sims' election and re-election were filled with controversy.  Sims, unlikely Mallozzi, quickly stood out on the commission as a very uncooperative, and generally disruptive commissioner.  Sims was know for having loud and dramatic outbursts during city council meets.  The Sun Sentinel noted that shortly after the 2007 elections, meetings became more and more combative, and that Sims was forced toapologize for conduct at a meeting just a few months into his first term.
Sims maintained a website to talk about city issues.  He pushed a narrative of himself as a watchdog on the council.  He decried the rising budget of cooper city (a fact that made sense considering the city was continuing to grow and evolve) and claimed to be watching out for the tax dollars of the public.  However, Sims caused more controversy than savings.
One year after Sims' electoral victory, Mayor Debbie Eisinger won her re-election with 48% of the vote in a three way race.  Eisinger was and remained a controversial mayor due to a generally abrasive attitude and ethics questions that never were proven but continued to pop up (especially the restaurant meetings that became a major issue in 2007).  Thanks to divided opposition, she won most precincts in Cooper City, but came well under 50% in several others.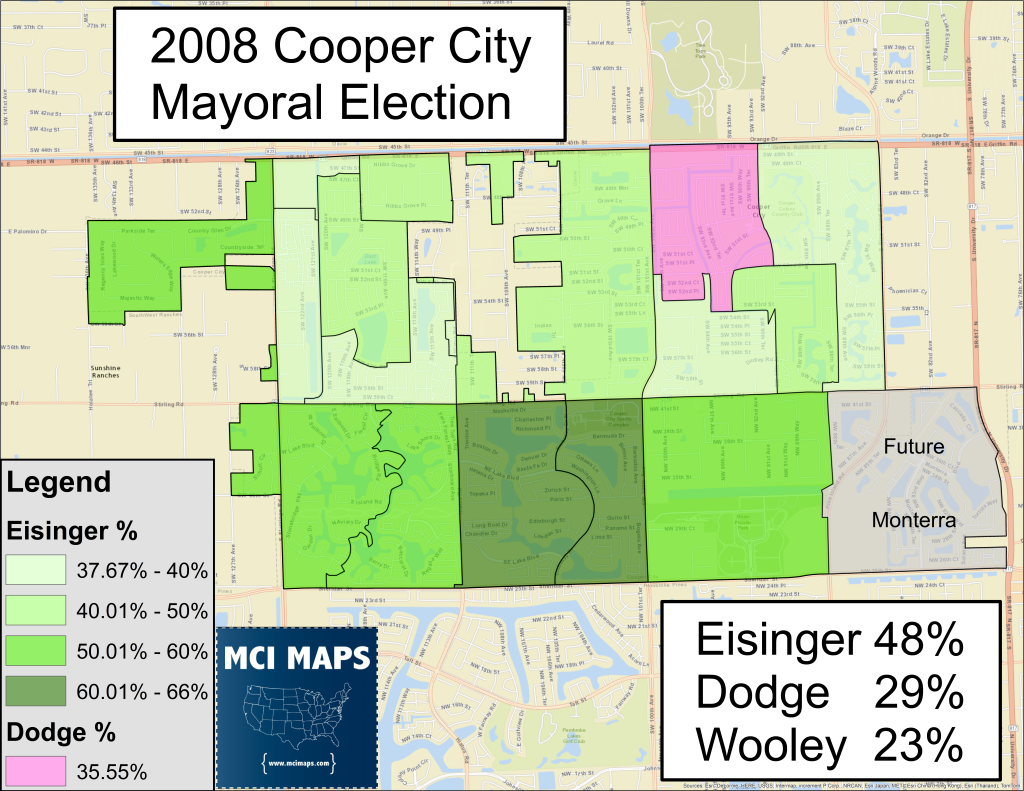 Leading up to the election, Sims had been a major critic of Eisinger.  How Sims did in 2007 and how Eisinger did in 2008 closely paralleled each other.  Below is a scatter-plot of Sims' percent of the vote by precinct in 2007 and Eisinger's percent in her 2008 re-election.  The graph shows that as Einger's percent fell, Sims' percent grew.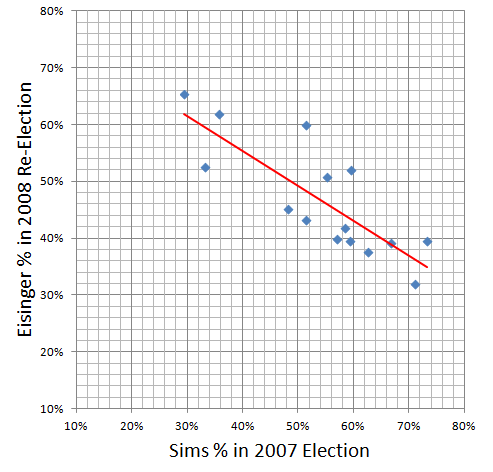 For my statistics fans, the coefficient of the above scatterplot is 0.66.  In layman's terms, that the two different percentages strongly relate to each other.
Shortly after the election, major controversies would rise in the city.
According to authorities, Sims owned a website called  savecoopercity.blogspot.com  (now defunct).. Around late 2007 and early 2008 the site began to fill with extremely anti-Semitic posts about Mayor Debbie Eisinger, who is Jewish.  The Broward Sheriff's Office  began to investigate the postings.  During this same time, when Mayor Eisinger was running for re-election, a Swastika was painted on the car of Eisinger's campaign manager.  When the BSO determined Sims owned the site, it sparked an uproar against him.  Sims claimed the site was open for people to post on, claiming he did not post the attacks.  If true, at the very least Sims chose not to regulate the postings on his site, postings deemed serious enough to spark an investigation by the Sheriff's office. Sims refused to even apologize for allowing such posts on a site he owned. He compared calls for him to resign to a lynch mob, the greatest source of hate he had ever seen; all organized by Mayor Eisinger.  
As a result of the outcry, a recall petition was pushed to remove Sims from office. However, despite getting the required signatures, the petitioners decided to pull the plug due to the $10,000 cost of the recall.  At the time, the growing recession in America was forcing Cooper City to stay on tight budget.  Instead, opponents of Sims mobilized for Sims' 2010 re-election, which would be held during the regular midterm elections.
2010 Re-Election
Sims' controversies actually worked in his favor going into re-election.  Cooper City has no run-off mechanism for multi-candidate races, resulting in someone not needing 50% to be re-elected.  Sims drew three opponents in his race.  Gary Laufenberg, a real estate broker, was the favorite of Mayor Debbie Eisinger.  In addition, Melissa Megna, a Broward School Board employee, and Michael Good, a former city manager from Hallendale Beach, also ran.  This split field benefited Sims, and he ended up winning re-election with only 40% of the vote.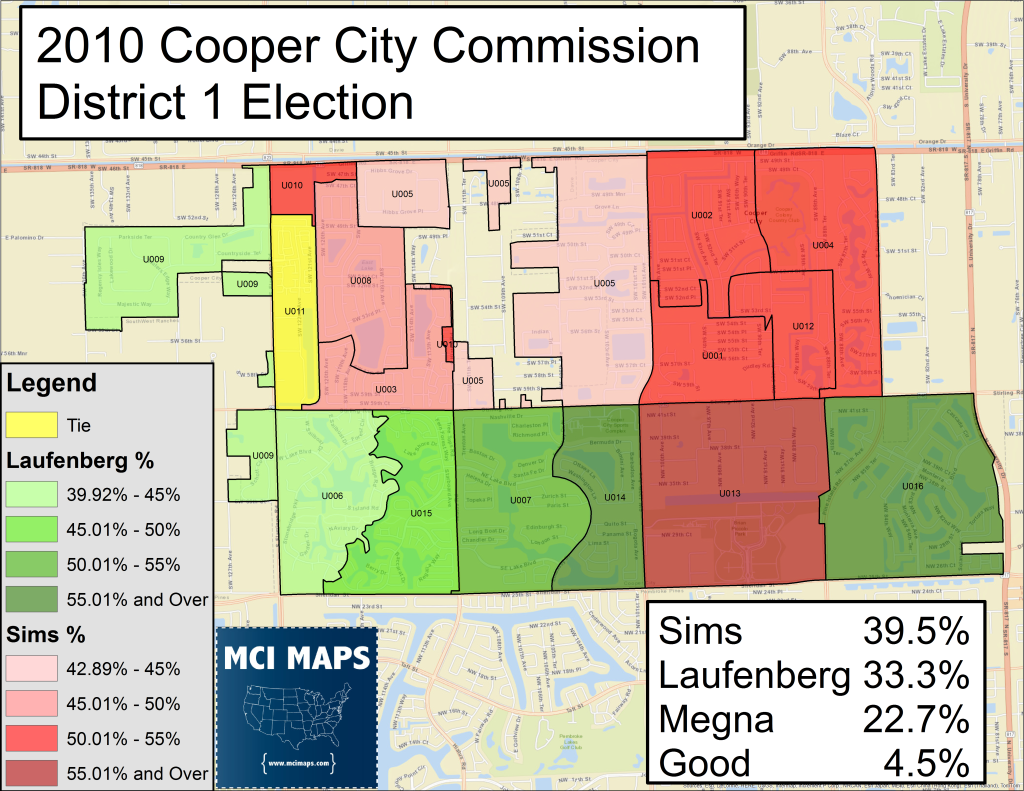 Sims only won majorities in the older cooper city area (where he lives) and the ranches (in addition to one small precinct in the west).  Sims did very poorly in the southern communities of Rock Creek and Embassy Lakes.  Monterra was in its early construction at that point, and the handful of people who lived there gave Laufenberg over 80% of the vote.  Sims managed to win in the family communities of the northwest, but with under 50%.  Based on the nature of the campaign and where each candidate's supporters came from, Megna's votes would have most likely gone to Laufenberg.  Sims managed to win re-election thanks to a split opposition and no runoff mechanism.
Second Term
Sims was not humbled by his low vote totals.  Instead he saw the 40% win as a resounding victory. He continued his policy of being outlandish and contentious at meetings.  During one city council meeting, Sims was shouting and cursing about the minutes from the previous month.  When Eisinger told Sims he was being "extremely disruptive," he replied that she was being "extremely dumb."
In 2012, Debbie Eisinger was termed out as Mayor.  The mayoral election was fought between Greg Ross and Gary Laufenberg.  Sims backed Ross, as did most of the commission.  Laufenberg proved to be a weak opponent, only garnering 29% of the vote against Ross.  Laufenberg actually withdrew from the race a few days early when his campaign manager was caught steeling yard signs.  However, absentee ballot results show Ross had a commanding 69% of the vote among those who had returned ballots before the controversy ignited.  Laufenberg's weak showing proved he was not a strong candidate and that perhaps a strong challenger could have knocked Sims off in 2010, even with split opposition.
Shortly after the 2012 elections, which saw Obama win Cooper City, carrying all areas except Country Glen and the southern ranches, Sims ignited national controversy when he attacked President Obama on Facebook.  Shortly after the election, he posted the following.
Just wanted to let you know … today I received my 2013 Social Security Stimulus Package. It contained two tomato seeds, cornbread mix, two discount coupons to KFC, an 'Obama Hope & Change' bumper sticker, a prayer rug, a machine to blow smoke up my ass and a 'Blame it on Bush' poster for the front yard. The directions were in Spanish. Yours should arrive soon."
The incident gained national media attention and but a stain on Cooper City's reputation.  Calls for Sims to resign were heard from residents, and newly elected mayor Ross encouraged Sims to take sensitivity counseling.
During the spring of 2014, Sims ignited local controversy with the Optimist Club, which manages the parks and sports programs for the kids of the city.  Sims criticized the club allowing non Cooper City kids in (even though they pay an extra fee) and claimed the Optimist owed the city money (something denied by the rest of the commission).  Sims has always had a rocky relationship with the Optimist Club despite its strong ties to the community and solid reputation.
Sims' 2014 Re-election and the Community of Monterra
Despite his continued controversies, Sims has filed to run for re-election in 2014.  Sims pushes the same narrative as before, that he is the watchdog of the commission.  He is not on good terms with Mayor Ross, and by his own admission, the entire council is backing his opponent, Mike de Miranda.  Miranda is a newcomer to Cooper City politics, raising less money than Sims, but has been actively campaigning.  Sims likely knows he is in trouble.  His opponent may be little known, but Sims is coming off only getting 40% in the last election.  Sims has resorted to accusing his opponent of every bad thing that happens to him.  If a yard sign is stolen, Miranda's people did it.  Someone talks bad about him, Miranda's people did it.  Sims has called Mike Miranda an "unethical scumbag" because of unfortunate events that have happened to Sims during re-election.  To imply his opponent must be behind it, ignoring all the enemies Sims knows he has made for himself over the years, is nothing more than a campaign tactic to get sympathy.
I have worked in politics for years now.  And I can tell you, my fellow readers, a few things. The most important is, campaigns don't go around steeling each other yard signs.  Signs go missing every cycle, either because of zealous people or pranks by people who don't even plan to vote. There is not a single election in which signs are not stolen.  The key difference is, most campaigns don't just assume and accuse their opponents or supporters of being involved.
Sims' claims he is running a positive campaign and decries the negative campaign against him.  I guess calling someone a scumbag is not negative.  And no, the commissioners are not under corruption investigations as Sims claims.  Sims is being aggressive this cycle, which indicates he knows he has a fight on his hands.
The great out-lier in this upcoming election is the community of Monterra.  Monterra, formerly precinct U016, used to be the Waldrep Dairy Farm.  Efforts to buy the land and develop took place over decades.  The 2005 Mayoral Election was seen as a referendum on the plans for during the land into housing, where the pro-development side won.   After the housing crash of 2008, construction completely stopped.  The company that had purchased the land went bankrupt, and for years the land, already cleared of the cows and fields, sat there barren.  For two years there was a huge plot of open land with a few houses built and a future entrance way.
Finally, as the economy improved, the land was taken over by a new company and construction resumed.  Monterra was formed on the eastern edge, and smaller community of 'Estada at Monterra' was formed in the west.  The result of the construction delays was that the Monterra community has little influence in the 2010 midterms, where less than 100 votes were cast.  However, in the 2012 elections, over 700 were cast.
In 2010, only 97 voters were registered in the district.  By 2012, it was 1,041 voters. As of last month, the number of voters in that area is 1,349. As homes and apartments continued to be purchased, the number of voters will continue to rise.  However, capacity is slowly being reach in the community.
Monterra stands out from the rest of Cooper City in many ways.  It is one of the few gated communities in Cooper City (it and Embassy Lakes being the two major ones).  However, the area also hosts lower income apartments.  Monterra, despite being a largely gated area, is also fairly Democratic, giving Obama 59% of the vote.  The area is also the least white in Cooper City, only 44%. The second largest racial group is Hispanics– at 27%.  Monterra is the only community where the white % of registered voters is under 50%.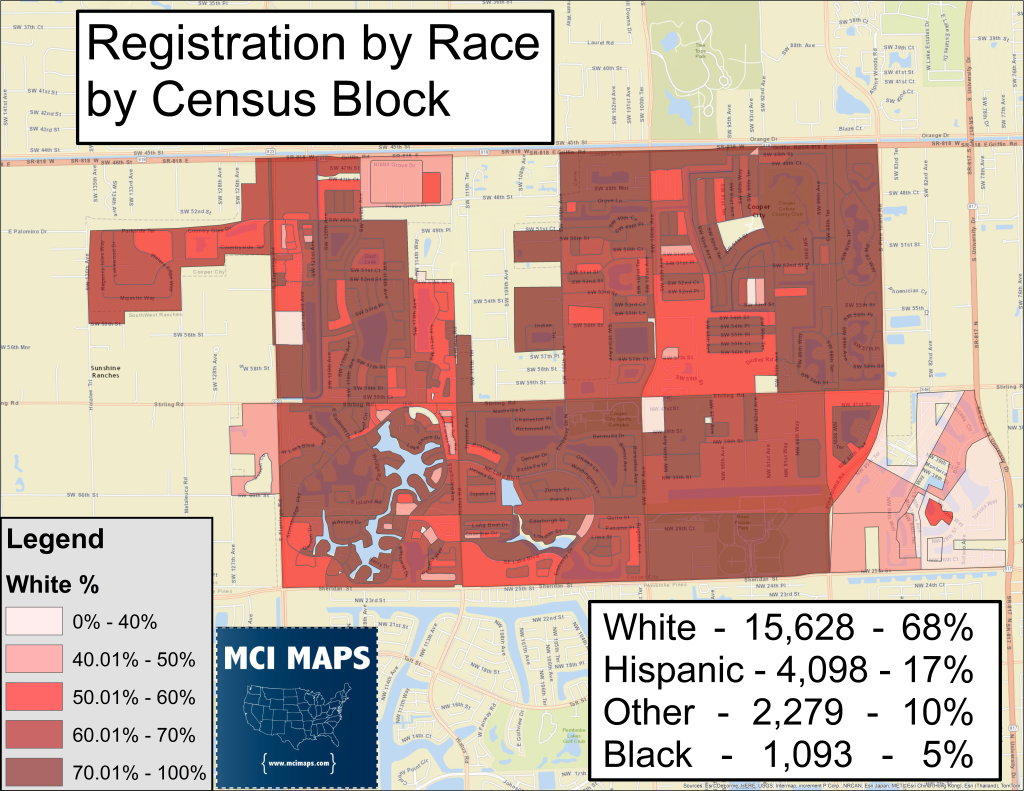 Monterra's demographics could make it a key anti-Sims area.  The southern precincts, often newer and more family-focused, have not supported Sims in the past due to his aggressive nature and his attacks on the Optimist.   In addition, Sims' racist attacks and ties to general hate speech certainly wouldn't play well with any minority group.  However, many of these voters are new to the city.  They were not there during the height of the city council fights.  The handful of voters in the area heavily rejected Sims in 2010, but that is too small a sample to be predictive. If Sims' transgressions are known to Monterra, he would have major trouble.  However, with Sims opponent pledging a positive campaign, the facts of the past would have to come from word of mouth or a third party.
Conclusion
Politics in suburbs and cities can be hard to predict compared the predictive nature of national and state elections.  Party loyalty means less and local issues dominate races.  How a candidate is perceived can also be a major factor.  Sims appeals to the low-taxes, low-budget desires of Cooper City residents.  However, he also stands out as a black stain on a city that is not usually known for aggressive politics.  Sims' major transgressions make him a bad fit for a city with no history of racism or bigotry.  Its time for Cooper City to look again for a fresh voice on the council.  Sims has sat their for seven years and has little to show for it other than a stream of bad headlines from the Sun Sentinel.  Sims calls himself the "go-to" commissioner on his yard signs. Well, it is time for the "go-to" commissioner to just go.