Super Tuesday delivered strong for Donald Trump and Hillary Clinton.  Both candidates walked away with large delegate leads many states in their column.  Both did especially well in the southern primaries.   Trump won several of the southern primaries with double digit wins and Clinton dominated the south, getting more than 60% in Arkansas, Tennessee, Georgia, Alabama, and Virginia.
Florida's primary is 2 weeks away and the Alabama and Georgia results may offer a clue at at how the northern region of the state may vote.  Georgia and Alabama share three media markets with Florida, which include 21 of Florida's 67 counties.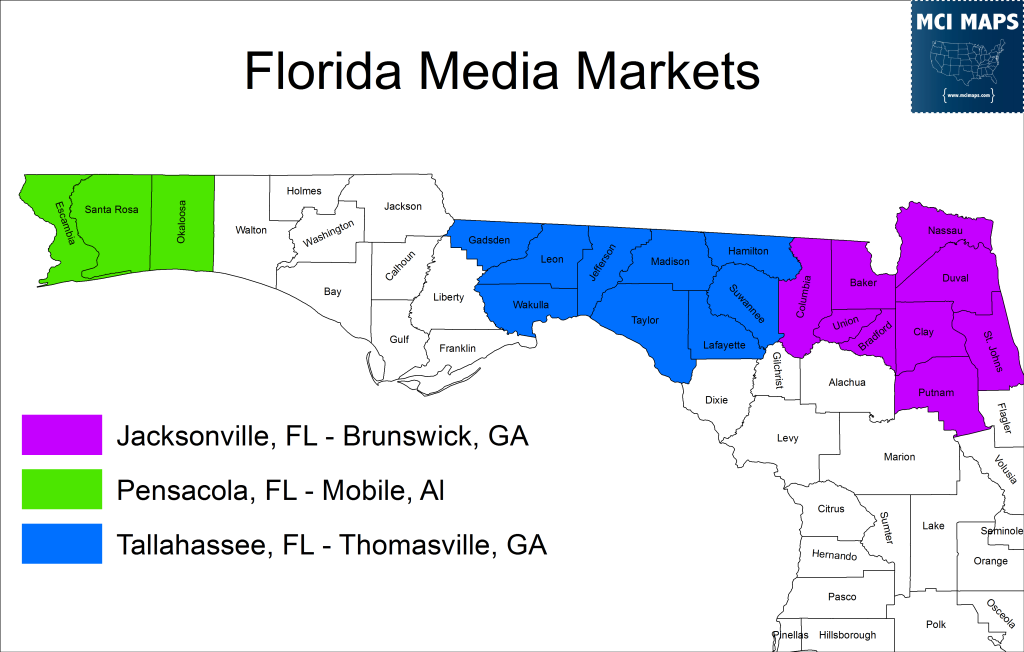 People living in these counties share news, ads and their geographic proximity links them.  The borders of the state do not stop the culture from merging.
As Florida Media guru Kevin Cate says regarding the Republican primary,
"Republican primary voters in these counties are sharing the same news, same jobs, and same lifestyles with many of their neighbors in North Florida.  Lower Alabama and Georgia voters are a predictor of how many North Florida voters have already, or will be voting.  Outliers may include Leon, Duval, an Clay, but when you start getting further outside of the population centers, the more similar the Republican primary electorate becomes — and they love Donald Trump."
Cate is correct, the North Florida counties, many of them sharing a media market, are more conservative and rural, two groups Ted Cruz, but much more so Donald Trump, have done well with.  It is a region and block of voters that Rubio, however, has done especially poor with.  Rubio's best groups are moderates and more urban/suburban settings — which are limited in the northern end of Florida.  Moderates only made up 18% in Georgia and 20% in Alabama, and Rubio still lost these voters to Trump by double digits.  Cruz's struggle to stay in the game is hurt by Trump starting to tie or beat him with 'Very Conservative' voters, as he did on Super Tuesday in these two states.  This region is also an area where Gingrich did very well against Mitt Romney in 2012, further cementing the regions conservative bent.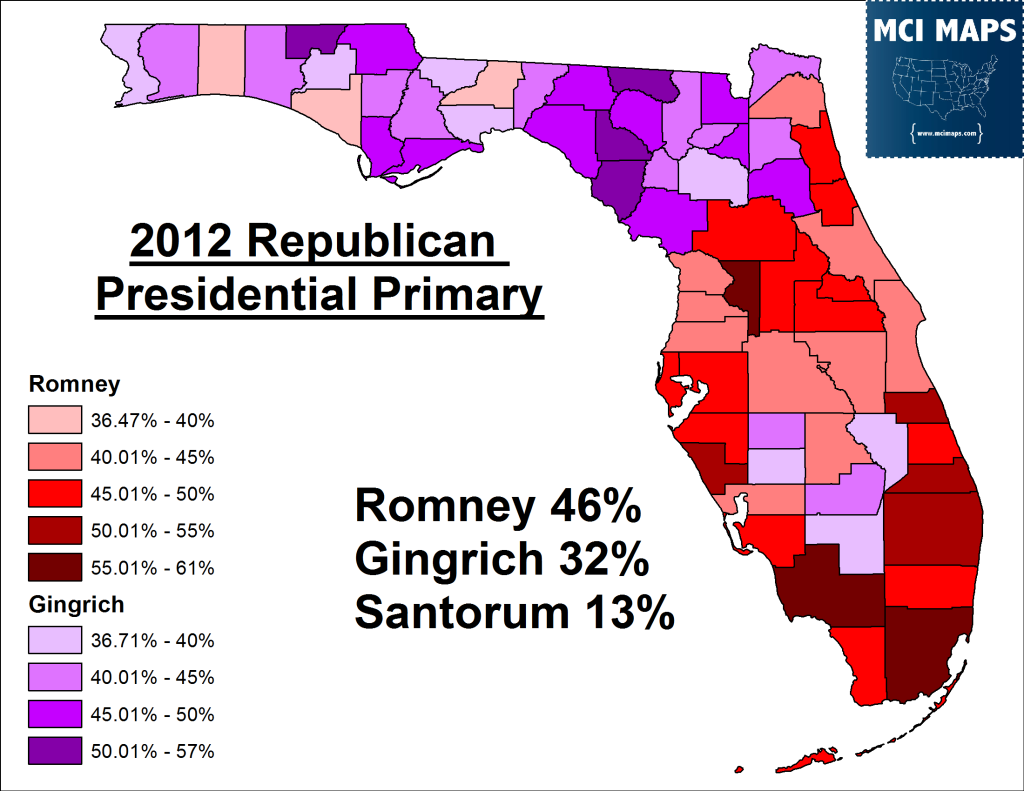 On the Democratic side, the results give Clinton reason to believe her Florida showing, already polling at a 20% win, will include strong showings in North Florida.  Clinton dominated in both Georgia and Alabama, getting over 70% of the vote.  Clinton won whites and got over 80% of African-Americans across the south.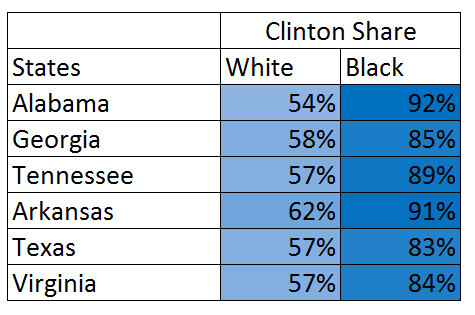 Sanders has been counting on winning less-educated working class whites, and while it appears that plan worked in Oklahoma, it did not play out well in the other southern states.
The Three Markets
Lets look at each of the three media markets that Florida shares.  First up is the market shared with Alabama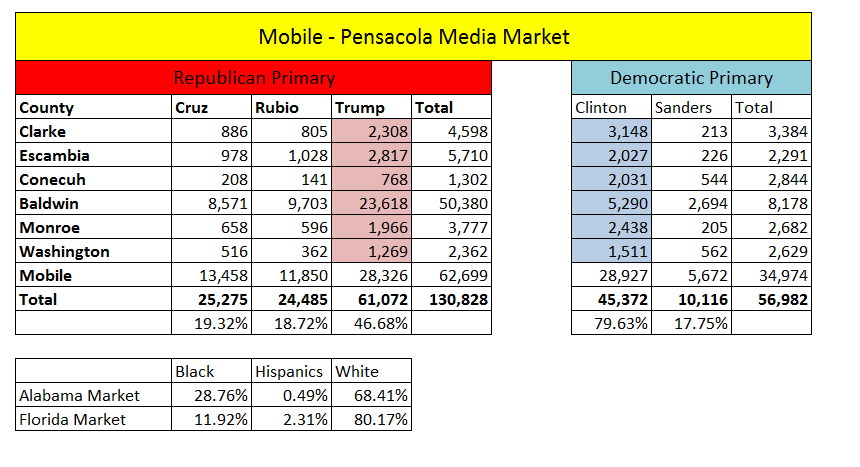 Republican Primary
The market covers the coastal and some inland counties in Alabama that sit right next to Florida's western panhandle.  Trump won a resounding victory in Alabama's Mobile market, getting 46% of the vote, with Cruz and Rubio all the way down at 19-18%.  Clinton, meanwhile, got 80% of the vote, winning every county and racking up a huge margin in Mobile.  The market in Alabama and Florida has large coastal communities and strong military presence via bases.   It is not hard to see the market as a whole voting similar across state lines.  Romney managed modest wins in Okaloosa in 2012, but that was followed by winning Mobile and Baldwin in the Alabama primary.  With Rubio tanking in both of those large Alabama counties, its unclear how well he will do well across the state line.  That will be a test of his home field advantage.
Democratic Primary
For each market I grabbed voter registration figures by race.  Alabama and Georgia do not have party registration, so to be consistent my Florida figures are also not broken down by party.  The Alabama region was much more African-American, which could allow Sanders to do better in the Florida region of the market.  However, for Sanders the question will be what the racial makeup of the closed Democratic primary is.  In 2014 the primary in the Florida section of this market was 33% African-American.  The market in Alabama may have been more African-American in Democratic primary turnout since many of the whites cast votes on the GOP side, but exact figures are not available yet.
The next market to look at is the Tallahassee – Thomasville Market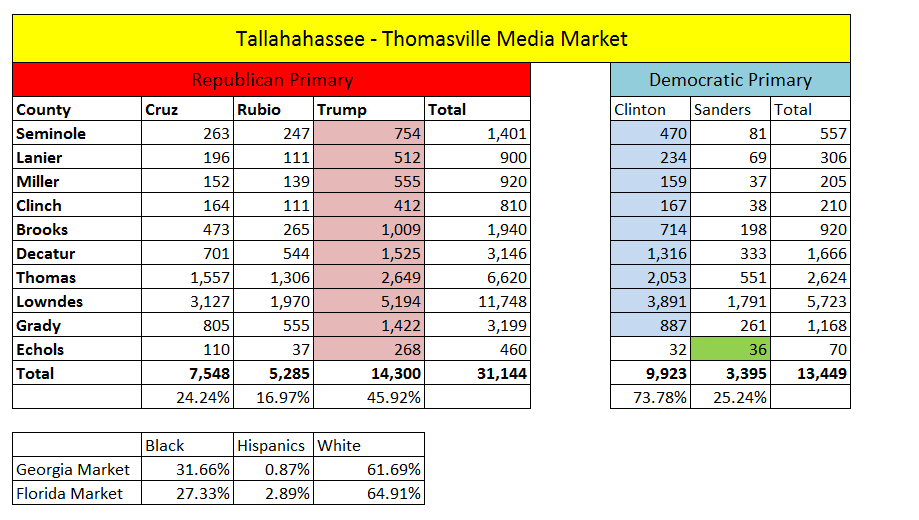 Republican Primary
This market include the rural conservative counties of North Florida and South Georgia that surround Tallahassee and Thomasville. The results were similar to Alabama – a solid Trump win and a Clinton dominating.  Trump, like Gingrich, could do very well in the rural counties around Tallahassee (which will likely back Rubio).  Cruz did better in this market than in Alabama thanks to large Evangelical voters in the region, which will also be a factor in the counties surrounding Tallahassee.  Cruz could still do decent in the Florida counties in this market, while Rubio may not find many friends out of the capital.  Rubio's only hope for this market is to rack up a large margin in Tallahassee to offset loses elsewhere.
Democratic Primary
Clinton is poised to do well in the market by winning African-Americans and holding her own with rural whites.  The demographics of these two region are closer as well across the state line.  In Florida's portion of the market, over 43% of the Democratic Primary in 2014 was African-American, which is probably similar to what the share of the Georgia primary vote was.   This all points to a solid Clinton win in the market, though the margin will likely be determined by African-American turnout and how the large white liberal population of Tallahassee votes.  Sanders will be banking on large student turnout at FSU, TCC, and a good showing with FAMU students.
And last, the Jacksonville market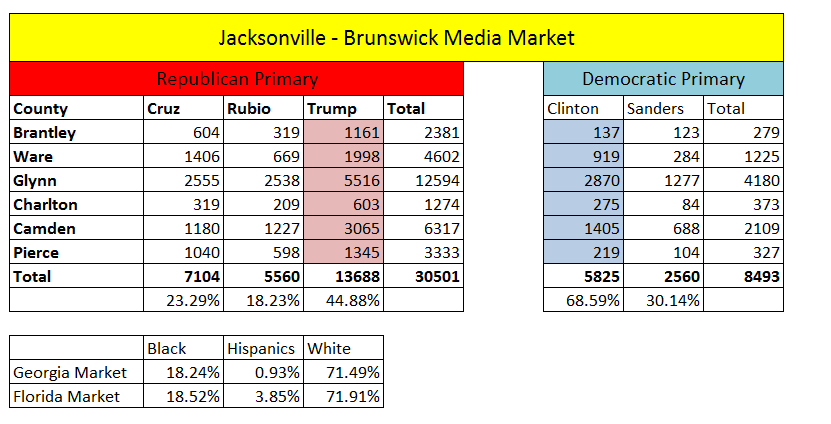 Republican Primary
The Jacksonville and Tallahassee markets are fairly similar, with Trump winning big and Clinton dominating.  The Florida portions of this market are more dominated by Jacksonville and its suburbs, which will be important for Rubio as he tries to not get flat-lined in the North.  Rubio may do much better in this market than he did in the Georgia half, as suburbs in Duval, St Johns, and Clay should be friendly to him.  However, if Trump takes these regions or ties Rubio, then the Senator will be in for a long night in Florida.  Expect Rubio to fair poorly in the rural counties on the outskirts of the market.
Democratic Primary
Clinton has a solid win in the Georgia portion of the market, but it was he weakest showing of the three.  The lower African-American share is one key culprit.  The Florida market has similar demographics, meaning Sanders could have a better showing here.  However, the closed Democratic primary in Florida in 2014 for this market was 38%, which is likely similar to the Georgia half (like Alabama we dont have turnout figures yet).  If Clinton keeps up her trend of dominating with African-Americans and doing decent with whites, she will win this market.  However, Sanders would be able to shift the margin (though not likely win) with student turnout at the University of North Florida and by doing well with the liberal communities in Jacksonville.  That said, Clinton is still a favorite to win this region with a healthy margin.
Conclusion
With two weeks to Florida it is entirely possible different dynamics could emerge to change these projections.  Nevertheless, the Alabama and Georgia results give us an opportunity to see how the voters of North Florida, especially outside the urban areas, are inclined to vote.  These results are good for Trump and Clinton and bad for Sanders and Rubio.  Unless things change quick, the Florida panhandle could be Clinton and Trump country on March 15th.