Alaska Senator Lisa Murkowski (R) has been a major thorn in the side of the Republican Party this year.  The Alaskan Senator, along with Maine Senator Susan Collins, has been instrumental in killing assorted efforts to repeal Obamacare, as well as nearly tanking Donald Trump's pick for Education Secretary.  Murkowski has quickly found herself on Trump's bad side, but has brushed off veiled attacks.  Murkowski seems to be acting like someone not worried about re-election or a primary challenge in her home state.  The reason for that is simple, she isn't worried; because the electoral coalition that elects Lisa Murkowski ensures she does not fear retaliation from the right.
The 2010 Senate Election
Murkowski was never an steadfast conservative, especially on social issues as a Senator.  In her 2004 Senate election, the Republican Main Street Partnership (a group of centrist Republicans who often feud with more conservative elements of the party) backed her candidacy.  Heading into her 2010 re-election there were rumors that Sarah Palin might challenge Murkowski in the GOP primary from the right.  However, the only challenger to emerge in the primary was former US Magistrate Judge Joe Miller.  Miller ran as a steadfast social and economic conservative and had the backing of Palin.  The primary got little attention, however, and Murkowski still had a large campaign war chest when the August election came.  In a shocking upset, Miller won the primary by 2 points.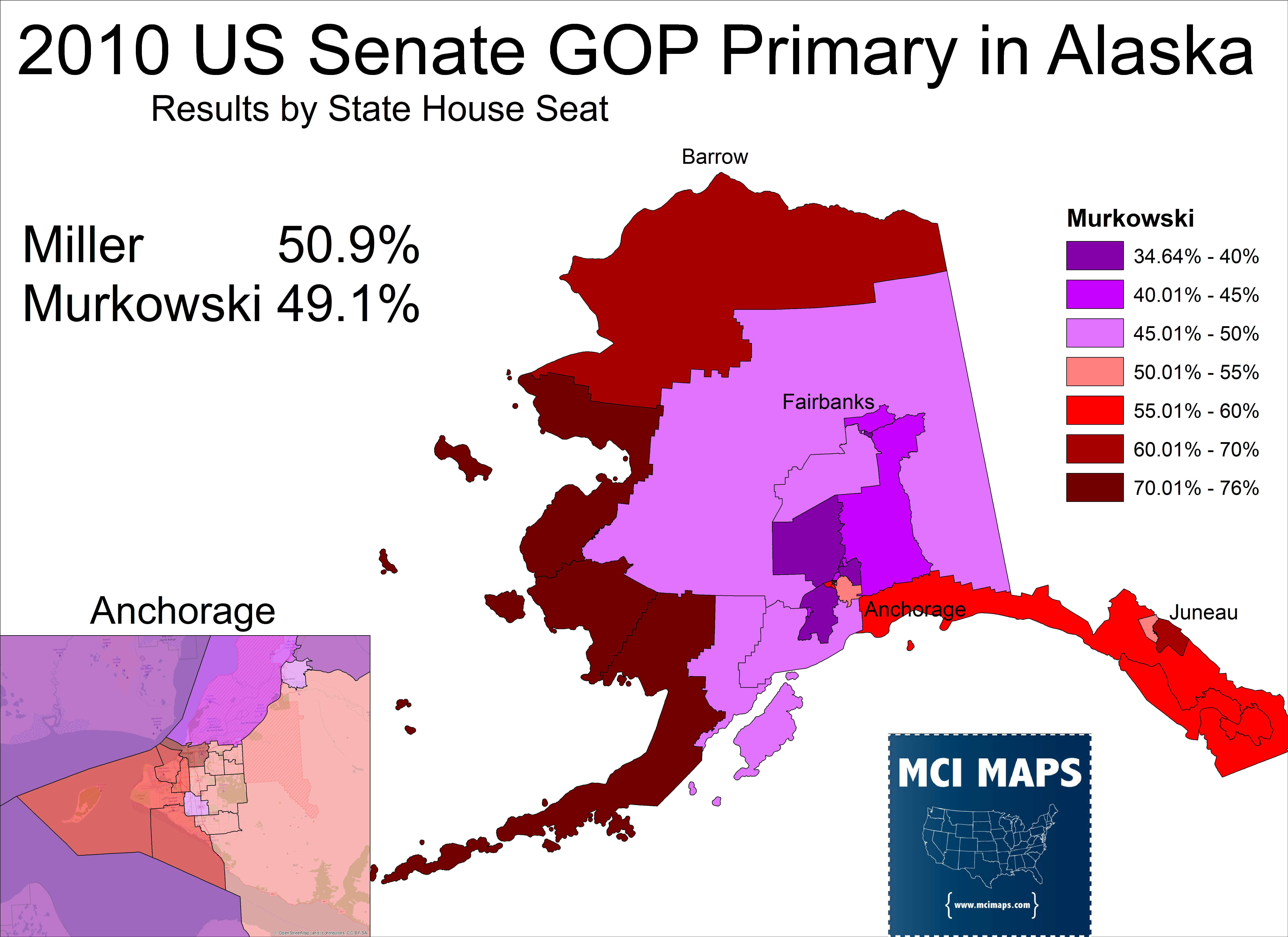 Murkowski's loss sent shock-waves through the political class, no one saw it coming.  Miller's win was in line with other Tea Party wins against moderate incumbents and challengers, but the Alaska Senate race had not been in the radar like other high profile primaries.  Miller won the Fairbanks area and districts outside of Anchorage.  Murkowski won Anchorage proper, the eastern Panhandle and the western/northern districts dominated by Native Alaskans.
After Murkowski's loss, she debated ways to stay in the running for the general election.  There was a brief discussion of her running on the Libertarian line, but the party board rejected the idea.  Finally, in early September, Murkowski announced she would run a write-in campaign for the general election.  She had millions in the bank and a recognizable, albeit hard to spell off the top of your head, name.  Murkowski proceeded to run a brilliant general election campaign and made sure to focus on the spelling of her name.. literally spelling it out every time.  A good deal of controversy swirled around the campaign, with Miller and the Democratic Party crying foul of the state handing out lists of all certified write-in candidates.  Murkowski opponents argued this was electioneering for the Senator and a conservative talk radio hosts encouraged over 150 folks to sign up as write-ins to flood the list.  After a quick court debate, the lists were stopped.  The other main issue was how close spelling could be.  The state maintained that if it was clear the voter intended to saw Murkowski, it would count (example L Murkoski or Lisa Murkouski) –  something Miller argued strongly against.
Murkowski was abandoned by the Republican leadership when she lost the primary.  The GOP backed Miller and urged Murkowski to back off, worried a split conservative vote could elect Democrat Scott McAdams.  The cold shoulder from the GOP would sour relations between Murkowski and the Republican Party.
When all the voters were counted, Murkowski won as a write-in by over 4 percent.  This was only the the second successful write-in campaign for US Senate; the first being Strom Thurmond's campaign in 1954.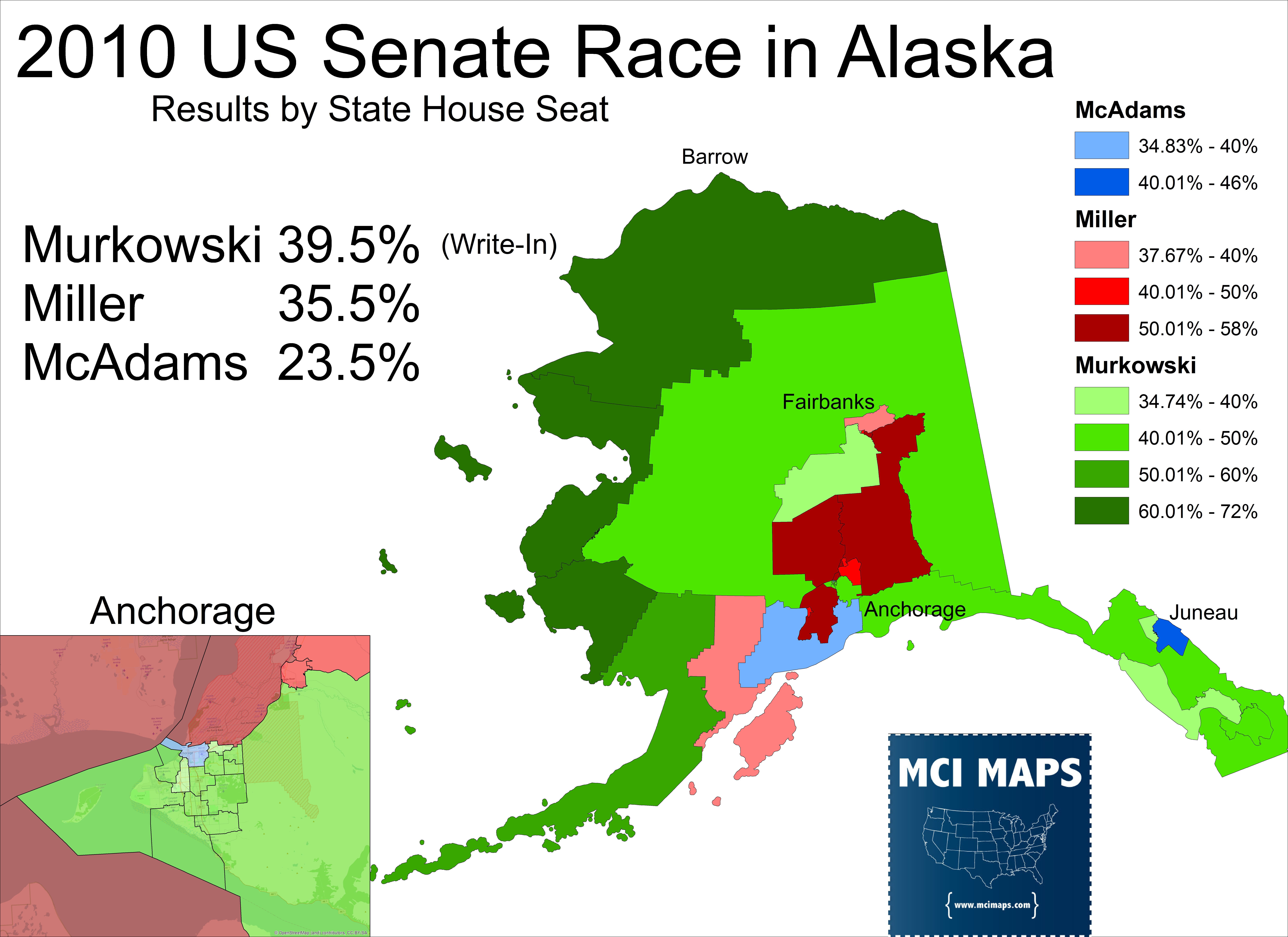 Murkowski's win came thanks to winning the city of Anchorage and dominating the western and northern coastal communities that are heavily Native Alaskan.
Polling in the general predicted a Miller win, underestimating Murkowski.  Polling in Alaska has never been great thanks to its rural nature and large native population; which aren't always easy to poll.  The last Public Policy Polling Survey had Murkowski and McAdams at 30% and Miller at 37%.  While this poll was off, its cross-tabs do offer some key insights.  Murkowski polled at 33% of Obama voters and 21% of Liberals.  In addition, she was crushing Miller with moderates 41-18.  Murkowski's coalition was moderate Republicans (still taking 29% of McCain voters), strategic voting Democrats, and moderates/independents.  Its very likely that many more McAdams voters opted to strategically back Murkowski to avoid Joe Miller.
Murkowski's support with the Native Alaskan population was also key to her victory.  The native population is around 15% of the state and is concentrated in the north and west.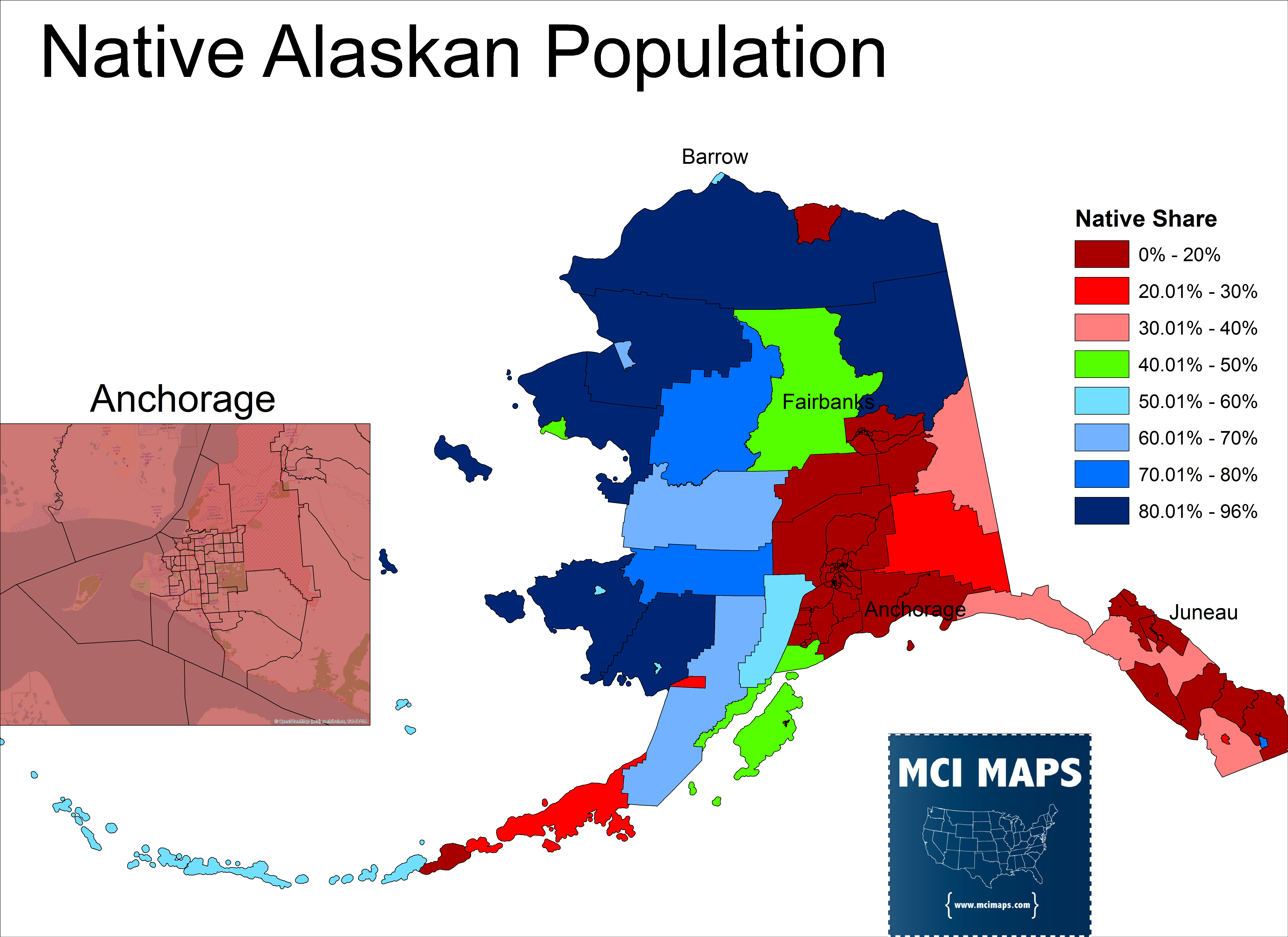 This voting block has become a fairly reliable Democratic voting block, albeit still backing Republicans like Don Young.  Obama and Clinton won these groups in 2012 and 2016.  Democrat Mark Begich won them as he lost re-election in 2014 and Independent Governor Bill Walker won them over the GOP in 2014 as well.  Murkowski has a strong relationship with the native population and they came through for her in the primary and general.
After 2010
Following the 2010 election, Murkowski returned the Senate and while it seemed tensions with her and the GOP were water under the bridge, the Senator no doubt felt less inclined to avoid bucking the party.  Murkowski was hardly a trouble-maker for her caucus but did not feel beholden to the party line.  She endorsed same-sex marriage in 2013, spoke for funding planned parenthood, and when Donald Trump came on the scene she was critical of the nominee and called on him to drop out after the Hollywood Access scandal.
Murkowski was up for re-election in 2016 and there was speculation if she would see a strong primary challenge again.  Surprisingly, no major challengers emerged in the primaries and she secured over 70% in a blow-out against assorted nobodies.  Though it should be noted only 55,000 votes were cast in the GOP primary for US Senate while 106,000 were cast in the GOP Gubernatorial primary, which also saw an incumbent easily win.  Hence, many Republican voters opted to skip the ballot line between a Senator they didn't like and people they didn't know.
The Democrats, meanwhile didn't field a strong candidate.   Perennial candidate Ray Metcalfe won the primary and was shunned by the establishment of the party, many of whom backed independent Margaret Stock.  Murkowski did, however, receive a challenge from a familiar face, Joe Miller.  Miller secured the nomination of the Libertarian Party to launch a last minute bid against Murkowski.  Miller was still running as an strong social and economic conservative, not as a libertarian.  Miller publicly backed Trump and sought to win the Trump-backers of the state.
The results were a solid win for Murkowski.  She was under 50% but still far away from her closest competitor.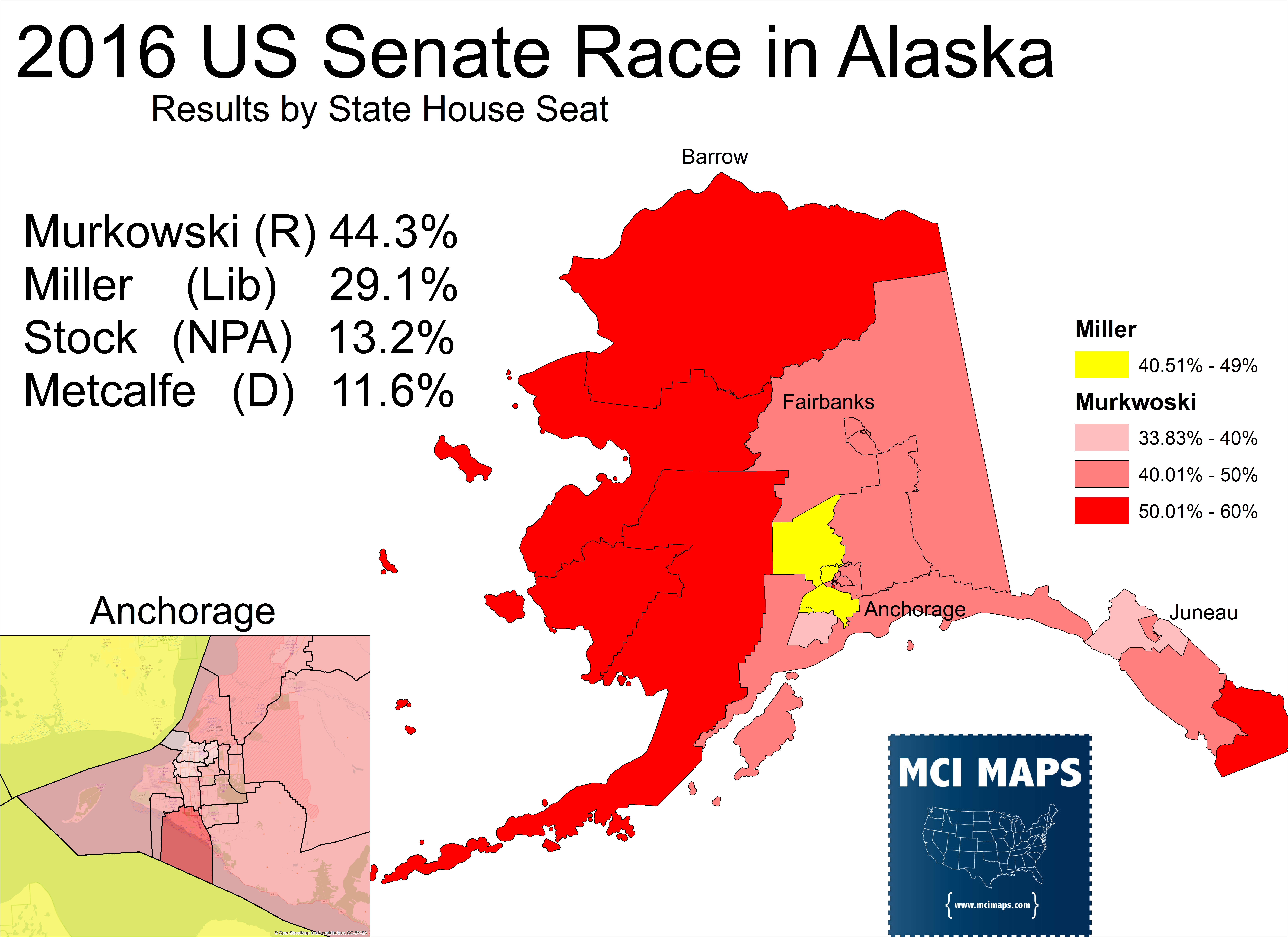 Murkowski won 35 of the 40 districts, leaving Miller with 5.  She won all districts Hillary Clinton won against Donald Trump while Miller's districts were some of the most steadfast for the GOP Presidential nominee.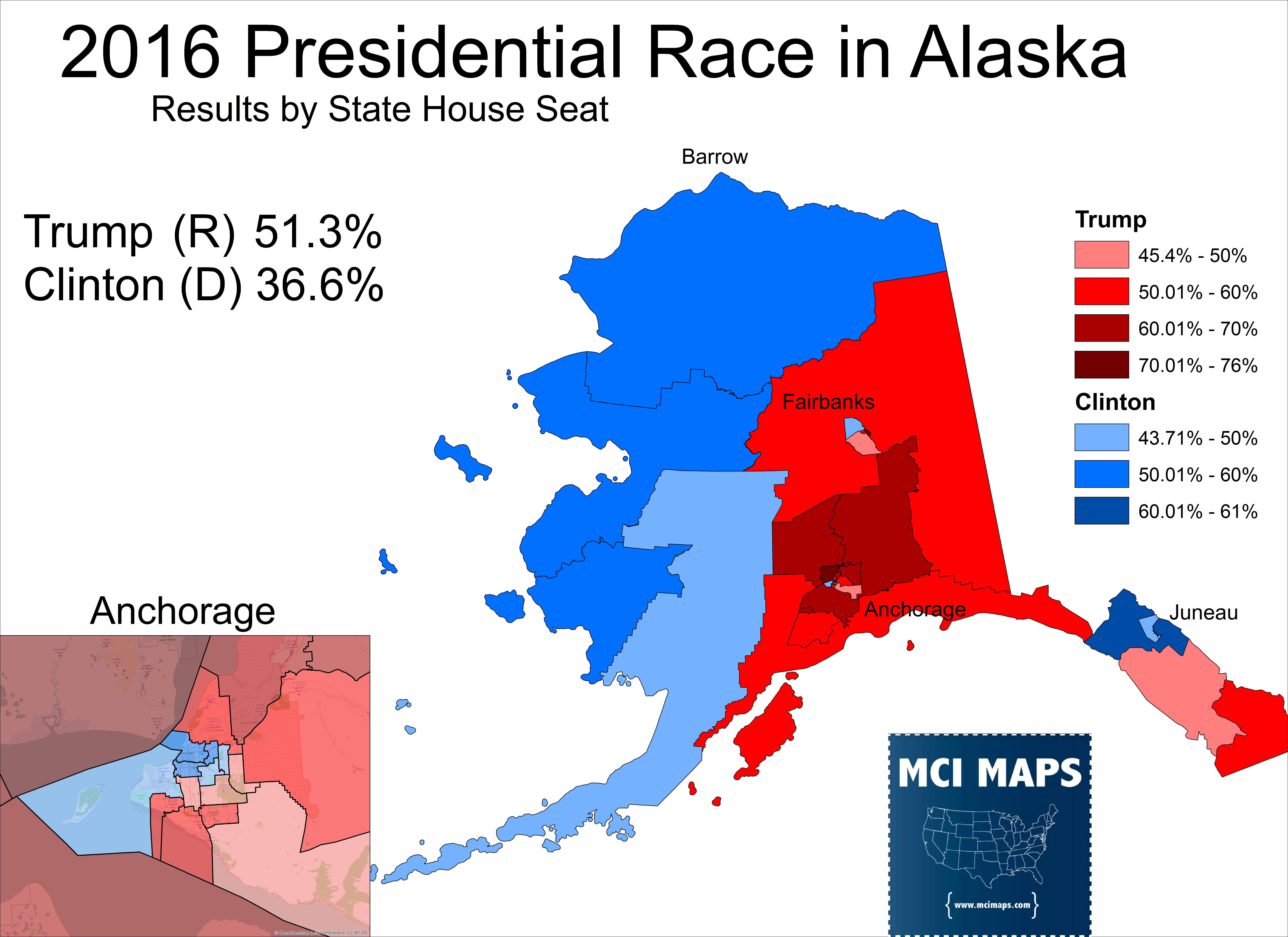 Murkowski won all Clinton districts, mostly with plurality wins.  Many Democrats opted to back the GOP Senator, especially in the districts dominated by Native Alaskans.  The chart below shows how each district voted.  The four districts with Murkowski doing 20%+ better than Trump are all heavily Native Alaskan.  Meanwhile, Murkowski under-performed Trump in districts that went solidly GOP for President.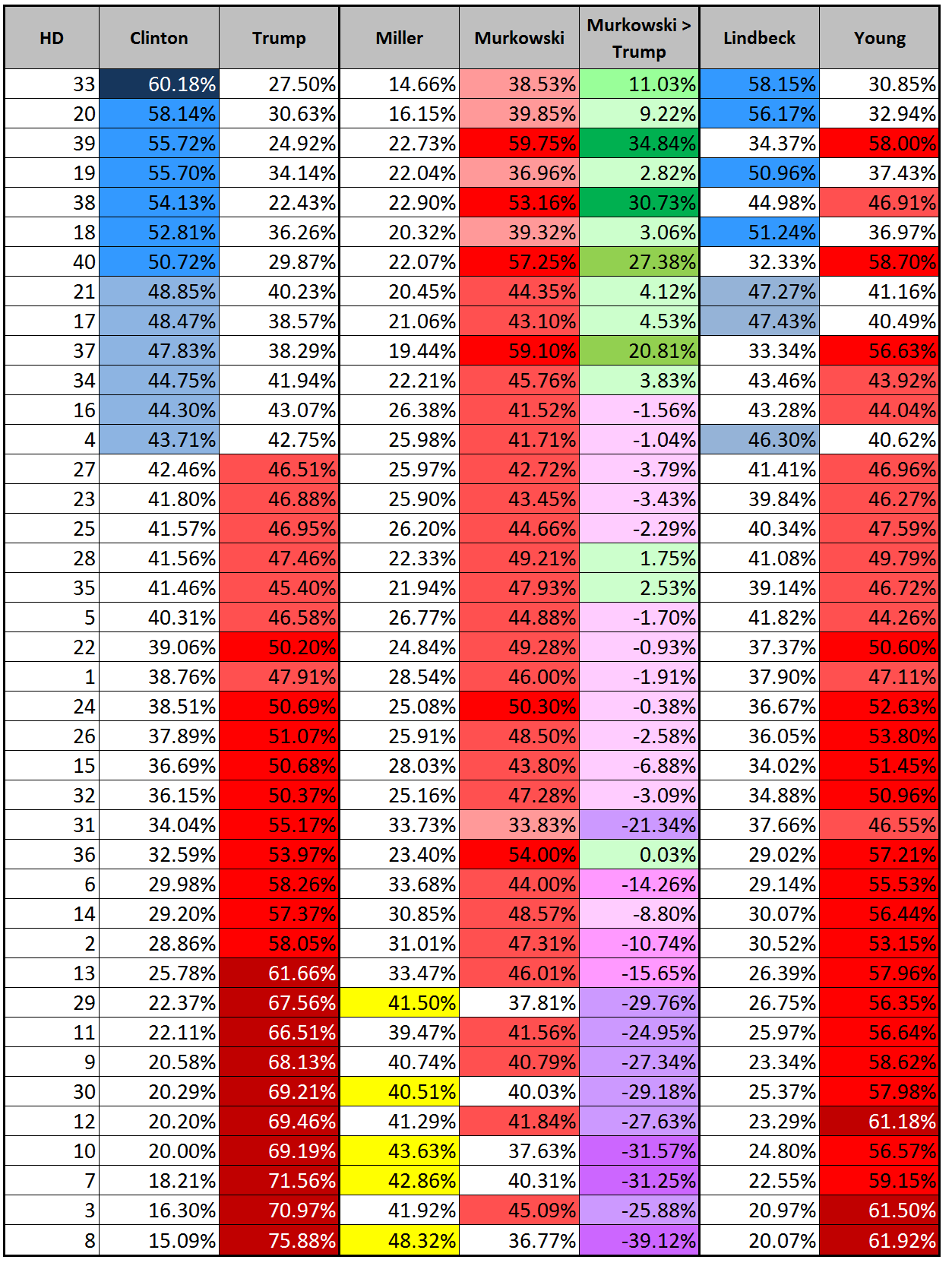 Miller's vote share was below Trump in most districts, but his vote correlated heavily with Trump's.  The better Trump did, the better Miller did, and their vote had an 83% correlation.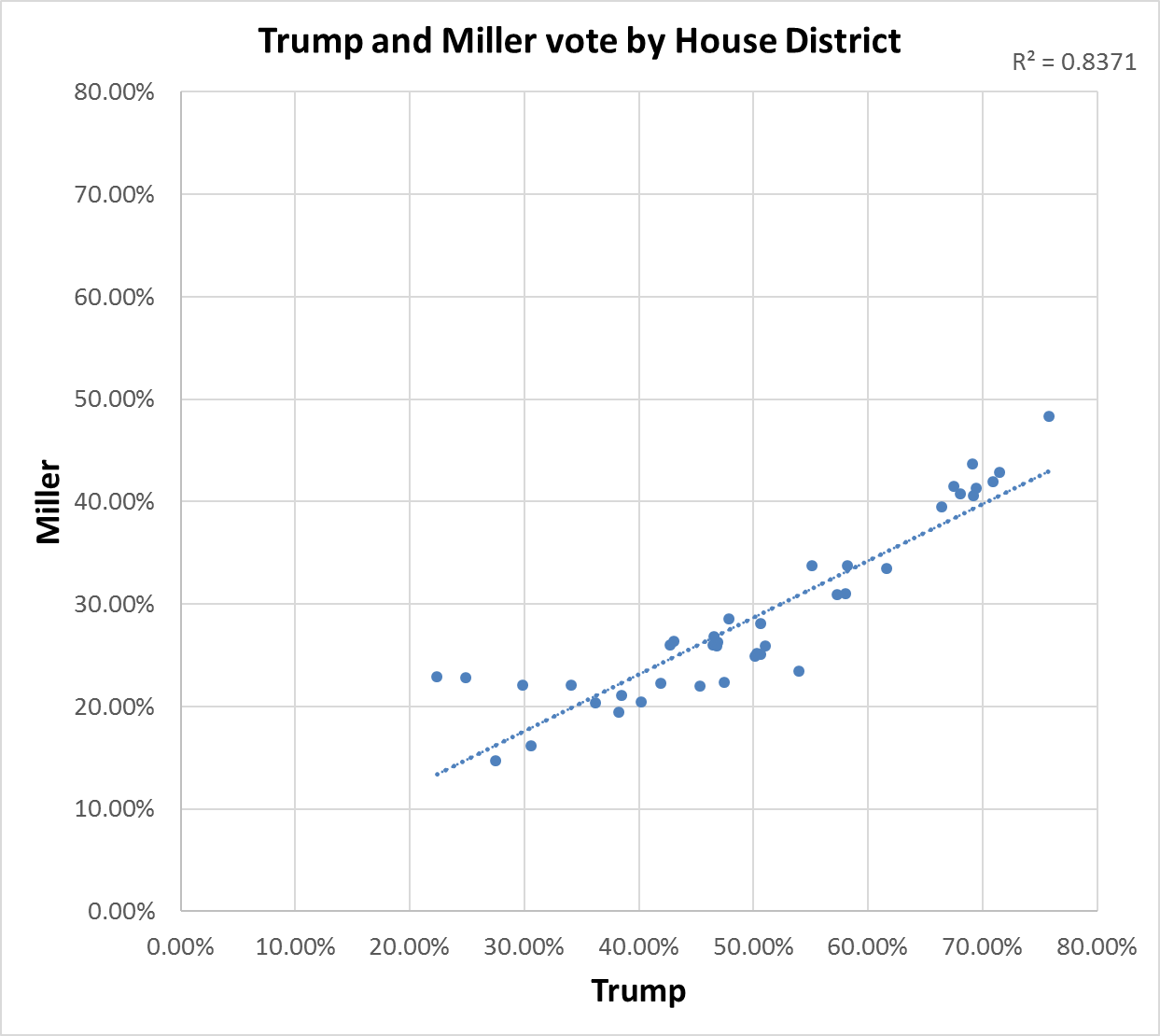 Miller's problem was plenty of Trump voters still backed Murkowski and Murkowski picked up Native Alaskan Democrats and plenty of moderates.  Few polls came from the race, but one in early October showed Murkowski winning over 60% of Republicans and 32% of Democrats.  The results suggest Murkowski probably lost more Republicans, especially after she refused to back Trump, but she also won the Native Alaskan population, which backed Clinton by wide margins.  Plenty of non-native Democrats did opt for Metcalfe or Stock, with their combined vote winning some districts (but neither winning a district on their won).  Murkowski's coalition of Native Alaskans, moderate Republicans, and independents ensured her victory.
Moving Forward
Since her re-election, Murkowski's reputation as a renegade has increased.  Her and Susan Collins' refusing to back Betsy Devos for Education Secretary and consistent no votes on repealing Obamacare have put more of the spotlight on the Alaskan Senator.  Subtle threats by Trump have had no effect.
The problem for the GOP is their is little they can do to pressure Murkowski to get in line with the rest of the party.  Her coalition of moderate Republicans, independents, and some democrats (especially the Native population) give her options for re-election outside the GOP primary.  Murkowski is one of a few Senators that could win her state as an independent if she needed to.  It wouldn't be surprising if Democrats don't aim for her seat in 2022 and a weak Dem nominee only aids her path to re-election against a conservative challenger.  If the GOP wants to win Murkowski over on votes, they better play nice, because Murkowski's electoral coalition makes her less susceptible to electoral threats.