Leon County, Florida is currently in the middle of going through its Charter Review process.   The county, home to Florida's capital, became a charter county in 2002, and every eight years the county commission appoints individuals to the 'Charter Review Board' to consider changes that can be put forward to the voters.   It has come to my attention, however, that the board is debating two proposals, which, if passed, would severely hamper minority voters in the county.
Leon County Demographics
For those unfamiliar with Leon County, I will give some short background.  Leon is the home county of Tallahassee, Florida, the capital of the state.  Many state agencies operate in Tallahassee, giving the county a large state employee population.  The county is also the home to three college campuses:  Florida State, Florida A&M, and Tallahassee Community College.   The county is 57% white, 31% African-American, and 6% Hispanic.  Leon is also the most educated county in the state, with over 70% of residents having some college education or higher.  Democrats almost always win in the county thanks to the universities, state employees, and campuses.
The map below shows some key demographic points in the county, as well as notable communities.  The city of Tallahassee's border is highlighted as well.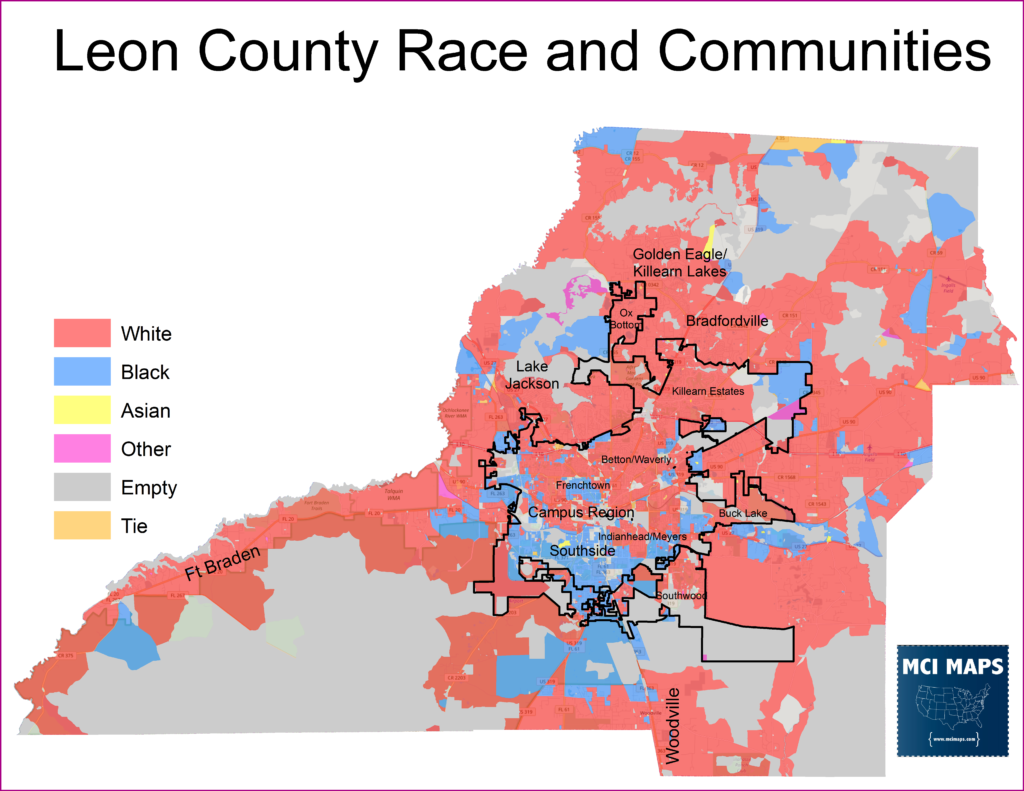 Leon's charter lays its government out as follows:
A seven-member county commission.  Five are elected in single-member districts while two are elected At-Large
Six constitutional officers elected by the voters:  Property Appraiser, Tax Collector, Superintendent of Schools, Sheriff, Supervisor of Elections, and Clerk of Court.
The city of Tallahassee has a five-member commission as well and the county is divided up into five school board districts.  The school board operates independent of the county and the Superintendent answers to the school board, not the county.
Leon's Charter is now up for review and the 14-member review board is already at work.   The board can recommend any number of proposals, which have to then be approved by the voters.  Most proposals are in their early stages, but already two issues stand out as potentially troublesome.
Proposal 1:  Making Constitutional Officers Non-Partisan
Current Status of Non-Partisan Elections
Leon County has already been operating under non-partisan elections for some offices since the 2004 elections.  In 2002, voters narrowly approved a Charter Government for Leon County, which established, among many things, that all seven county commissioners and the Supervisor of Elections would be non-partisan positions.  From this point on, the August elections for these offices saw everyone run with no party label and the top two advance to a runoff in November.  The remaining five constitutional officers,  Tax Collector, Clerk of Court, Property Appraiser, Superintendent, and Sheriff, were all still elected on partisan ballots that featured closed primaries in August. The 2010 Charter Review Board debated changes to this structure but opted to keep things the same.  Now, the latest charter review board is debating making the remaining offices non-partisan as well.  The problem with moving to non-partisan elections is they will seriously dampen the influence of the non-white electorate of Leon County.
Democratic Primaries In Leon and African-American Representation
The big argument for changing to non-partisan elections (or open primaries) is the growing NPA segment of Florida voters.  However, Leon County currently remains a solidly Democratic County in terms of registration and its NPA growth is minimal.  Democrats continue to make up a majority of the registered voters in the county.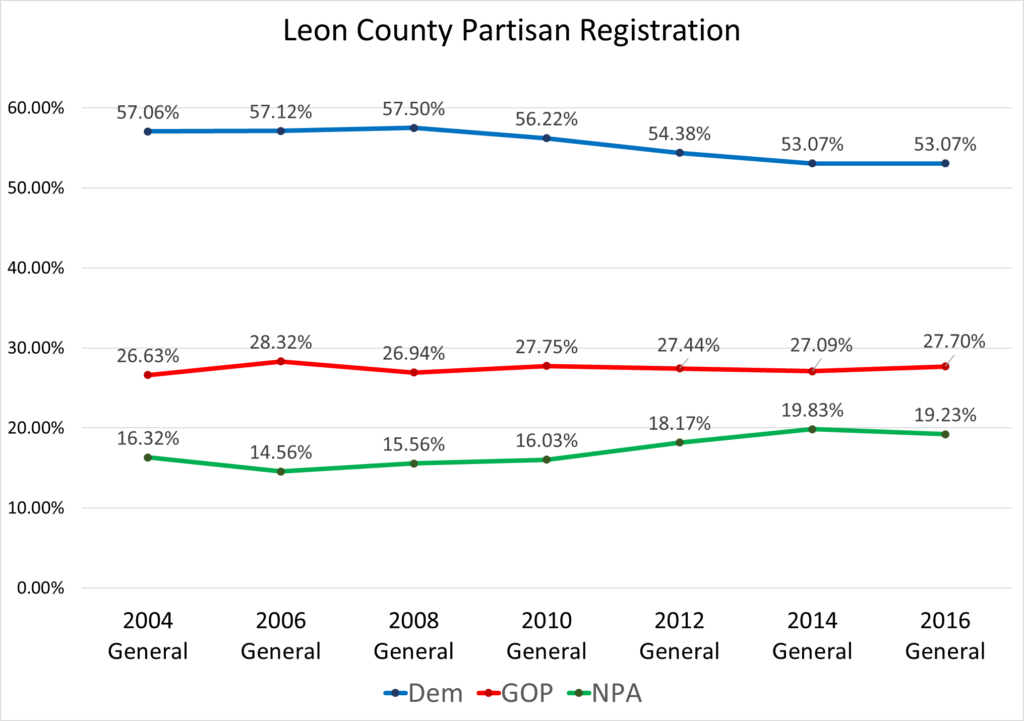 Over the last twelve years, the Democratic share of registration only fell 4%, while NPA share rose by 3%.   Many other counties are seeing a much larger explosion in NPA voters. However, a great deal of that is tied to rising Hispanic registration, something that is minimal in Leon.
With Democrats dominating registration, the winner of Democratic primaries have a strong chance at winning the general elections.  Republicans in Leon have decried this set-up, but make no complaints when the reverse is true in their stronghold counties.   Importantly, the racial makeup of Leon Democrats has grown more diverse with time.  The racial makeup of Democratic registration is below.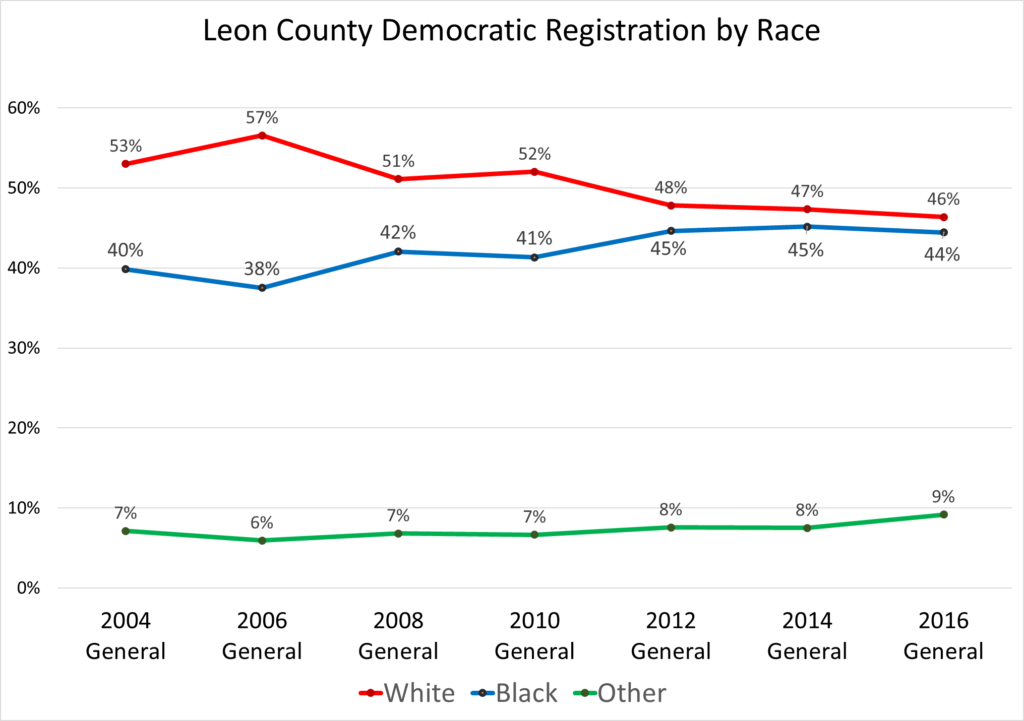 The white share of the electorate in primaries continues to fall.  This, combined with several long-time incumbents retiring last year, led to a spike in African-American elected officials in Leon County Government (defined as county commission and constitutional officers).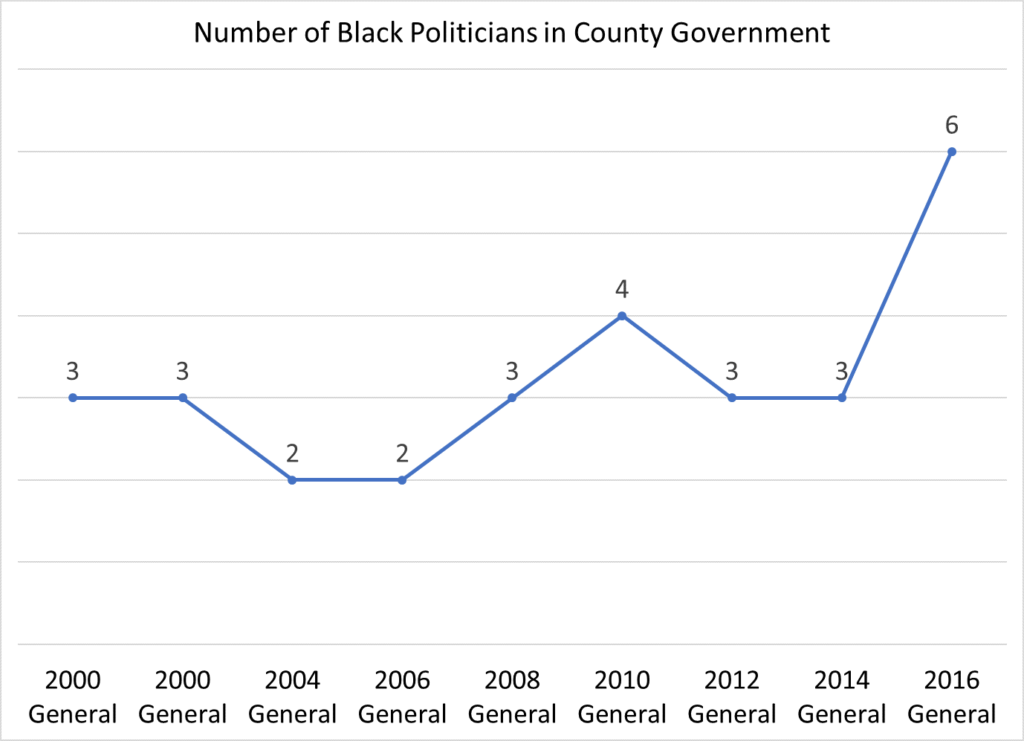 Before 2016 there were three African-American elected officials in Leon County Government.
District 1 Commissioner Bill Proctor:  Non-partisan ballot, majority African-American commission seat
At-Large Commission Nick Maddox:  Non-partisan ballot, elected in 2010
Tax Collector Doris Maloy:  Partisan ballot, elected in 2000.
In 2016, the incumbent Clerk of Courts, Property Appraiser and Supervisor of Elections all retired. Additionally, the Sheriff, Mike Wood, was a new appointee following the death of longtime Sheriff Larry Campbell.  The results were as follows.
Property Appraiser:  African-American Democrat Akin Akinyemi narrowly won the Democratic Primary and the general election
Clerk of Court:  African-American Democrat Gwen Marshall surged to a solid win in the Democratic Primary and a blowout in the general
Supervisor of Elections:  African-American Democrat Alan Williams, a State Representative, lost to white Democrat Mark Earley on a non-partisan ballot.  Earley came in first in August and the November runoff.
Sheriff:  African-American Democrat Walt McNeil won the Democratic Primary unopposed after Sheriff Mike Wood abandoned the primary to run as an independent in the general.  McNeil won a four-way general election comfortably.
Of these four "open" races, African-Americans won the three that were partisan.  The non-partisan Supervisor of Elections race was close, as Williams had African-Americans and did reasonably well with Republicans, while white Democrats and NPAs heavily backed Earley.  Williams very likely would have won a closed primary.
The sheriff race is also notable because Wood abandoning the primary was entirely about race.  Originally, the primary was McNeil vs Wood vs Tommy Mills, an African-American who had nearly beaten Sheriff Larry Campbell in the 2012 Democratic Primary.  Wood was counting on a split in the African-American vote.  However, Mills dropped out of the primary to run in the general as an NPA, leaving Wood vs McNeil.  With the African-American vote united and white Democrats split, Wood knew he couldn't win the primary and made a long-shot bid to run in November as well.
The table below shows the racial makeup of 2016 and 2012's primaries and registration.   As the table shows, the difference between a closed and open/non-partisan primary is starkly different on racial grounds.
2016 saw a large turnover in elected officials and also marked a major shift in the demographic makeup of Leon's at-large elected officials.  The demographics of Leon's countywide elected officials from 2000-2016 is below.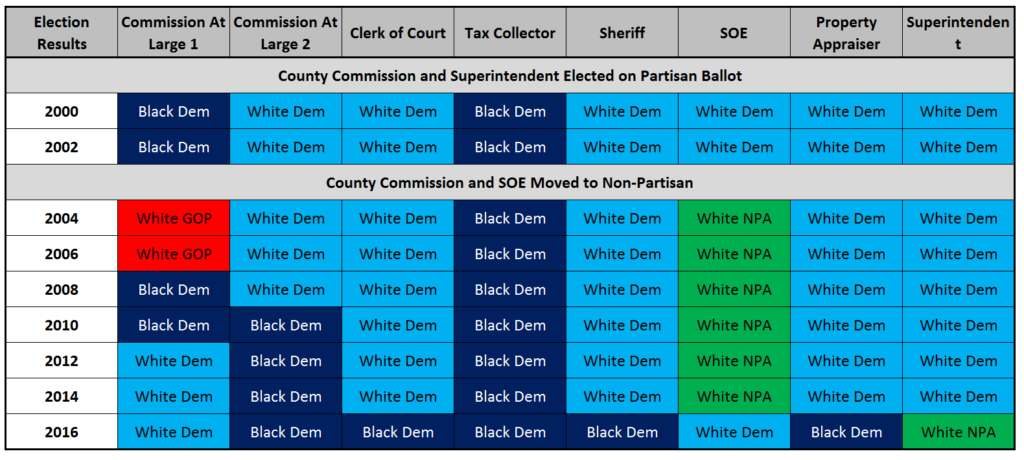 Leon's Democratic primaries give a major boost to the African-American community.
It must also be noted the Democratic primary winner is not automatically a lock to win the general.  Just last year, the Democratic Superintendent lost to a NPA candidate after scandal rocked the school district.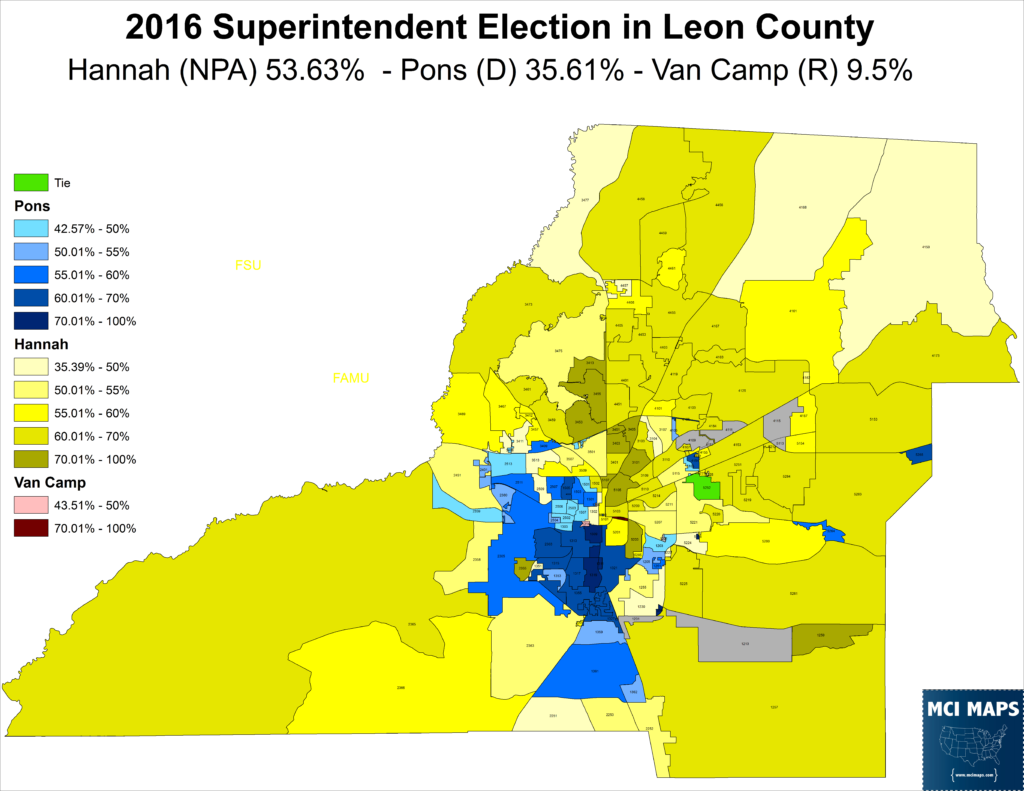 Superintendent Pons held on to African-American voters, a group he was very strong with, but lost every other voting block in the general to Rocky Hanna.  Pons was damaged by an FBI investigation into contracts by the school district, as well as a negative ad by Pons that backfired heavily against him.  The race shows that a Democrat can lose – the primary isn't the end of the election.
Meanwhile the Property Appraiser's election saw primary winner Akin Akinyemi (a former county commissioner) face a stiff challenge from the better-funded Greg Lane.   Lane, a Republican running as an NPA, had GOP voter support, NPA support and some white Democratic support.  Akin, however, united African-American voters and a majority of white Democrats to secure a narrow win.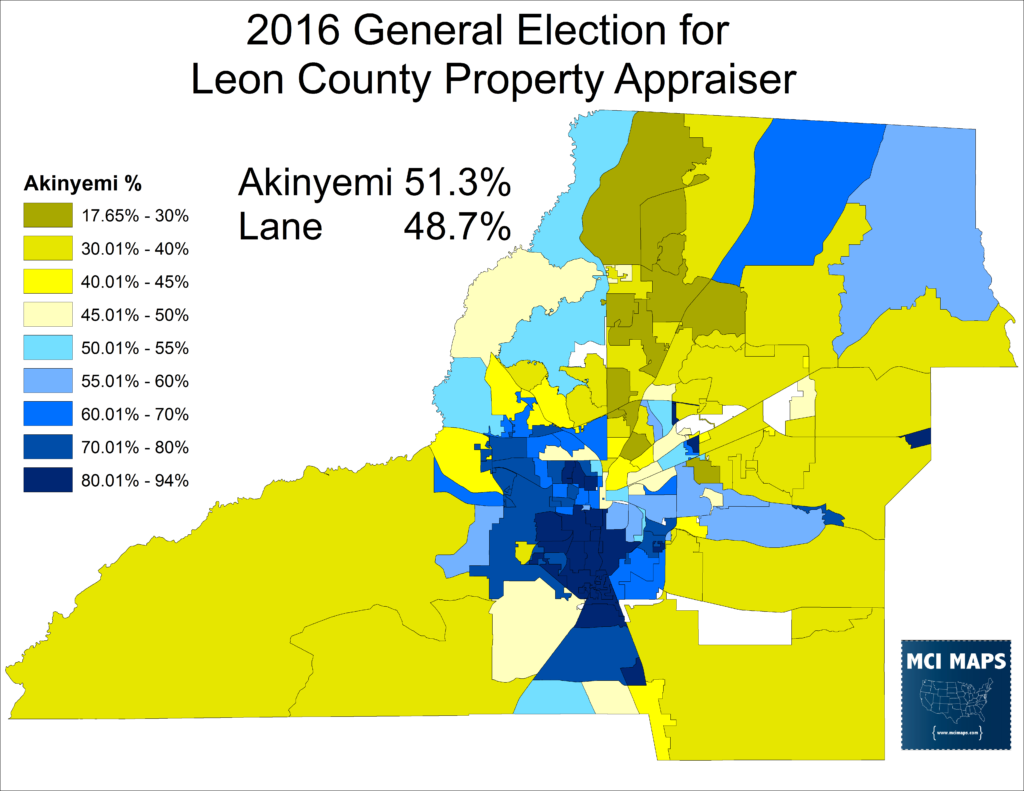 The other democratic primary winners faced much easier general elections.  What these two races show though, is that the primary winner is hardly a lock for the general.  However, the large non-white vote in the Democratic primary gives minority voters a stronger say in electoral politics in the county.
Open Primaries and African-American Influence
One argument that will be made about non-partisan elections is that they still allow the opportunity for non-white candidates to win.  They will site Akin Akinyemi's 2008 and Nick Maddox's 2010 wins for county commission.  Well, let's look at those.
Of course, before I even delve into this, I want to re-iterate something.  The issue is not about outcomes.  It is not about who wins or loses. It is about control and influence over elections.  Democratic Primaries (which 90% of the time decide winners) being 40% African-American ensure that voting block is a strong voice regardless of the winner.  Those voters could opt to back a white candidate.  The point is that as a united block, they have power at 40% and much less power below 30%.
So, let's take a look at 2008, the first time an African-American was elected countywide on a non-partisan ballot.  Commission Ed Depuy was a GOP-affiliated commissioner who was electorally out of step with the county.  He had won when scandal engulfed his predecessor, Rudy Maloy, and was briefly appointed to the commission by the Governor.  He won a full term in 2004 under the non-partisan primaries, winning 55% in the August primary and avoiding a runoff. Fast forward to 2008, and it was clear Democrats would aim for his seat.  Two Democrats filed against him; Alma Gonzales, a bigwig in organized labor and the Florida Democratic Party, and Akin Akinyemi, an architect and local activist.   Akinyemi parlayed an aggressive campaign and solid support in the African-American community to secure a runoff spot with Depuy.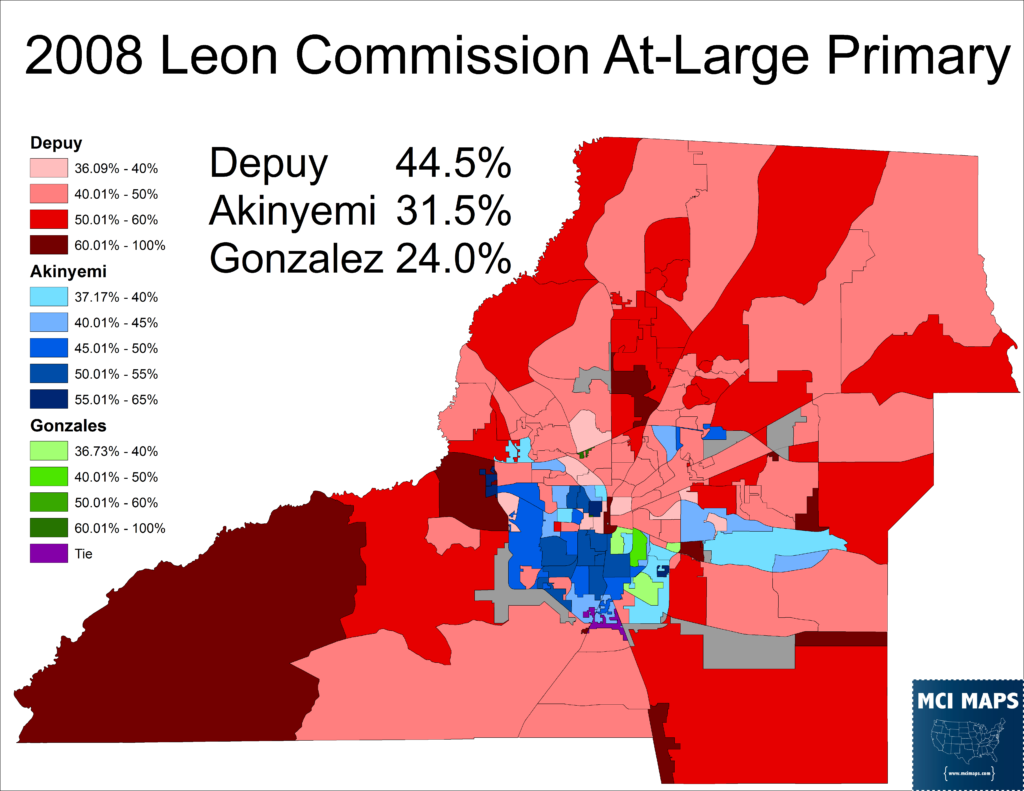 Depuy had pulled off plurality wins in white democratic suburbs thanks to the split between Akin and Alma, but the party largely united for November and Depuy, despite heavy financial backing, was defeated for re-election.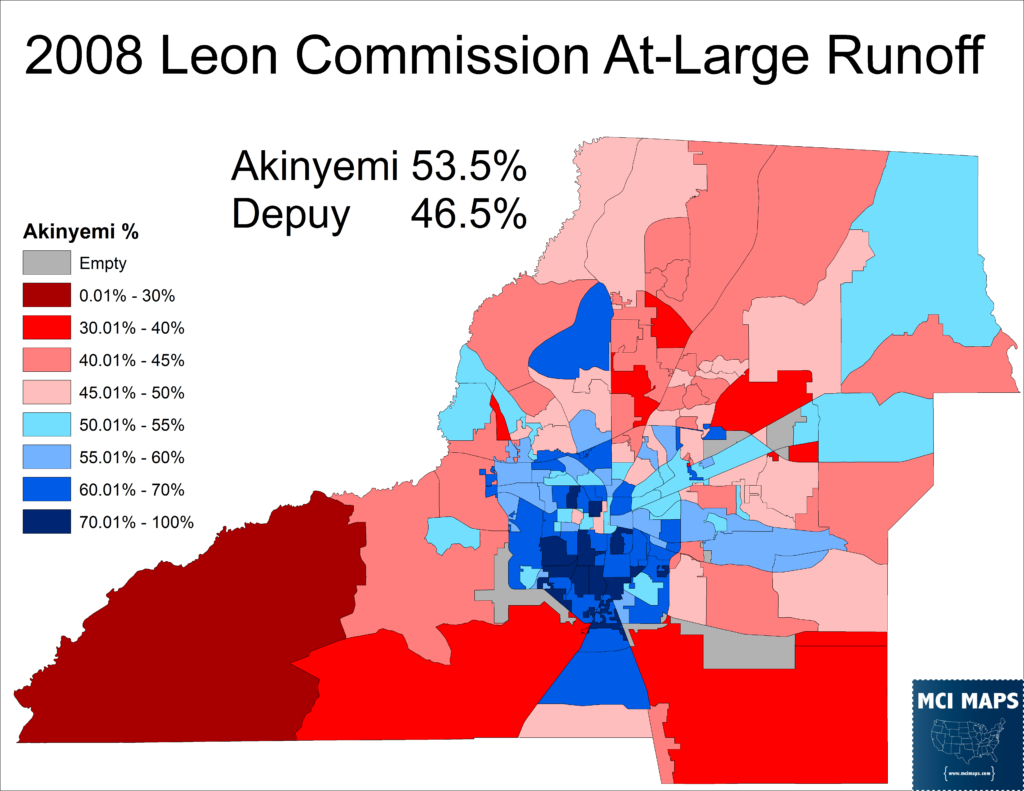 Akin won traditional Democratic areas, albeit under-performing Obama in white suburbs.  Akin worked hard to tie himself to Democrats and the local party pushed his campaign to make sure everyone knew he was the Dem in the race.  Akin was aided by the race taking on partisan leanings, despite it being non-partisan officially. Having a GOP opponent was a big factor in this.
Two years later, another African-American would win a county commission at-large seat:  Nick Maddox.
Maddox was a former FSU football star and was recruited to run against Commissioner Cliff Thaell.   Thaell had been a commissioner since the 1990s and was a fierce, outspoken liberal.  He angered many in development and conservative circles.   Maddox, hence, received backing from these enemies of Thaell as a way to oust him.  They kept Thaell below 50% in the August primary, forcing a runoff with Maddox.  Then, Maddox won with a coalition of African-Americans and Republicans.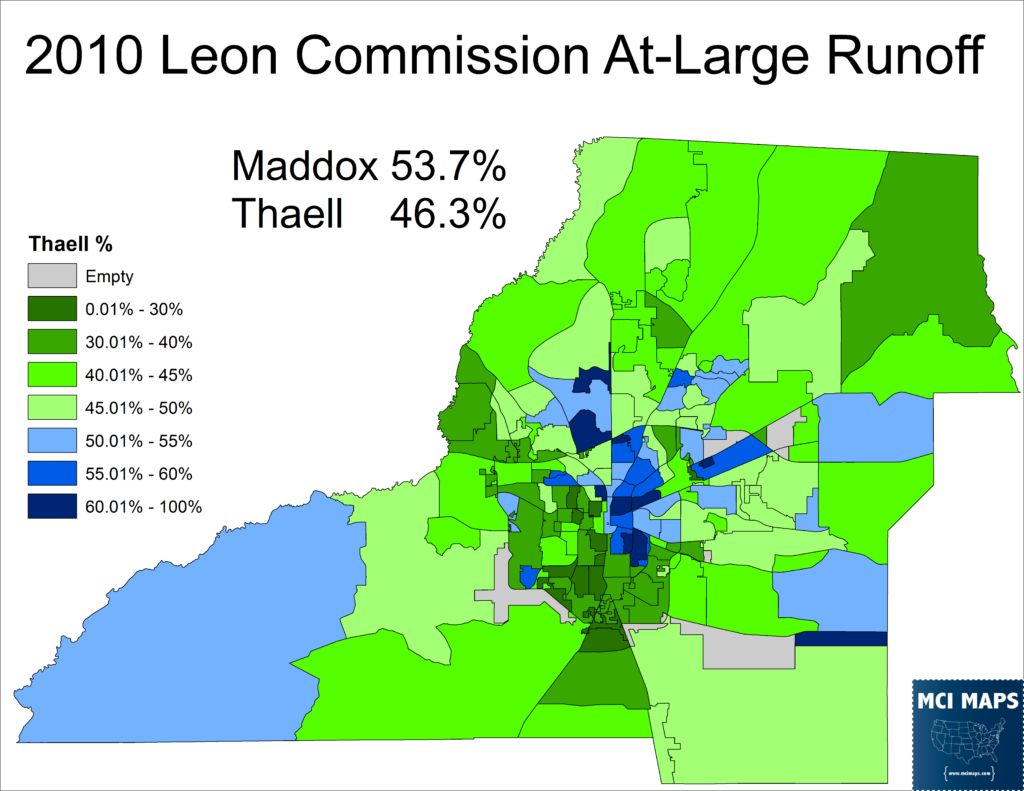 Thaell won heavily in white Democratic suburbs around Midtown and held on in modest GOP suburbs like Killearn Estates.  However, Maddox crushed Thaell in the African-American and campus communities and held solid wins in GOP suburbs like Southwood, Golden Eagle, Killearn Estate, and Ox Bottom.  An ethnics complaint against Thaell was used to get conservative suburbanites to move away from Thaell and into Maddox's camp.  Thaell still picked up around 25-30% of the African-American vote.
Maddox's win is a unique scenario.  He had the backing of conservative elements that would go on to oppose Akin Akinyemi's re-election in 2012.
Akin Akinyemi was similar to Thaell in that he was a passionate liberal on the board.  This made him a target for 2012.  He drew three challengers:  Democrat Mary Ann Lindley, Democrat Fred Varn, and Republican Emily Fritz.  Akin and Lindley advanced into the runoff; making it Dem vs Dem, just like 2010's county race.  Akin would win African-Americans and both would split white Democrats.  However, Republicans overwhelmingly backed Lindley, giving her a narrow win.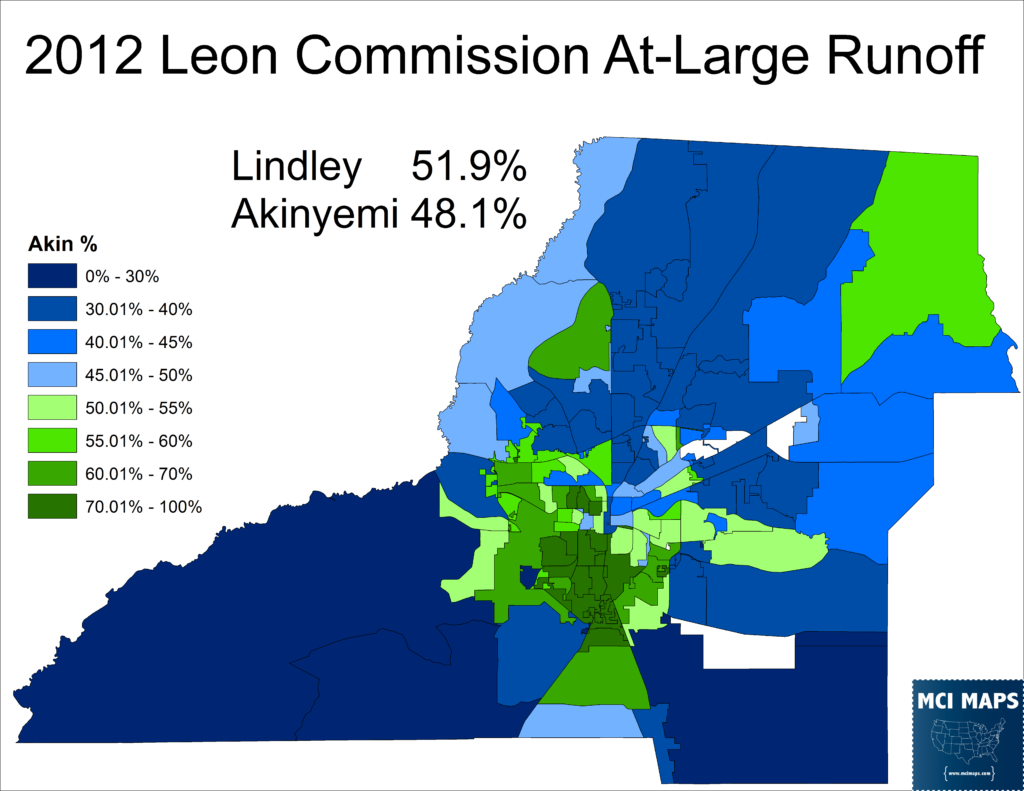 Akin found himself in a rough position in the runoff.  Conservatives would never back him (many of these same folks backed Maddox in 2010) and Lindley benefited from their votes, as well as a split in the white Democratic vote thanks to both candidates being Ds.
It should be stressed here African-Americans were consistently in a less powerful position in these open primaries than they are in closed ones.  In 2008, African-Americans propelled Akin into the runoff with a Republican, allowing the party to unite and win.  However, as 2012 showed, when it is just one Democrat vs another, Republicans can play spoiler if white Democrats are split.  In 2010, it took African-Americans and Republicans, an especially unique coalition, to control an election.  In both these cases African-Americans do not have enough power to exert influence on their own.  They must form coalitions to have a say or control of an election.  In closed primaries, they are a much more powerful voice for that first round of voting.
Tallahassee and the School Board
Members of the review board have also cited Tallahassee and the School Board having African-American members as proof that non-partisan elections are fine for minority voters.  State law mandates cities and school boards are non-partisan, so changing this is not up for discussion at the local level.
Leon's school board is made up of five single-member districts.  Indeed, two members are African-American, however, that is aided by the district lines.  Leon's school board is made up of single-member districts, precisely because African-Americans sued that the county's at-large elections in the 1980s made it next to impossible for African-Americans to have a say in the elections.  It was finally agreed to divide the county into districts; with one district being majority African-American and another being an access seat.  The registration by school district chart is below.

African-American members sit in the 3rd and 5th districts.   Joy Bowen, who is African-American, sits in the 5th district, winning an open seat in 2002 against a candidate who had run as a Republican for Clerk of Court in 2000.  The district is solidly Democratic and no Republican (non-partisan ballot or no) could win.  School board members are rarely seriously challenged in Leon and only one has lost in recent history.  However, that doesn't mean the 5th is still controlled by white voters and African-Americans are still vulnerable to lose the seat.
In the case of Tallahassee, people point out that the city has two African-Americans on its board:  Commissioner Curtis Richardson and Mayor Andrew Gillum.  People cite these as proof you don't need partisan primaries.  However, let's be clear, the city is more African-American than the county.  The gap between white and black voters is 34% in the county and 23% in the city.

In addition, the elections of Richardson and Gillum show the limits of African-American influence on the city.  Gillum won his commission seat in 2003 by consolidating the student and African-American vote to secure a runoff slot with a Republican.  This, like it did for Akin in 2008, allowed the party to unite and propel Gillum to victory.  Gillum quickly established himself, didn't make enemies, and has never faced a serious election since.  Even his 2014 Mayoral win was against token opposition.  Gillum's strong fundraising warded off any real challengers.
The second African-American on the board is Curtis Richardson.  Richardson won a narrow 52% win for his city council seat in 2014 over first-time white candidates for office.  Richardson has been a former school board and state house member.  He's much more liberal, so some of the business and northern communities that have been fine with Gillum like Curtis less.  Curtis had to fight hard to win his seat with a coalition of African-American and white liberals. It is easy to argue that if the city was as white as the county, he may have fallen short.
The Argument of "Administrative Positions"
The general argument for non-partisan elections of constitutional officers is that the positions are largely administrative and should be kept out of the political realm.  Most voters do think of these positions as largely bureaucratic, simply doing the work an appointed person could do.  However, there is more flexibility than people realize.  For example:
Clerk of Courts:  These offices came under spotlight when several Clerks opted to stop performing marriage ceremonies when Florida legalize same-sex marriage.
Property Appraiser:  Orange County's Property Appraiser has clashed with Disney over the value of their land and the taxes they owe.  A Property Appraiser has broad discretion to settle with a large entity (who's bill can be in the millions) or fight them when disputes arise.  How aggressive appraisers are in getting taxes owed from large companies (versus settling) is a major source of difference county by county.
Sheriff:  Different Sheriff's focus on outreach while other take a more hard-on-crime stance.  A growing trend of Sheriff's who view themselves above the law, such as former Liberty Sheriff Nick Finch, who argued Florida's gun laws don't apply, makes this office even more political.
There are plenty more examples to give.  The point is, these positions have plenty of politics around them.
Conclusion
There is a great deal of historic context discussed above.  However, the main point is this:  influence – not outcomes.  This isn't about making sure X number of elected officials are of one race or another.  It is about ensuring minority voters have a say in our government.  The closed primaries give African-Americans a 40% say and ensure they have a voice.  Non-partisan primaries dilute that voice.
Proposal 2:  Leon's Single-Member Districts
Just like Leon County's school board, elections for county commission used to be all countywide.  Before the 1990s, Leon County had five commissioners elected at-large.  However, the NAACP sued the county, arguing the countywide elections diluted minority voters and diminished their chances of deciding elections.  The parties went to court and the county eventually agreed to change its system in a consent decree.
Following the consent decree, Leon divided itself into five single-member districts for the 1986 elections.  The first districts can be seen below.  The 1st District was a majority African-American seat, while the 2nd was considered a minority influence seat.  The commission would also include 2 at-large commissioners, bringing the total to 7.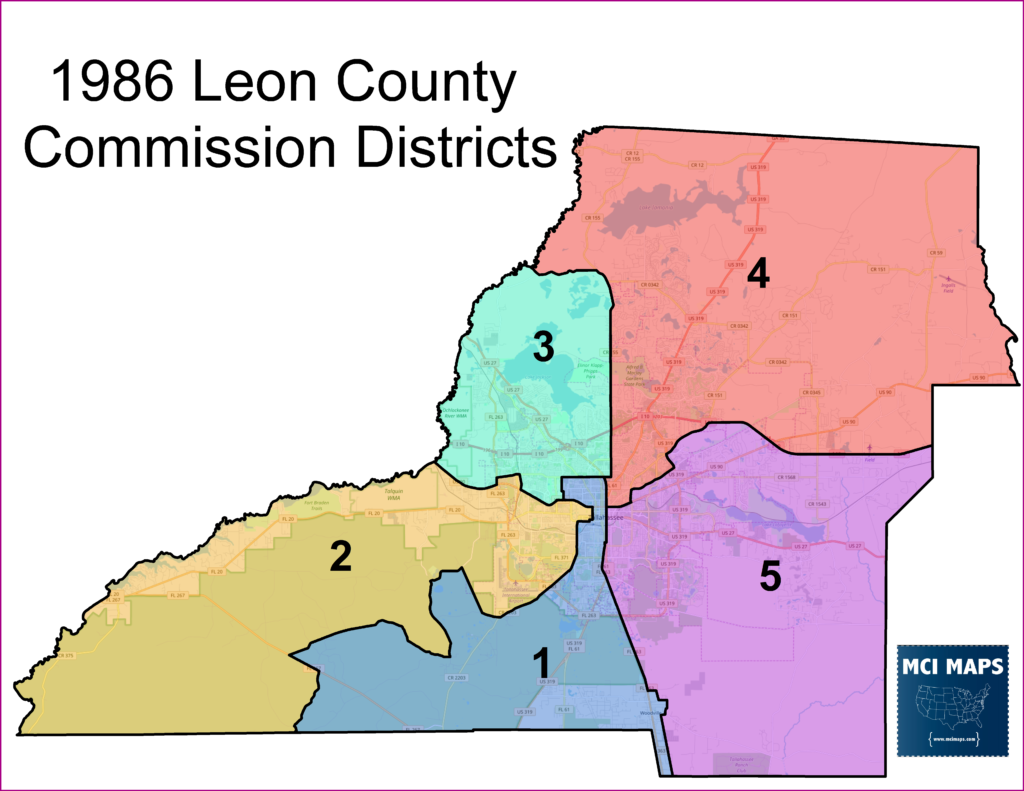 In 1992, following the census, the lines were redrawn to keep the populations roughly equal.  Changes were made but the overall nature remained the same.  The 1st was majority African-American and the 2nd was minority access.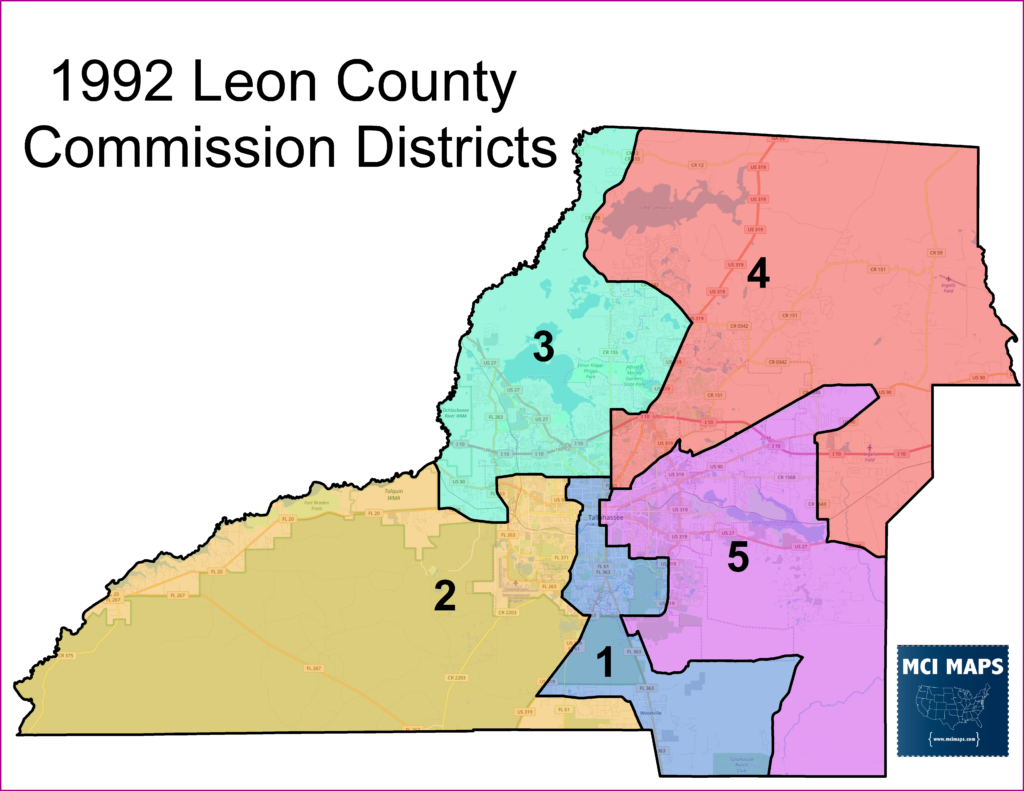 2002's redistricting saw the lines change again with the 1st and 2nd maintaining their rolls.   This layout didn't change much from that point forward.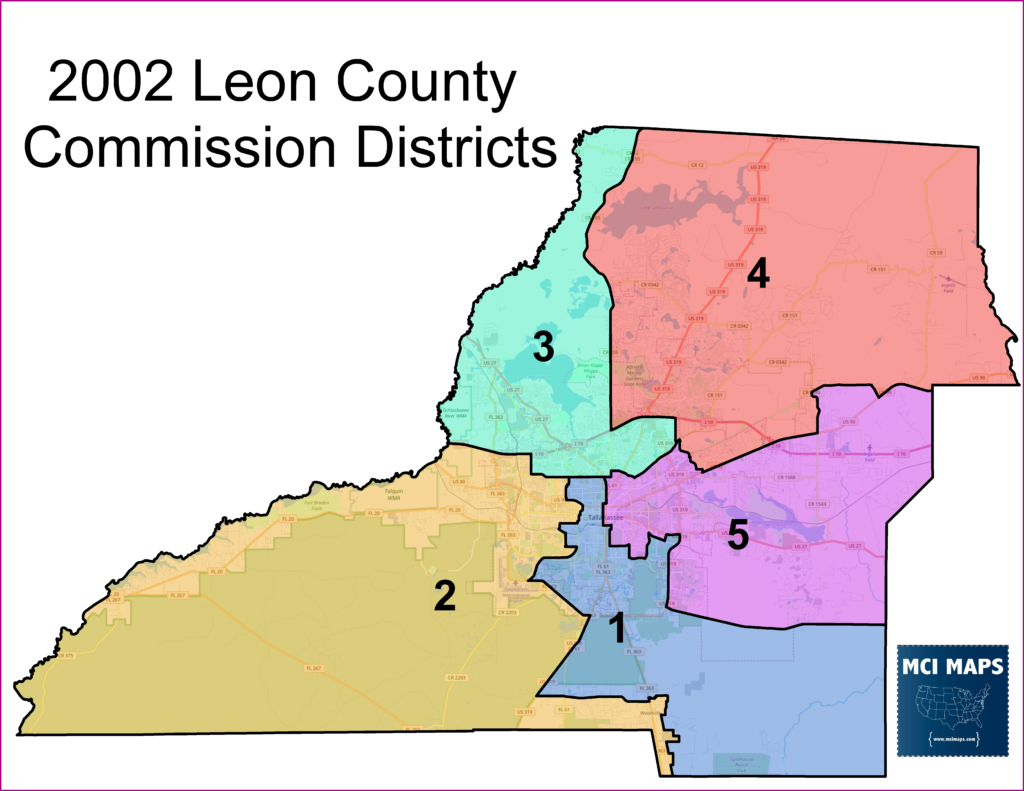 The 2010 redistricting required modest changes to keep populations roughly equal.  The 3rd took some neighborhoods from the 5th while the 4th, 2nd, and 1st remained the same.  The voting age data on the district is shown as well.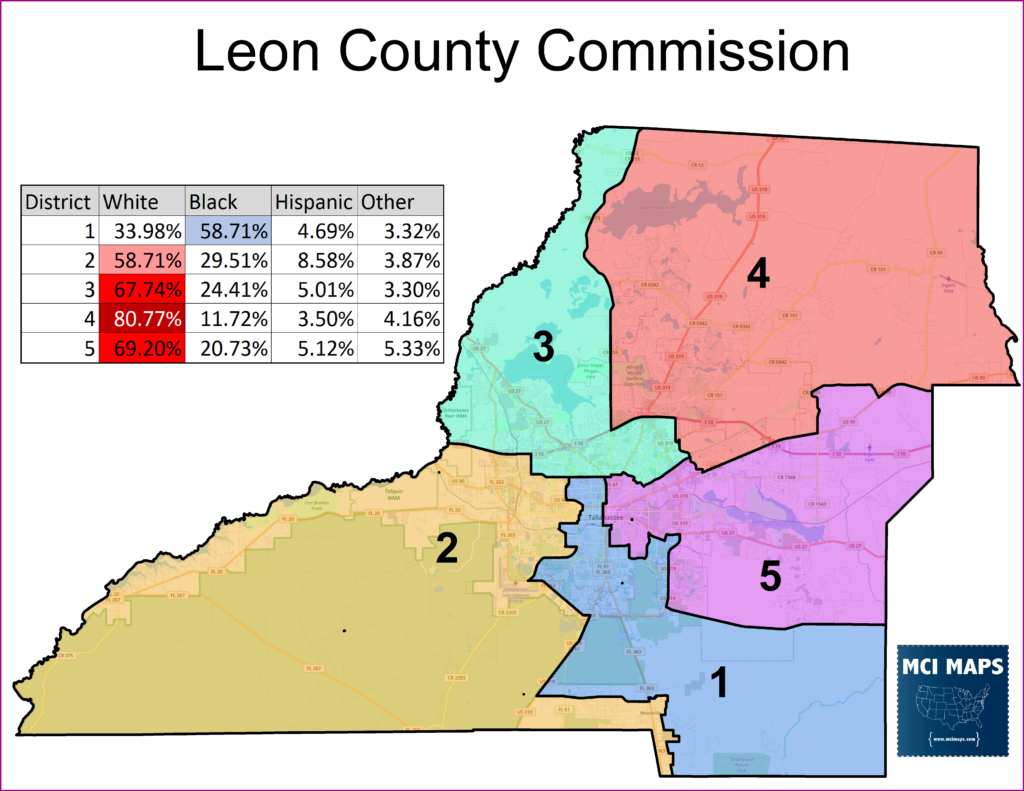 The 1st district takes in the heavily African-American southside and Frenchtown.  Florida A&M University is the district while FSU is largely in the 2nd.  Student populations are split between the districts depending on where they live.
The 2nd district is more student-heavy but also includes African-American communities as well as rural white areas like Woodville and Fort Braden.
The 3rd district had white suburban communities like Waverly Hills and Betton Woods and goes North to take in less organized communities around Lake Jackson.
The 4th district includes the predominantly GOP suburbs and exurbs of Killearn, Ox Bottom, Golden Eagle and Summerbrook.  The district is the lone GOP district in the county.
The 5th district includes white liberal suburbs like Indianhead and Meyers Park while also taking in more moderate areas like Southwood and Buck Lake.
Looking at the districts with racial census blocks activated gives the lines more context.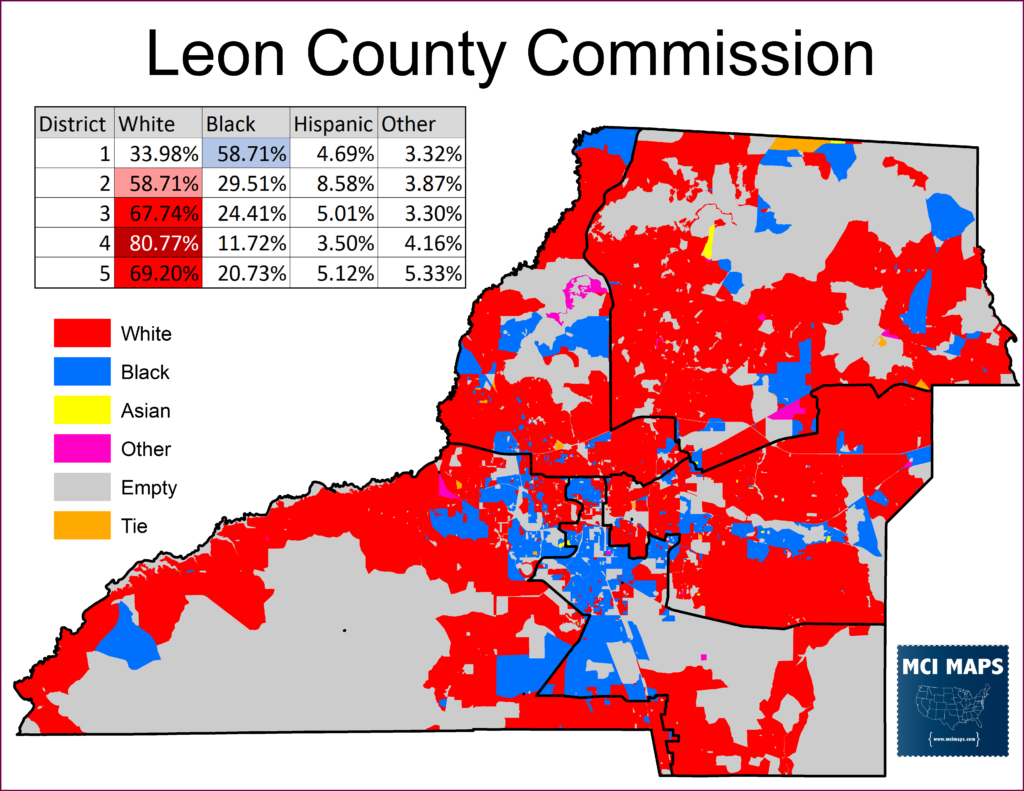 .
Proposal to go from 5 to 4 districts
The charter review board is now debating moving to four districts, which would require re-thinking the districts.  It was distressing to hear people on the board question if the county still had to be subject to court review of their districts.  The districts could, however, be drawn to still maintain the same racial dynamic currently mandated.  My proposal below would include a majority African-American seat and an access seat.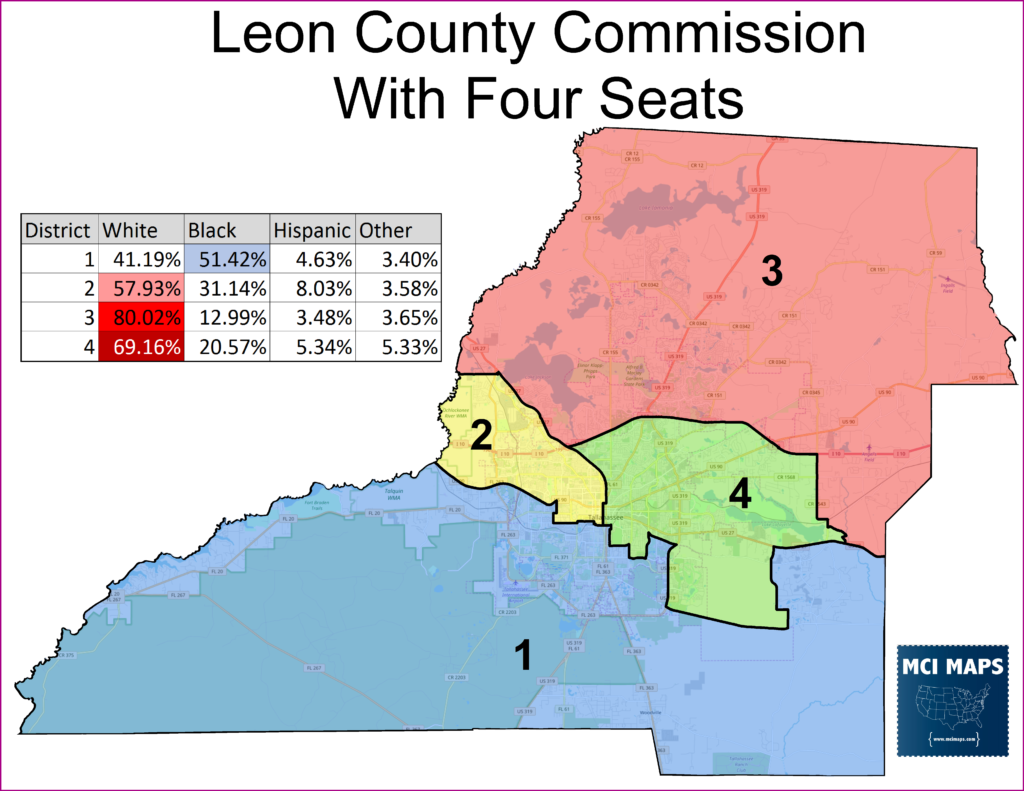 There are, however, problems with this proposal or any variation.  When you reduce districts, you end up having to pare distinctly different communities with different concerns – weakening the whole point of single-member districts.  In order to keep the 2nd around 30% VAP African-American, the 1st's African-American share had to fall.
While these districts maintain the same minority influence currently on the commission, the truth of the matter is the current lines don't do a good job when it comes to creating an "access seat" to begin with.
My proposed 5 single-member district plan would create a much stronger minority access seat than past maps have done.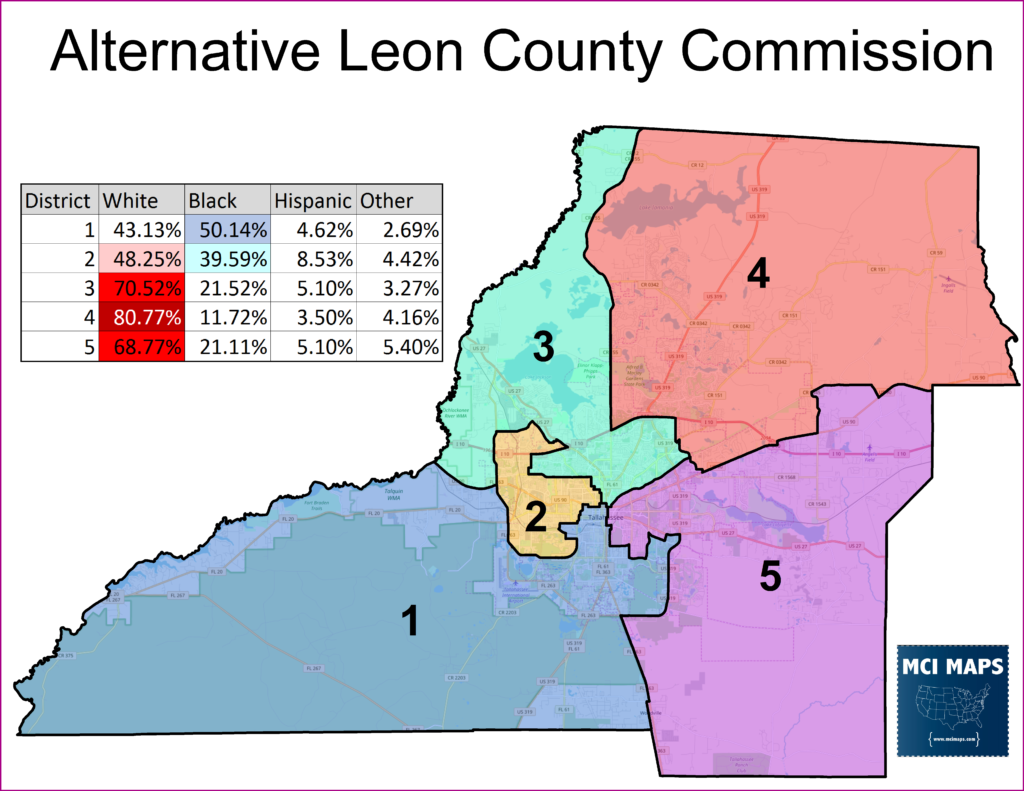 I worked to minimize changes to the 5th, 3rd and 4th, only moving items to keep population in check.  My 2nd district compactly takes in African-Americans in the suburbs North of Tharpe Street and I-10 while taking heavily African-American Frenchtown away from the 1st.  The 2nd also severs as to be the student-influenced district a well.  The 1st, meanwhile, moves further west, taking in Ft Braden, while the 5th takes Woodville.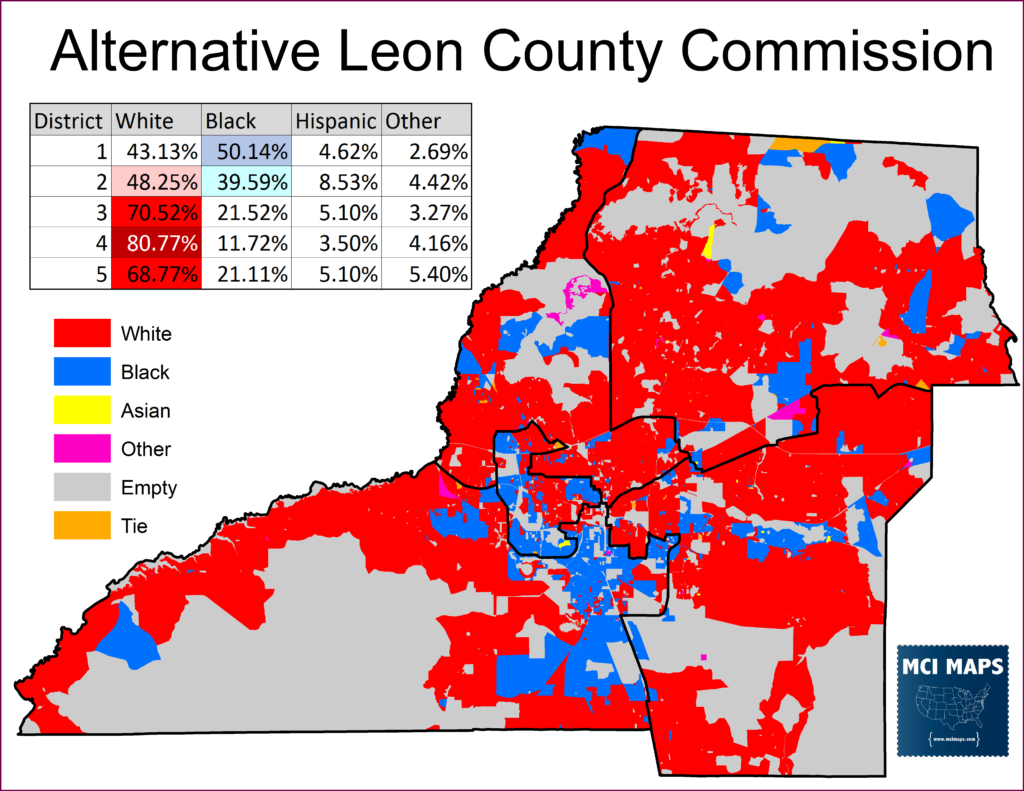 The first district is still majority African-American in terms of the census and turnout.  Meanwhile, the 2nd is 39% VAP African-American and closer to 45% African-American in voter turnout.  This disparity is thanks to many of the white citizens counted in the census for the district being students who vote and register in much lower numbers than the African-American voters of the area.  This creates a 2nd district that is near evenly split between white and African-American voters.  This would ensure African-Americans a stronger voice in a 2nd council district than they currently have.
This dynamic could not realistically be accomplished in a four-district plan without creating bizarre borders.  Keeping the districts at 5 means keeping possible changes to further empower African-Americans open for debate.  Moving to four districts closes that debate for good.
Partisan Primaries in the County Commission
In addition to issues with the district lines, the lack of partisan primaries for county commission has further hindered African-American prospects in the 2nd district.  The district is solidly Democratic in registration and electoral performance.   It is 27% African-American in registration, but was 35% African-American in the August primary last year (thanks to weak student voting).   However, if the primary was closed, African-Americans would narrowly outpace white voters in the Democratic primary.

The struggle for African-Americans to exert real access or influence over the seat was seen in 2016 when the seat was open for the first time.  Before then, Jane Sauls, a white Democrat, routinely won re-election easily.  She almost lost her first primary to an African-American in 1992 when the primaries were partisan and closed.  Since they became open, however, she faced no opposition from her own party.  The open seat created a free-for-all for her seat.  Two African-Americans, Margaret Franklin-Dobbins and TJ Lewis, filed for the seat.  This split the African-American vote, allowing a white Democrat, Jimbo Jackson, and a Republican, Manny Joanos, to advance.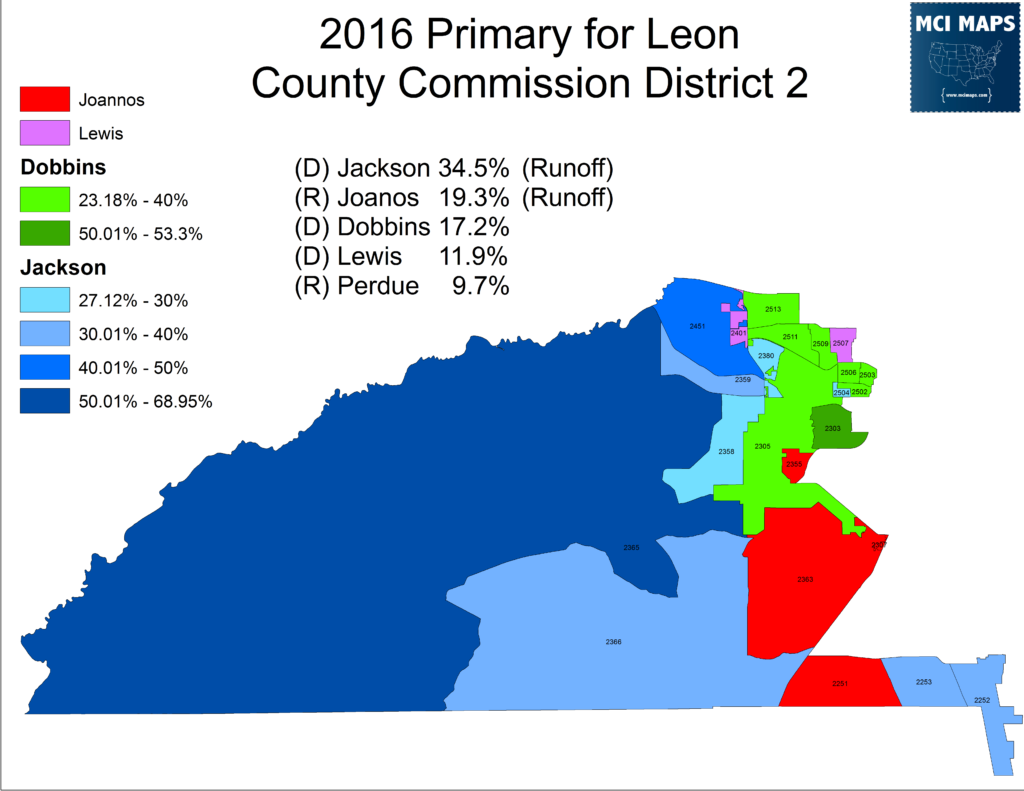 Dobbins narrowly missed a runoff slot and it is hard to argue Lewis didn't keep her out of it.  African-Americans couldn't afford to be split, while white voters could. However, even had Dobbins advanced against Jackson (who won the runoff), it is not clear she would have won, as Republicans would have likely backed Jackson over her.
Conclusion
Leon's commission has worked well with 5 districts since 1986.  There is no compelling reason to change that now.  There needs to be more debate about HOW the lines are currently drawn (done by the commission), not reducing the number.  This proposal would have major implications on representation in the county that many do not realize.
Conclusion
Issues that sound good to people, like non-partisan primaries, can often have unintended consequences that people do not realize.  There is no reason for me to assume any bad-will from the board about these proposals.  However, the lack of any people with electoral expertise on the board, as well as the fact that 13 of the 14 members are white, means that the entire effect or understanding of these proposals is not being aired out.  The only member to even raise the issue of African-American representation being hindered in these proposals WAS from the lone African-American on the board.  The board is still in its fact-finding phase.  This article will be passed on to all who will listen and it is my hope the board will see the serious issues with their proposals.