The premier special election for Florida took place last night; the fight for Senate District 40.  Deep in the heart of Miami-Dade County, the district was vacated by scandal-plagued Frank Artiles, setting up a multi-million dollar special election that both parties felt they had a chance at winning.  SD40 is solidly Democrat for President but has a long streak of Republican support further down ballot.  Once the special election was announced, both parties prepared for a major fight which in the end saw the Democrats take the seat from the GOP.
Senate District 40 Profile
Senate District 40 is one of four majority-Hispanic State Senate seats in Florida.  It is located in Southern Dade County, taking in prominent Cuban communities like Olympia Heights and Westwood Lakes while also hosting historic African-American communities like Perrine and Richmond Heights.  Overall the district is heavily Hispanic, with Hispanic registration topping 67%.  The district is heavily Hispanic in the North and West.  African-Americans are concentrated in Southern communities and whites are more concentrated on the eastern by State Road 1.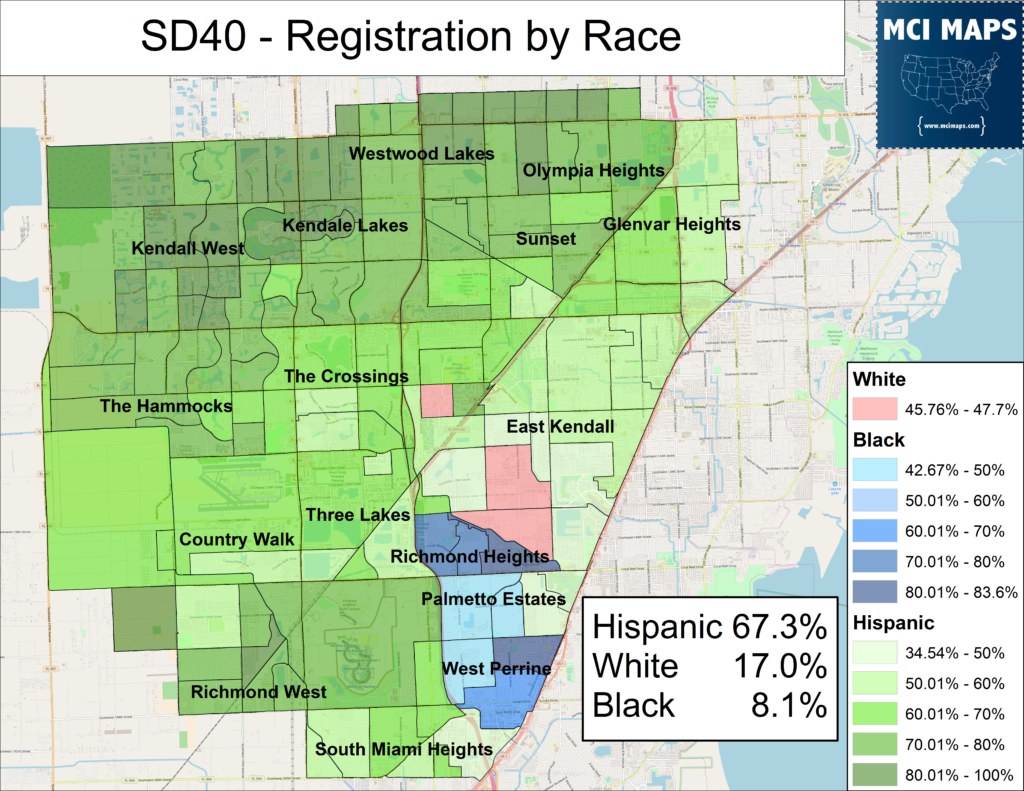 While Hispanics nationwide are solidly Democratic, Miami-Dade's large Cuban population is much more Republican-aligned.  While younger Cubans are becoming more Democratic, the older exile community is still a steadfast GOP block.  Trump narrowly won Cuban voters, but his performance was weaker than any GOP candidate for President in history.  However, those same Cubans that barely backed Trump were much more loyal to down-ballot Republicans.
The Cuban population of SD40 is around 38%, heavily concentrated in the North with some pockets in the south.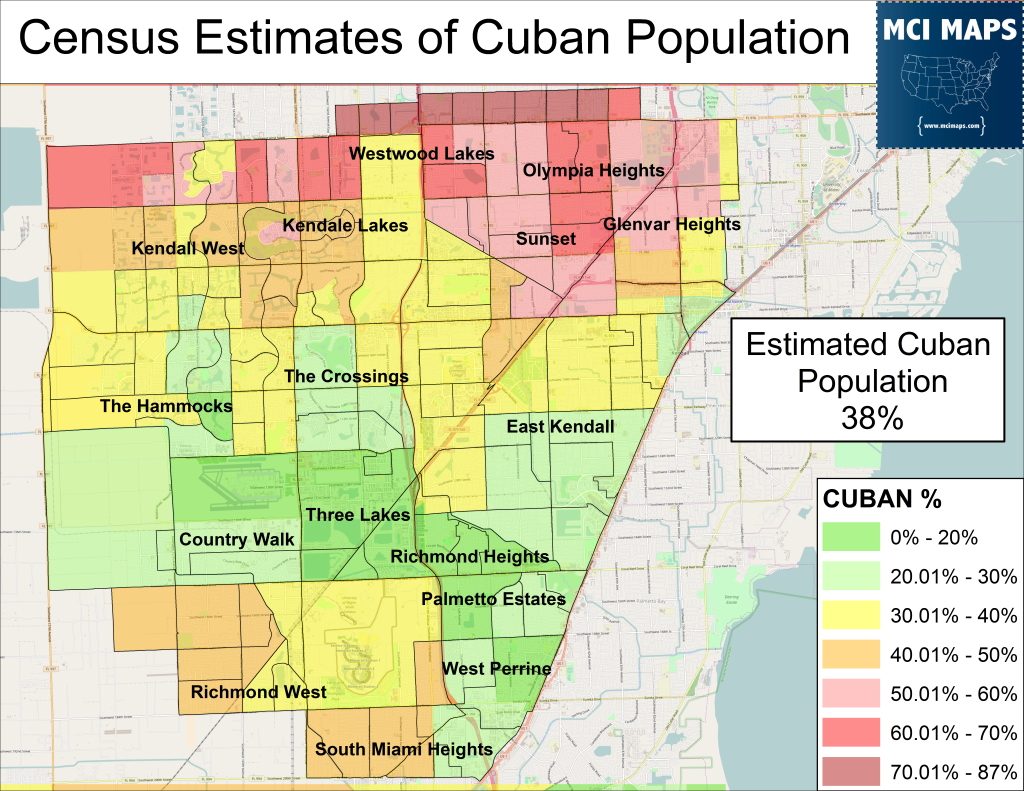 Registration-wise, Senate district 40 is a near perfect swing seat; split between Democrats/Republicans/NPAs almost evenly.  Republicans are mostly concentrated in the Northern Cuban communities while Democrats are strongest in African-American neighborhoods.  NPAs dominate in heavily Hispanic, but less Cuban, neighborhoods in the western end of the district.  Whiter precincts in East Kendall are split, with some precincts solidly GOP and others Democratic.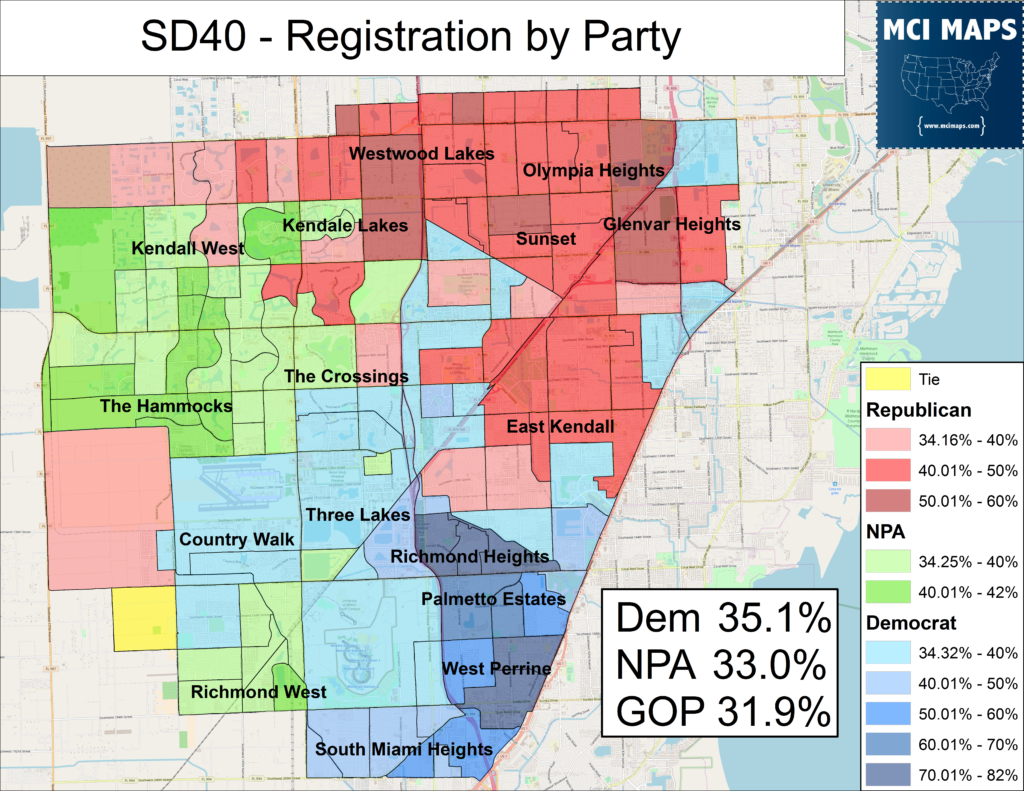 Electoral History
The electoral history of Senate District 40 is all over the place.  The district has backed Democrats and Republicans.  In 2016 the district gave Hillary Clinton 57% of the vote.  Trump won Cuban communities in the north and GOP whites but with modest margins and was a crushed in the rest of the district.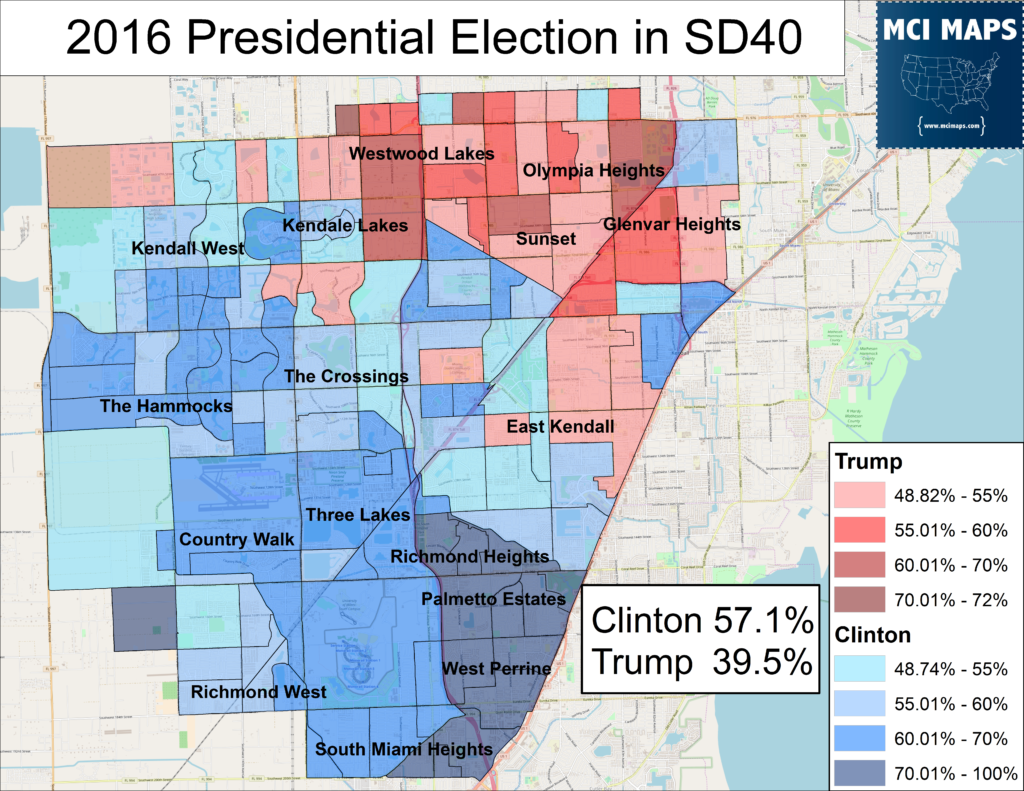 Meanwhile, one line down on the ballot, Senator Marco Rubio won the district by 3% over Democrat Patrick Murphy.  Rubio dominated in the Cuban community and performed much better with non-Cuban Hispanics than Trump did, as well as with whiter communities.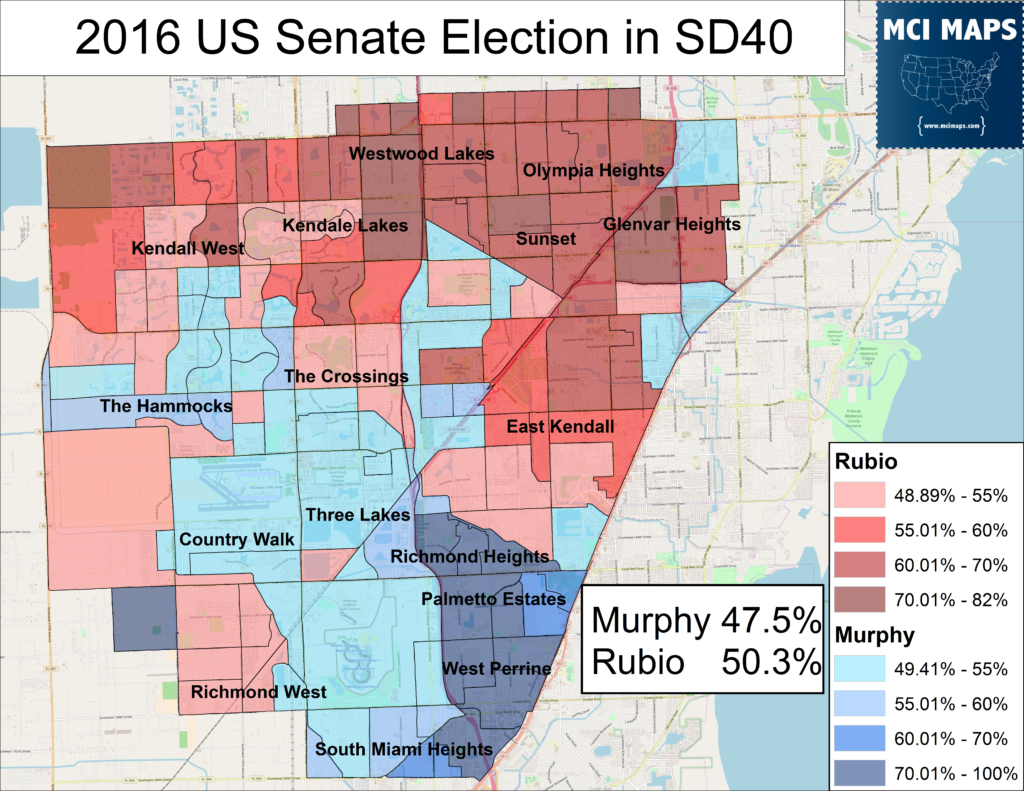 That same night was an election for the state senate seat.  Mid-decade redistricting shuffled the Senate lines and the district was brand new.  Democratic State Senator Dwight Bullard, who used to represent an African-American seat, opted to run for this majority Hispanic seat since it was where he lived.  Republican State Representative Frank Artiles then jumped into the race as well.  By all accounts Bullard ran a poor campaign and ended up losing the district by 10%, only winning the African-American communities and some southern Hispanic precincts.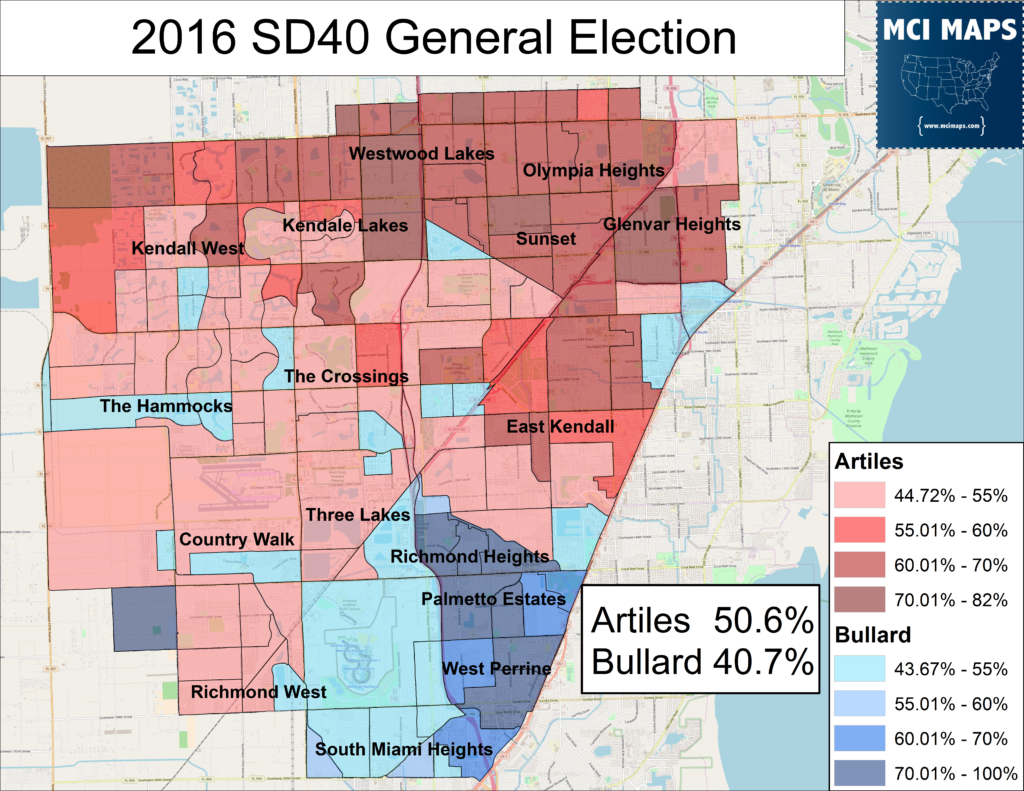 These three races highlight the elasticity of the district.  In addition to these races, SD40 backed Democrat Charlie Crist for Governor in 2014 while voting GOP for all the cabinet races.  The districts ebb and flow made it a top target for both parties.
2017 Special Election
Both parties had primaries to decide their nominee.  On the GOP side, state Representative Jose Felix Diaz beat former State Senator Alex Diaz de la Portilla in landslide.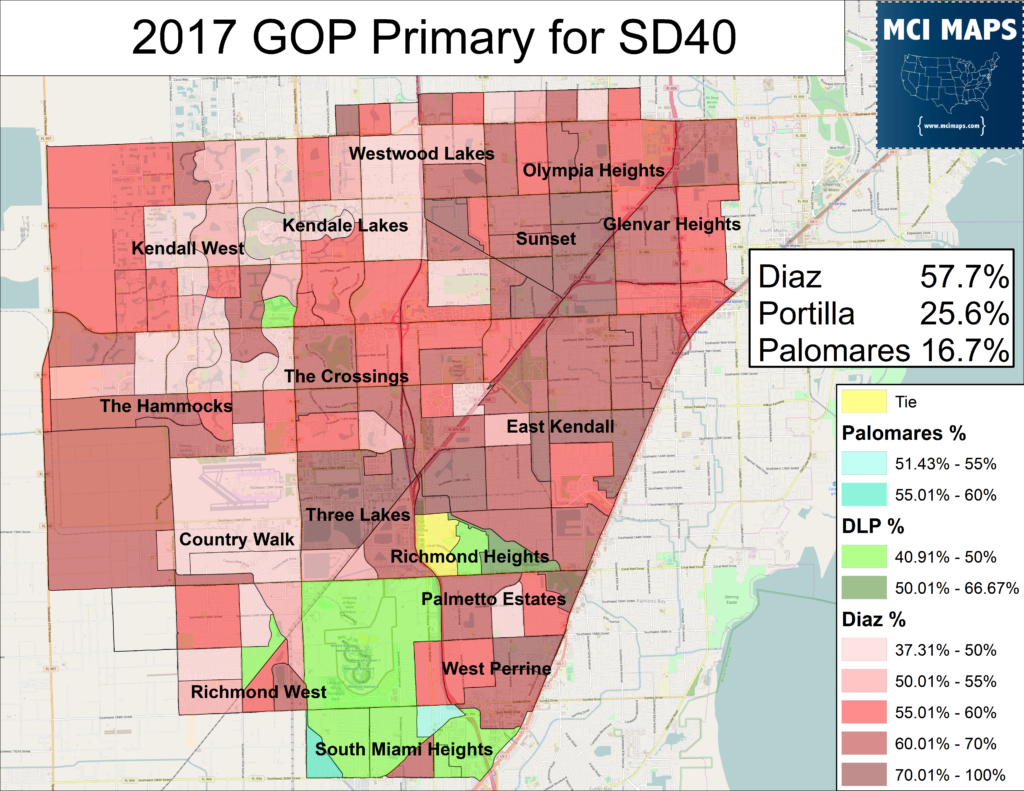 On the Democratic side, Democrat Annette Taddeo beat former state Rep Ana Rivas Logan in a similar rout.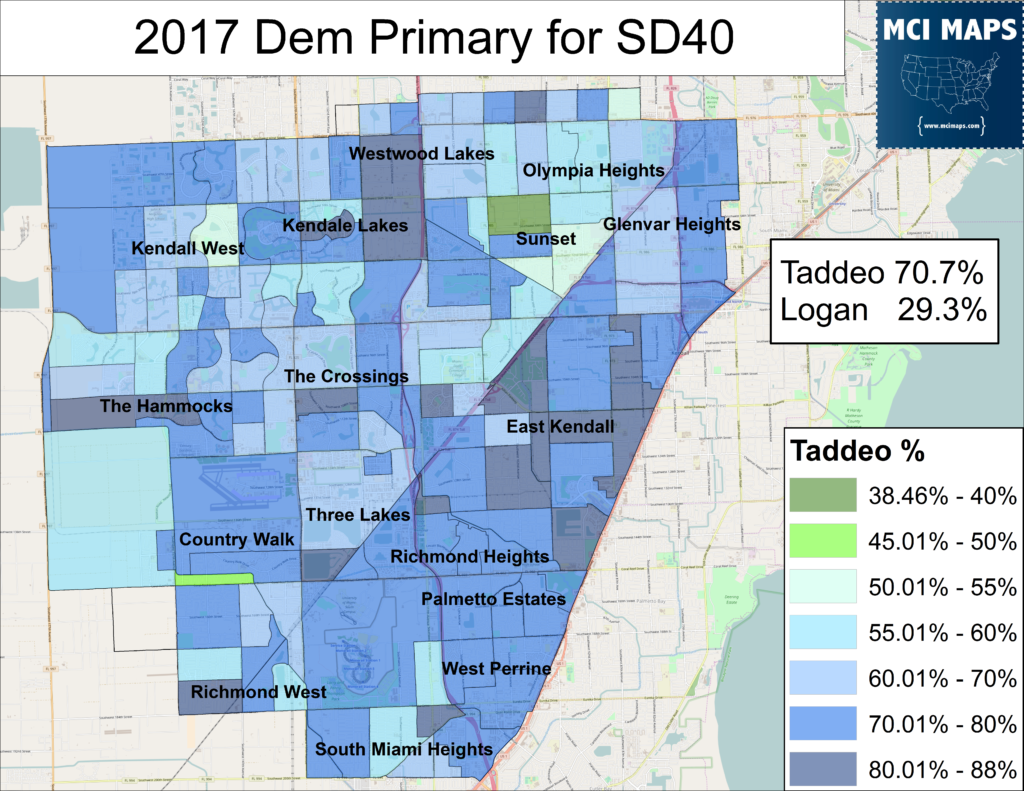 Both candidates had major investment in their races from outside groups and the state parties.  All told over $4 million was spent on the race.  For Democrats, the key was getting out the vote.  A special election in Miami-Dade can have a built-in GOP advantage.  This is because absentee ballots are the dominant voting method in specials, and older Cuban voters rely on absentee ballots.  This meant that without any parties investing in GOTV, the electorate of a special would be more Republican than any Presidential or Midterm election.  Democrats had to work hard to boost their voters, all the while knowing the GOP would be pushing their people as well.  The early voting data confirmed this dynamic when Republicans demonstrated a solid lead in absentee ballots returned.  Democrats had a solid lead in early voting, but that was a small share compared to absentees.  Election Day was a must win for Democrats heading into Tuesday.
GOTV efforts were curtrailed by Hurricane Irma, which spared Miami-Dade its worse but still knocked power out for days and even a week-plus for some.  Calls by Democrats to delay the election were not honored by Governor Scott.  Power didn't come back on in some African-American communities until 6 days before the election.  A looming question heading into election day would be what effect Irma had on GOTV efforts of both sides.
2017 Election Results
After all the counting was completed, Annette Taddeo won the special election for Senate District 40!   While she lost absentees as expected, she crushed Diaz in early voting and dominated on election day.  Taddeo managed to pull out a 3% win despite losing the voting method that made up 63% of the vote.

We don't have partisan turnout data for election day yet.  However, considering Taddeo's margin on election day, its safe to say Democrats really turned out to vote.
The map below shows the election results.  While Diaz dominated in the Northern Cuban communities, just like Rubio, Annette won non-Cuban Hispanics, whites neighborhoods, and dominated with African-Americans.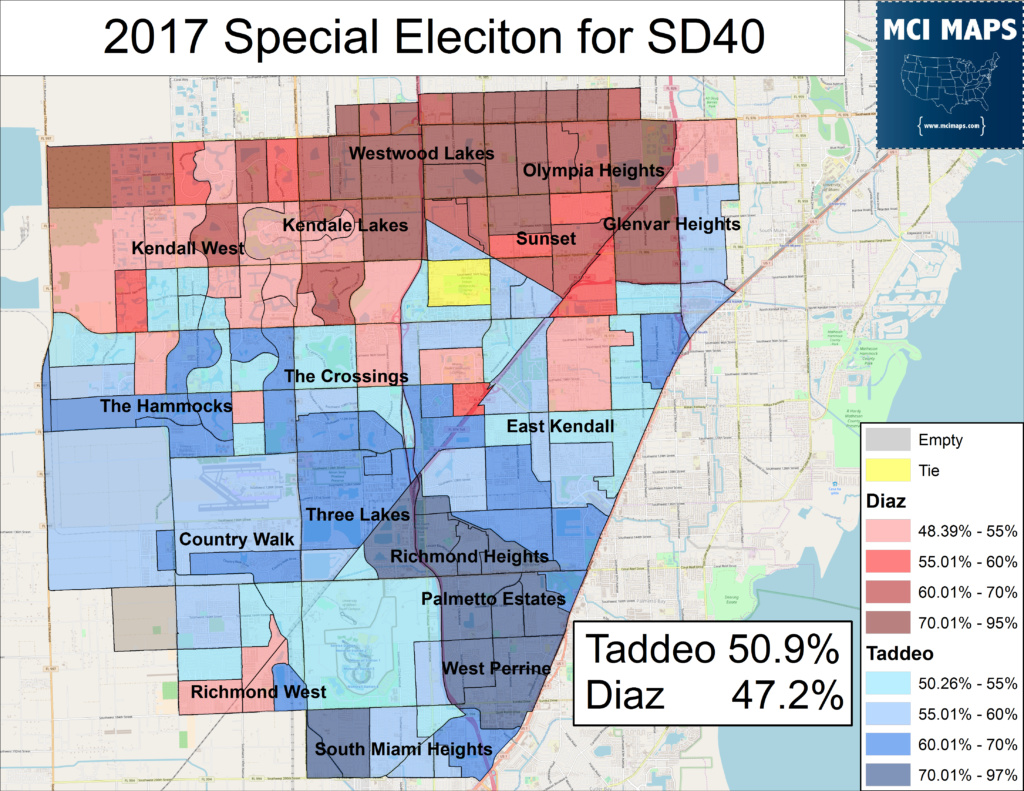 Turnout was strongest in Cuban communties like Glenvar and Olympia Heights but also in African-American Richmond Heights.  Meanwhile, turnout in in the western Cuban areas was not as strong, showing the GOP left votes on the table.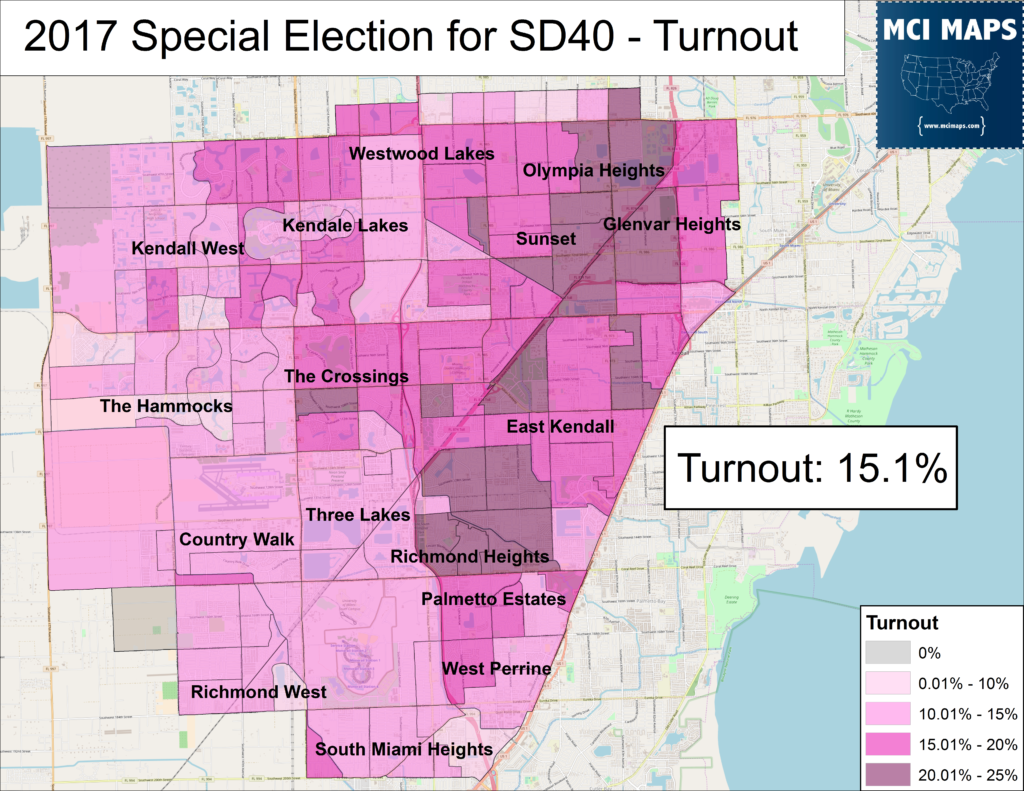 Absentee ballot usage was highest in the precincts with heavier Cuban populations and non-Cuban Hispanics; conforming with past trends in the district.  Meanwhile African-Americans and whites cast more of their votes early or on election day.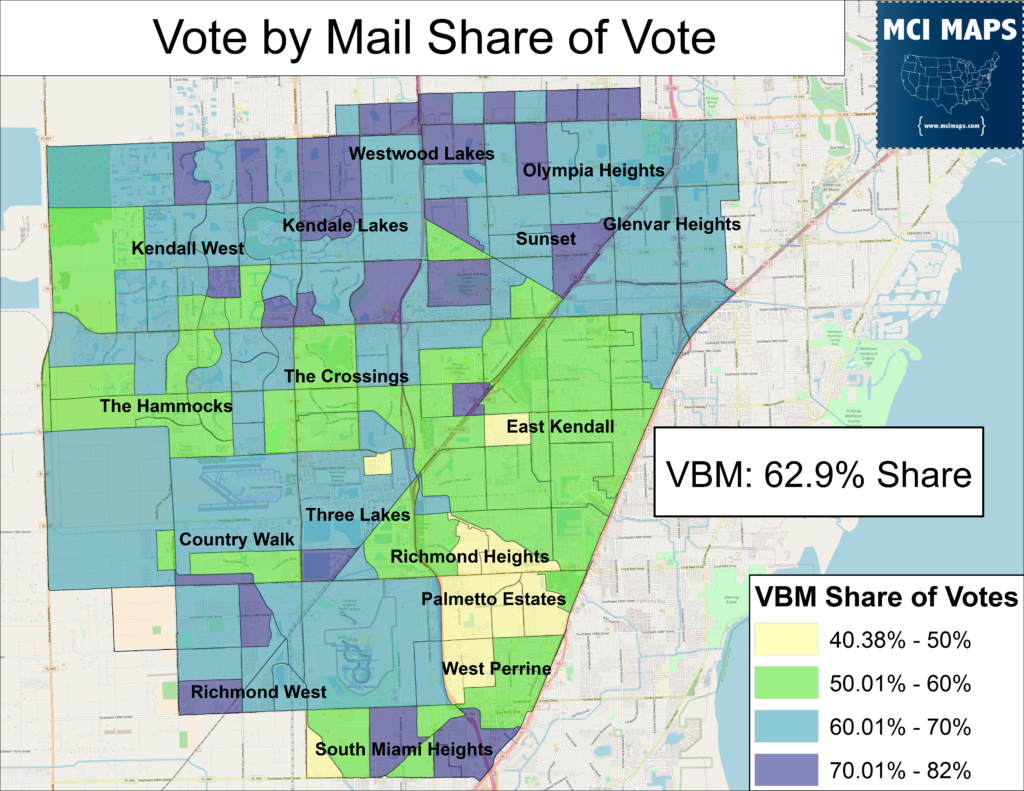 For Democrats, the key was not letting absentees be an even larger share of the total vote.  While absentees were 63%, it could have been much higher if not for strong turnout on election day.
Taddeo obviously under-performed Clinton, but no one, and I mean no one, expected she would do better.  Clinton's crushing win in the district was thanks to it being federal and thanks to Trump's severe disdain in the Hispanic community.  Taddeo under-performed Clinton the most in the Cuban community, no doubt thanks to Diaz not being Donald Trump and Diaz himself being Cuban.  Taddeo did, however, over-perform Clinton in East Kendall, which has a larger white population, and basically came close to Clinton (sometimes doing little worse or better) in African-American neighborhoods.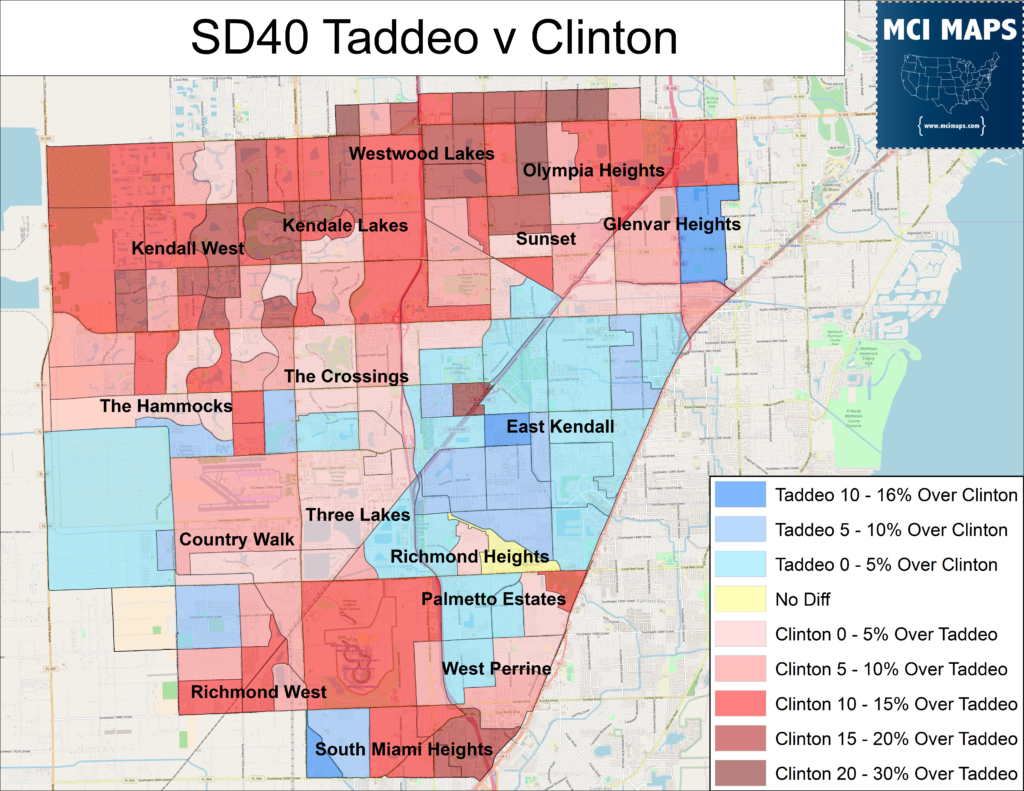 Taddeo, meanwhile, drastically over-performed Dwight Bullard in every corner of the district.  A few Cuban precincts saw Bullard do better (likely aided by anti-Trump sentiment on the ballot).  Taddeo did better in all other communities, including the African-American neighborhoods.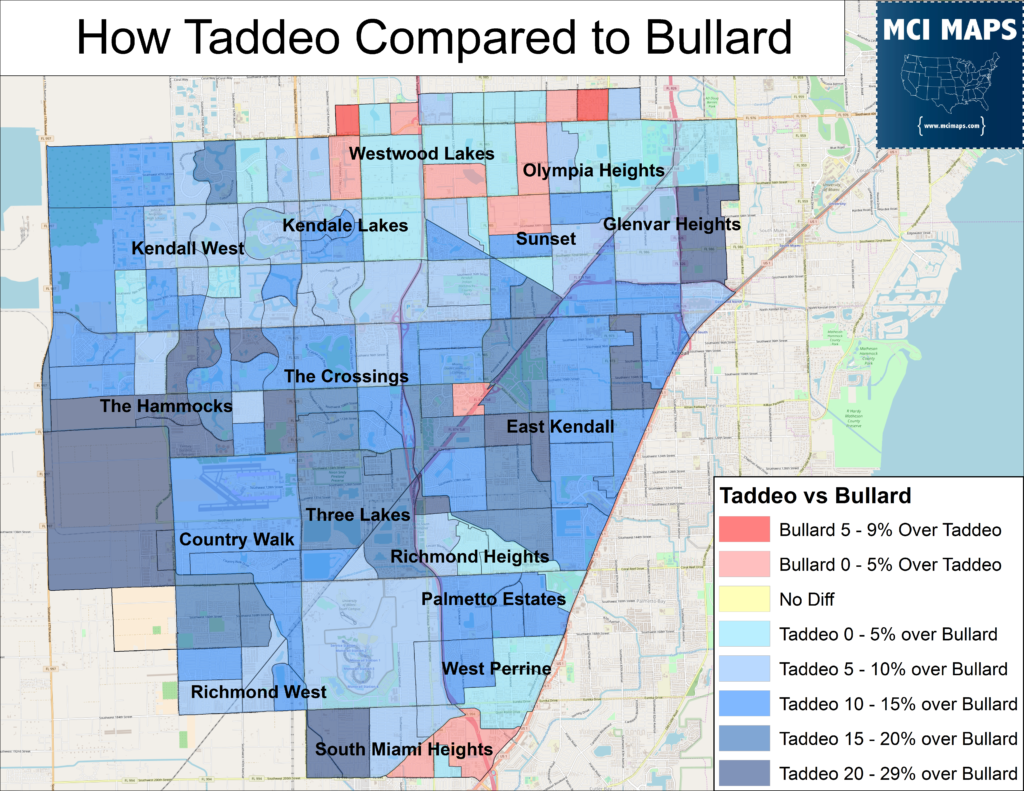 Taddeo's biggest over-performance was in non-Cuban Hispanic areas and East Kendall.
Conclusions
The major story of Senate District 40 is the Democrat's strong turnout.  Election Day's solid margin for Taddeo confirms Democrats did not cannibalize their vote like they have in the past and were able to get people to the polls on the day of, not just early or by mail.  Democratic success on election day was recently seen in the St Petersburg Mayoral Election as well.  Democrats are clearly fired up and the democratic ground game is strong.  Democratic PACs, allies, and the party reportedly knocked on 10,000s of doors in the last few days and weeks, and the results clearly show those efforts were successful.  The GOP had a solid money advantage in this race, but the results show a motivated base and a strong field operation can pull you over the finish line.