The special election for Montana's At-Large seat is upon us.   The election was triggered by Donald Trump appointing Congressman Zinke as Interior Secretary, leaving a seat up for grabs that Democrats have not held since 1996.   The seat has attracted money and interest, but Republicans, aiming to avoid a shock result, have been the largest spenders in the race.  Republicans are running Greg Gianforte, a businessman who narrowly lost a Gubernatorial bid last year.  Democrats are running Rob Quist, a folk singer who falls into the Bernie Sander's wing of the party.  Quist has run an aggressive campaign while Gianforte has relied more on money and paid advertising.  Polling has put Gianforte in first, with wide variations from small to modest.  Montana was solid for Trump in 2016, but its history of voting Democrat for Governor and Senator, coupled with Trump's falling approvals, mean nothing can be taken for granted.
Montana Politics
Montana is sparsely populated, but does host some key population centers.  Only seven cities have a populations over 20,000 people.  Much of Montana's population is in the western part of the state while the east remains much more rural.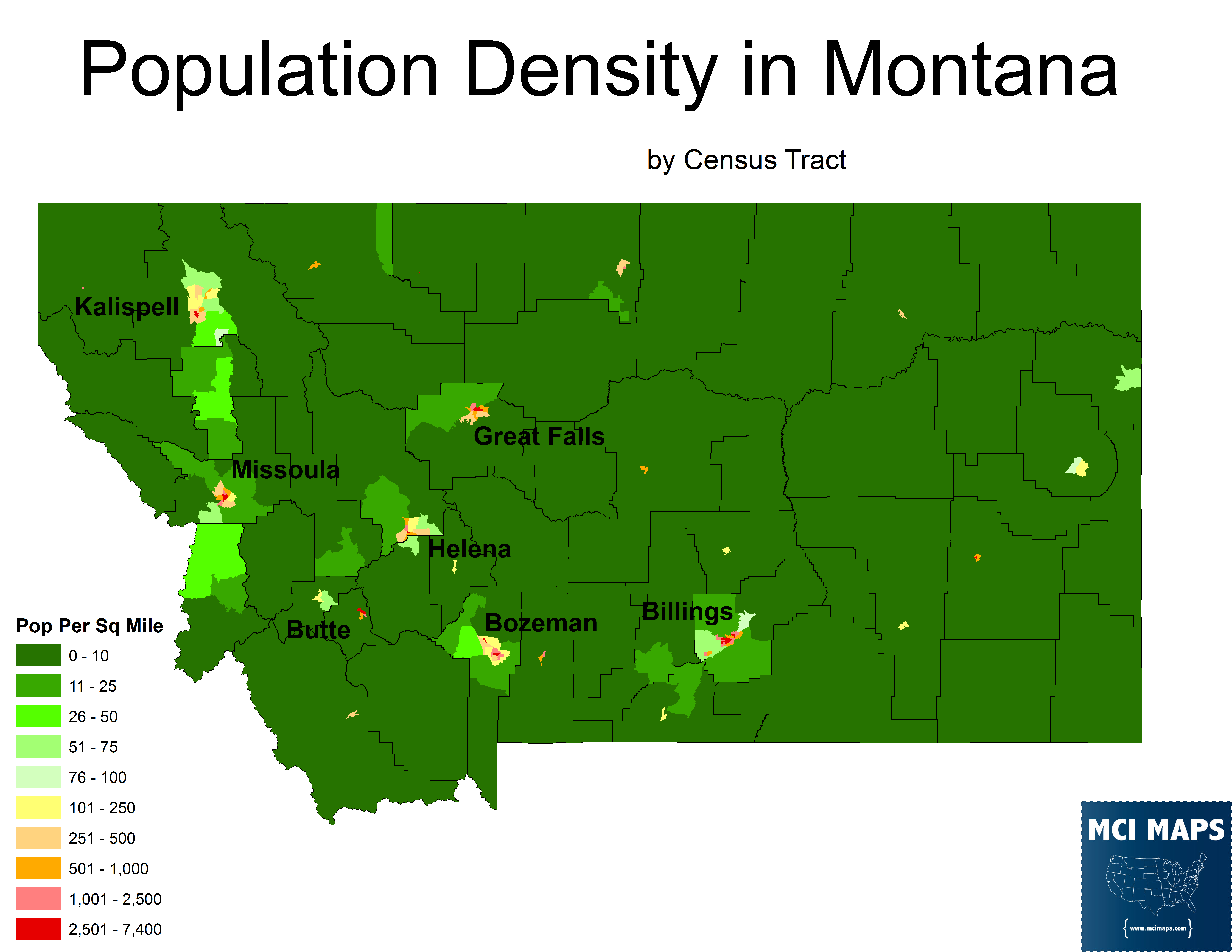 A super-simple summary of these cities/areas is as follows
Missoula — home to University of Missoula, solid democratic area
Butte — old mining and union town
Bozeman — growing city, tourism site, white-collar, high educated
Billings — site of large growth by rich people moving in out of state
Helena — Capital, more Republican/swing area, home to lots of outdoor recreation
Great Falls — rust-belt style city that has seen declining economy
Kalispell — trading port city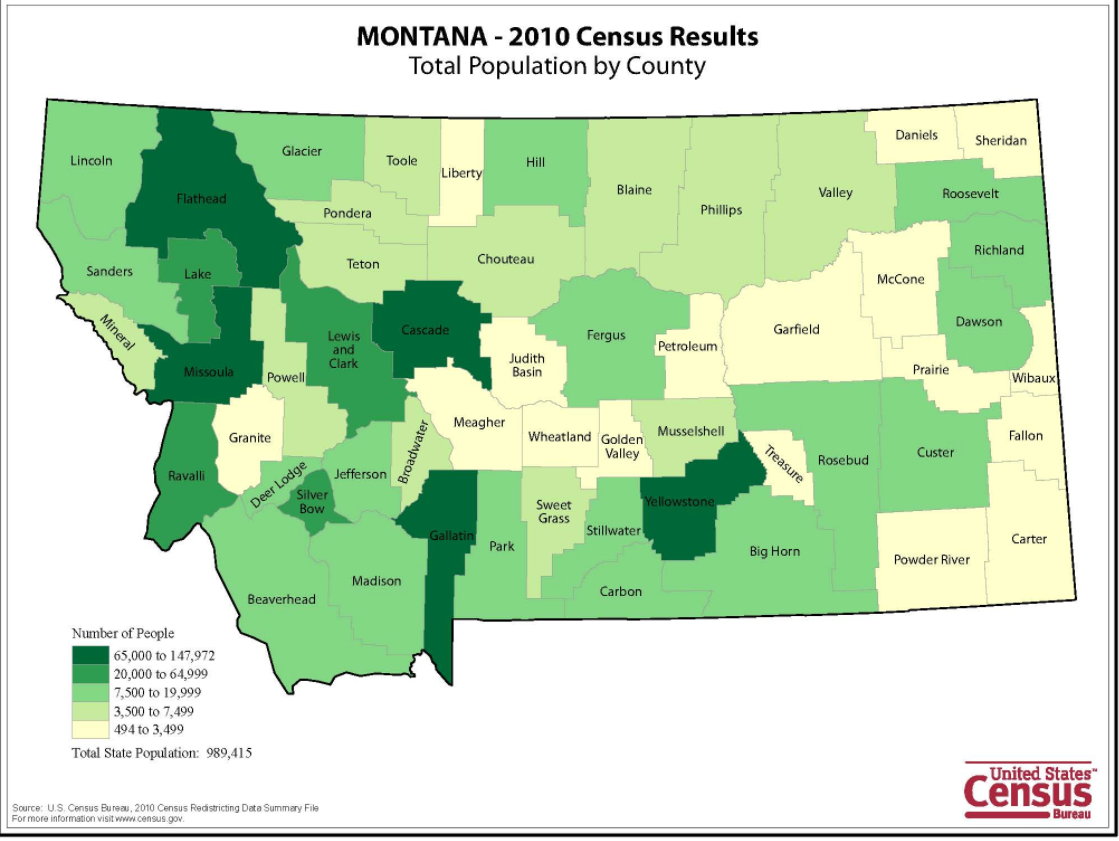 Montana is also one of the whitest states in the nation.  The largest non-white group is Native Americans, which are clustered in assorted reservations in the state.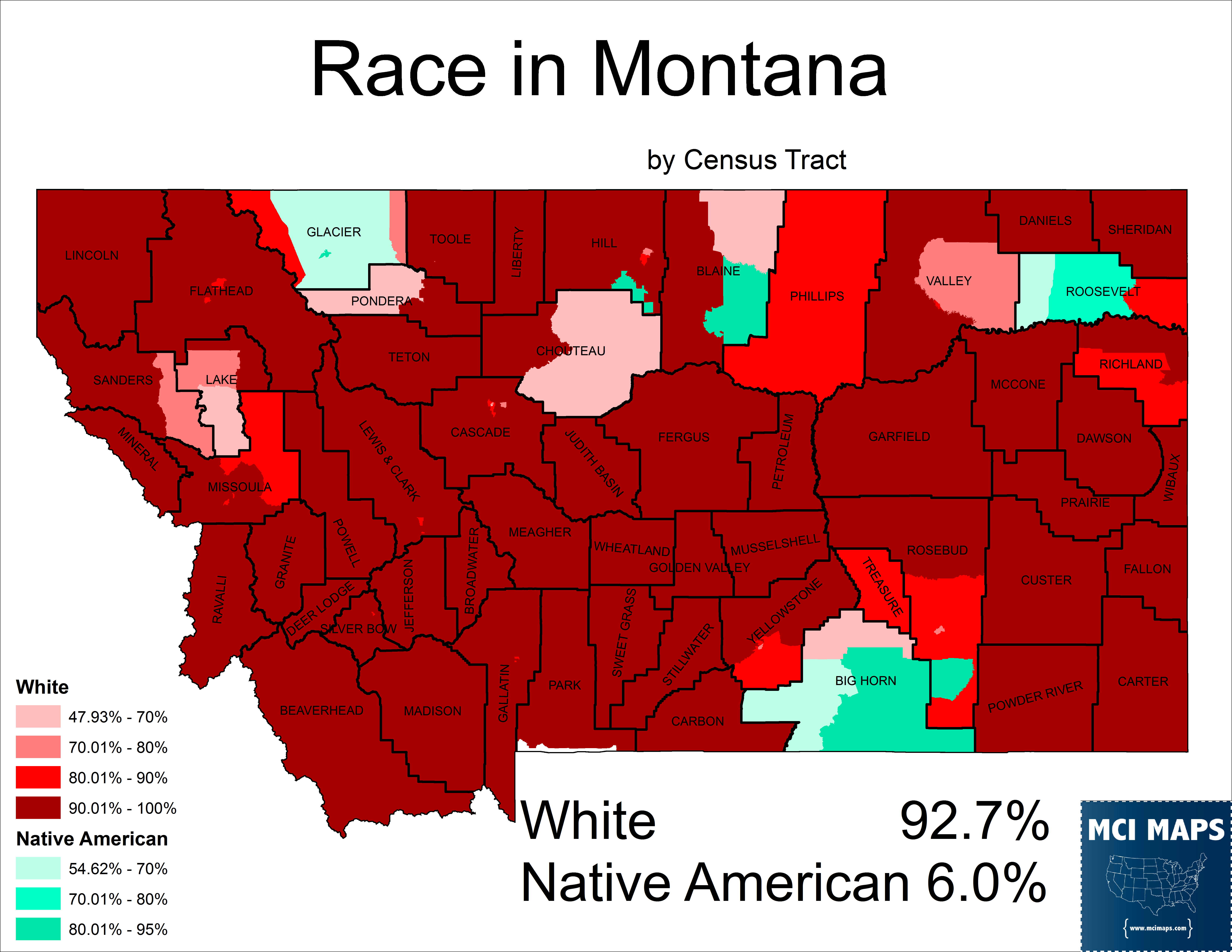 Montana was solid for Trump in 2016, giving him an over 20% margin.  Clinton's wins where clustered in the west and along the Indian Reservations.  Clinton won in Bozeman, a booming city with a growing white-collar and a major tourist destination (close to Big Sky), and Missoula, home to the University of Missoula.  Clinton won in Butte, an older union, mining-town region but by a narrow margin.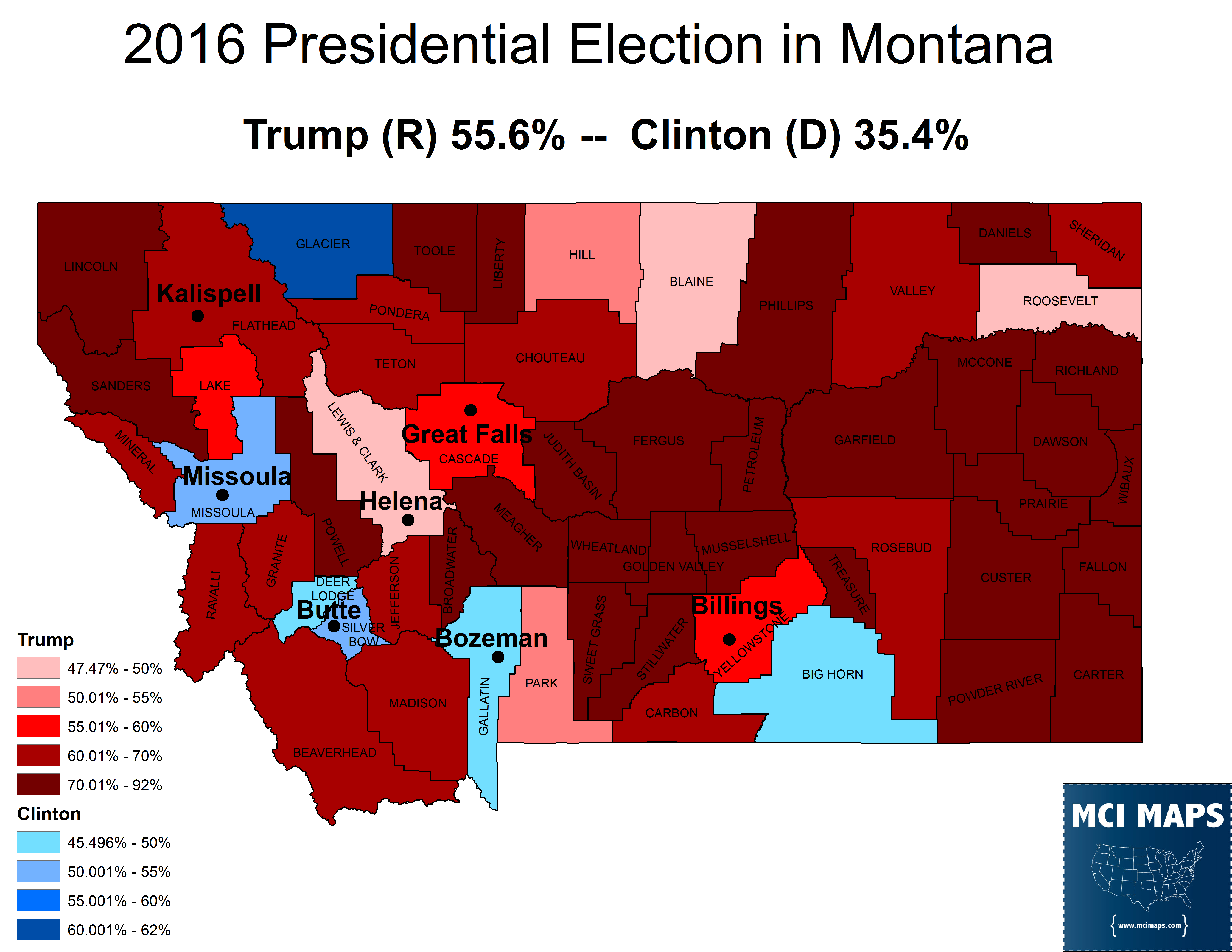 While Clinton was losing Montana by 20 points, Democratic Governor Steve Bullock was winning by four.  Bullock won the counties hosting Great Falls and Helena and only narrowly lost in Yellowstone, home to Billings.  Bullock racked up much stronger wins in Butte and did better out west.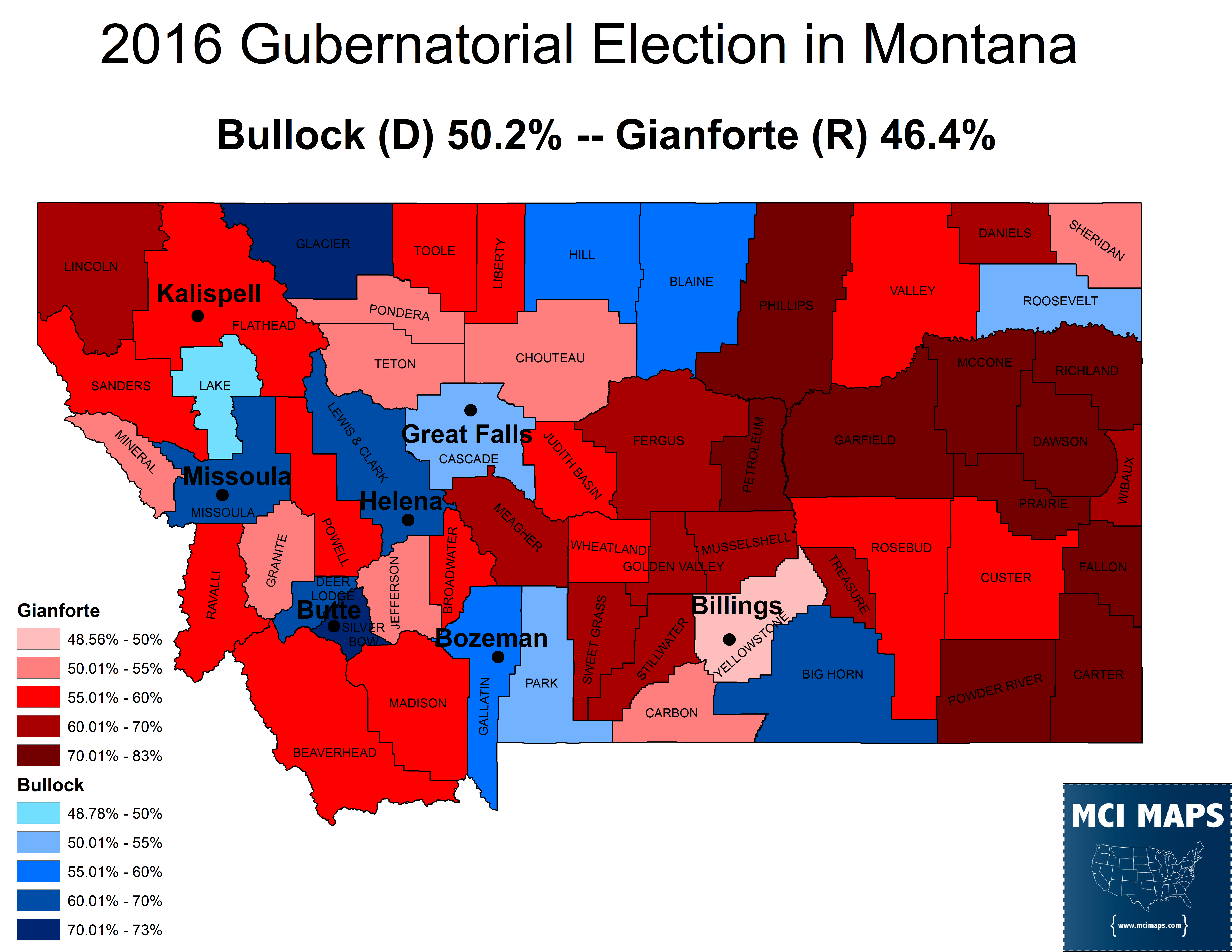 Bullock's win was just by winning more counties, he outperformed Clinton across the state.  Bullock did over 15% better in many counties in the western part of the state, with a very rural counties in the east staying stead-fast GOP.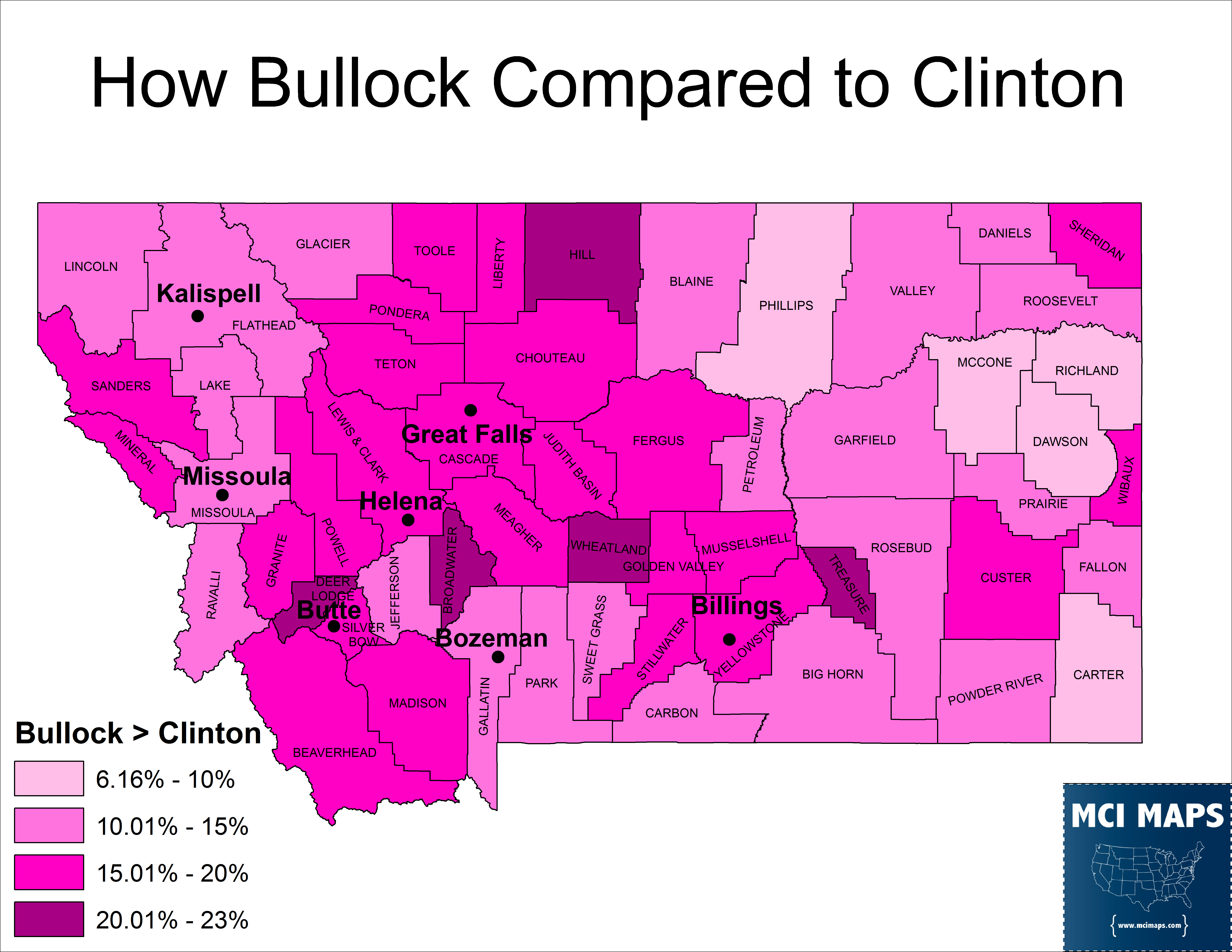 Obama's 2012 run in Montana was not strong, though he did win more counties than Clinton.  His 15 point loss was much weaker than his 2008 run, where he came very close to taking the state.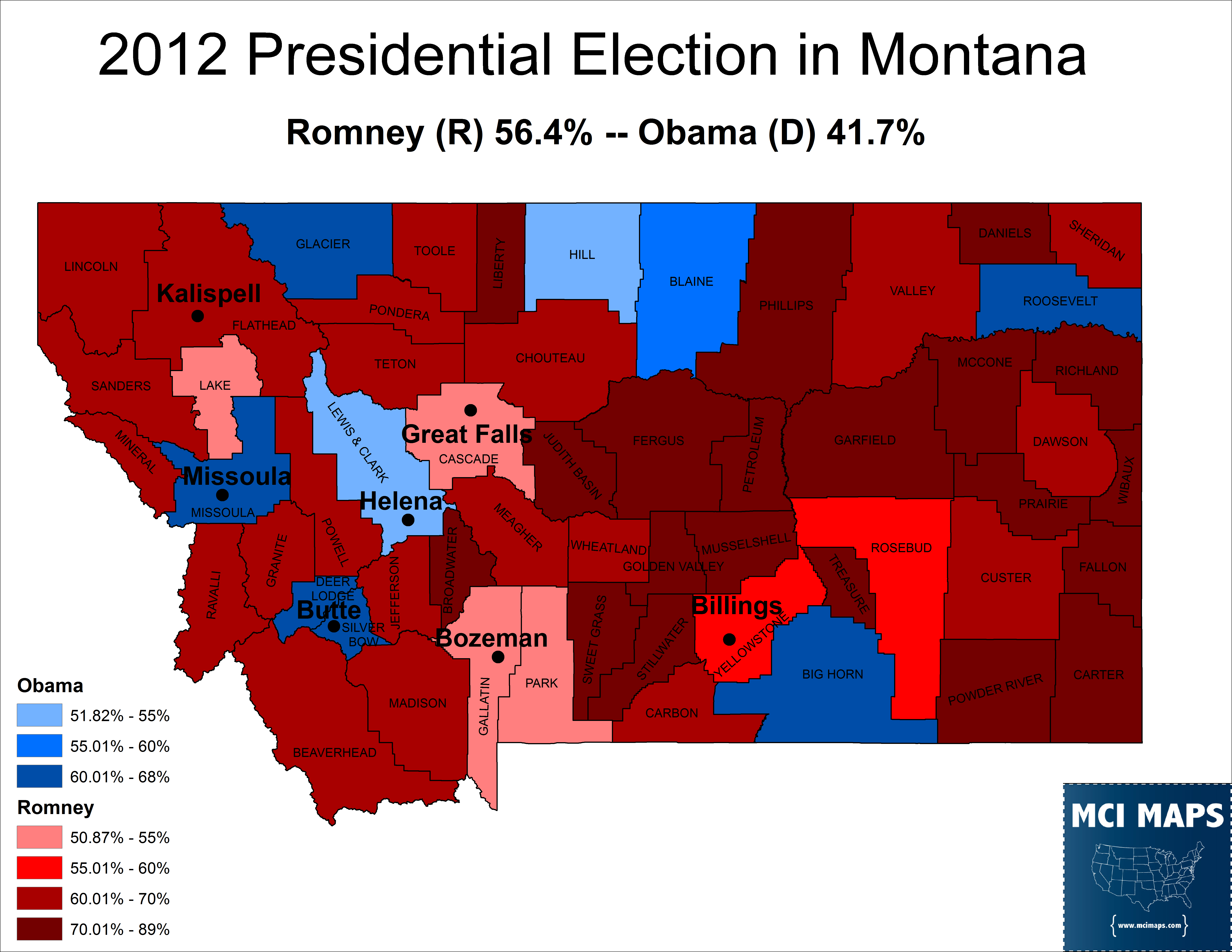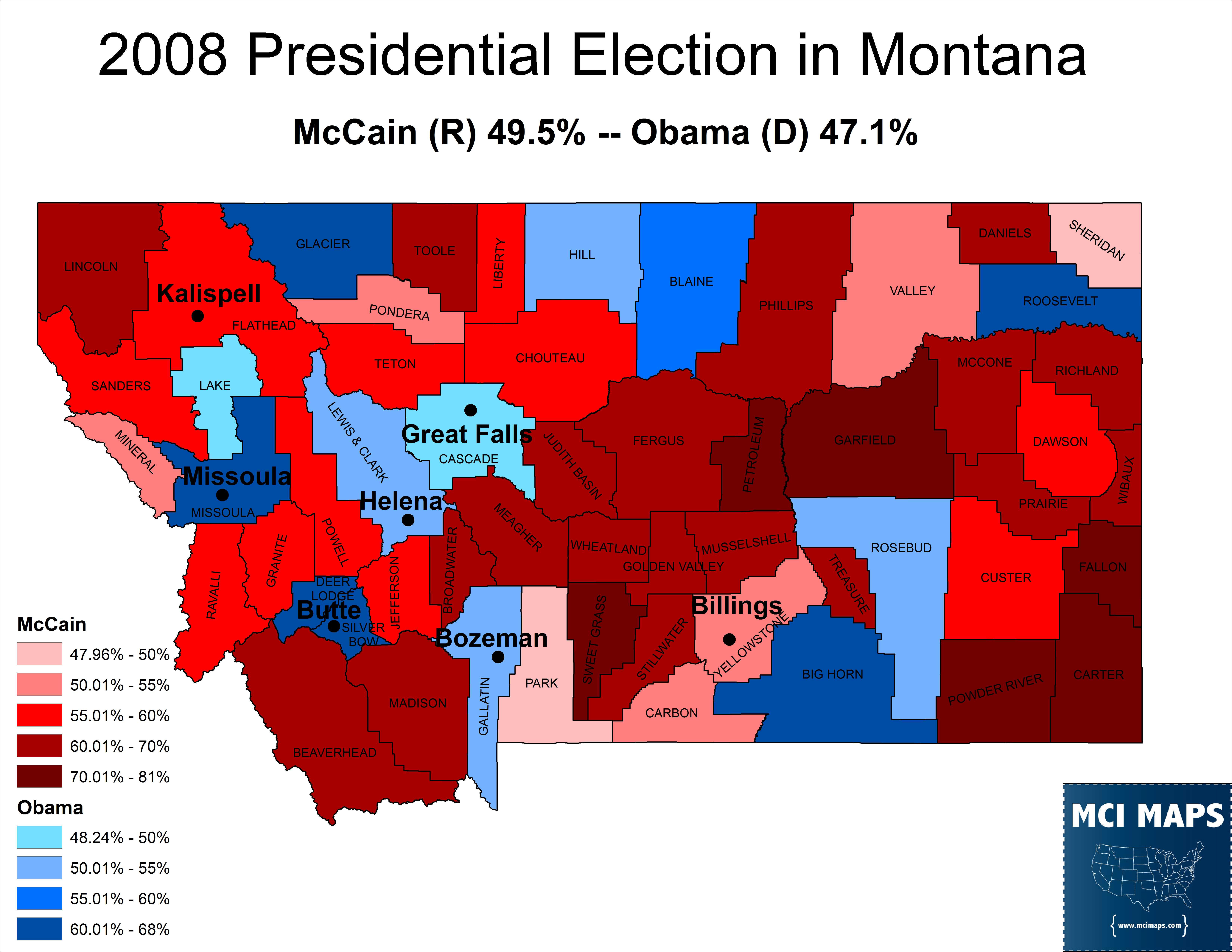 In 2008, Obama won more counties than he did in 2012, but he also had narrower margins in counties he lost.  Like any state, its not just about winning key population centers, but also keeping margins as low as possible in the rural regions.
Below is each county and how they voted in key recent elections, sorted by total votes cast in 2016.  Just a handful of counties control a majority of the vote in Montana.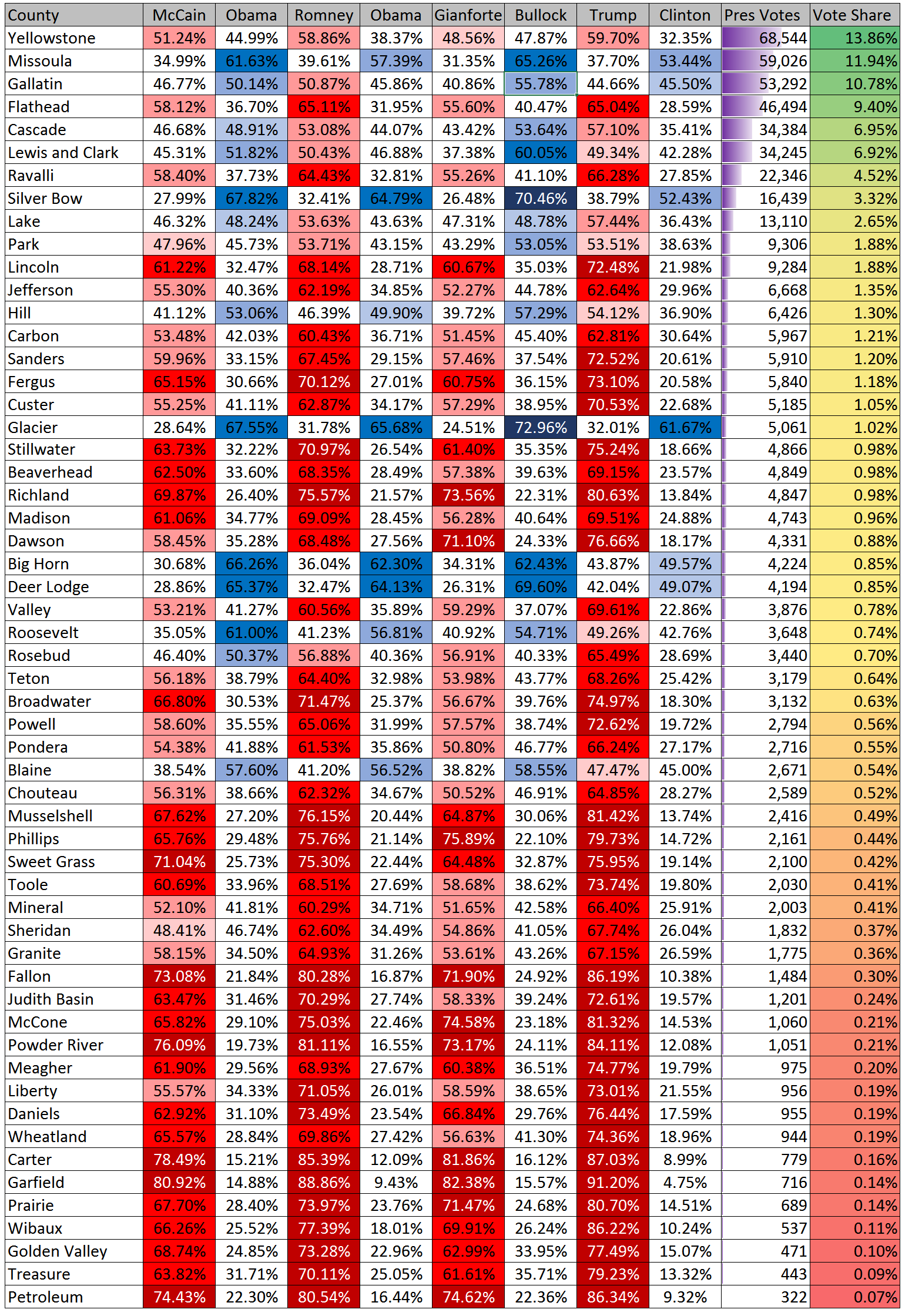 Montana's East-West Split
People who study Montana's politics and culture note a distinct east-west divide in the state.  Eastern Montana is much more rural and like the great plains, losing population every census.  Western Montana, dominated by the Rocky Mountains, is home to most of the states tourist hot-spots.  The region is growing, the site of retirees and young workers, with a growing population.  Population projects show the east continuing to lose population and the west on track to keep gaining people.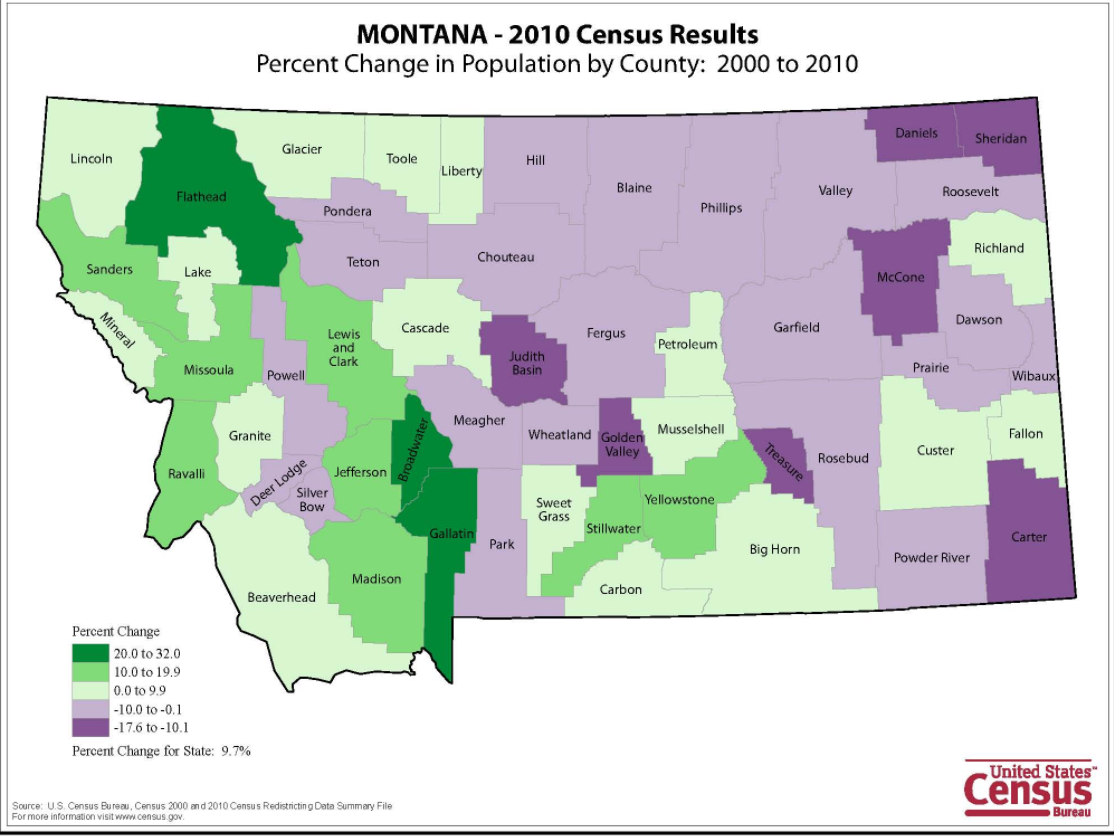 The western portion of the state is also much more educated than the east, with more and more residents holding bachelors degrees.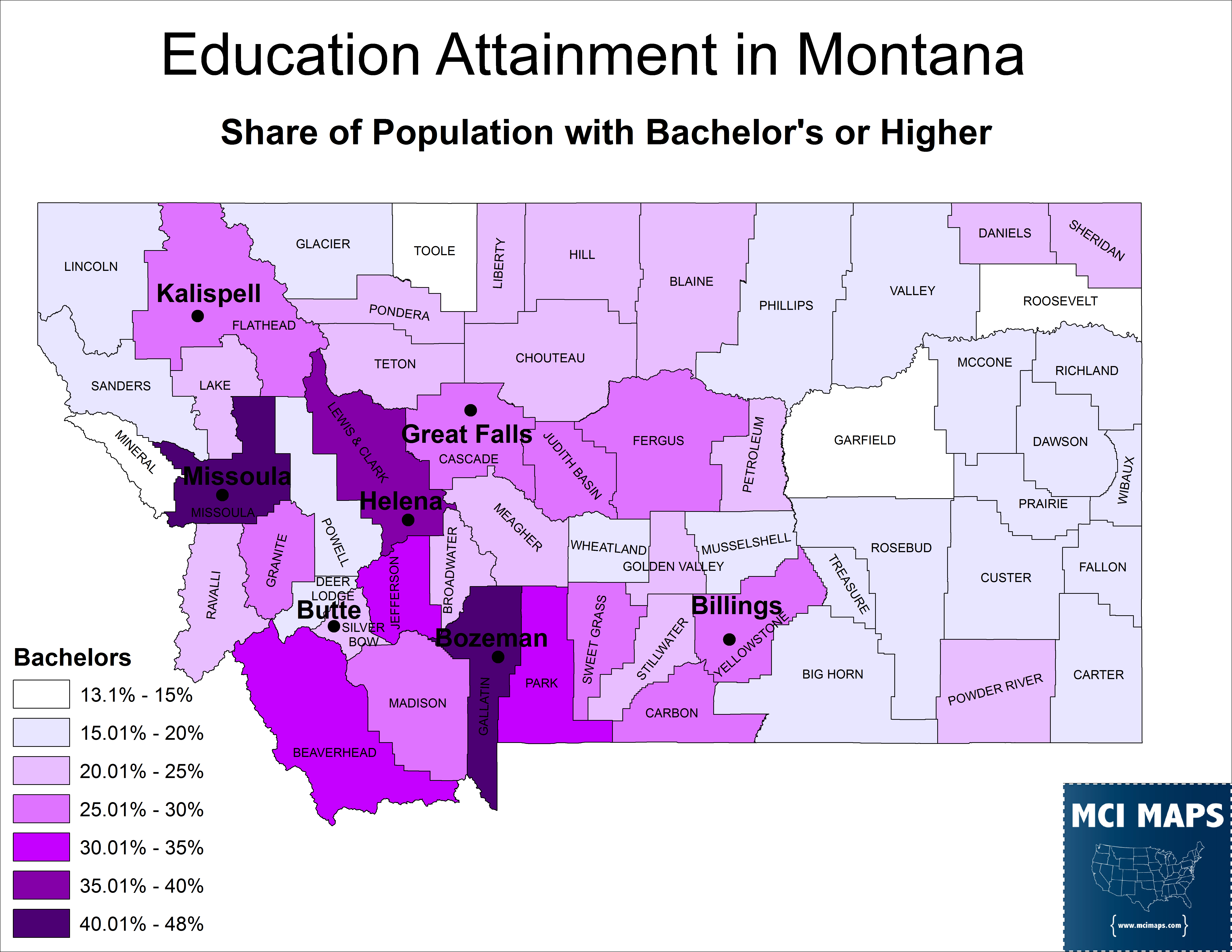 Compare the education map to a map showing how the partisan margin for President between 2012 and 2016 shifted.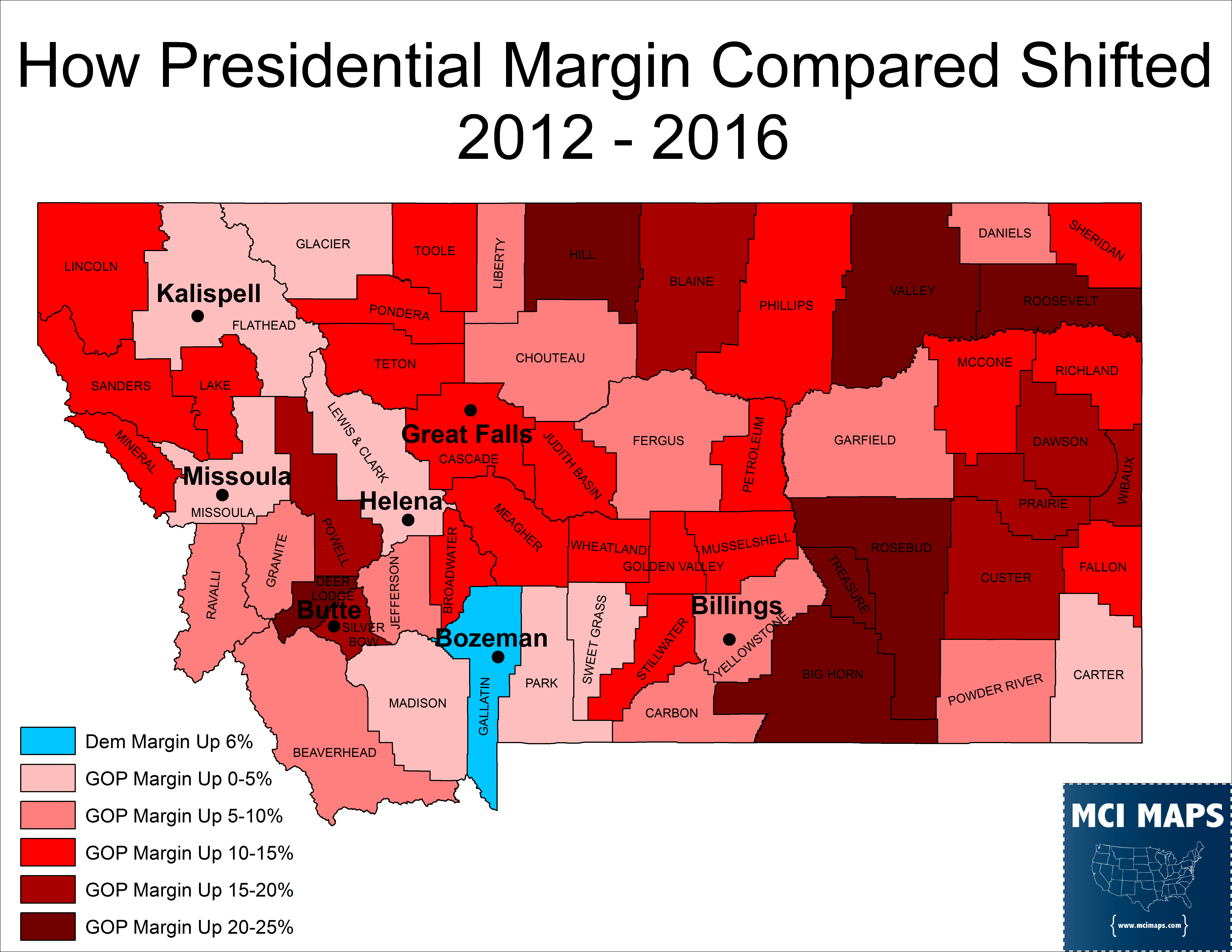 As was seen in the rest of the nation, there was a clear correlation between how the Presidential votes shifted and the education/economy of an area.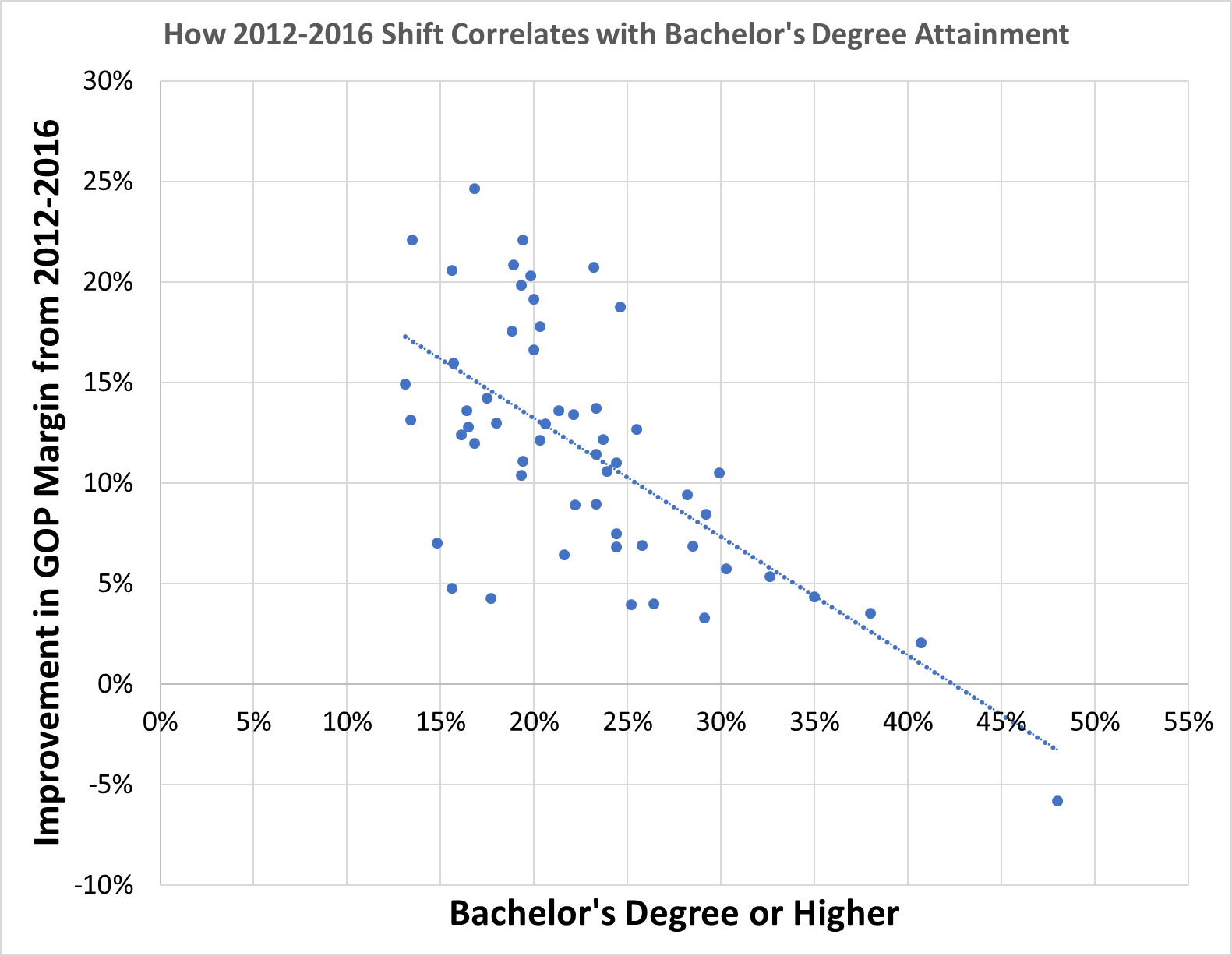 The Democratic margin improved in one county, the one with the highest Bachelor's degree %. The GOP margin, meanwhile, improved in many counties with lower-education, often sites of mines that do or did dot the west (Map from Montana Mining Association).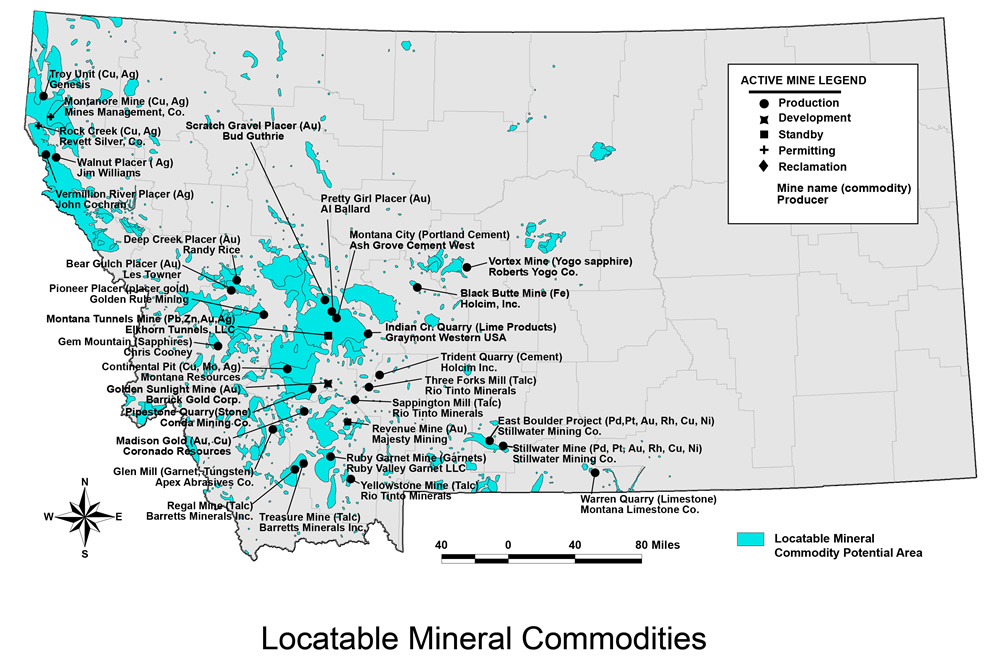 Democrat's weakening in the mining and working class areas are part of a nationwide trend.  While Clinton performed weak in these areas, Bullock managed to do better, aiding his re-election.
The combination of old union, mining towns and a growing educated population have continued a long trend of Western Montana being more Democratic than the east.
Until 1992, Montana had two congressional districts, with the western 1st district held by a Democrat, and the eastern 2nd held by a Republican.  When Montana lost a seat in 1992, the two congressmen went against each-other for that At-Large seat.  Democrat Williams won by a 3% while winning his old district and losing the 2nd.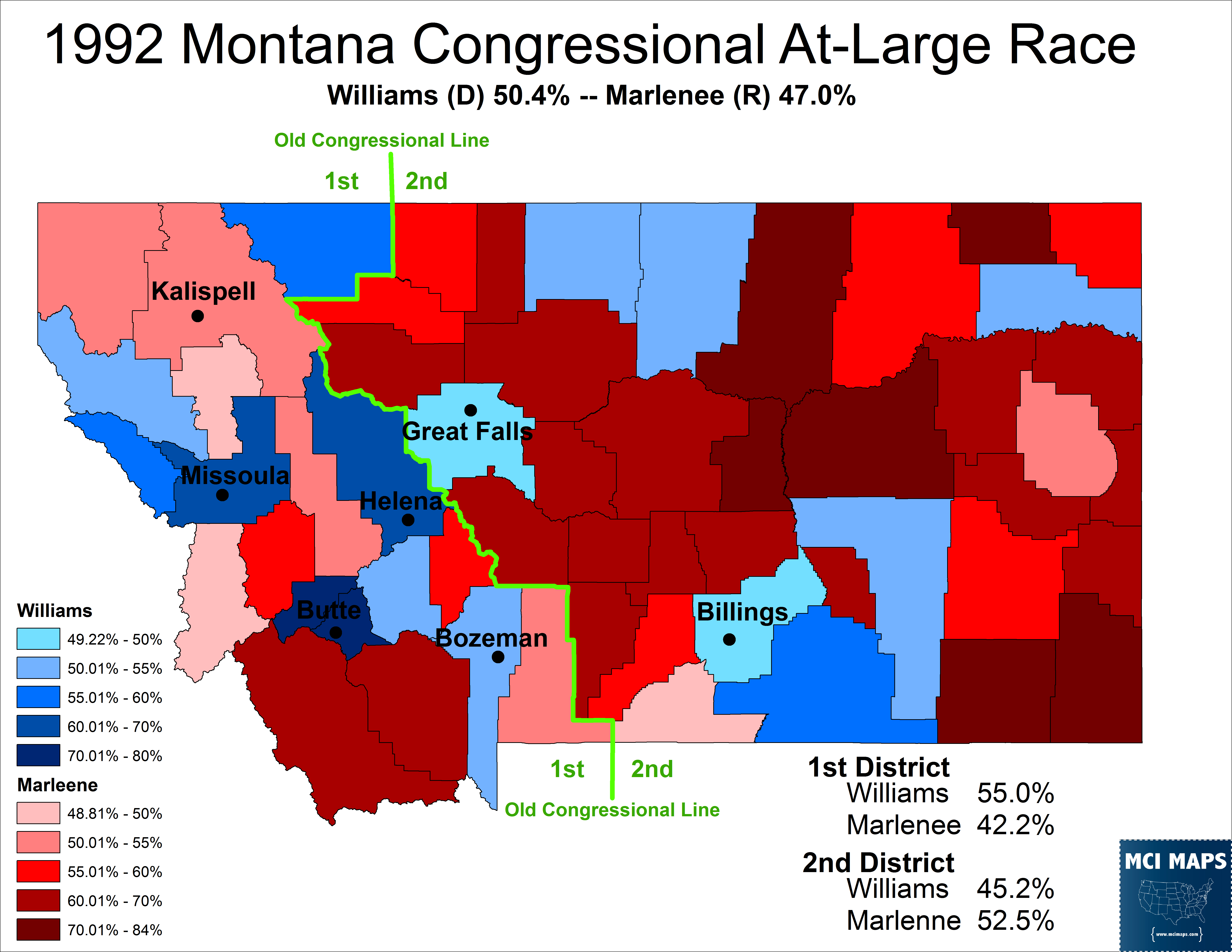 Looking at several recent election in Montana broken down by the old 1st and 2nd district, the political split in the state is clear.  The old 2nd district is solidly Republican while the first leans Democratic.

Clinton under-performed in the West, but tanked by record levels in the east.  Clinton's drop in mining, working-class areas gave her one of the weakest showing in the west for any high-profile race.  Meanwhile, Democratic Senator Jon Tester only narrowly lost in the east in his 2012 re-election.  The east and west often produce large splits in how they vote, but Tester's 2012 win saw the lowest split thanks to his strength in the east.  Democrats may under-perform in the east, but they still can keep things close, as Tester demonstrates.
The east/west split is worth keeping an eye on for the future.  Montana has narrowly missed out on a 2nd district in the last two censuses and still stands in the running for 2020.  A split in Montana could produce a western district more favorable to Democrats.  The line's would be different from 1992 (the west is too over-populated now) — but any western variation (absent an aggressive gerrymander) would be in play for Democrats.
Conclusion
Montana is often written off in the political conversation most of the time, lumped in with deep red states like Idaho or Wyoming.  However, Montana's politics are much more complex than other parts of the region.  The state's east-west divide is real and the state's history of electing Democrats mean nothing can be written off.