The GOP primary for special election in Utah's 3rd district has received very little attention.  More focus has been placed on the Alabama Senate Primary occurring that same day and many politicos and the media are burned out by a flurry of special elections early this year.  However, the special election for Utah's 3rd district, trigger by the resignation of Jason Chaffetz, does offer some key intrigue regarding Mormon voters and their dislike for bombastic President Trump.
The Candidates
Three candidates are running for the GOP nomination.
Chris Herrod – former state representative.  Won non-binding GOP convention, considers himself to the right of Chaffetz, has backing of Senator Ted Cruz.
Tanner Ainge – newcomer to politics, very conservative, handful of endorsements from state lawmakers
John Curtis – former mayor of Provo, didn't vote for Trump, endorsed by Governor Herbert.
A clear dynamic has emerged in the race, Curtis is the more moderate candidate compared with Herrod and Angie.  Herrod is very conservative and used that to win the GOP convention (which often goes a different way than primaries).  Ainge is a standard conservative and is a fresh face (also the son of a famous baseball coach).  Curtis meanwhile has been public about not backing Trump, has the support of his openly gay son; and while his issue positions are generally conservative he also believes in compromise and softer rhetoric.  One bigger issue difference has been on immigration.  Curtis favors allowing folks here illegally to get a pathway to legal status while Herrod favors more deportations.
While hard-line conservatives have been winning more and more GOP primaries, the opposite could happen in the 3rd district thanks to Utah's complicated relationship with President Trump.
Trump's 2016 Utah Problem
Trump's unpopularity in Utah was a sub-plot of the 2016 Presidential cycle.  Mormon voters viewed him with disdain due to his harsh rhetoric and anti-immigrant stances.  Mormon experiences with major persecution during the 1800s has stuck with its followers and made them much more wary of language singling out groups for persecution.  In addition, Mormon missionary work oversees has forged a more accepting worldview on issues like immigration and interaction with the third world.  Trump's campaign platform in addition to his brash personality made it a forgone conclusion he would fair poorly in the Utah GOP caucuses.  Trump instead focused his efforts on winning the Arizona primary that same night.  In Utah, Cruz won with over 69% of the vote, getting every county.  Kasich came in second with 17% and Trump came in last with 14%.
Exact results by congressional district are tricky because unlike primaries, caucus results are not always released at a precinct (or caucus location) level.  Using population splits I estimated that in the 3rd district the results were Cruz 72% to Trump's 11%.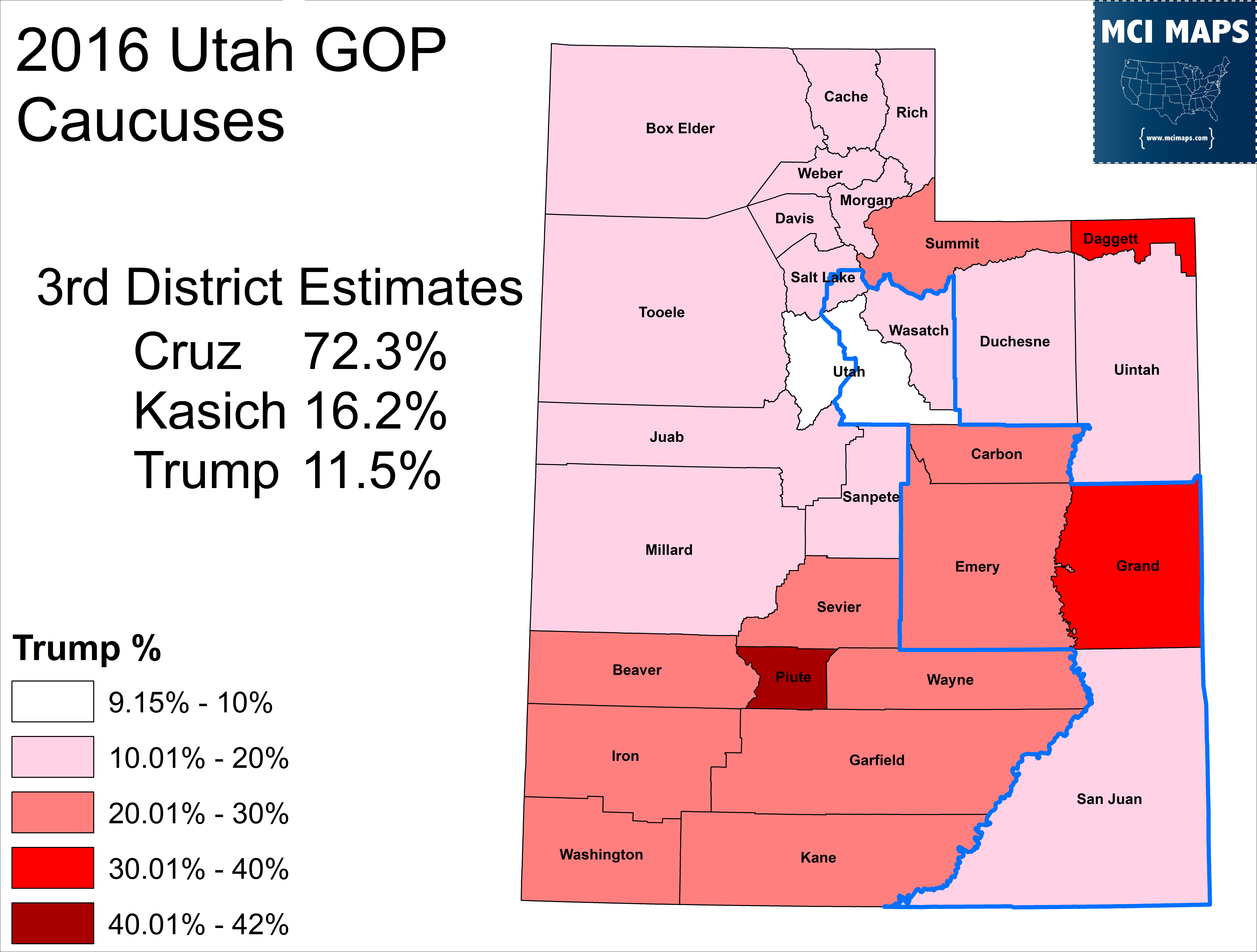 The 3rd is heavily influenced by Utah County, which is over half of the GOP and general election vote for the district.  In addition, over 85% of Utah County's vote is located in the 3rd, and that county was Trump's worst, giving him only 9%.
The 3rd is actually likely more Mormon than the state is thanks to the influence of Utah County.  Just under 70% of the district is Mormon compared to the 63% statewide.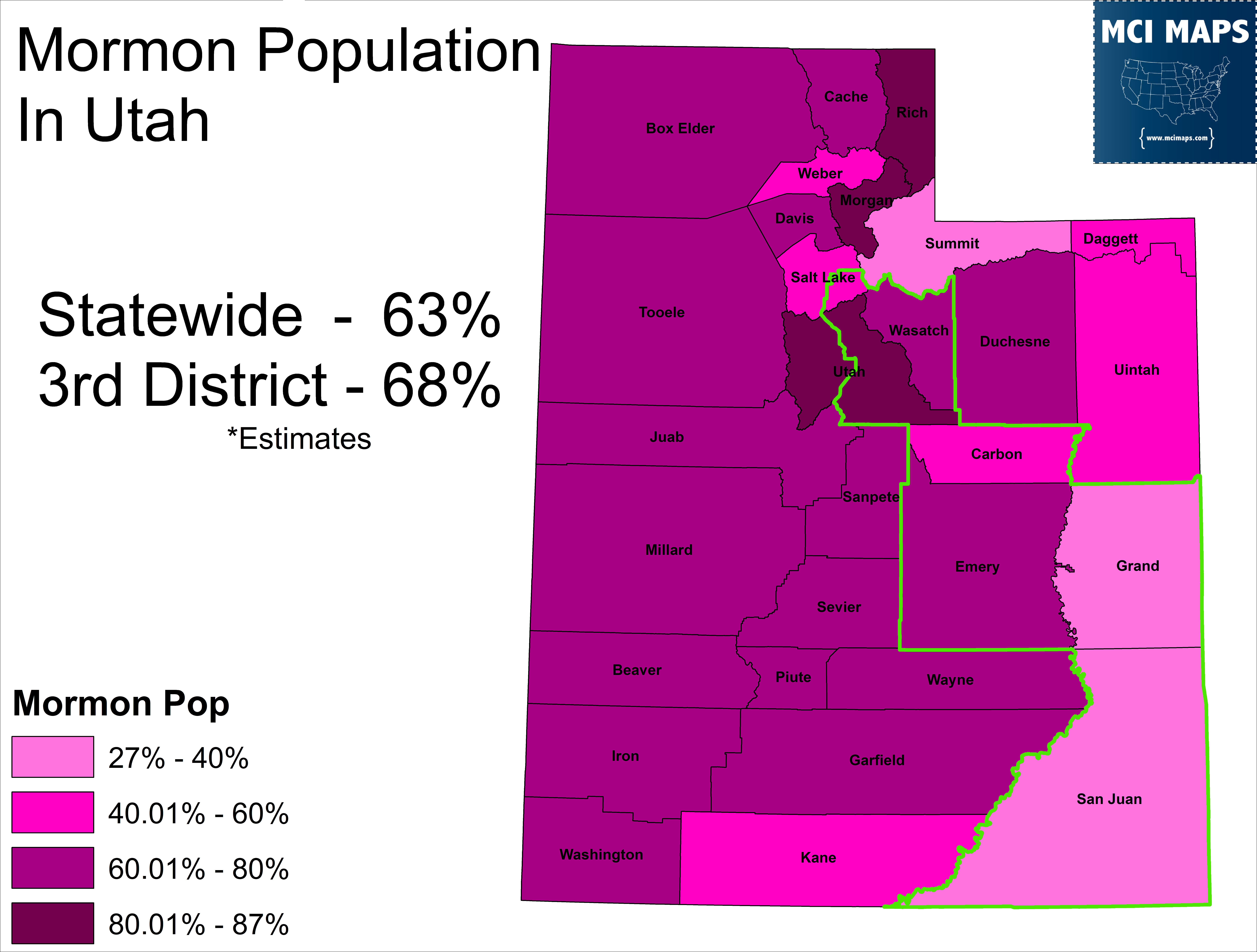 While the district's size is notable, the district's voting power is almost entirely placed in Utah and Salt Lake Counties.  Most of the remaining counties are very rural and sparsely populated.  In the GOP primaries later that year, over 88% of the vote came from just two counties.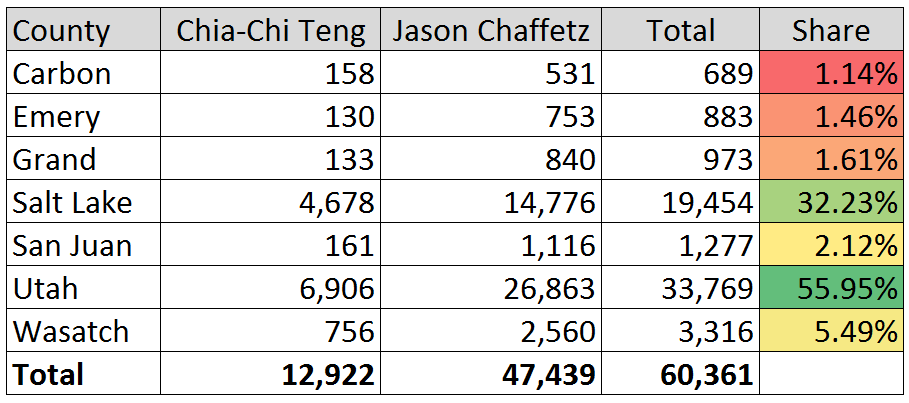 The GOP Split in the General Election
Trump performed terribly in the Utah caucuses, but poor nomination showings don't always foretell a bad general election.  After all, the party faithful often come together.  However, in the case of Utah, that dynamic was complicated by the unique issues around Mormons and the presence of Evan McMullin.  McMullin was a conservative GOP staffer as well as a Mormon who attended Brigham Young University years back.  He launched and independent bid as a "true conservative" alternative and was on the ballot in Utah.  I wrote about McMullin's rise in Utah, where he began to poll in in the low 20s and speculated on where he could do best.  Heading into the election both Trump and Clinton had extremely high unfavorable ratings with Mormon voters and Utah voters overall.  McMullin was polling over 30% of the Mormon vote, a group normally 70-80% GOP.
McMullin's vote share was almost exclusively coming from GOP voters.  Clinton's vote share stayed roughly the same as Democratic candidates for Governor and US Senate on the ballot that same year.  McMullin managed 21% of the vote in Utah, the highest showing for a third-party candidate in decades.  In the 3rd district he did even better, 24%.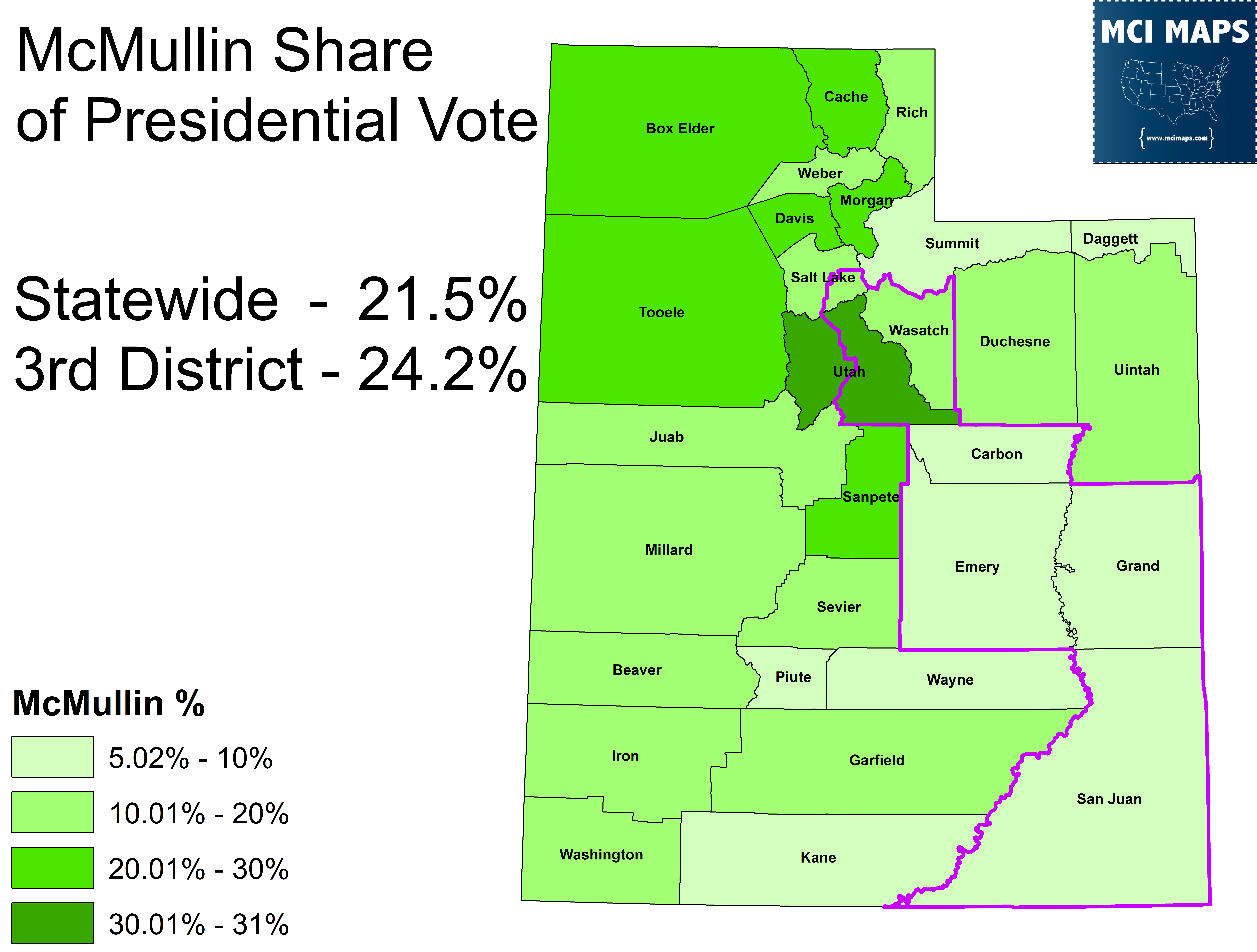 McMullin's best showing was Utah County, one of the most Mormon counties in the state.  McMullin got 30% of the vote there and won the precincts around Brigham Young University.  This was a county GOP candidates routinely get over 75% of the vote in but Trump only managed 51%.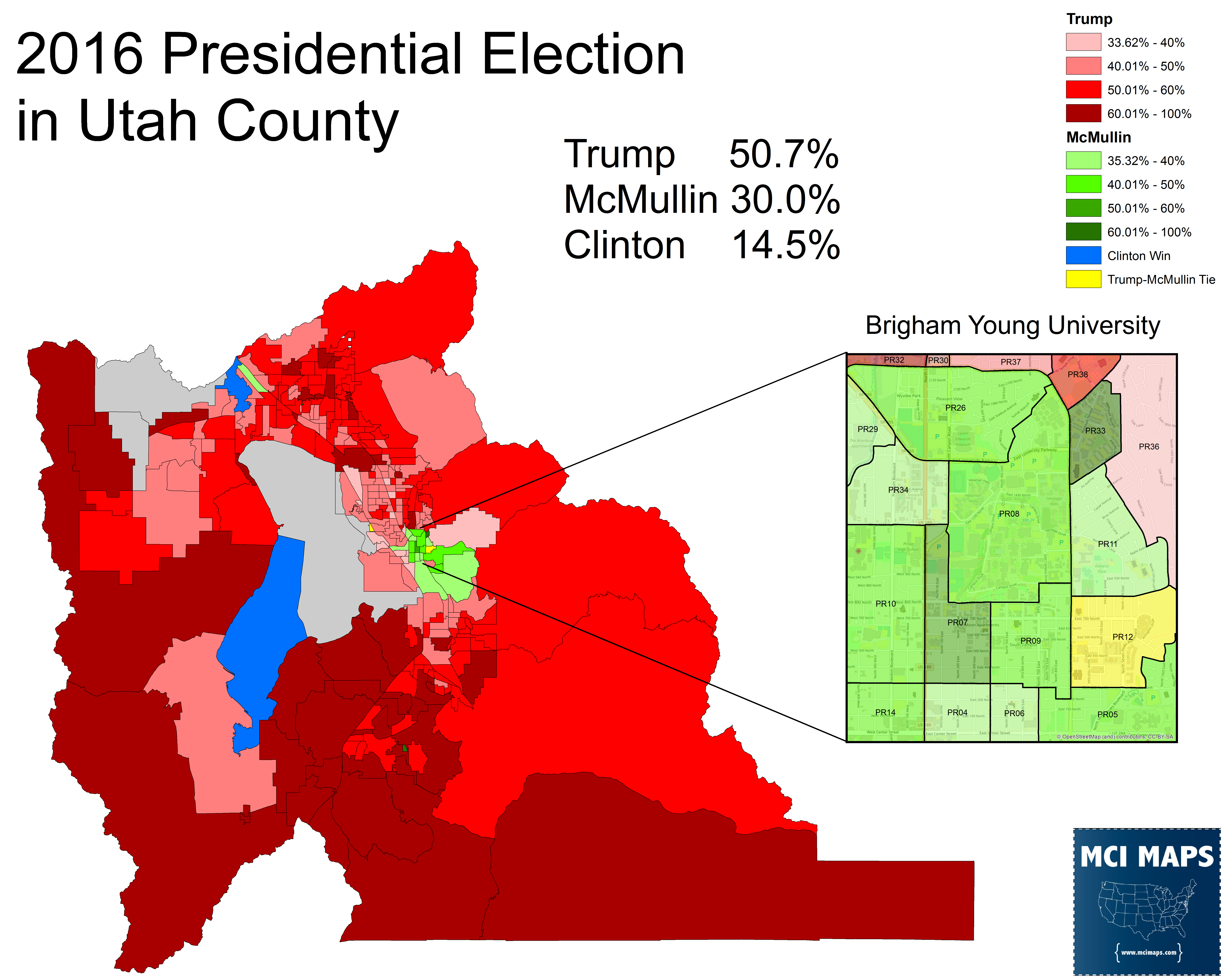 The final vote in the 3rd district was 47% Trump 24% McMullin and 23% Clinton, making this McMullin's best district in Utah.  Clinton had pockets of support in Salt Lake County and in the Navajo reservation on the southern end of San Juan.  Trump won solid in the rural counties like Emery and Carbon but had lighter wins around Utah county.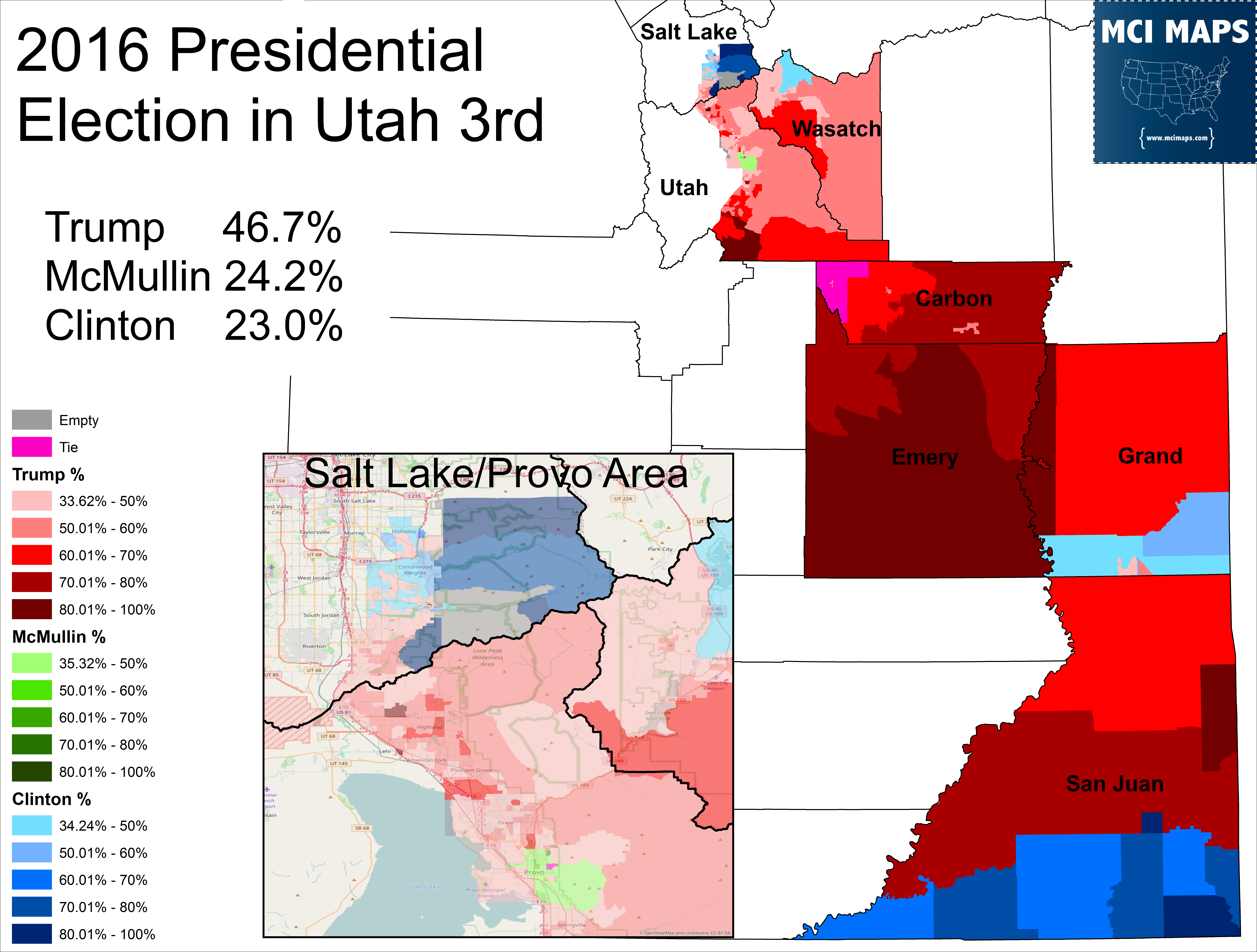 Compare the Presidential Race to the Senate race, where Lee got 73% of the vote, and we see Utah and Wasatch county in dark-red. Lee also won plenty of Salt Lake precincts that Clinton got plurality wins in.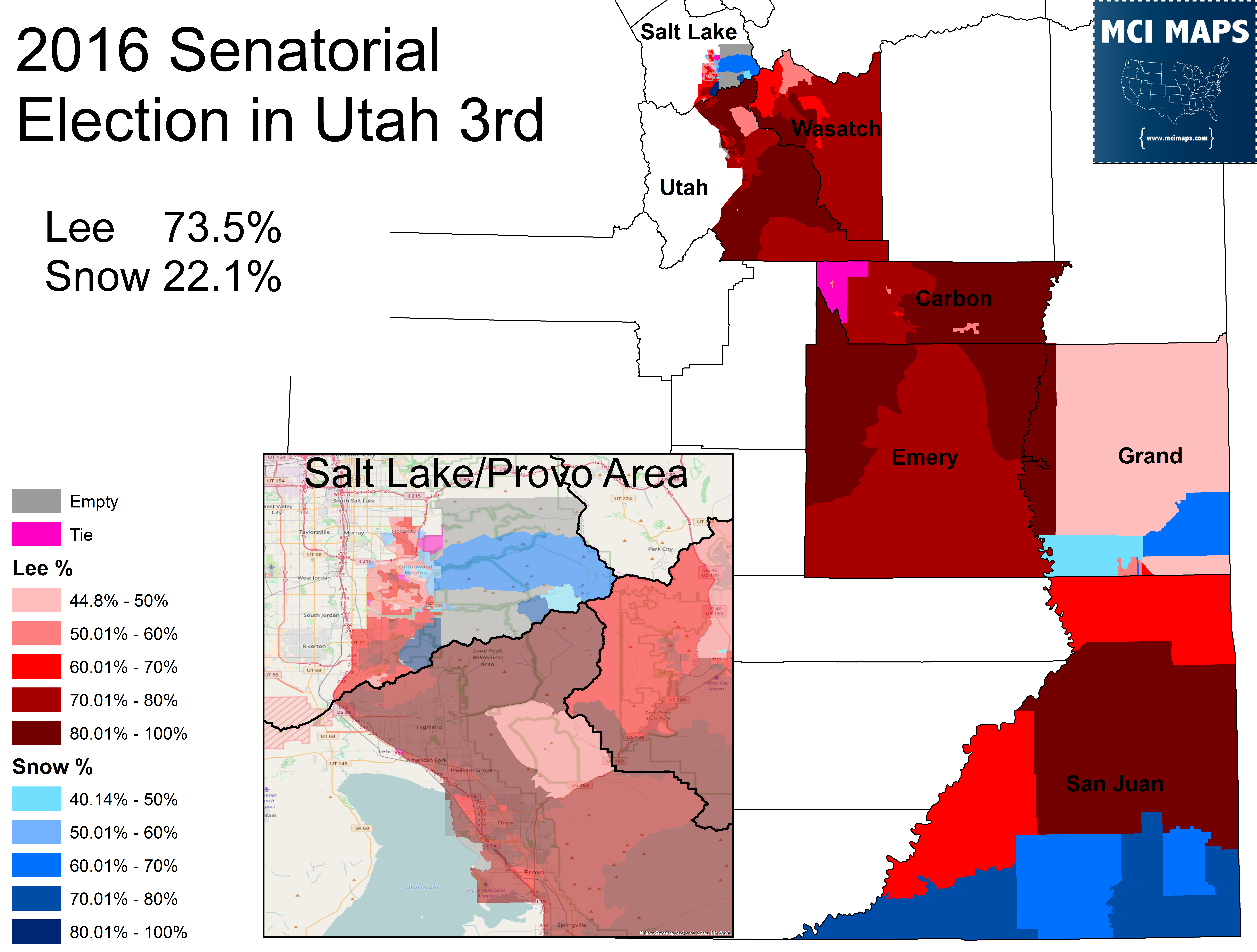 The map below compares Trump and Lee shares of the vote.  The differences were more modest in the rural counties, with Trump doing better in some precincts.  However, the gap is much more notable in the northern end of the district.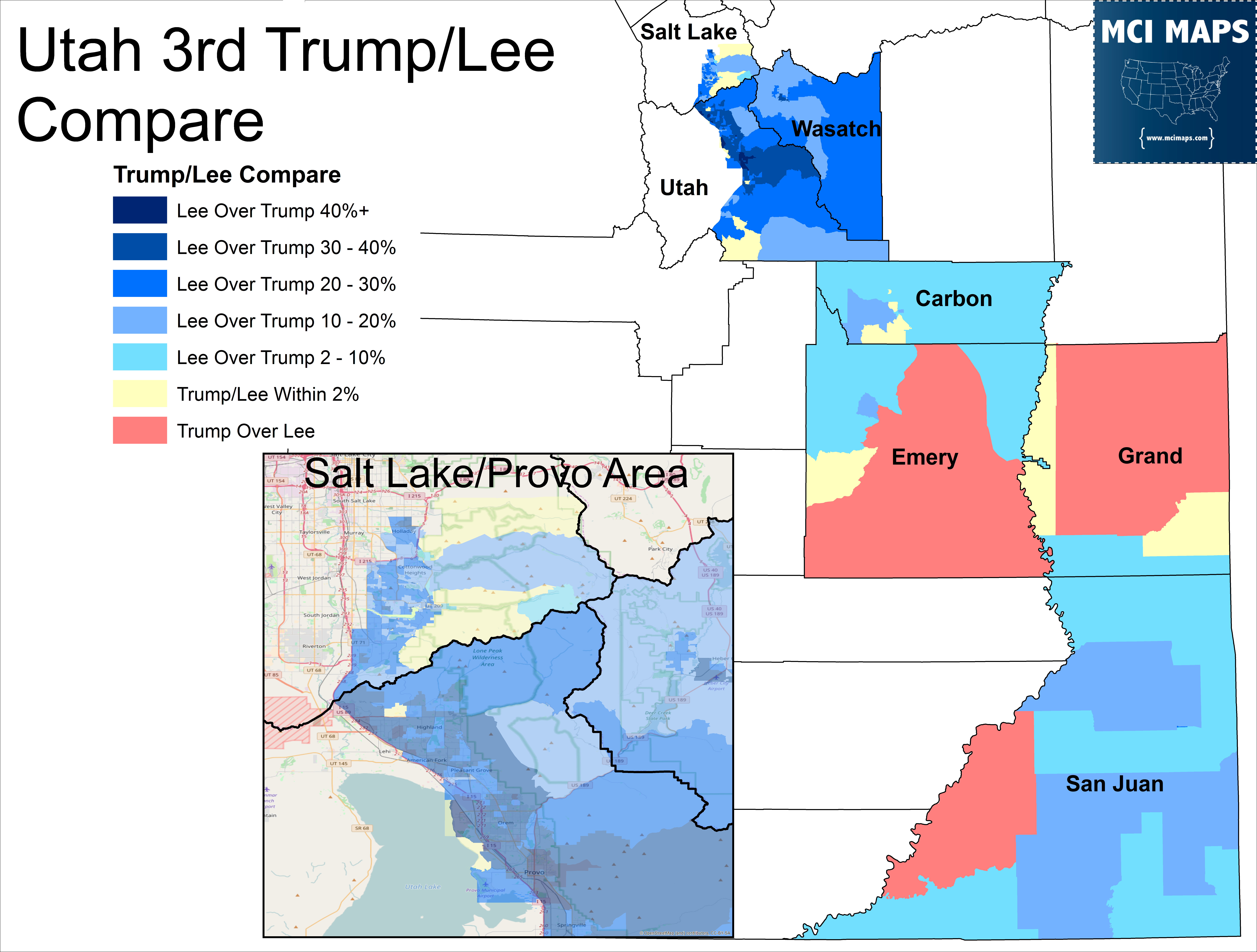 Over 88% of the general election vote came from Utah and Salt Lake counties, making them the drivers not only of GOP primaries but general elections.  While some of the rural counties stayed GOP up and down ticket, the largest counties saw large splits between Trump and Lee voters as many conservative Mormon's went to McMullin.

It should also be noted that in the City of Provo, where Curtis was mayor, the Presidential vote was 39.5% Trump, 34.9% McMullin, and 19.2% Clinton.  In the Senate race Lee got 77.5% of the vote — a 38 point difference.
Conclusions
The 3rd district of Utah saw a large anti-Trump vote from Mormon's thanks to the man's style and demonizing.  The primary hasn't really devolved into a campaign over support for Trump, though there have been attacks on Curtis.  All candidates for the primary have expressed some reservation about the President and largely tried to focus on issues around the district.  However, Curtis, who openly admits he did not vote for Trump, and served as Mayor of Provo, still stands out as a McMullin-style conservative.  Who is actually showing up in a likely low-turnout special will have a bigger impact on the race than anything else.  If Curtis does win though, he will fit in with a district that expressed serious concern with the current President despite sharing the same party.