In mid-to-late 2013, Pat Quinn was being written off for re-election.  His approval was in the 20s or 30s, and a primary challenger seemed likely to knock him off before he even made it to the general elections.  Now, in late October of 2014, Quinn seems to still have some life left in him.  Polling is close, and Quinn has benefitted from a flawed opponent.  What is so striking about this development is that the exact same thing happened four years ago.
2010:  Pat Quinn's Miracle Act
Pat Quinn assumed the governors mansion under infamous circumstances.  His accession to the top position of the state's government was thanks to the impeachment of Governor Rod Blagojevich for his attempts to sell the US Senate Seat of Barack Obama, who had recently won the 2008 Presidential election.  Quinn, the Lt Governor, became Governor with the impeachment and removal from office.  Quinn and Blagojevich had a bad working relationship and Quinn was not found to be involved in Blagojevich's dealings.  Quinn, hence, got a fresh start.  However, Quinn's time as governor has not been pleasant.  Quinn assumed the governorship in 2009, amid a worldwide economic crash.  Quinn and the Democrat-dominated legislature faced tough decisions in the rough economy and a requirement to balance the budget.  The result was the always-unpopular combination of service cuts and tax increases.  Quinn's approval quickly began to fall as he failed to sell the public on the need for tough decisions during a bad economy.  Quinn quickly found himself with a primary challenger from Democratic Comptroller Dan Hynes.  Hynes attacked Quinn for his income tax increase (which was flat across the board) and instead proposed a graduated income tax (popular with liberals) and to cut the state bureaucracy (popular with independents and conservatives).  Hynes posed a real threat to Quinn leading into the February 2010 primary.  In addition, five Republicans were gearing up for a chance to take back the governorship they had held during the 1990s.
Quinn started off well ahead of Hynes in the polls.  However, as election day neared, Hynes began to surge in the polls and was one point ahead of Quinn.  However, after all the votes were counted, Quinn managed to pull off a narrow win.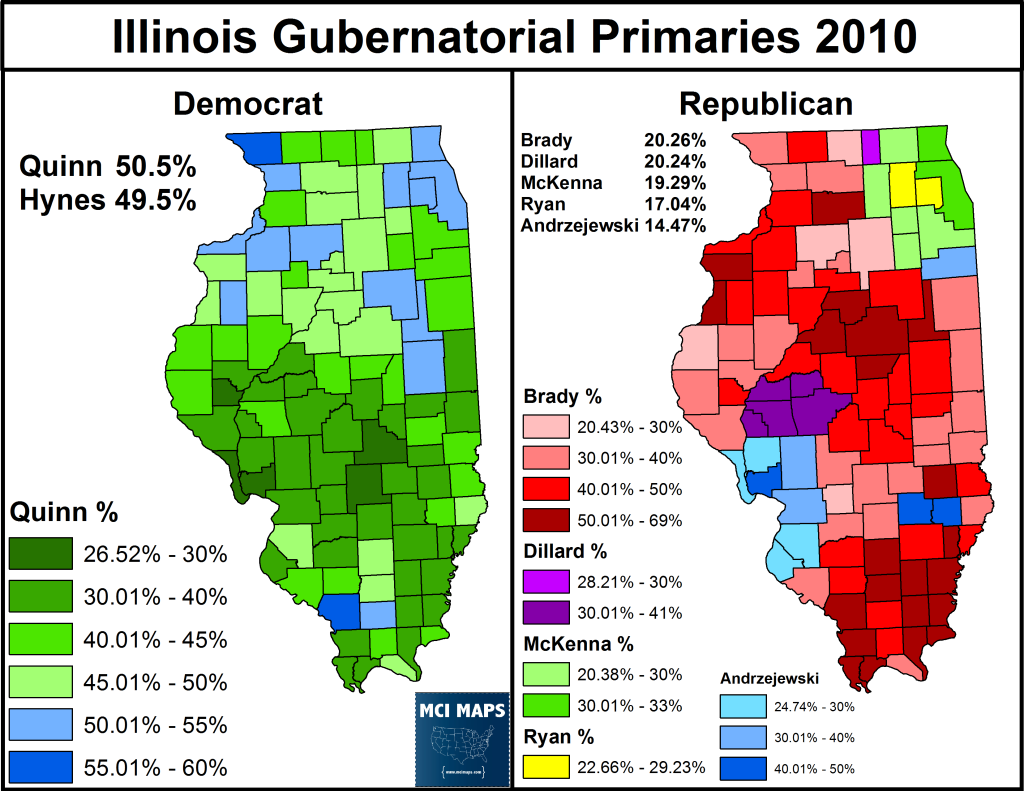 Quinn won by 1% despite losing a vast majority of the counties in the state.  His wins in Cook County were what ensured his victory.  Meanwhile, on the Republican side, conservative state Senator Bill Brady managed to beat moderate state Senator Kirk Dillard by just a few hundred votes in a close five-way Republican primary.
Quinn's win was entirely thanks to Cook County.  Quinn used the Chicago political machine (which as governor he controlled) to ensure a major victory in area, enough to override Hynes' downstate wins.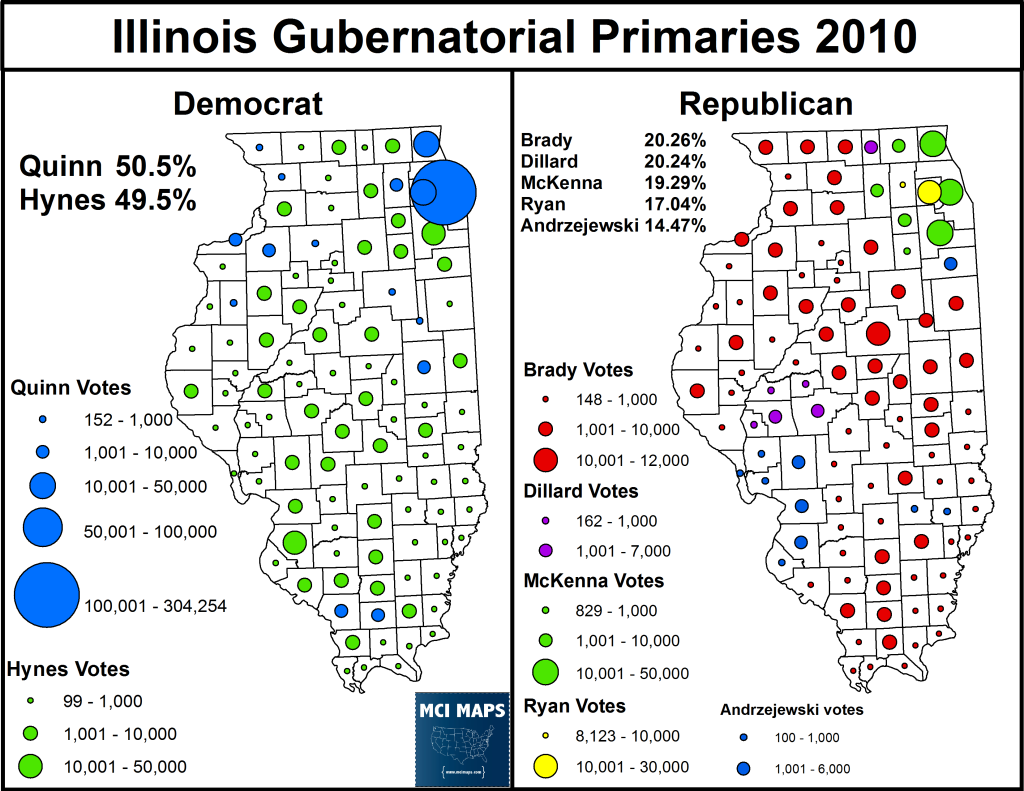 The primary results set Quinn up against Bill Brady in the general election.  Quinn seemed like a decided underdog in the race.  Brady was very conservative, but 2010 was rapidly becoming a republican year and Quinn's approvals were underwater.  In addition, Quinn's campaign had a major problem when Scott Lee Cohen, who was Quinn's running mate, made national headlines.  Scott Lee Cohen was a millionaire Pawn Shop owner who had financed his campaign to win the Democratic primary for Lt Governor.  Under Illinois law, the Governor and Lt Governor nominees win their party primaries, then run on the same ticket in the general election.  This arrangement is often referred to as a "shotgun primary" since both the Lt Governor and Governor nominees have no say who they run with.  Cohen, having won the primary, would appear next to Governor Quinn on the general election ticket.  However, Cohen's history of domestic abuse towards his girlfriend and ex-wife soon became national stories.  The ensuing controversy caused Quinn tremendous trouble.  Eventually, under heavy pressure from the state Democratic Party, Cohen dropped out as the Lt. Governor nominee.  However, Cohen would later announce he intended to run for Governor as an independent.
Quinn also suffered from a green party candidate being on the ballot.  Rich Whitney, the green party candidate for Governor, had received 10% of the vote in 2006 when Blagojevich beat a second-tier Republican challenger.  With Quinn's budget cuts unpopular with Democrats, there was a real worry that liberals would vote for Whitney and cost Quinn needed votes.
Quinn spent the 2010 cycle hammering Brady.  Brady's extreme conservatism on social issues conflicted with a majority of Illinois voters.  Brady was hit for extreme abortion views (opposing it even in cases of rape and incest), his opposition to gay rights, and his support to quicken the euthanasia of dogs in animal shelters.
Quinn managed to narrow the gap with Brady. However, he was still down heading into election day.  Brady averaged at 45% to Quinn's 39%.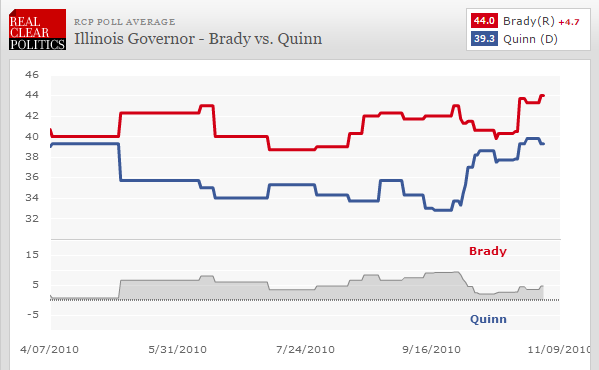 When election day arrived, it was already clear it would be a bad day for Democrats.  The rough economy was blamed on the party in power (as is the political tradition).  Democrats across the state and country lost their re-election bids.  Republicans won the open US Senate seat in Illinois, and five democratic congressmen in the state lost re-election.
However, when all the votes were counted, Quinn actually won re-election, defying all political odds.  The feat was especially notable considering that same night Republican Mark Kirk won the US Senate seat in the state.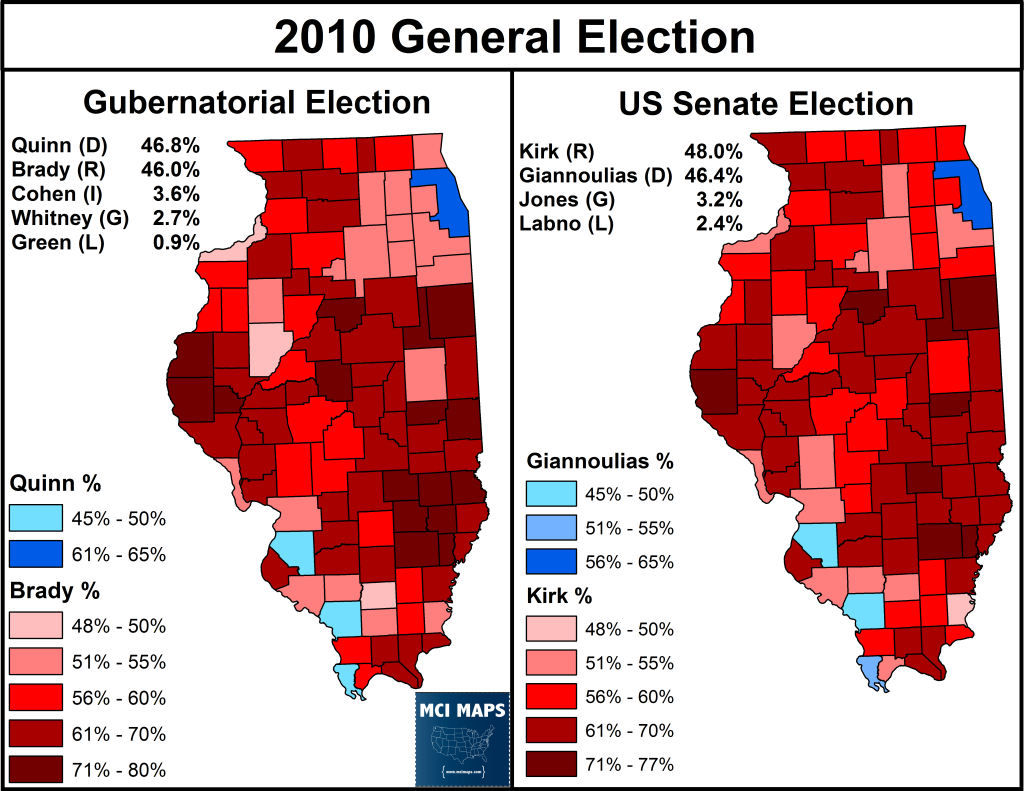 Both Quinn and Democrat Alexi Giannoulias won just four counties.  However, Cook county's enormous population kept both democrats in play.  Quinn won thanks to divided opposition, getting only 46.8% of the vote to Brady's 46%.  Meanwhile, Democrat Alexi Giannoulias lost with 46.4% of the vote to Congressman Mark Kirk's 48%.  By election day, Quinn had convinced voters that Brady was too conservative for the state.  Many of the voters who disliked both candidates appear to have gravitated toward Cohen.  This actually worked in Quinn's favor, as it ensured the anti-incumbent vote did not entirely gravitate toward his Republican opponent.  The presence of a libertarian candidate, who got 1%, also further siphoned off right-wing votes from Brady.  In addition, Quinn managed to hold onto enough liberals to keep the Green candidate from getting more than 2.7%.  Quinn's relentless attacks on Brady, trying to shape the race as an ideological battle, no doubt helped Quinn sure himself up with liberals who may have had issues with him, but who feared a Brady win.  On the Senate site, Alexi Giannoulias suffered from facing off against a moderate Republican who was much less offensive than Brady.  In addition, Giannoulias lost 3.2% of the vote to the green candidate– something likely aided by the fact Giannoulias had old ties to the bank system that had lead to the near economic collapse, an issue that didn't sit well with liberals (or any voters).  By the time of the election, Giannoulias had managed to make Kirk unpopular as well.  However, with fewer third party options to siphon off anti-democratic votes, Kirk managed to get 48%, winning the election.
Quinn's re-election was a political shocker and one of the few bright spots for Democrats in 2010.  However, Quinn was clearly wounded.  A 2014 campaign seemed like a stretch unless his approvals recovered.
The 2014 Election
Quinn entered 2013 in a very precarious position.  His approval was in the 20s/30s and a primary challenger seemed likely.  Quinn lucked out when Illinois Attorney General Lisa Madigan opted not to run.  Madigan is a very popular figure in the state.  However, she maintains she will not run for Governor as long as her father remains speaker of the Illinois House of Representatives.  Quinn next biggest primary threat was William Dailey, the former Obama Chief of Staff and brother to former Chicago Mayor Richard Dailey.  Dailey seemed poised to challenge Quinn, however he opted out suddenly in late 2013.  With no serious primary threats left, Quinn won re-nomination against an underfunded challenger, Tio Hardiman.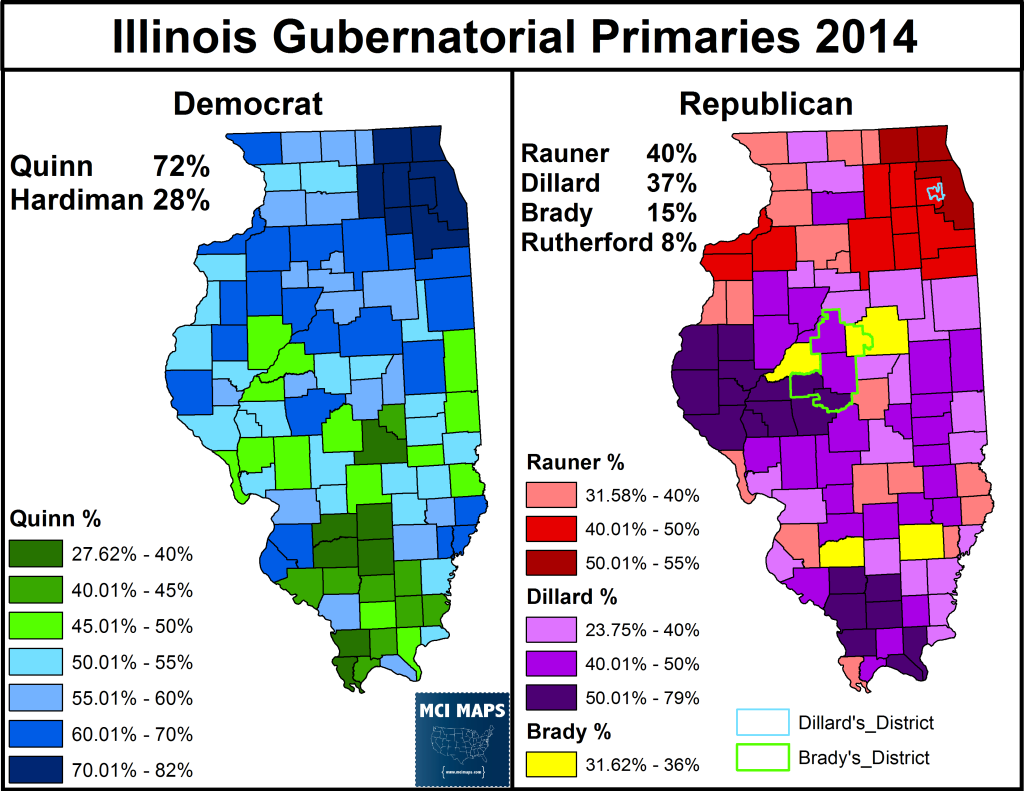 Quinn's re-nomination win was weak for an incumbent against a second-tier challenger.  Quinn still lost several downstate counties.  Quinn's statewide margin was fueled by Cook County and the Collar Counties (counties that surround Cook, making up its exurbs and suburbs).
On the Republican side, businessman Bruce Rauner, who spent $6 million of his own money in the primary, narrowly edged out State Senator Kirk Dillard.  Rauner is socially liberal (pro-choice and pro-same sex marriage), but is very fiscally conservative and a major critic of public sector unions.  The labor unions of Illinois encouraged Democrats to vote in the Republican primary (Illinois primaries are open) for Kirk Dillard, who has long been pro-union.  The unions have been angry with Quinn for his cuts to pensions and his pushing for concessions to pay and benefits in order to balance the state budget.  The unions, likely sensing Quinn's political trouble in the general election, wanted to ensure a pro-union Republican in the general in case Quinn lost.  In fact, had Dillard won, it would have been interesting to see if the unions would have even bothered to help Quinn.  However, with Rauner winning the nomination, the unions have pledged support for Quinn.
With Rauner as the nominee, it appeared Quinn was in major trouble.  Rauner's social liberalism took away a key point that dragged down Brady in the 2010 election.  Polls started off with Quinn consistently down against Rauner.  However, the Republican nominee repeatedly inflected wounds upon himself to the benefit of Quinn.  Rauner, a wealthy businessman, has done a poor job of relating to average Illinois voters.  Rauner's public opposition to the medicaid expansion in the state, and opposition to raising the minimum wage, have allowed Democrats to portray Rauner as a greedy businessman who does not care for the working class.  In fact, Rauner earned even worse headlines when he came out in favor of REDUCING the state's minimum wage by $1. Rauner further dug himself into a hole when he froze up during a forum when asked how many Illinois jobs his company had created.  The problems of Rauner are similar to those Romney faced in the 2012 election.  While Quinn is viewed unfavorably by voters, Rauner now also carries signifcant baggage.  Polling shows voters are torn between wanting a reformer (and those people favor Rauner) and those wanting someone who can relate to them (and those people favor Quinn).
Thanks to Quinn's relentless attacks on Rauner, and Rauner's own self-inflicted wounds.  Quinn managed to take the lead in the polls by September.  However, Rauner appears to have closed the gap in recent weeks.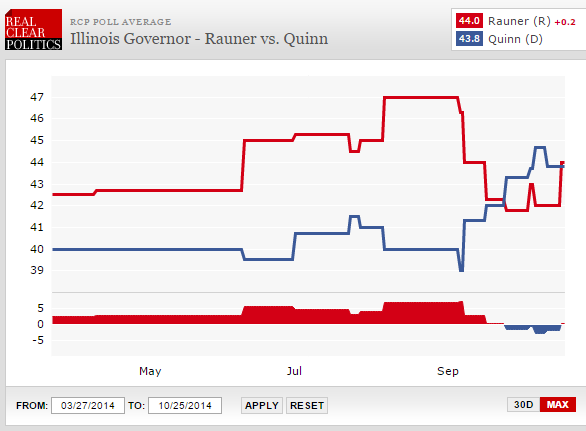 Quinn is essentially tied with Rauner.  However, there is reason to believe Quinn may be a slight favorite.  First, Quinn does not have to worry about a green party candidate siphoning off liberal votes.  Only three candidates appear on the ballot, the Democrat, the Republican, and the Libertarian.  This brings us to the second point.  The libertarian is more than likely to attract conservative voters who do not like Rauner's support for abortion and same-sex marriage.  Yes this is ironic considering libertarians share Rauner's view on this issue.  However, libertarians have routinely been a source of conservative protest votes.  The irony is indeed rich.  The same labor unions that backed Dillard in the primary have also committed to put in six figures to prop up to the libertarian candidate at Rauner's expense.  Quinn's hope is that moderates/independents who disdain him opt to vote for the libertarian instead of voting for Rauner, who has likely angered them with his economic rhetoric.  Quinn doesn't need 50% on election day.  He just needs enough of those unhappy with him to cast a vote for the libertarian instead of Rauner.  Quinn's relentless attacks on Rauner are part of that strategy.  He can't make the voters like him, he just needs to make Rauner an unacceptable alternative.  With the libertarian polling around 4-6% (the libertarian got 1% in 2010), it appears the strategy is having some effect.  If election day comes and the libertarian is siphoning off social conservatives and dissolution's moderated, Quinn will be re-elected.
Conclusions
Quinn's elections while Governor have been especially interesting.  By all accounts, Quin, who only became Governor due to his predecessors indiscretions, should have been politically dead on many occasions.  However, thanks to flawed opponents, machine politics, and luck, Quinn has survived several close calls.  If he survives 2014, he will have escaped four major threats in just the last few years. Considering Illinois does not have term limits and Quinn is only 65, I am beginning to wonder just how many political lives Pat Quinn has.