New York Democratic Congressman Jared Nadler angered some in his district when he backed President Obama's Iran Deal, which lifted sanctions on the Islamic Nation in exchange for it ending its nuclear program.  By all accounts, the deal has worked, with Iran ending its program, ties between Iran and the West improving, and moderates making substantial gains in the Iranian Parliament.  Nadler's 10th district has the largest Jewish population in the nation.  Nadler, himself Jewish, was attacked as anti-Israel and bad foreign policy for backing the deal.   This resulted in Oliver Rosenberg, a political newcomer, challenging Nadler in the Democratic Primary.
Rosenberg tried to portray Nadler as anti-Israel, but Nadler had a strong voting record to run on highlighting his strong history as a backer of Israel.   Nadler had the backing of prominent Jewish politicians, some who backed and some who opposed the Iran deal.
Nadler ran an aggressive campaign, but there was little question he would win.  However, the size of his win; nearly 90%, was an especially powerful statement.  For Nadler, the key was his 93% of the vote in Manhattan.  Meanwhile, he won Brooklyn by a single vote.

The difference between the two boroughs is truly striking.   Luckily for Nadler, Manhattan accounted for 90% of the vote in the district.  The precinct map below shows where Rosenberg did best – heavily Orthodox-Jewish neighborhoods like Borough Park.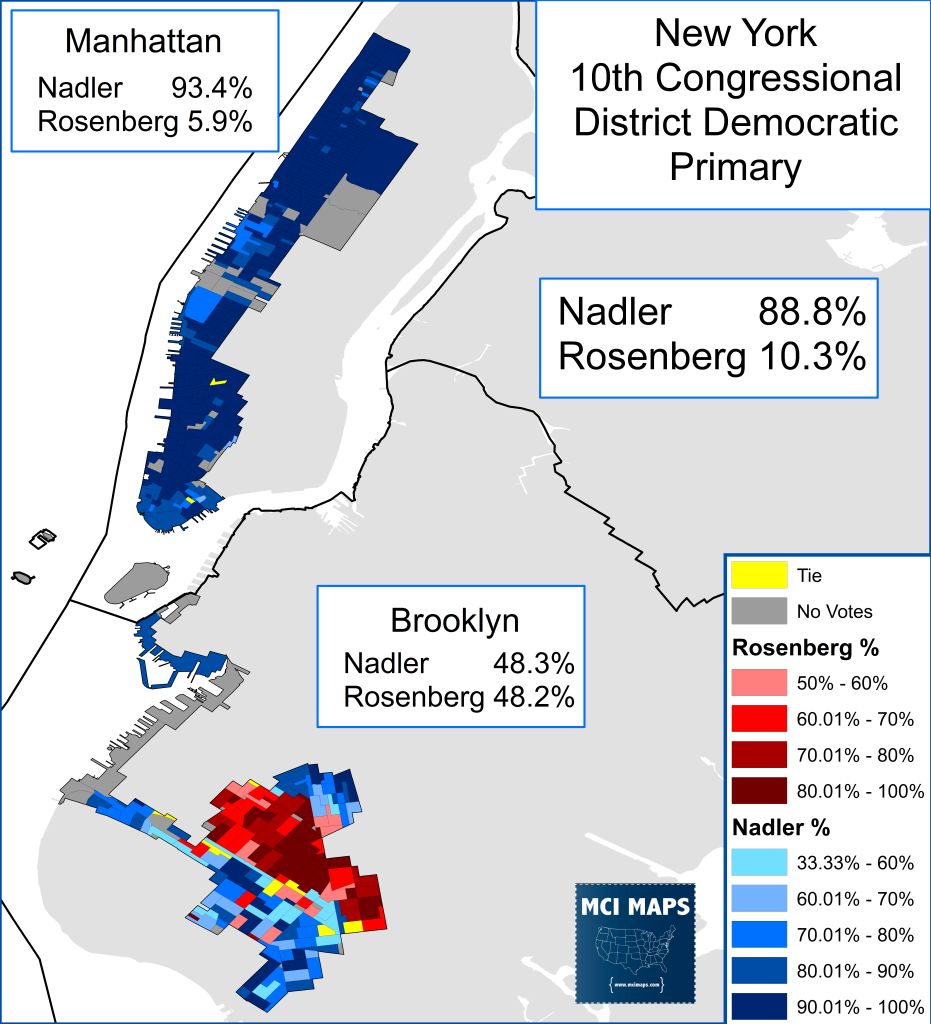 You can see the results on a street map as well.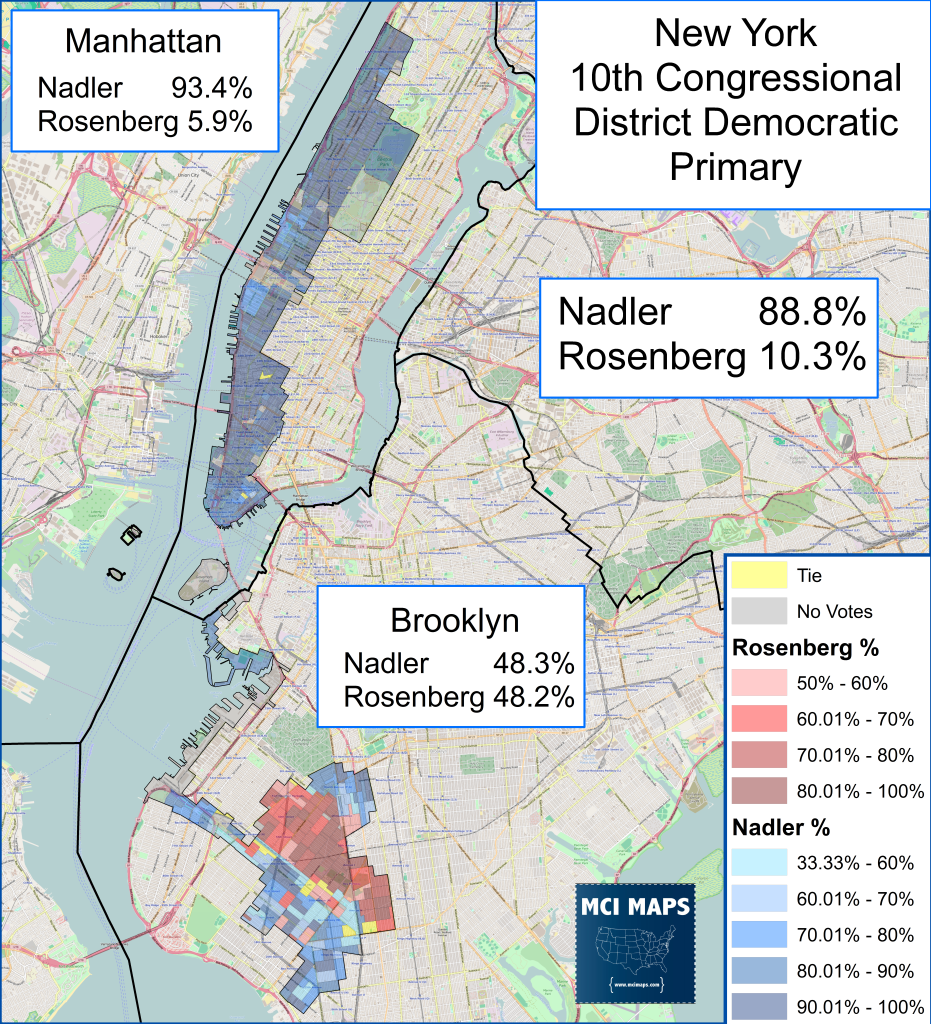 Nadler dominated in Manhattan, but his Brooklyn showing was much weaker.   Borough Park, which has the largest Orthodox Jewish population outside of Israel, went heavily for Rosenberg.  A smaller Orthodox community, Mapleton, also rejected Nadler.  Nadler did better in the southern neighborhoods like Bensonhurst, which have nominal Orthox populations.
A zoom in of the Borough Park area is below.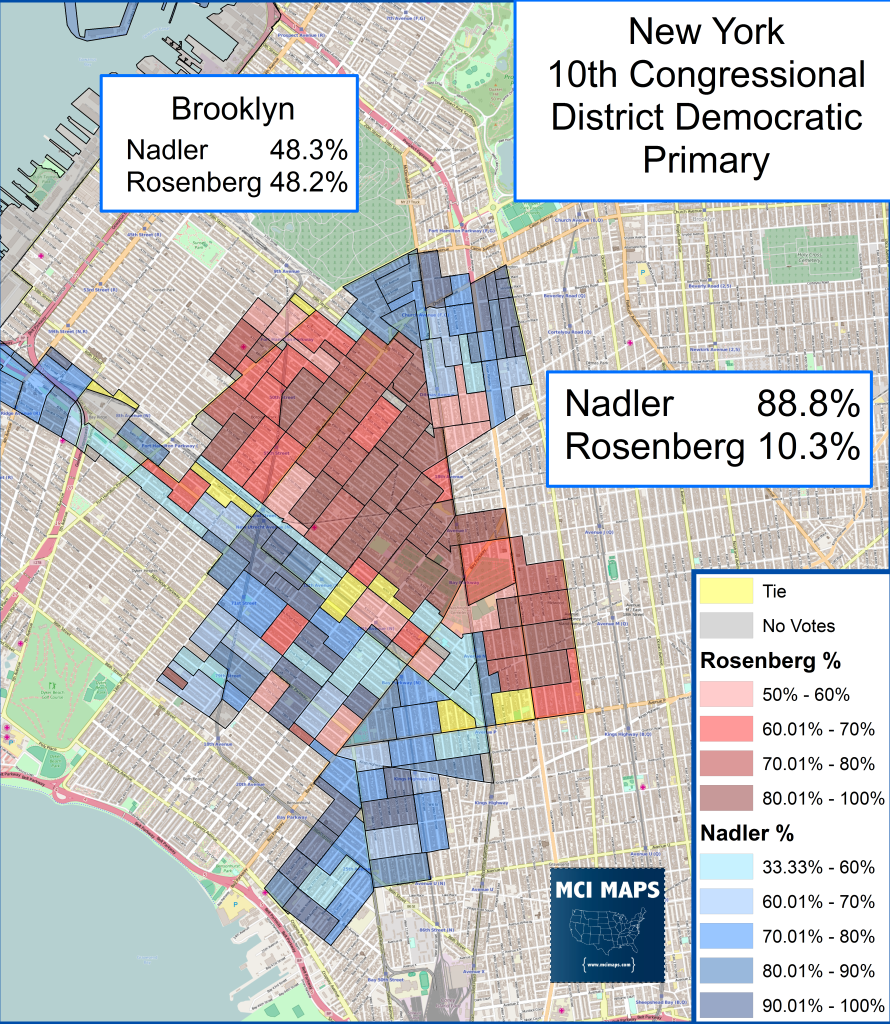 While Nadler lost the Orthodox Jewish community in Brooklyn, he dominated the Upper West Side of Manhattan, which has a large Jewish population as well.  The Manhattan Jewish community in Nadler's district has a much smaller Orthodox share, a key reason for the vote differences in the primary.
Rosenberg's platform resonated with Orthodox Jews that were angry with Nadler, but they made up far to small a share of the vote to put the Congressman in any real electoral danger.