Jacksonville had its first round of voting Tuesday.  Democrat Alvin Brown, first elected in an upset win in 2011, is seeking re-election in a hard-fought contest.  Brown's main challenger is Republican Lenny Curry, the former Chairman of the Republican Party of Florida.  The race has been heated so far.  Brown is facing stiff headwind due to the county's Republican Lean.  However, the Mayor's approval rating remains above 50% in recent polls.  With four candidates in the race, it was widely believed that Brown and Curry would advance to a runoff election.
As expected, Alvin Brown and Lenny Curry advanced to a May runoff.  Brown secured 42.6%, with Curry a few points back at 38.4%.  Another Republican, Councilman Bill Bishop, secured 16.8%.
Brown's biggest base of support was the African-American community.  However, he did well in white suburbs as well.  Curry did especially well in the outlier areas and traditional GOP bases of support.  Bishop did best in his council districts, located on the northeastern edge of the county, and did well in many central duval precincts outside his district.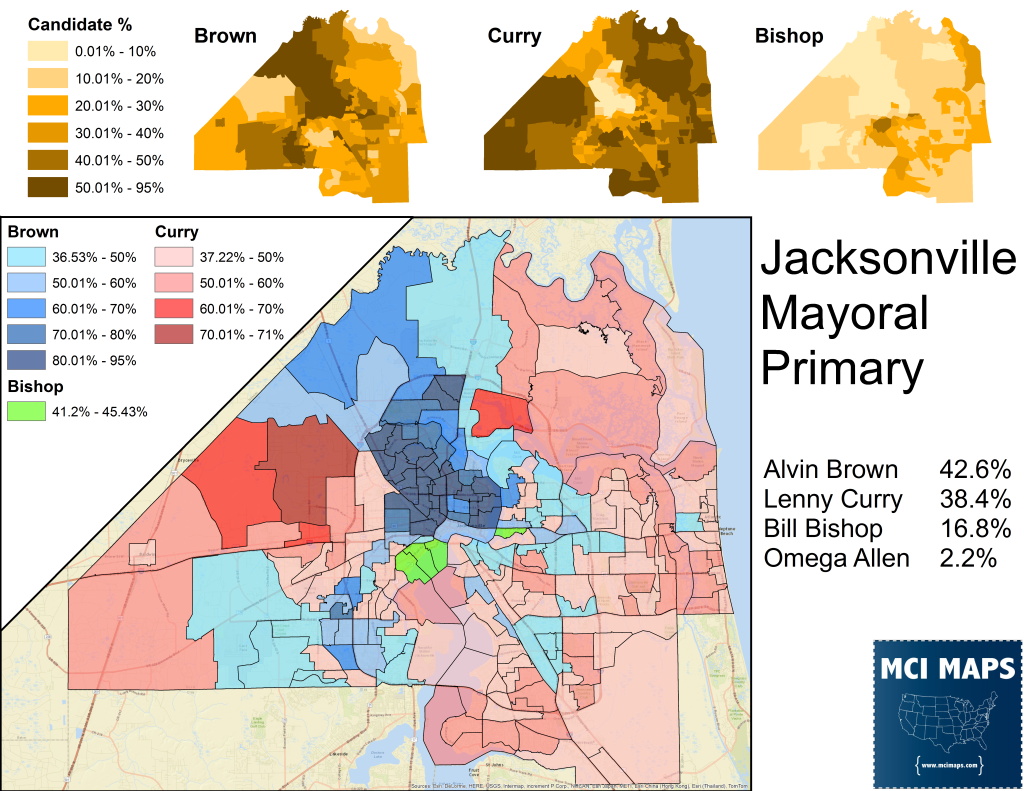 While the GOP vote passed 50%, it is incorrect to look at this race in a purely partisan lens.  In two of the five at-large council races, Democratic candidates totaled more than 50%.  Each race has its own dynamic based on the candidates and issues.  In the Mayoral race, Bill Bishop secured a good deal of support from non-Republican sources.  Bishop's social liberalism and fiscal conservationism earned him a good deal of support from NPA voters. Bishop's support for the proposed Human Rights Ordinance of Jacksonville also resulted in several LGBT groups endorsing him for Mayor. The general anecdotal story from the area was that Bishop was winning many socially liberal voters.
The maps show that Curry narrowly won the Riverside/San Marco areas (south/middle part of the county).  However, he won it with less than 50% and Bishop did better in this region than most areas.  The region has many white liberals who backed Bishop for his social liberal views.
Curry won the beaches, the upper class suburbs (Orange Park, Mandarin) and the west side, which is much more rural.
Public polling has been scarce, however, a February UNF poll gives a little insight into where Bishop might have been receiving votes.   In the poll, Bishop was the choice of 8% of Democrats, 14% of Republicans, and 21% of NPA voters. Among voters who felt they could identify Bishop's ideology, 6% ranked him liberal, 10% ranked him moderate, and 5% ranked him conservative:  most not knowing what they felt his ideology was.  This is one poll and is outdated.  However, from it, it's not hard to see Bishop taking in moderate voters, liberals, and conservatives.
This poll is backed up by precinct data from the primary.  I examined where Bishop did best and found as he did better, Brown under-performed Charlie Crist more.  Brown's 42.6% outpaced Crist's 41.5%.  However, many precincts saw Brown dramatically under-perform Crist; all the while outperforming Crist in other regions.  The biggest factor in Brown under-performing Crist was Bishop's percent of the vote growing.
I looked at this factor on a scatter-plot.  I focused only on largely white precincts to get a better idea of the effect; leaving African-American precincts out of the scatter-plot.  African-Americans overwhelmingly backed Brown, giving Bishop and Curry next to nothing.  My goal was to see who Bishop was taking the most votes from among white voters.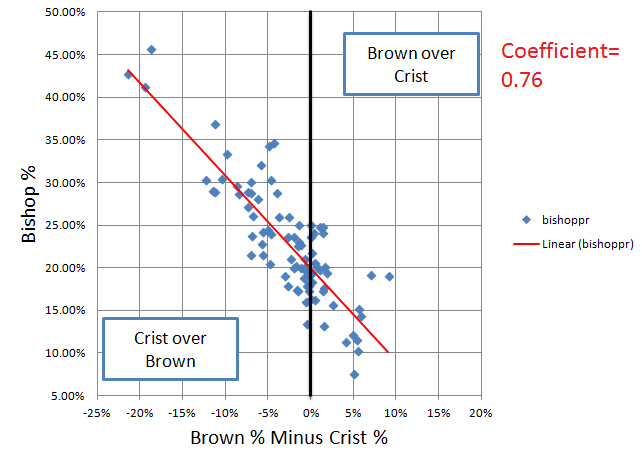 The scatter-plot shows a clear trend.  As Bishop's percent increased, Brown under-performed Crist more, while Bishop's weaker precincts showed Brown beating out the former Governor.  The coefficient came in at 0.76.   The coefficient tell us how strong the correlation (ties) between two data points are, ranging from 0 to 1 (1 being a perfect correlation).   The result of 0.76 means the correlation is strong.
I also examined how Bishop's strength would effect Curry as he related to Rick Scott's percentages.  After all, a third person doing well would hurt both candidates as they related to the Gubernatorial results from several months back.  The results show that, indeed, Curry does worse than Scott as Bishop's vote increases.  However, the correlation is much weaker.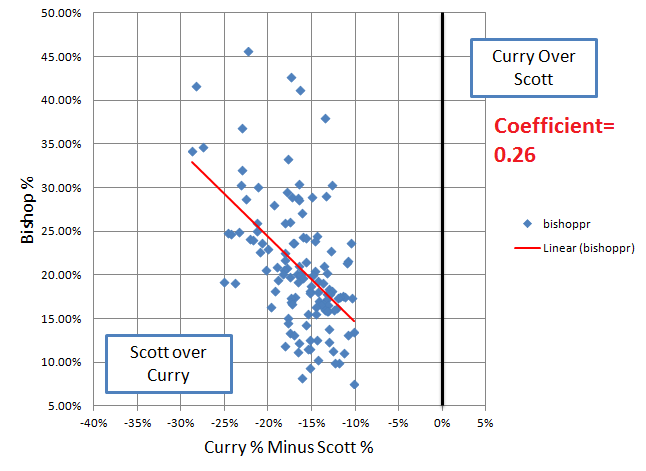 When examining Curry's under-performance, more precincts are scattered around, rather than falling on a clear pattern.  The coefficient is also much weaker, 0.26.
From both scatter-plots, it's clear that Bishop took from both sides.  While it is tempting to say he took more from Brown than Curry, that can't be known for sure.  The same UNF poll from February said that the second choice of Bishop supporters was Curry by a 48% to 31% margin.  This may have changed over the last month, especially since Bishop ended up with more than the 11% he was polling at.
For Brown, one thing is clear, he needs to get the support of as many Bishop voters as possible.  Brown would have needed 44% of Bishop's votes to avoid the runoff (granted this does not factor in how the NPA candidate's votes would have gone).  Heading into a runoff, Brown just needs to make sure the Bishop voters who are more aligned with him show up.  He cannot count on the Bishop voters more aligned with Curry to stay home.  Curry's extreme conservationism should be utilized by Brown to ensure Bishop's liberal supporters return for the runoff.  Brown definitely benefits from Curry's unabashed conservatism, the same thing that derailed Brown's 2011 opponent.
One final factor in how the runoff goes will be the turnout.  Democrats did a good job getting the vote out for this first round.  Over 3,300 more Democrats than Republicans showed up for this March primary.  This was a strong improvement from the 2011 primary where the Republicans outpaced Democrats by just over 1,000 people.
However, when Brown won the runoff in 2011, Democrat's turned out more than Republicans by a margin of over 10,000.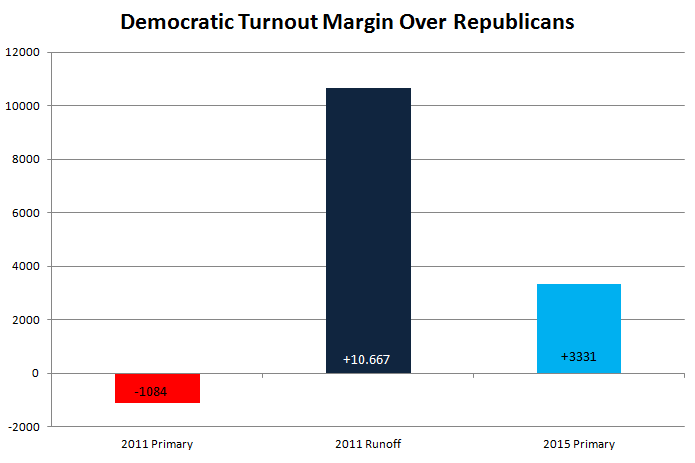 Democrats made up around 44% of the vote in the 2011 primary, but made up to 47% in the runoff.  In this first round of voting, they reached 45% of the electorate.  For Brown, he needs to replicate that huge runoff surge as much as possible.
For Brown, there is a clear pathway for a runoff victory.  However, it will not be any easier than winning the 2011 runoff was.  A turnout push and securing Bishop backers are key to a victory in May.