As a Broward County resident for the first 19 years of my life, Broward County and its politics are still very close to me.  The county, second largest in the state, has 35 cities and towns.  Many of these cities host elections in the fall of even-numbered years to coincide with major races.   However, many cities continue to hold elections in the spring of odd and even numbered years.  March 10th saw the latest round of municipal elections for the county; with eight different cities going to the polls.  The following article will contain a map of each race's result and a quick summary of the results and events surrounding the election.  While some races were fairly quiet, others were major battles for the future of the cities.
Plantation Mayoral Election
Plantation's mayoral election was the main event in Broward on election night.  This suburban city leans Democratic but is a swing city compared to many of its bluer neighbors.  Republicans had success in the city in 2013, with one Republican and one Independent winning seats on anti-tax platforms following a revolt over a large increase in property taxes.  The city has a strong mayor form of government and Republicans wanted to take control of the Mayorship in order to get stronger control.  Commissioner Jerry Fagden, who had been elected to the commission with 60% in 2013 as part of the revolt, challenged Democratic Mayor Diane Bendekovic.  Bendekovic and Fadgen squared off in 2011 for the seat as well.  After a closely fought battle in which the local Republican and Democratic Parties got involved, Bendekovic held on with a narrow in.  Fagden narrowly won election day voters but lost on the absentee votes.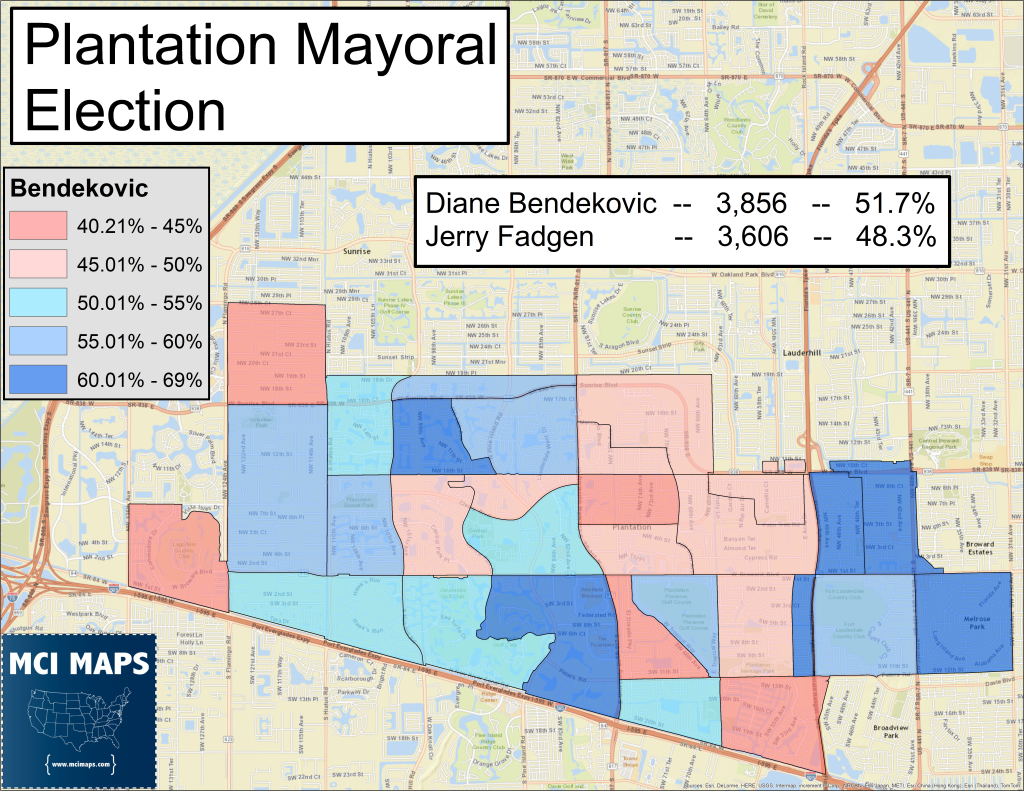 Bendekovic ran up strong margins with the African-American precincts in the east and many western and central suburbs.  Many communities were split, with all precincts giving the mayor at least 40% but no more than 70%.  The narrow win was a victory for local Democrats.
Plantation Council 2
With Fadgen running for Mayor, he had to resign his council seat.  This gave Democrats a chance to take the seat after failing to do so in 2013.  Democrats had a problem, however, where four Democrats filed along with only one Republican, Rico Petrocelli, a former commissioner.  This left Democrats worrying that a split vote would lead to a Republican win.  Petrocelli, however, had a great deal of personal and financial baggage.  Many Democrats rallied around lawyer Louis Reinstein.  Democrat Peter Tingom, the commissioner who lost to an independent in the 2013 elections, also filed to run.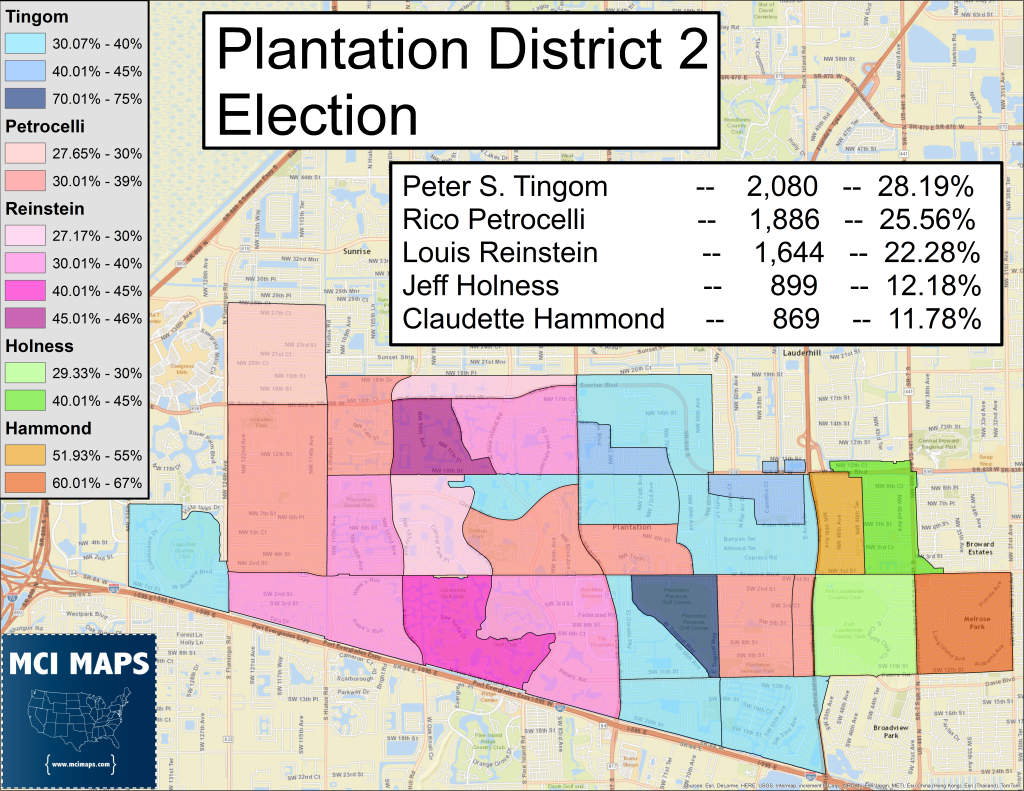 Tingom managed to eak out a win, no doubt helped by his name recognition, while Petrocelli came in second.  Reinstein's loss was a disappointed for many Democrats.  However, the split field made the results hard to predict and shape.  Claudette Hammond, and Jeff Holness, both African-American, split the eastern end of the city.  Holness, the cousin of County Commissioner and wanna-be kingmaker of Broward, Dale Holness, had garnered 34 of the district in his 2013 run against Fagden, but this time finished fourth.
.
Miramar Mayoral Election
The Miramar Mayoral Election was right behind the Plantation Mayoral in terms of major implications.  Longtime Mayor Lori Moseley was seeking re-election against an incumbent commissioner, Wayne Messam, and former commissioner, Alexandra Davis.  Moseley has served as mayor for the city since 1999.  Since that date, the cities' population tripled from 40,000 to over 120,000.  The city has become much more diverse, with the largest growth being among African-Americans.  By 2010, Moseley, who's white, has been representing a city that is 46% black, 37% hispanic, and 11% white.  Both Davis and Messam where African-American, and the cities' last white commissioner, a Republican, was ousted in 2013.  The race was seen as close by most observes, with each candidate having a chance at winning.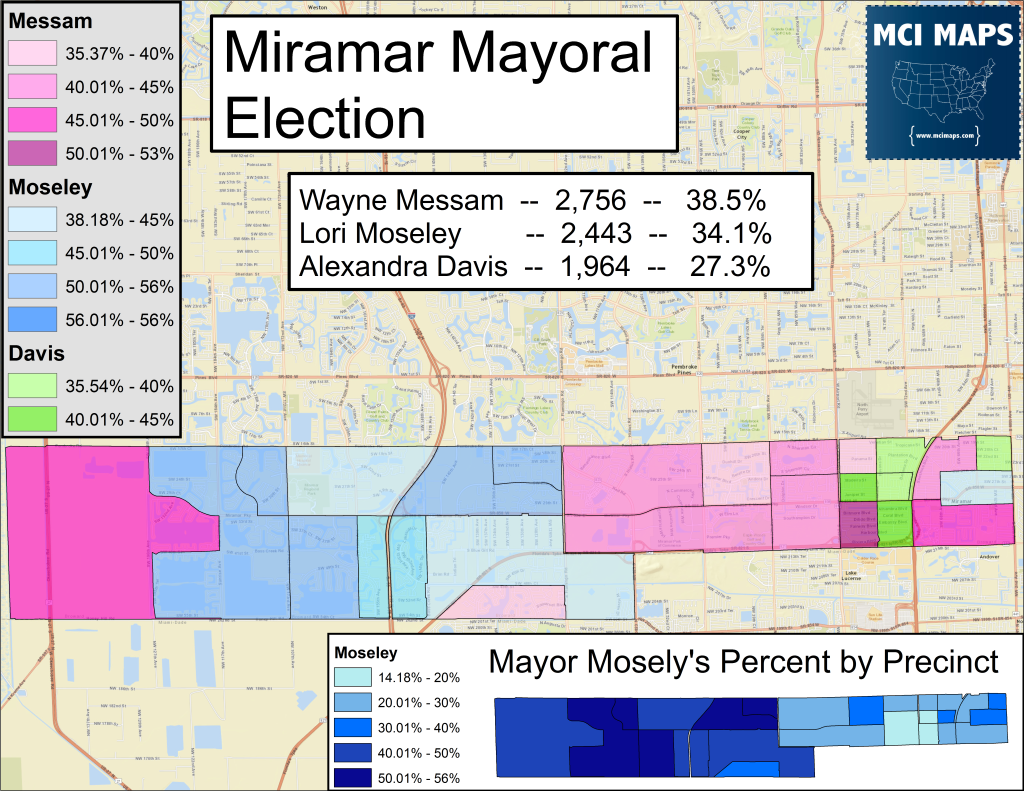 Moseley ended up losing the election, coming in second to Messam.  Moseley did best in the western end of the city, which is predominantly white or Hispanic and did worse in the eastern, African-American side of town.  Davis only won a few precincts on the eastern end.  Moseley's loss can be partially attributed to race and the desire of African-Americans to be represented in the Mayors office.  This no doubt moved some votes.  However, the cities population growth also likely helped aid Moseley's loss, as newer residents had little reason to support a mayor they didn't know.  In addition, issues over a city bond to fund new projects was a key debating point.  Moseley did not favor a large bond while her opponents did.  Messam praised Moseley as a good mayor but argued for a new direction as the city continues to grow.  With 16 years on the commission, many voters who liked Moseley may have thought it was simply time for a new vision for the city.  With the results for mayor and the city council elections, the entire commission will be African-American for the first time in the cities' history.
.
Miramar Commission Districts 1 and 4
Two city council seats for Miramar were up for election.  District 1 had been vacated by Alexandra Davis.  Davis had initially left the seat to run for county commission in 2014.  Davis was badly beaten in the Democratic Primary by Incumbent Barbara Sharief that August.  Davis initially decided to run for her empty city council seat again.  However, Sharief's husband, Maxwell Chambers, opted to run for the seat.  The move was no doubt influenced by a dislike for Davis.  Davis eventually decided to run for mayor, where she came for third.  Chambers was the front-runner for the crowded city council field, getting a good deal of support from local leaders and donors.  Chambers went on to win with 35% of the vote.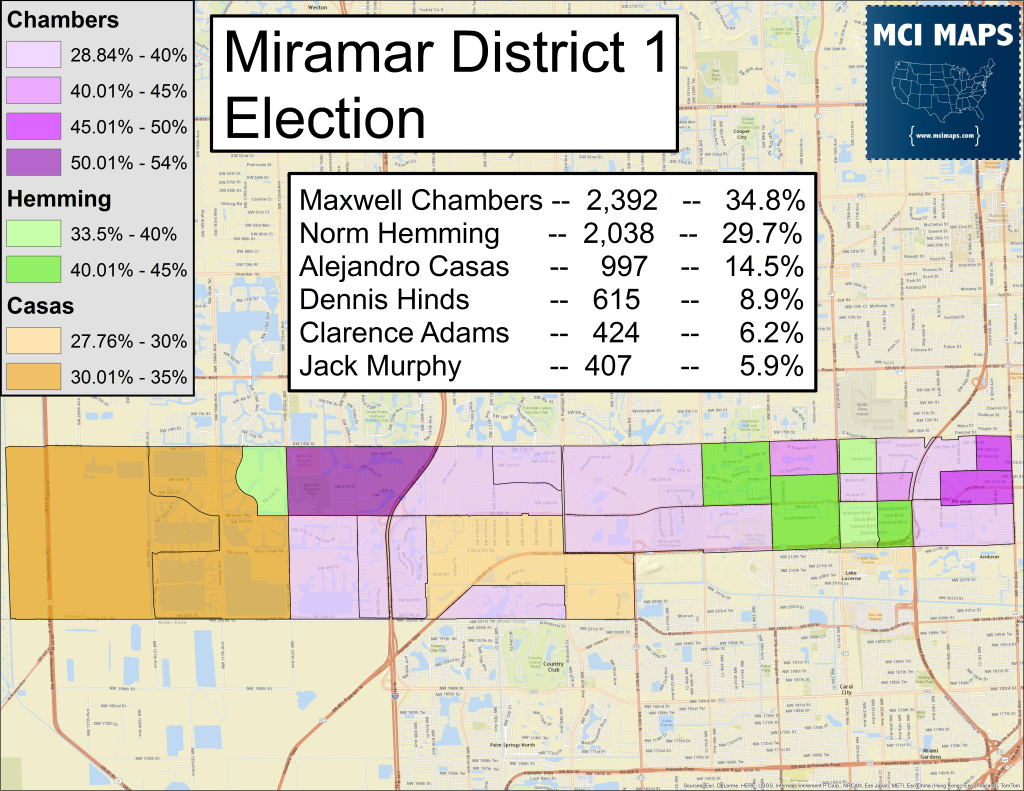 Chambers won by winning many African-American areas, splitting the African-American vote with Norm Hemming.  Alejandro Casas, the only Hispanic in the race, did well in the west and came in third.
In the district 4 race, left open by Messam running for Mayor, three candidates faced off for the seat.  All three had local ties to the area, but none had key regional support.  With all three candidates being African-American, the east-west split the city has seen in other elections did not manifest itself.  Darlene Riggs, a businesswoman, won the seat by a fairly comfortable margin.
Riggs won the seat by winning in African-American and Hispanic/white areas, winning all but four precincts.  She had the strongest win in Miramar that night.
.
Coconut Creek Commission District E
Only one commission seat was contested in 2015 in Coconut Creek.  The seat was opened up when Commissioner Lisa Aronson filed to run for the 2014 county commission election, which she lost to Democrat Mark Bogen (whom you're truly worked for).  The race pitted Steve Harrison, a past candidate, against Joshua Rydell, a young newcomer to coconut creek politics.  Rydell racked up the backing of the political establishment, including former Representative Jim Waldman, current Representative Kristin Jacobs, and many members of the city council.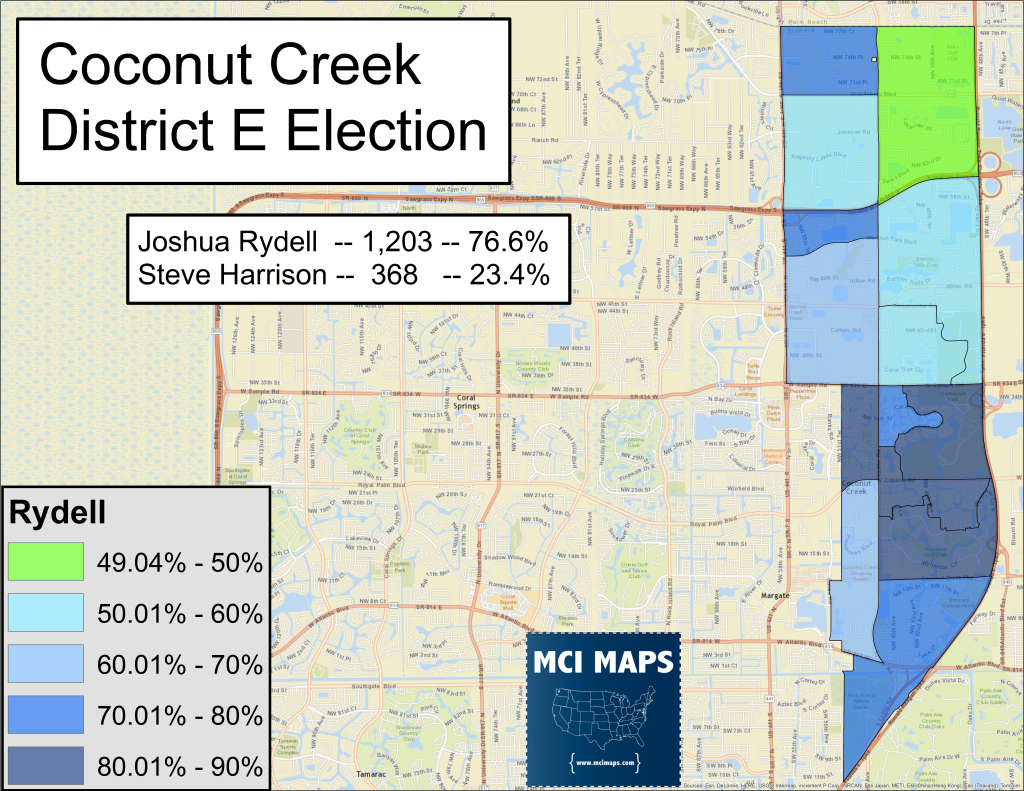 The results were a resounding win for Rydell.  He won all but one precinct.  Over half the vote came from the Wynmoor Condo Community (the second most-southern precinct on the east side of the city), which also gave Rydell over 80 of the vote.
.
Davie District 1
Davie only had one election on its ballot, with incumbent Mayor Judy Paul unopposed for another term.  Commissioner Bryan Caletka beat James Moore in a rematch from 2012.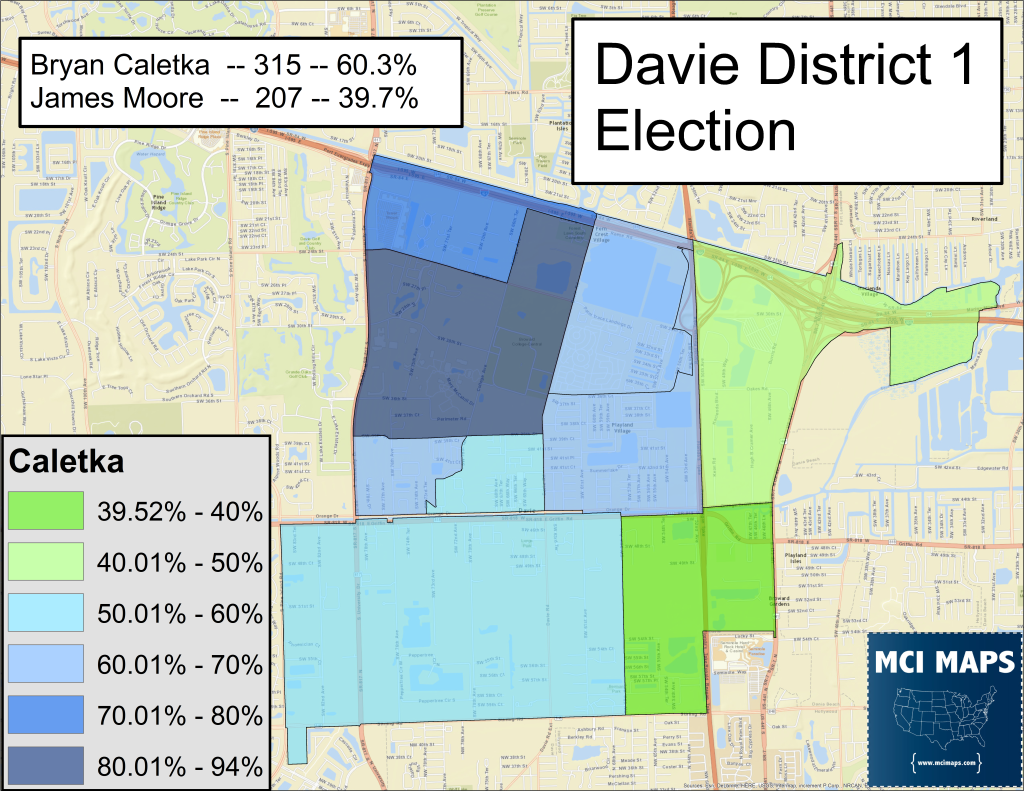 Caletka held on to his seat with a comfortable margin, similar to his 2012 re-election.  Moore only one the eastern edge of the city.  Moore made traffic issues a key theme of his campaign.  The area includes University Blvd, an area known for heavy traffic issues. The road actually divided pro-Moore and pro-Caletka precincts in the north.  This is the last election where Davie will host elections in the spring.  Future elections will coincide with statewide races.
.
Deerfield Beach Districts 1 and 2
Deerfield Beach has been home to some contentious politics as of late.  Mayor Jean Robb has been feuding with the city council over several issues (quick summary, the council is right).  Robb won the mayoral election in 2013 by 27 votes.  Two council members were up for re-election, with Robb hoping both would lose.  Commissioner Joe Miller faced off against Ron Coddington.  Coddington was very flawed, having been removed from the Marine Advisory Board after he accused Miller of using his elected position to benefit his business (of which there is no truth or even suspicion).  Coddington's campaign was filled with controversies and mis-steps and he handily lost to Miller.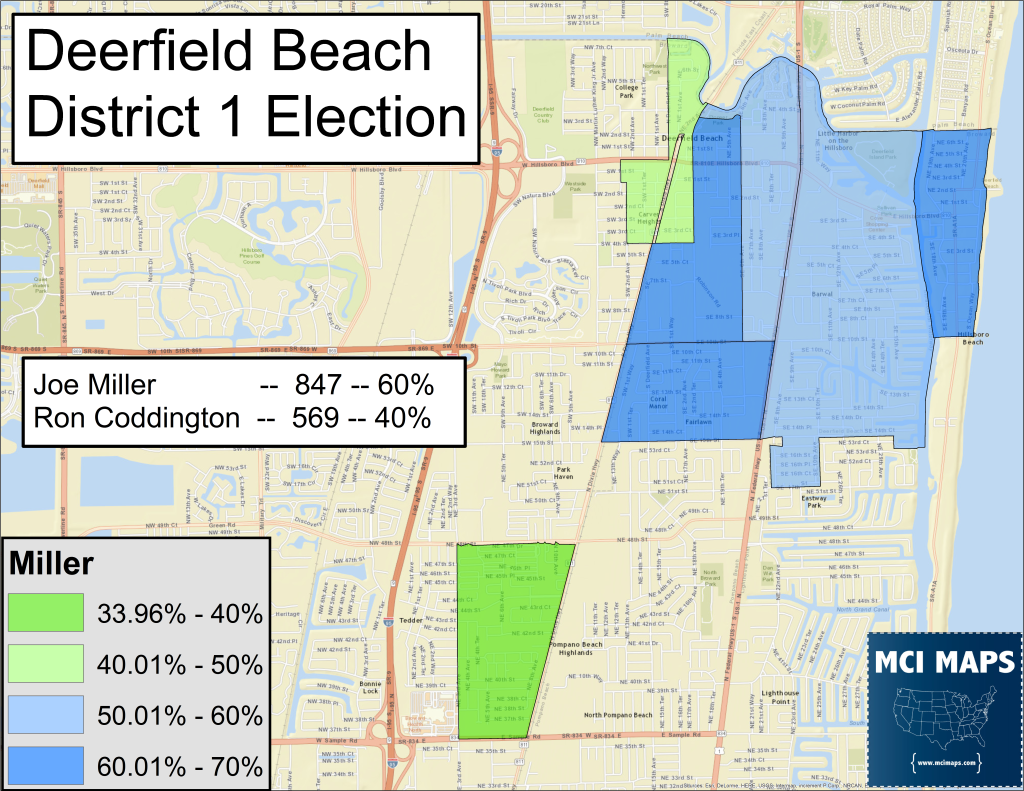 The district 2 race saw a greater likely hood of the incumbent losing.  The seat lies in the African-American area of the city the white incumbent, Ben Preston, was facing off against Gloria Battle, who is African-American.  This was also the same region that had backed Robb heavily in her Mayoral Campaign.  Battle garnered controversy when residents in the retirement community, The Deerfield Beach Palms, complaining of over-zealous individuals trying to collect absentee ballots in favor of Gloria Battle.  Issues of absentee collection and even fraud permeated in the mayoral election and seemed to be rising up again here.  It could be argued the Mayoral election was won via questionable absentee ballots.  The issue is way too complex to discuss here.  However, Battle ended up winning by a large margin, enough that any fraud issue is unlikely to have effected the result.  Battle won in the same areas that backed Robb in 2013.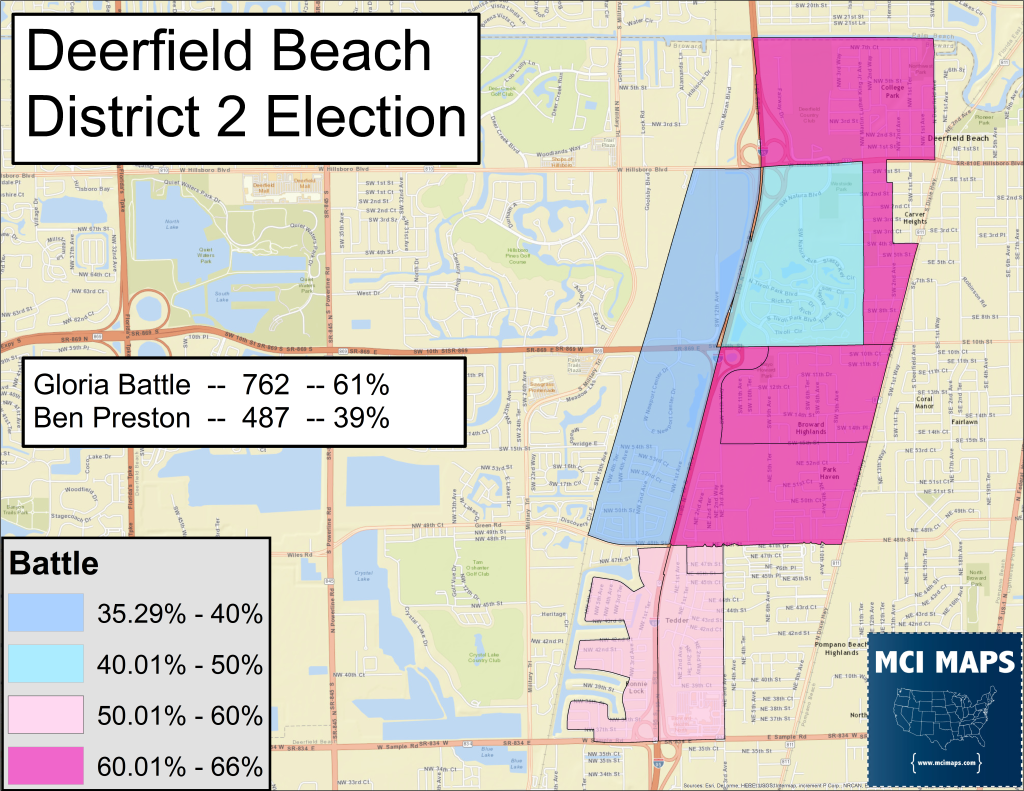 There has been some talk that Preston didn't listen to his consultants and didn't take the threat seriously enough.  Even with Preston's loss, Robb is still outnumbered on the city council.
.
Lighthouse Point Districts 2 and 3
Lighthouse Point is a quiet bedroom community, and one of the few solidly Republican areas in the county, on the upper coast of the county.  The city of 10,000 has its own police force and likes to maintain its own closed in community where everyone knows each other   Both council elections saw former commissioners run for seats.   In district 2, Incumbent Commissioner Michael Long defeated former Commissioner Tom Hasis. Hasis initially lost his seat years back and had since run for and lost in another district race. Voters are clearly wary of Hasis, who has a contentious demeanor that conflicts with the quiet city.  He lost by a large margin.
In the district 3 race, which was open, former commissioner Susie Gordon, who had lost her seat in 2012, opted to run again.  However, the election went to 35 year old lawyer Jason Joffe.  Gordon came in third.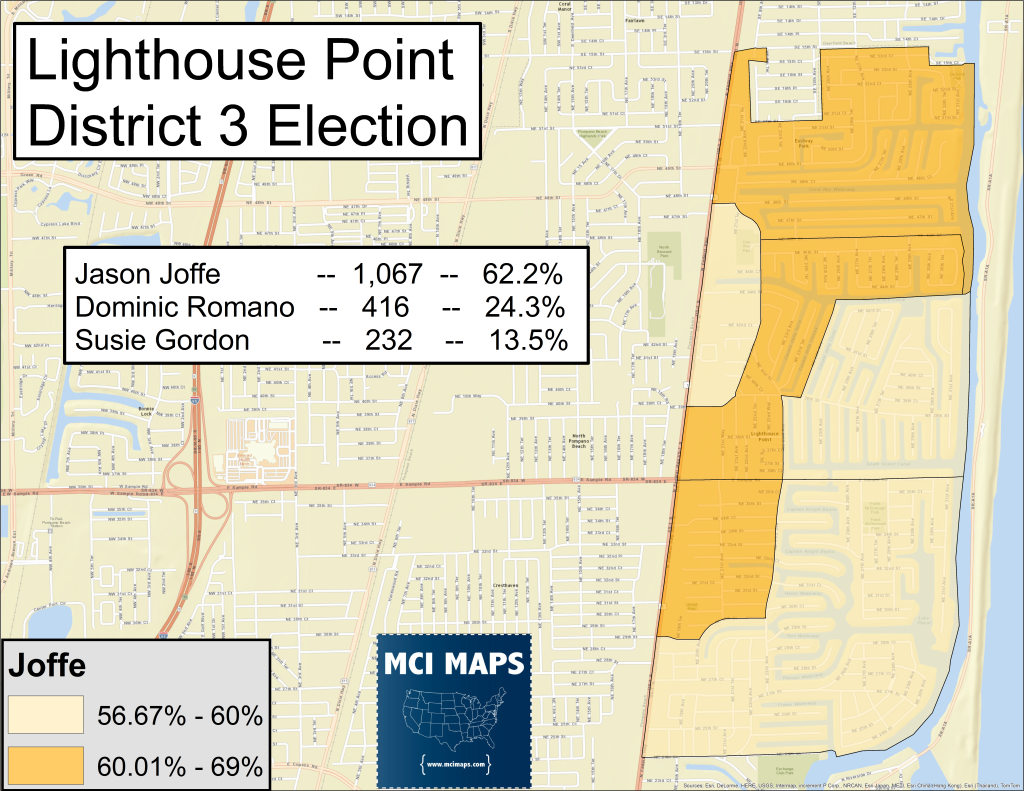 Not a good night for former commissioners.
.
Hillsboro Beach Commission
Hillsboro Beach is the definition of small town.  The city is a strip of land that goes along the coastal A1A road.  The town is home to many wealthy coastal homes and part of is often refereed to as Millionaires' Mile.  The town is home to rich residents and is one of the few Republican areas in the county.  It is right next to Lighthouse Point and population is just over 1,800.  The city is just one precinct.  Voters go to the polls and everyone runs for the council, with the top three candidates getting spots on the commission.  Several incumbents and new candidates ran for the council.  The biggest issue for the town has been beach erosion, which has sparked much debate in terms of a viable solution.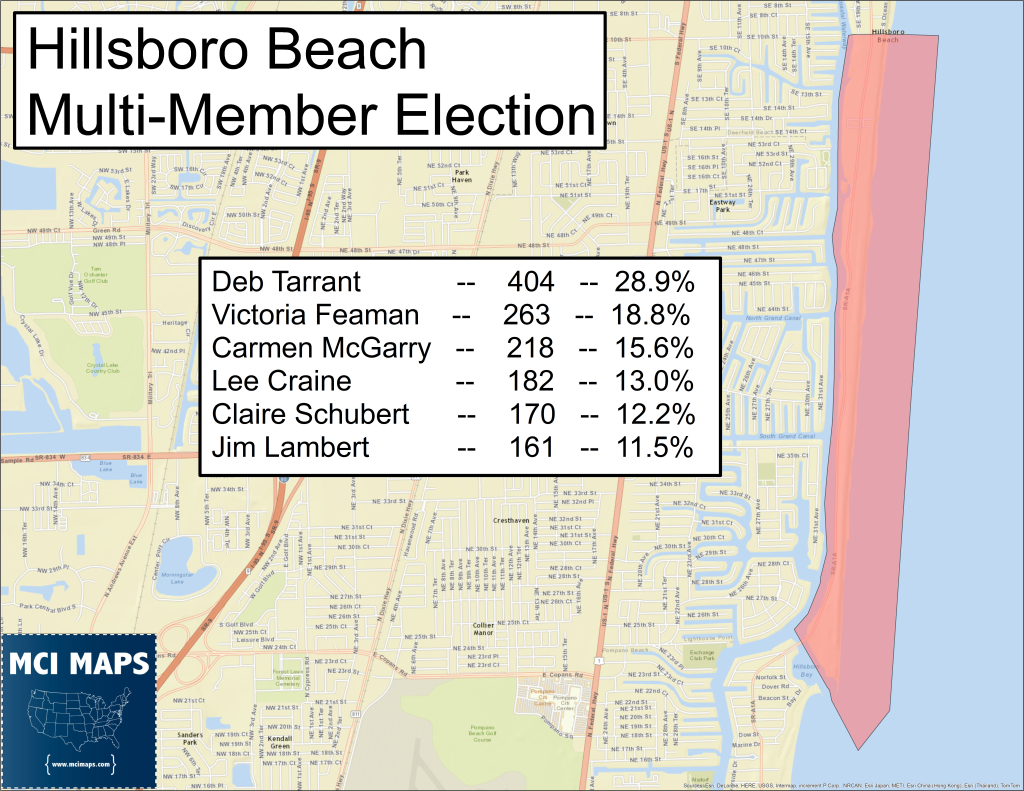 In the results, Deb Tarrant, a newcomer who has argued the commission needs new leadership, came in first, commissioner Victoria Freaman came in second, and former Mayor Carmen McGarry came in third.  The current Mayor (commissioners select the Mayor) Claire Schubert, came in second to last.  Tarrant says her first goal is to see about getting a city manager appointed to handle the issues before the city, especially regarding beach erosion.  The idea is likely to spark debate and would require a referendum.  Even in small towns like this, the local politics is never quiet.
.
Ft Lauderdale District 2
Ft Lauderdale Commissioner Dean Trantalis had an easy re-election over local businessman, and political newcomer, David Tabb.  Trantalis was the first openly gay commissioner in Ft Lauderdale history when he was first elected in 2003.  Trantalis won his current seat in 2013, beating former commissioner Charlotte Rodstrom, after being off the commission for a few years.  In a quiet campaign, Trantalis was easily re-elected.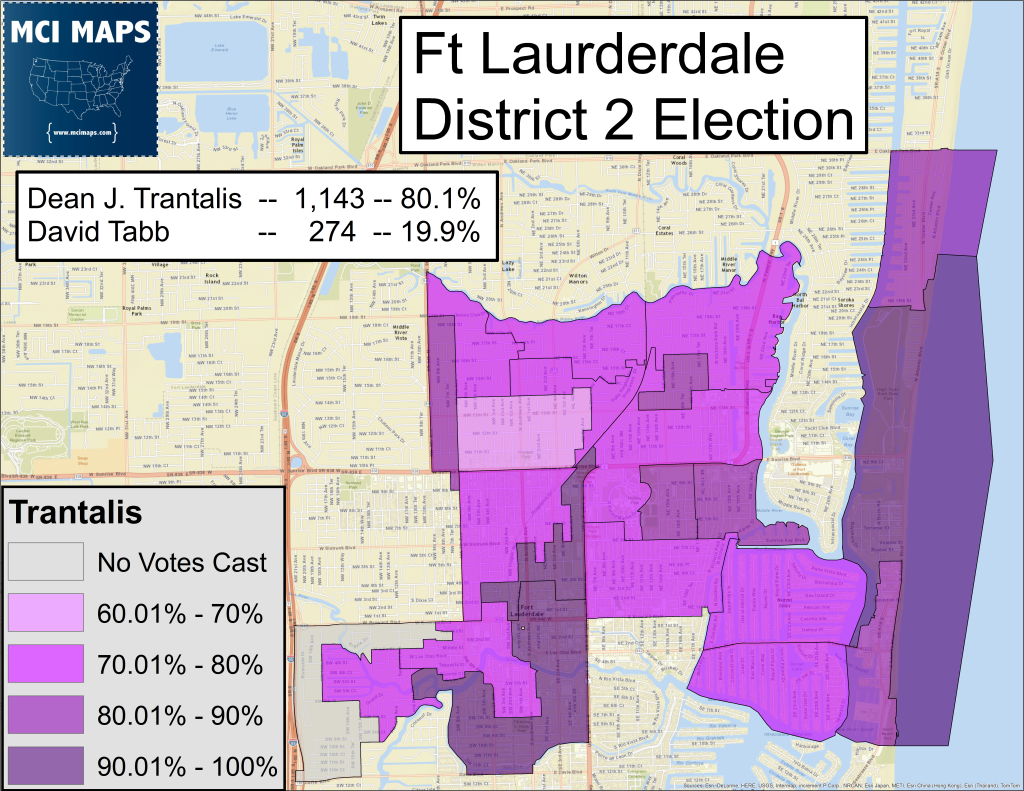 The February mayoral election for Ft Lauderdale drew more attention over the cities ban on feeding the homeless.  Even though Trantalis supported the measure, the issue did not appear to affect the narrative of the city council campaign compared to that of the mayoral election.
.
Summary
Several elections in Broward were sleepers and saw the status-quo maintained.  However, Miramar saw major changes in its city Government.  Democrats struck back in Plantation after an awful 2013.  The contentious politics of Deerfield will continue on, with both sides of the debate likely to clash in the Mayoral Election in two years.  As more cities move their elections to the fall to coincide with statewide races (Davie and Plantation will be doing so), there is a chance these local issues will get drowned out by the larger campaigns.  Until then, Broward always provides some interesting observations with its spring elections.