In today's Tallahassee Democrat article, DNC member Jon Ausman and myself advocated for keeping Leon County whole in any new congressional district drawn in next month's Special Session.  The Supreme Court ordered that the current 5th Congressional district, stretching from Jacksonville to Orlando, be eliminated and a new east-west district be drawn.  The court cited the proposed districts by the League of Women Voters as an acceptable option.  The League's proposed map splits Leon County between two districts, thus diluting the power of the County and Tallahassee.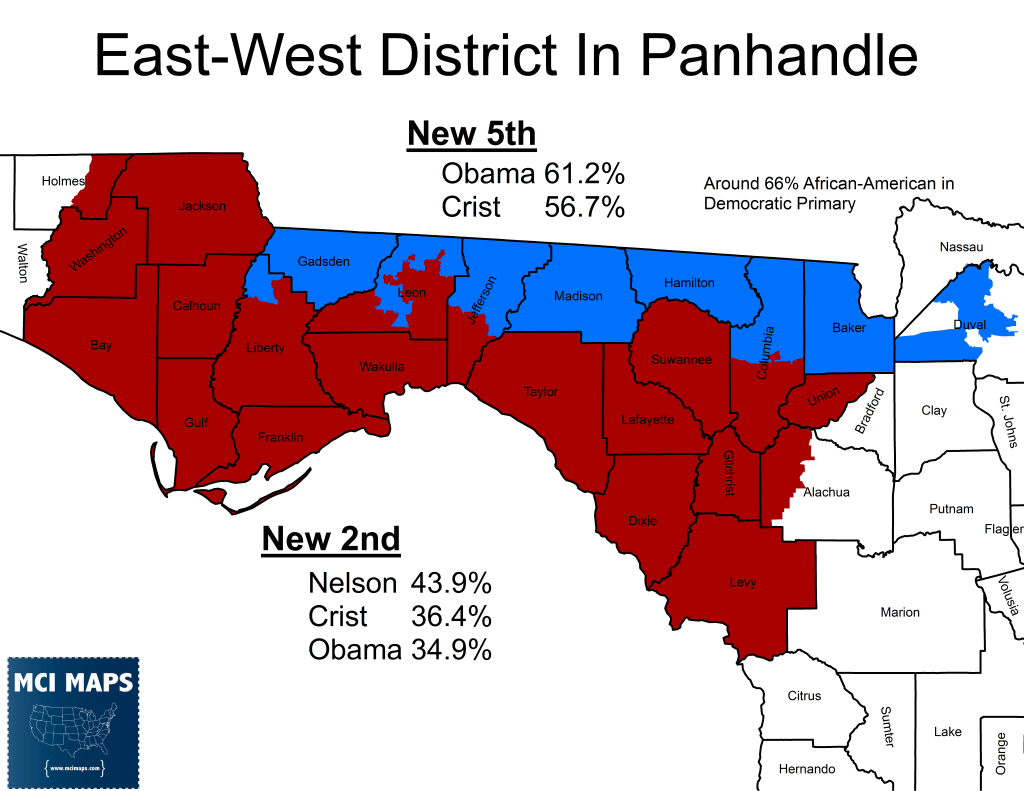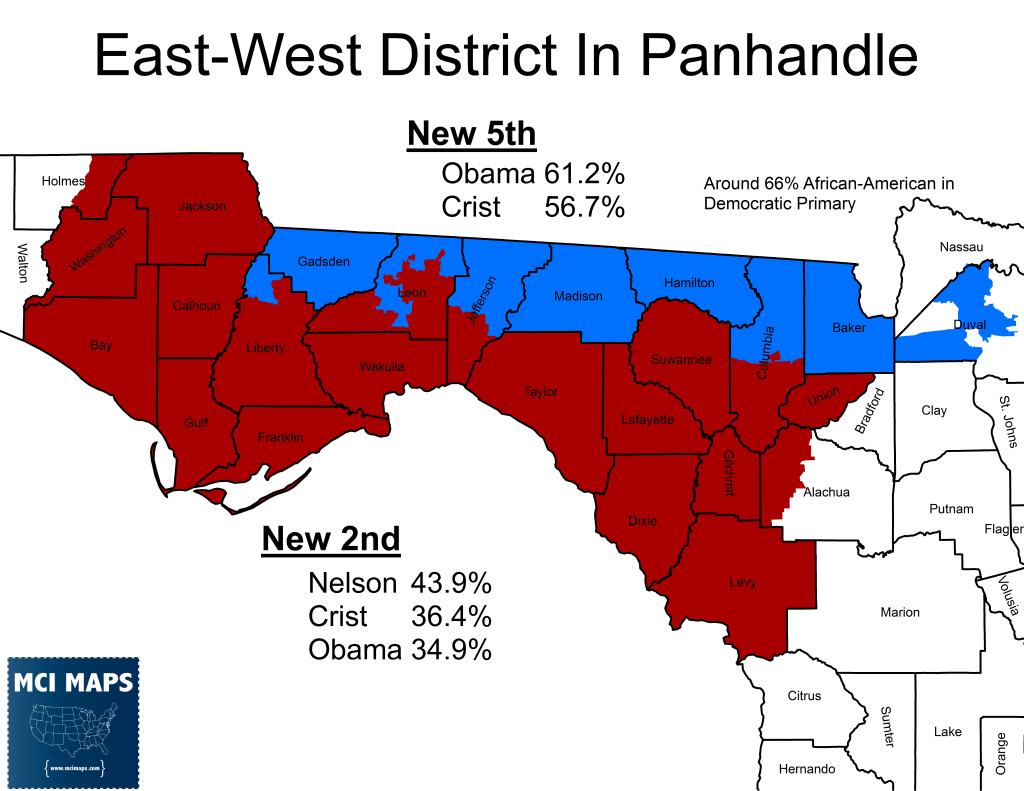 Under these lines, or any similar variation, Leon County will get short-changed.
This proposed map should be a concern for Tallahassee voters, Democrat or Republican.  Depending on where in the city you live, you will find yourself either in the 5thCongressional district, the Jacksonville to Tallahassee proposal, or the new 2ndcongressional district, a collection of rural counties that goes from Bay to Levy County.
In the newly proposed solidly Democratic District 5, Jacksonville will make up around 58% of the registered Democrats with only 20% coming from Leon.  Leon County residents in District 5 will be stuck with whoever wins the primary, likely a Jacksonville candidate. This proposed district would have given Obama an overwhelming 61% of the vote; essentially meaning it would be near impossible for a Republican to ever win District 5.
For Leon County residents living in Solidly Republican District 2, the chance of true Representation is not much better. Under the newly proposed boundaries, Bay County will make up around 31% of Registered Republicans, with Leon around 20%. The rest of the district will be made of low populated but highly conservative counties. Democrats will have no chance at winning the seat, which would have given Obama only 35% of the vote.
Splitting Leon County is not necessary.  A district can be drawn from Jacksonville to Tallahassee that keeps Leon County whole while still creating a district likely to elect and African-American, as mandated by the court.  The district below keeps Leon whole and maintains a 42% Black Voting-Age Population.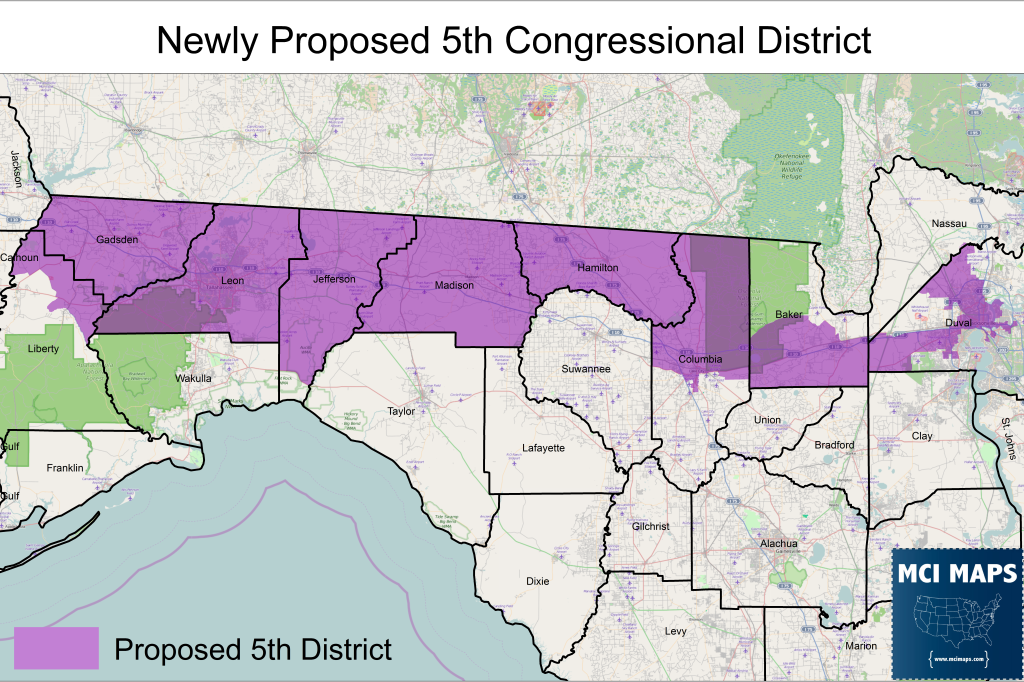 Under this district, Leon County would have 42.9% of registered voters while Jacksonville would have 38.3%.  In a Democratic primary, 38% would come from Leon, with 41% from Jacksonville.  The primary is very likely to decide the Represenative in this 63% Obama district.  The Democratic voters are also 60% African-American, making it likely an African-American Democrat will represent the seat.  What this district does is give balance between the two major cities, ensuring any Representative will have to cater to both areas to ensure re-election in a primary.  For Leon Republicans, this is a good thing as well.  While they may not get a GOP congressperson, they at least will have a Congressperson who must cater to the needs of their county.
I encourage you to read Jon Ausman's op-ed in the Tallahassee Democrat, further making the case for keeping Leon County whole.  Keeping Leon whole creates balance between the east and the west, something that will benefit both cities by ensuring a Representative that is always eager to make both areas happy.