St Petersburg's 2017 Mayoral Election is one of the most unique municipal races in Florida.  A democratic city (giving Hillary Clinton 59% of the vote) with a popular Democratic Mayor who raised $700,000 for his re-election — August should have been a formality.  Yet for months that Democratic Mayor, Rick Kriseman, was expected to lose the August 29th first round of voting.  Kriseman was a former Democratic State Representative that beat an incumbent, Republican Bill Foster, in 2013, to capture the job as mayor.  The first four years had some stumbles but overall Kriseman was popular with voters and seen as a shoo-in for re-election.  That is, he would have been as long as former Mayor Rick Baker did not decide to run; which he did earlier in the year.
Rick Baker was the Mayor of St Petersburg from 2001-2009.  He was a very popular moderate Republican who won every precinct in his 2005 re-election.  Baker had strong support and ties in the African-American community and quickly secured several African-American endorsements upon entering the race.  Baker was also a powerful fundraiser and pulled in over $1 million for his campaign.  Public polls showed Baker routinely ahead of Kriseman, with Baker in the high 40s and Kriseman in low 40s.  The question seemed to be if Baker could get past 50% in August to avoid a November runoff.
In the end, Baker did not avoid a runoff.  Worse for the GOP, he didn't finish 6+ points ahead of Kriseman like most predicted.  Instead, he finished just under 100 votes BEHIND Kriseman.  One of the true shockers of St Pete political history.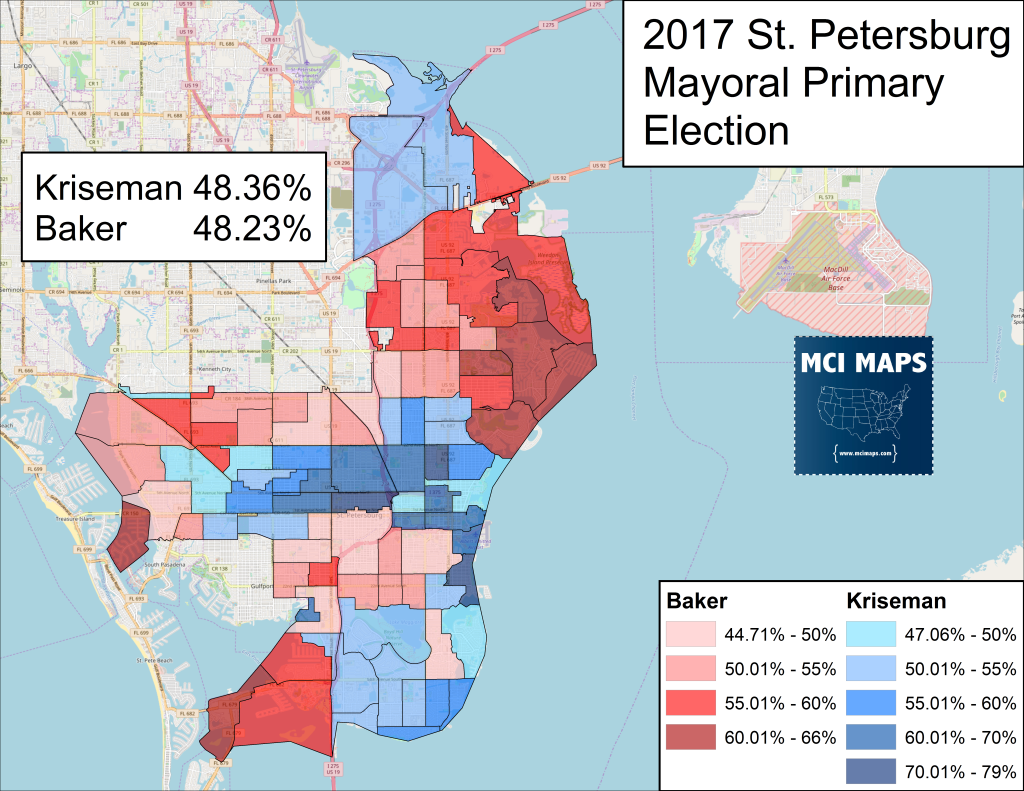 Kriseman's 1st place finish gives him much needed momentum heading into a November runoff.  The showing will ensure money and Democratic Party support keeps flowing in.  So the question is, how did this happen?
How Kriseman beat the Odds
There is a noticeable divide in how St Petersburg cast its ballots for mayor.  The 65%+ who cast their ballots by mail gave Baker a near 4 point margin while Kriseman secured a 7 point victory on election day itself.

One helper was Barack Obama, who remains very popular in the city, came out and endorsed Kriseman just over a week ago.  Kriseman worked hard to nationalize the race as much as possible; tying Baker to Trump and touting major democratic figures who backed him.
But the biggest factor in the election-day win was the strong democratic turnout.

Democrats made up 55.4% of the election day vote, well above the 49.7% they made up for mail ballots.  The democratic edge on election day grew by the hour as more and more democrats showed up later in the day to vote.  Watching the live turnout from the Pinellas County elections website showed a continuous growth in the democratic share as the day went on.   The late-returning vote by mail ballots also skewed blue as democratic GOTV efforts worked to get as many voters to return their ballots as possible.
The democrats made up 51.5% of the total vote cast.  This is the highest share of the St Petersgburg vote they have made in years, even higher than 2012's General election.

Baker's crossover support with Democrats kept it close, but the Democratic margin was just too much to be overcome.  But the question can come to one's mind; how did Baker keep it close when Democrats dominated turnout?
How Baker Kept it Close
To understand Baker's cross-over appeal, lets compare these two maps below.  One map shows Kriseman beating Foster in 2013, the other shows the 2017 August results.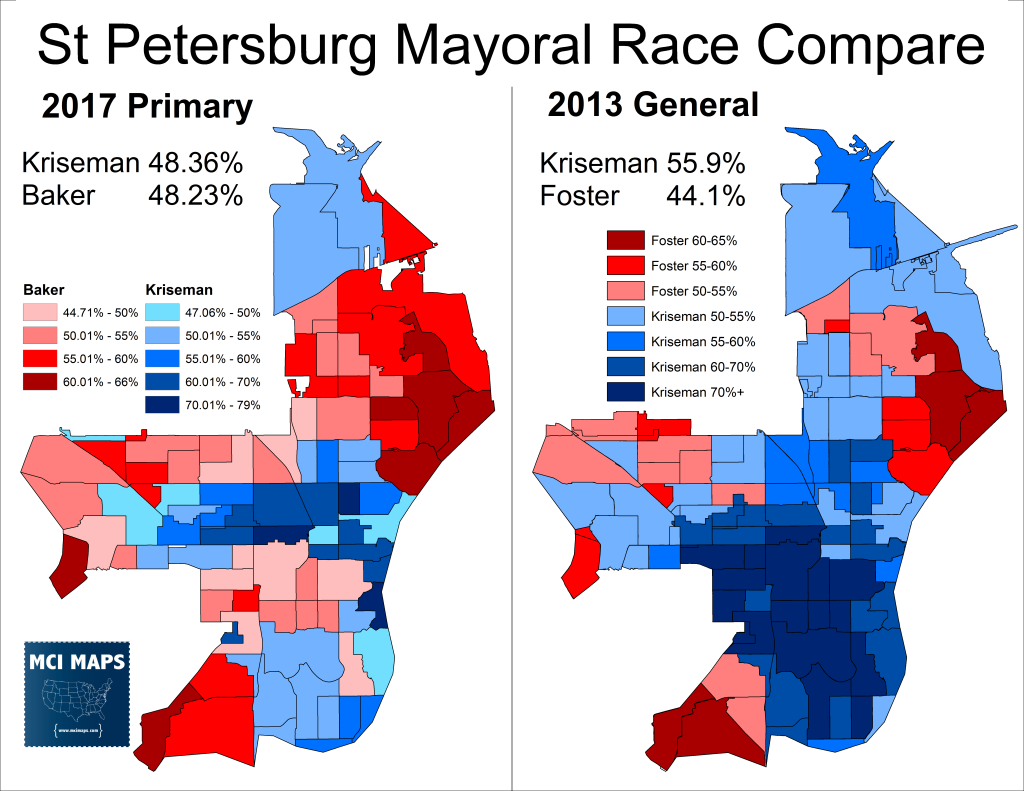 Now look at this map below of registration by race by precinct.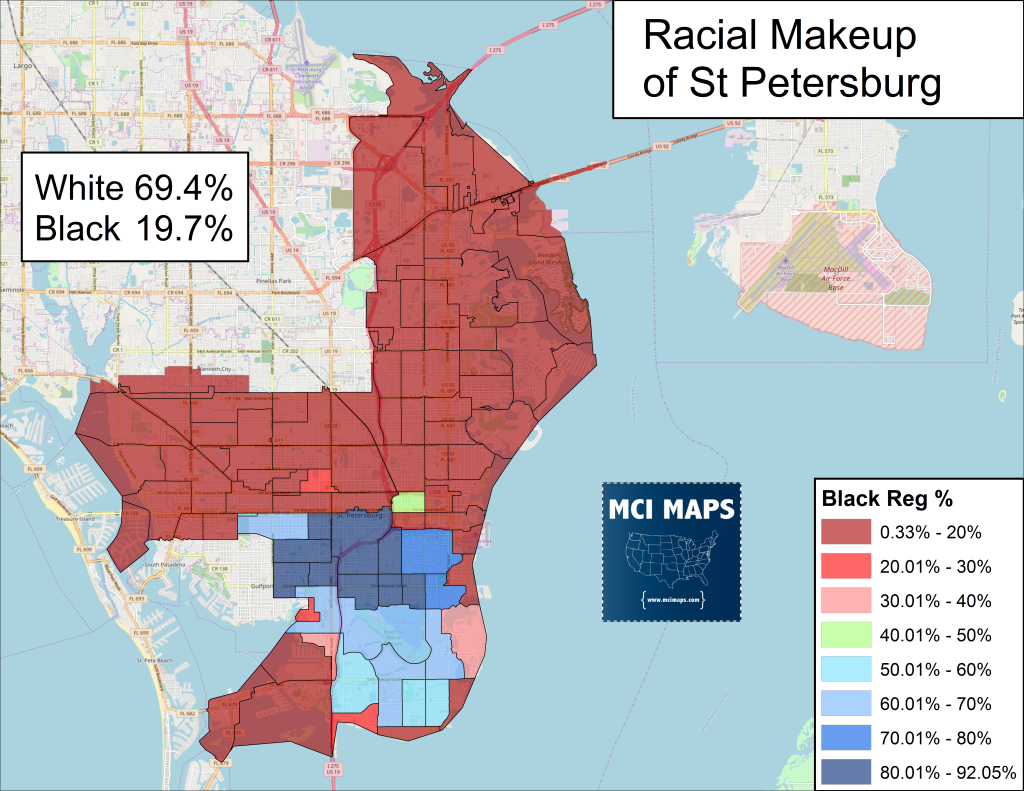 Two things stick out.  Yes Kriseman dropped in the northeast white suburban precincts, but he also dropped big time in African-American precincts.  Baker's support in the African-American community, normally a bedrock for Democrats in St Petersburg, was real and a problem for Kriseman from day 1.
We won't have turnout by race figures for a few weeks.  However, just looking at precincts over 80% African-American in registration shows a stunning shift.   Baker won these precincts by double digits, meanwhile Kriseman crushed in them back in 2013.

Kriseman managed to win the African-American precincts closer to the coast, which have a growing white population (and are also seeing new growth and development).  Baker did well in the African-American areas that are still doing rough and they looked for a change.  This is also an area (known as midtown) that saw lots of investment when Baker was mayor and the community has remained fond of him since.
It should be noted though, Baker's camp thought they could do even better with the African-American community.  While a Republican (granted on a non-partisan ballot) getting 51% of the African-American vote is stunning, its lower than what Team Baker wanted.
The map below shows how Kriseman's support shifted from the 2013 general to the 2017 primary.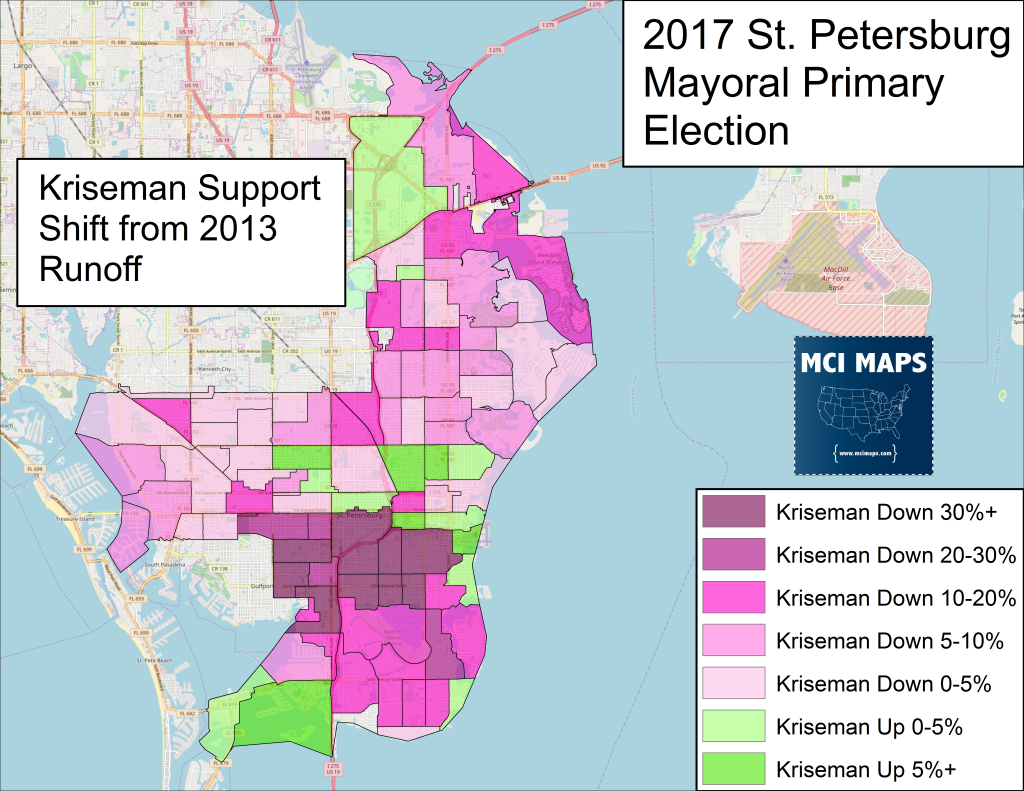 Kriseman managed to stem the bleeding by not hemorrhaging support further north (only modestly down) and he made improvements in the liberal white areas around the coast and in the white midtown region.  White liberals stuck with Kriseman.
The LGBT population (a true force in city politics with 3/8 city commissioners being openly LGBT) also backed Kriseman overwhelmingly. Precincts with the largest LGBT vote saw Kriseman go from 70% in 2013 to 72% while Baker only secured 23% of the vote compared to Foster's 29% in 2013.
Baker's support in the African-American community kept him from falling further behind amidst strong Democratic turnout.  However, Kriseman managed to hold Baker under the margins he wanted in the African-American community and Kriseman's gains with white liberals proved very beneficial.
November Runoff
The runoff will be in November and Kriseman and St Petersburg democrats have new life breathed into them.  The Baker campaign was hoping that if it would be a November runoff, Kriseman would have finished distant in the low 40s and essentially limped into November.  Instead, Kriseman's showing will ensure energy, money and help don't dry up.  The runoff can go either way and Democrats will need to replicate strong turnout for the runoff.  Meanwhile the GOP might realize their GOTV efforts were lacking and work to push their people out as well.  The runoff is a tossup.  Regardless of what November brings, the August primary results proved to be a massive upset on the part of Kriseman.