For the longest time in America, elections for prosecutors revolved around "law and order."  Candidates won by pledging strict punishments and cracking down.   However, recent years have been a notable shift in the dynamics of these elections.  Candidates are running, and winning, on platforms of reform.  Second chances for youth offenders, treatment for drug dependencies, and community outreach; are all becoming bigger staples of campaigns for prosecutor jobs in America.  Recent elections have seen these "reformers" win races in different parts of the nation.  In light of that, I decided to take a look at the elections for prosecutor (known as State Attorney) here in Florida.   I will look at each State Attorney race that took place in 2016.
Florida's Judicial Circuits
Florida is divided into 20 judicial circuits.  These are not even in population, but rather exist to strike a balance between caseloads and geography.  Several circuits are just a batch of rural counties while others a single dense, urban county.  State Attorneys, Public Defenders, and Circuit judges are elected at this level.  State Attorney's run on partisan ballots and after the 2016 elections, there are 6 Democrats and 14 Republicans – which matches up with the Presidential results.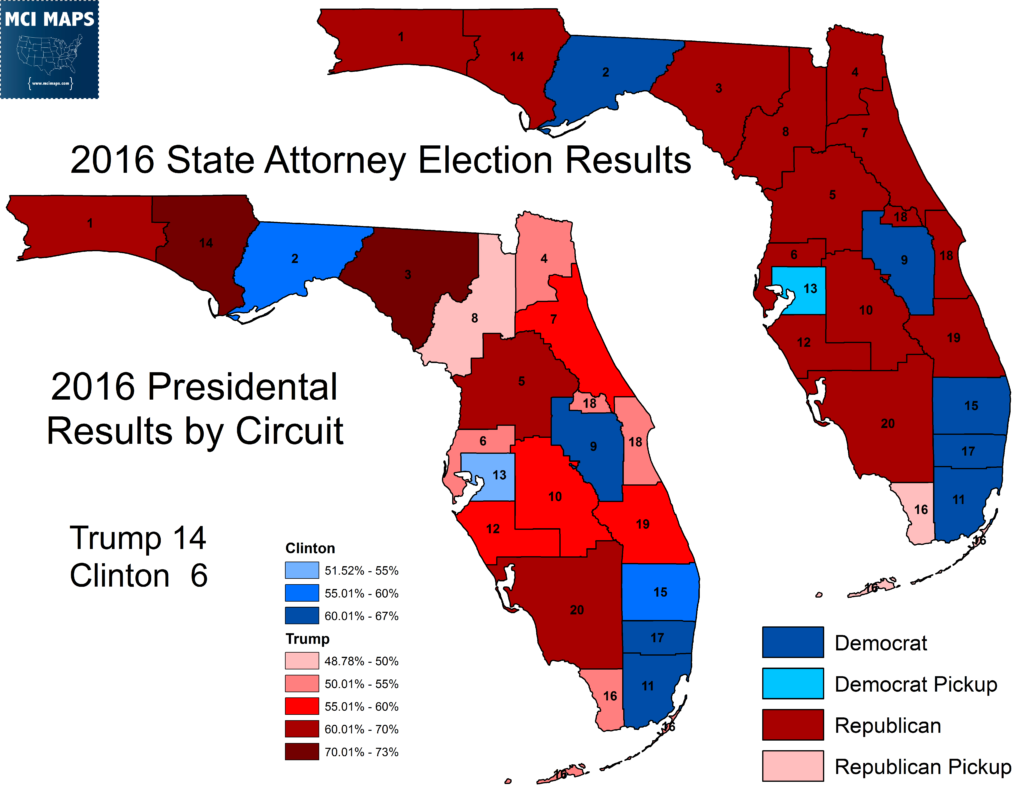 Democrats are at a structural disadvantage here.  No county can be split by a circuit so places like Broward or Dade can only have 1 circuit each.  Democrats being concentrated in urban areas (winning a small number of counties even when they win statewide) means Republicans are likely to always have a majority of this office.  That said, Democrat does not always = reform when it comes to these offices.  Democratic State Attorney's range in their philosophy and in addition there are several reform-minded Republican State Attorney's as well.  Most State Attorney's are unopposed in their elections; however, 2016 saw a good number of seats challenged.   This article will look at each race one-by-one.
9th Circuit State Attorney Election
The election for state state attorney in the 9th circuit has generated more coverage after the election than during it.  Incumbent State Attorney Jeff Ashton lost his re-election in a closed Democratic primary to prosecutor Aramis Ayala.   Ashton raised more money than Ayala, but she was boosted by hundreds of thousands of dollars from a PAC controlled by George Soros.  Soros has been investing heavily in prosecutor elections across the nation, boosting reform-minded candidates.   Ayala wound up winning the primary with 56% of the vote and beat a write-in candidate in the general.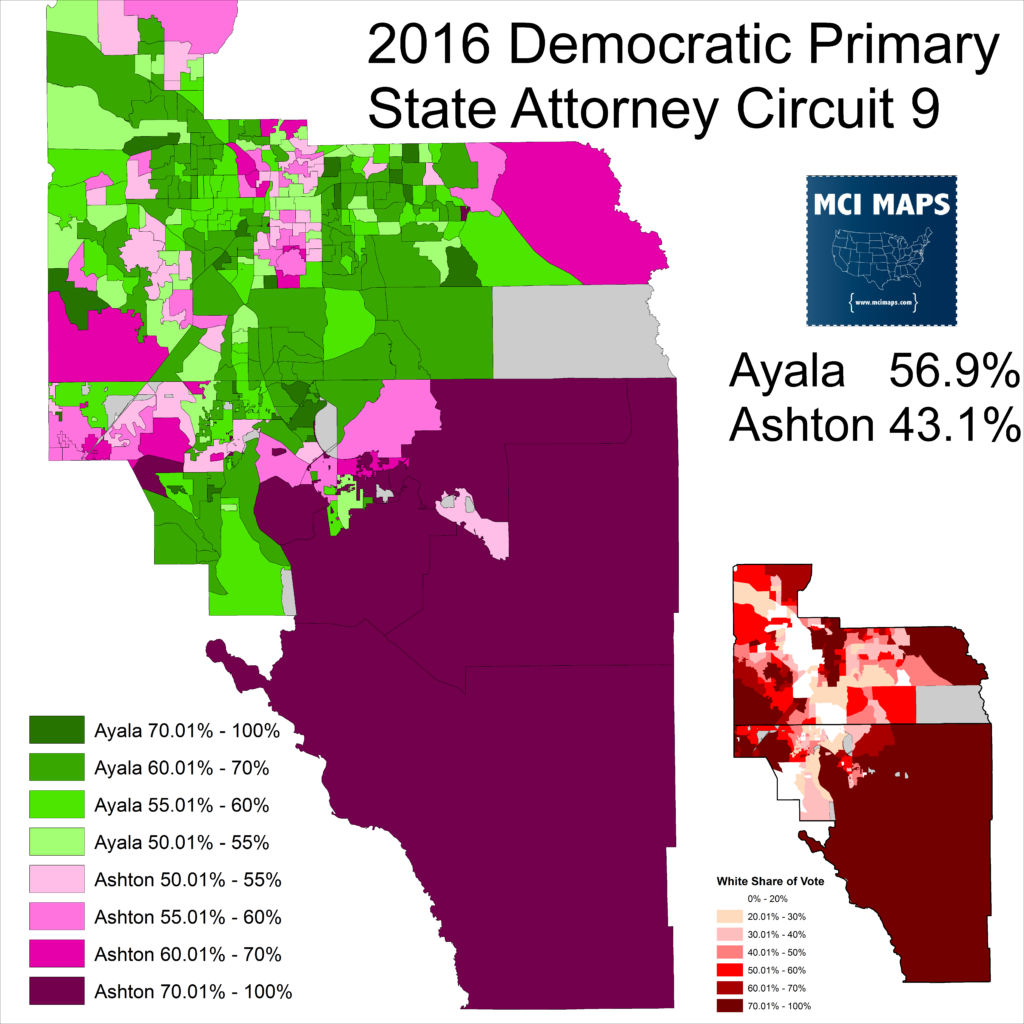 Ayala's win was via a coalition of Hispanic and African-American voters, who combine to make up a majority of the vote in the 9th circuit democratic primaries.  Had the primary been open, white voters would have made up 59% of the vote instead of the 39% they did last August.
Precinct data shows African-Americans and Hispanics gave over 60% of the vote to Ayala while Ashton solidly won white Democrats.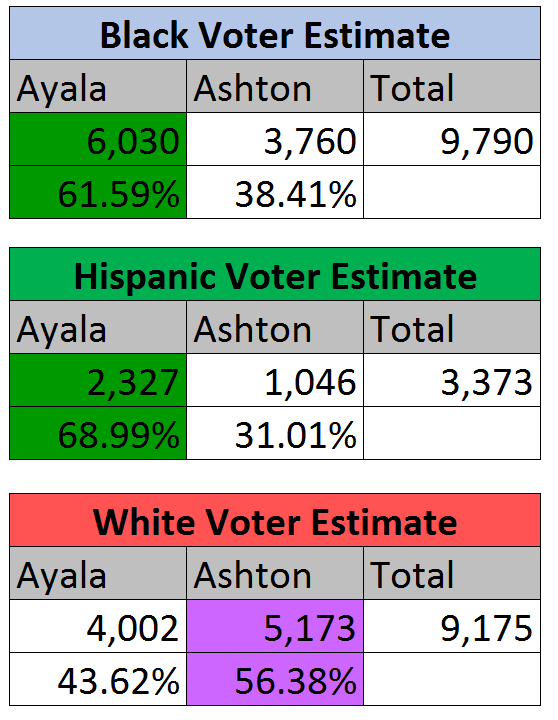 Ayala came under fire for ruling out ever using the death penalty while in office.  This led to a backlash from pro-death penalty lawmakers and resulted in Governor Scott moving all capital cases away from her jurisdiction.  Legal controversy aside, the political question has been focused on if Ayala is vulnerable in 2020 due to her position.  The answer is no.  Polling consistently shows Hispanic and African-Americans are against the death penalty and these two groups were the key to Ayala's success.  The 2020 primary will be even more non-white than this cycle and closing the primary can be done to ensure the primary remains as diverse as it is.  In a general election the circuit is over 60% Democratic up and down ticket, making Ayala safe.
2nd Circuit Election
The Second Juducial Circuit, which includes Tallahassee and its surrounding counties, had an open race for State Attorney after 30-year incumbent Willie Meggs decided to retire.  Meggs had a tough re-election in 2012 against liberal Republican Pete Williams.  Meggs was not popular with African-Americans or liberal whites, causing him to drastically under-perform Obama in the 2nd Circuit in the 2012 elections.  It was a long-standing rumor that Meggs would not run again in 2016 and indeed in 2015 he announced his retirement. Pete Williams announced he would run again and two Democrats, Jack Campbell and Sean Desmond, announced as well.
The Democratic Primary saw Megg's deputy, Jack Campbell, face off against Attorney Sean Desmond.  Campbell had the backing off Meggs, but ran to the left of his boss, stressing a belief in second chances and needed reforms to the system.  Desmond ran further to left than Campbell and argued that a fresh face was needed; away from the incumbent administration, to bring about true reform.  One thing was clear based on the campaigns and the 2012 results, Meggs could not win a Democratic Primary if he had run again.  Meggs was used as an attack against Campbell with African-American voters and white liberals.
Campbell benefited from major institutional backing and had twice the money Desmond did.  However, while many expected an easy Campbell win, they were shocked by Campbell losing Leon County and barely winning the circuit.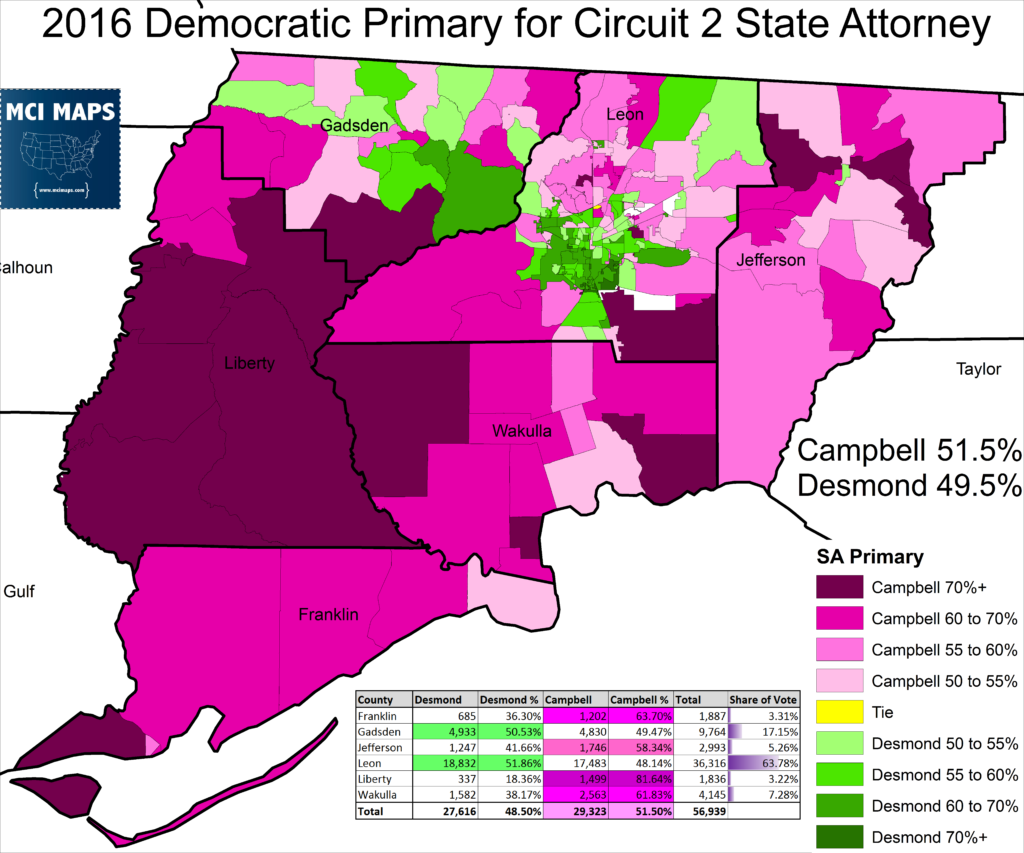 The democratic primary for the 2nd circuit is over 40% African-American, and these voters were key block for Desmond.  Campbell dominated rural white voters in the outlier counties as well as suburban Democrats; but was weaker with Tallahassee's white liberal and African-American vote.  Overall African-Americans gave 60% of the support to Desmond.

Desmond's problem was he needed a higher African-American share to overcome the large, and expected, losses in the white, rural counties like Liberty and Wakulla.  Gadsden's near tie was a big boost for Campbell (over 70% African-American in the primary), meaning he did better with rural African-Americans than those in the city.  That said, Campbell's narrow win seen as a shock to many insiders of the area who expected a Campbell landslide.
The general election drew less attention than the primary.  Campbell consolidated much of the Democrats he lost in the primary while Republican Pete Williams aimed to maximize the cross-over Dem votes he had received in the 2012 election.  When the results came in, Campbell won by 6%.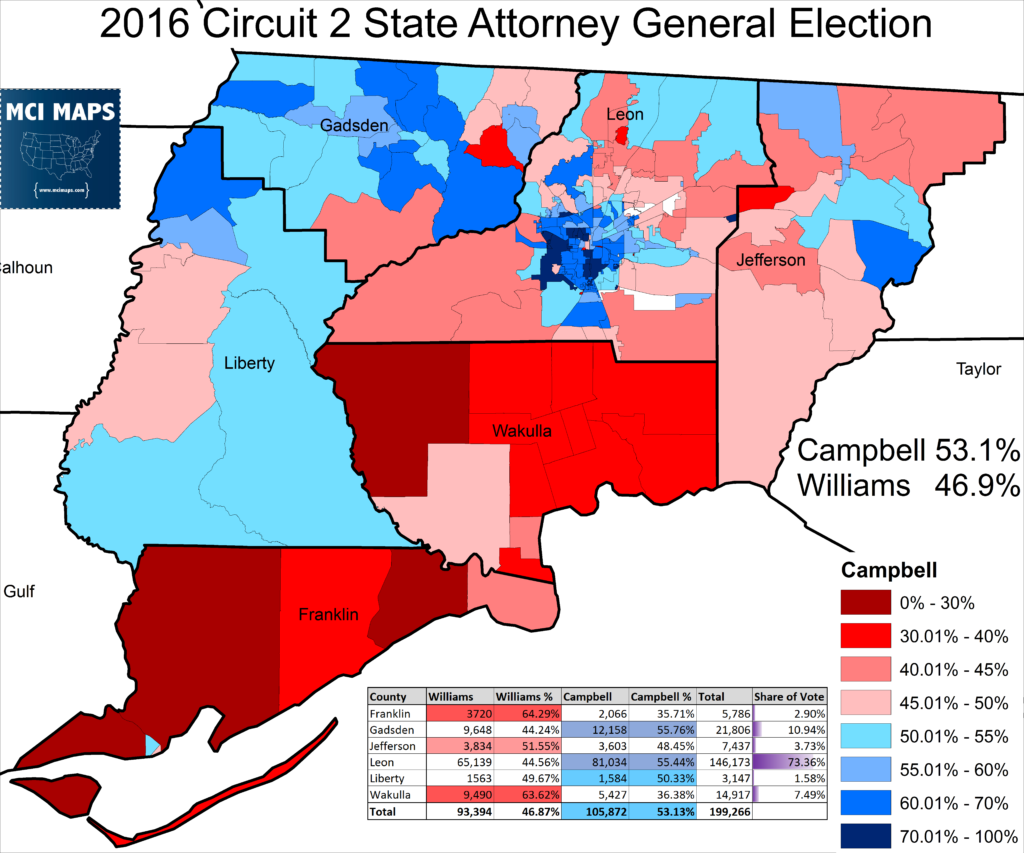 Williams won many of the traditional GOP areas and had decent margins in the African-American community.  The results were similar to 2012, with both Campbell and Meggs doing better in rural Liberty County but under-performing in the African-American community.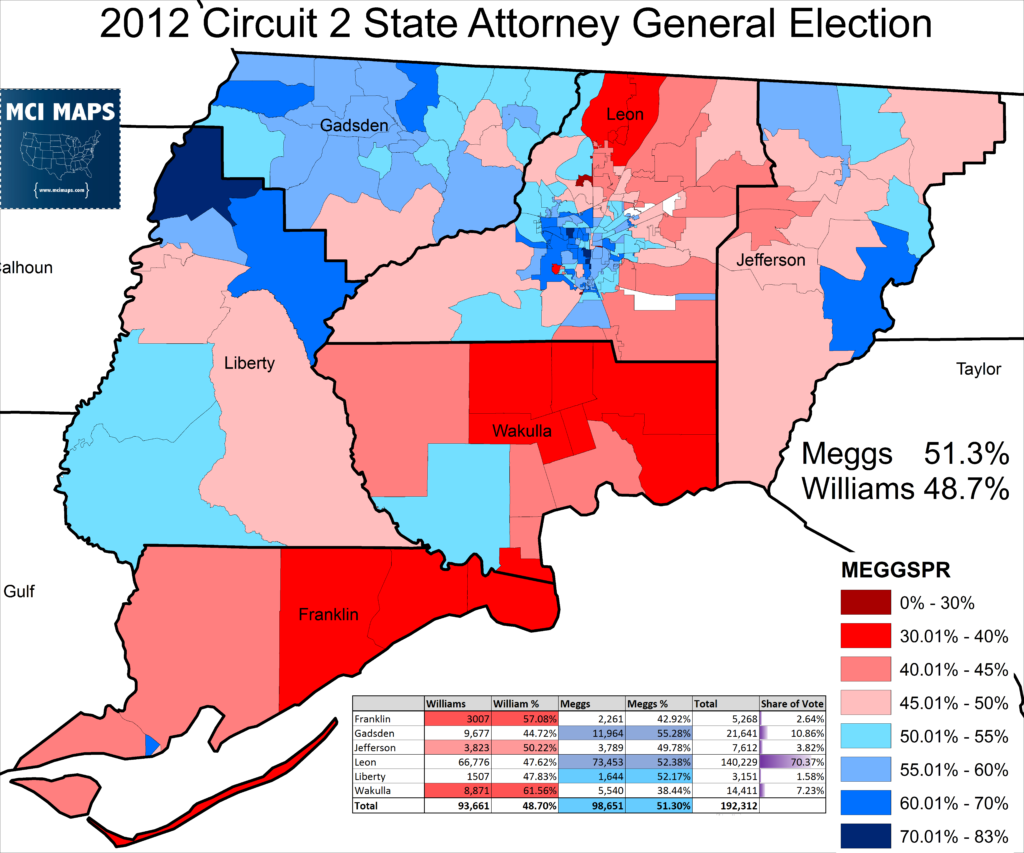 Campbell did better than Clinton across the board in rural white areas but likewise did worse in African-American precincts in Gadsden and Leon.  The rural over-performance wasn't worth as much, causing him to perform a few points lower than Clinton.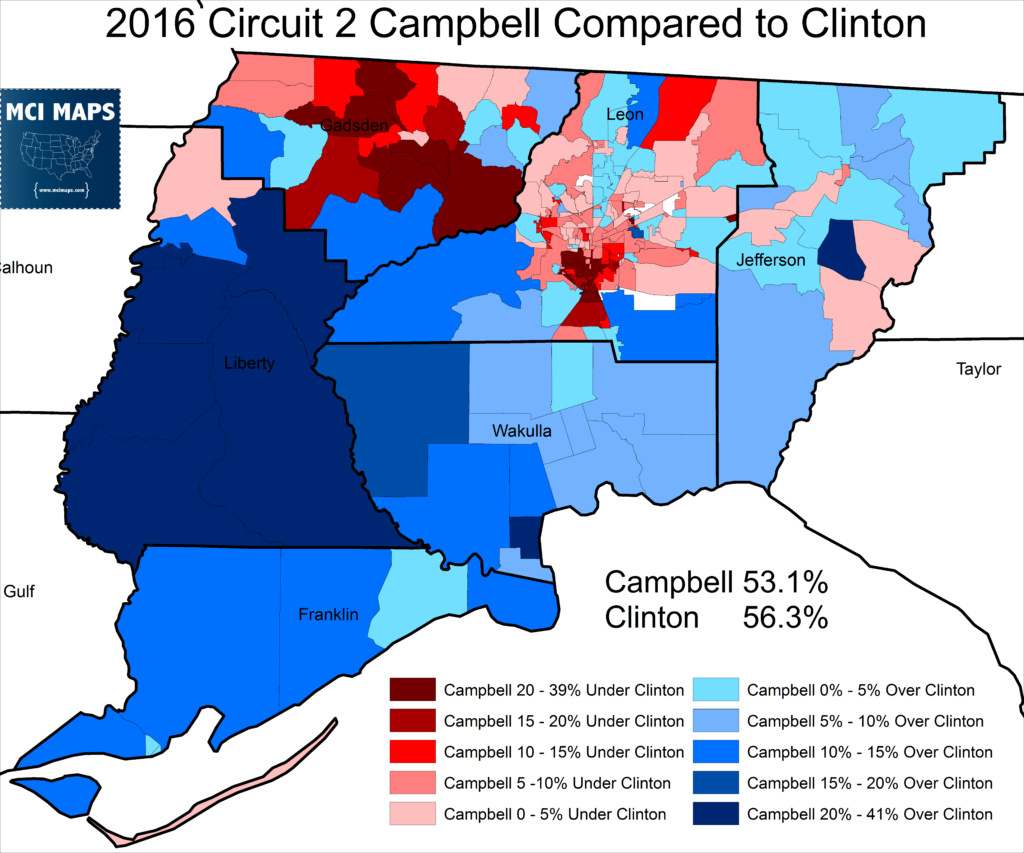 That said, Campbell's African-American share was better than what Meggs got in 2012.  Precinct data shows Meggs only got 62% of African-Americans while Campbell came much closer to 70%.

William's worked hard in the African-American community in both election cycles, making him one of the best performing Republicans with African-Americans in recent history.  Campbell managed to eat into that support and reclaim some of this crucial block.  The close races show the growing power of African-Americans and liberals in the circuit.  Campbell's reform mentality definitely helped him edge off an upset.
Circuit 17 Election
The election for state attorney in the 17th Circuit, Broward County, came close to seeing an upset.  Longtime State Attorney Michael Satz came within 3% of losing to Theresa Williams, a trial attorney.  Williams ran as a reformer.  Satz outspent Williams and had institutional backing but came close to losing in a shocker.  Satz has generated controversy for his stiff sentences and prosecuting cases where evidence was weak.   Meanwhile Satz has been seen as going easy on the politically powerful in Broward County.  Satz benefited from the primary being open due to no GOP challenger filing for November.  Precinct data shows Satz did well in GOP areas and white suburbs while losing non-white communities.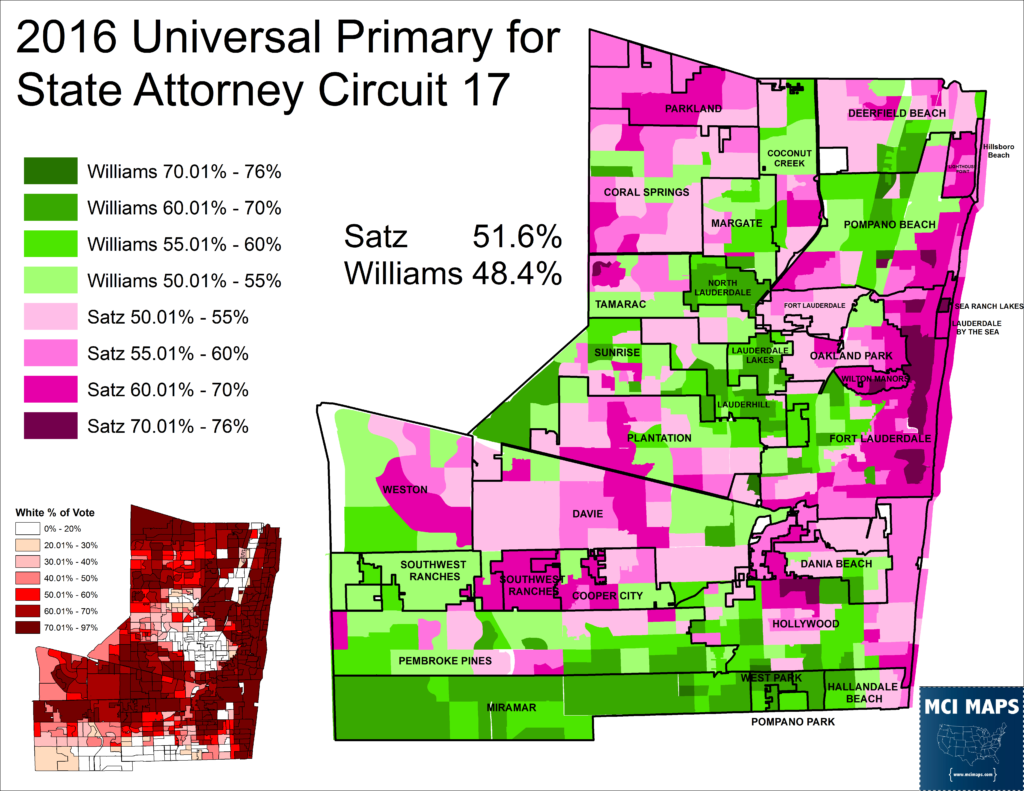 Broward is divided into over 30 cities, and these results give us a stronger clue at the candidate's respective support.  Williams did very well in African-American communities like West Park, North Lauderdale and Miramar.  Satz, meanwhile, did very well in GOP cities like Sea Ranch Lakes, Lauderdale-by-the-Sea and Lighthouse Point.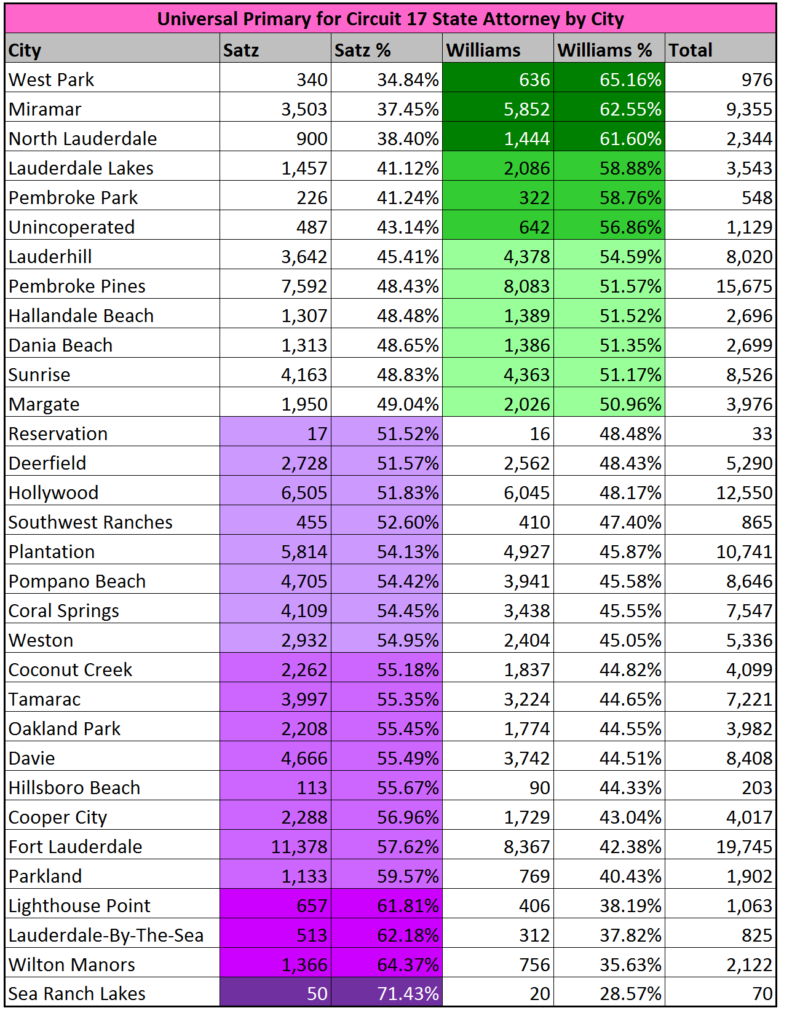 Satz also secured wins in more liberal areas like Wilton Manors and racked up modest wins in Democratic suburbs like Cooper City, Davie and Weston.  Meanwhile Williams needed bigger wins in African-American communities like Lauderhill.
No precincts were Hispanic enough to generate proper estimates, but data shows African-Americans backed Williams with 56% and white voters gave Satz 64%.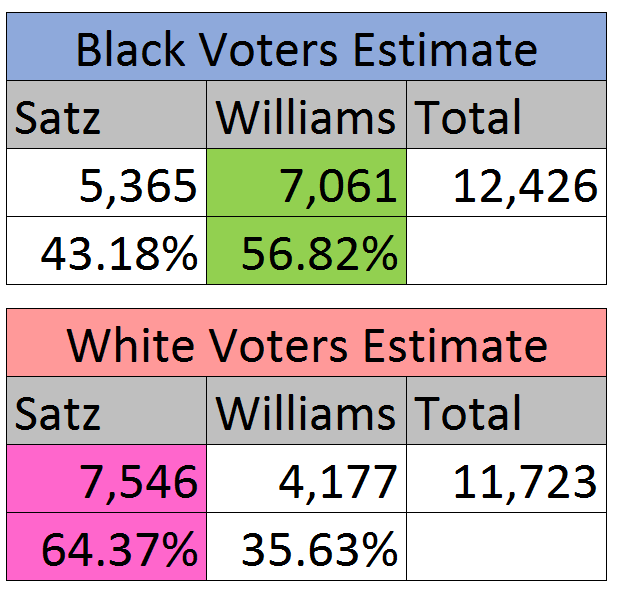 Had the primary been closed, the white share of the vote would have only been 46% and African-Americans would have been 39%.  Instead, because the primary was open, whites hit 55% and African-Americans fell to 28%.  Based on this data, its clear Williams would have won a closed primary if these dynamics held.


The open primary also resulted in 23% of the vote being Republican.  Broward is a very Democratic city and the only area with more GOP than DEM votes was along the coast.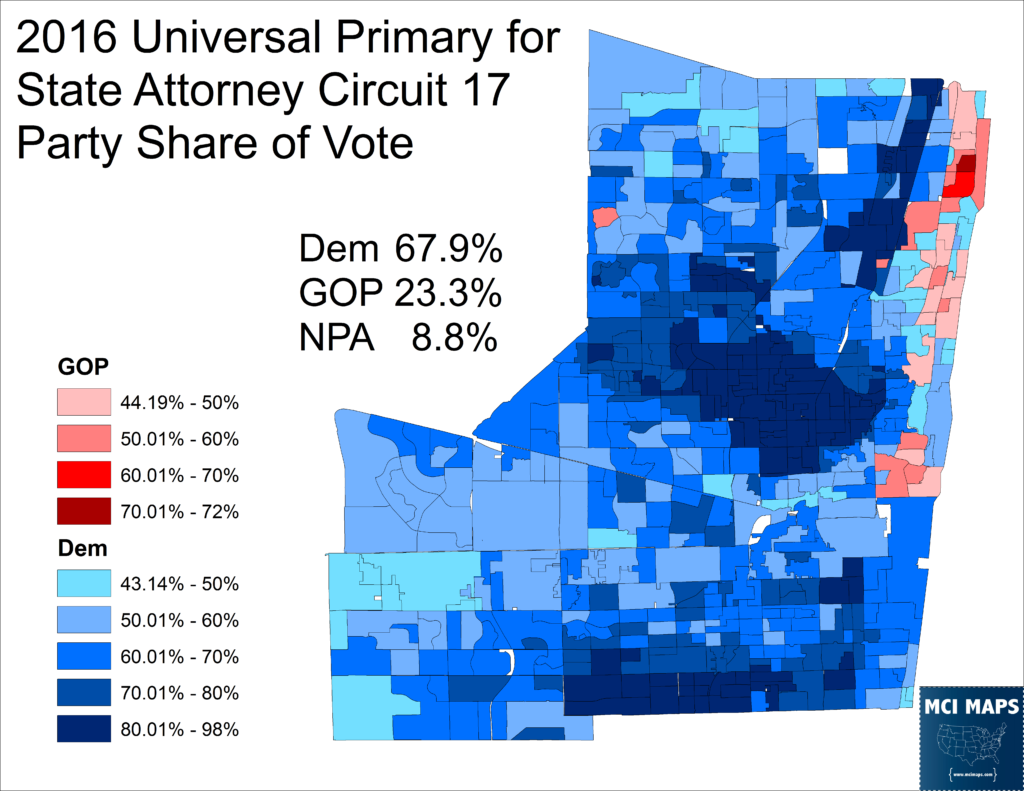 This was an areas that gave Satz big margins.  Satz lucked out with an open primary.  Had the election been closed, Williams would likely be the State Attorney for Broward right now.
4th Circuit State Attorney Election
The 4th State Attorney Election generated the most interest at the time it was taking place.  Incumbent Republican Angela Corey had developed a poor reputation for her handling of cases.  Corey was known to go for stricter sentences for African-American defendants and her desire to grandstand and over-prosecute in high-profile cases led to many high-profile failures.  Her most notorious failure was her prosecution of George Zimmerman for the shooting death of Trayvon Martin.  Corey was criticized for using the event for her own PR and for seeking 1st degree murder (with a higher burden of proof) and not a lesser murder charge that could have seen a guilty verdict.  Corey was also routinely criticized for trying far more juveniles as adults than her predecessor.
Her notoriety attracted three challengers from other prosecutors – Melissa Nelson and Wesley White.  The primary looked like it might be open since no general election candidate had filed.  However, a lawyer filed as a write-in at the last minute with the aid of Corey's campaign manager.  The event sparked controversy as Corey was clearly aiming to keep African-American Democrats, who reviled her, from voting.  In the end it didn't matter, as Corey; her controversies wearing on voters, was ousted in a landslide by Melissa Nelson.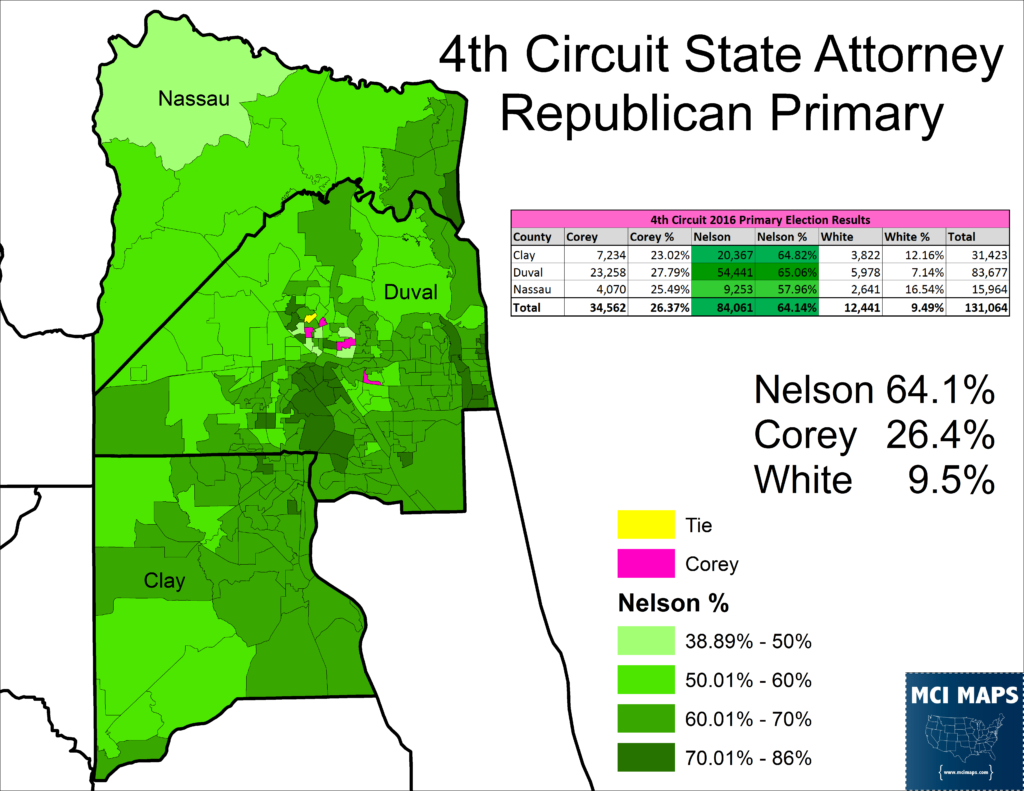 Nelson won across the board, emerging as the primary challenger to Corey while White struggled to gain traction.  Nelson didn't campaign as a major reformer, but more against Corey's show-boating attitude and controversies in her office.  Rumor of African-Americans switching registration to vote in the GOP primary don't appear to be true, as African-American Republican numbers barely rose over the last two years.  The primary was over 95% white.  The few precincts that were overwhelmingly African-American gave Nelson 60% to Corey's 21%.
13th Circuit State Attorney Election
The race for the 13th Circuit State Attorney arguably resulted in the biggest SA upsets of 2016.  Longtime Republican State Attorney Mark Ober lost re-election to Democrat Andrew Warren.  Warren was a political newcomer and former district attorney that ran a hard campaign against Ober.   Despite the 13th Circuit (Hillsborough County) being modestly Democratic, Ober had strong bipartisan support and was considered a favorite in his re-election.  Warren didn't run by attacking Ober as being to harsh on defendants, but rather attacked Ober as being unsympathetic to victims of crimes.   One major case Warren cited was Ober's hesitance to prosecute a 27 year-old man that had met a 15 year old girl online and eventually met in person for a sexual relationship.  Ober cited the girl, a minor at all points in the relationship, voluntarily going to meet the man, as evidence the crime didn't meet the criteria of rape.  Ober was attacked for victim blaming.
When the results came in, Warren scored a narrow victory, doing around 1% worse than Clinton did.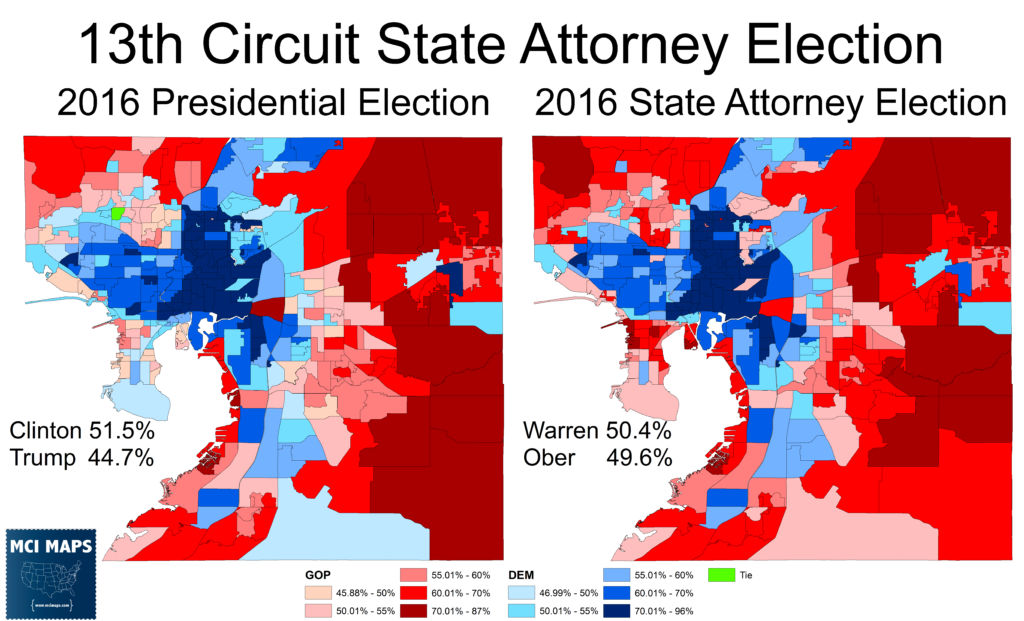 Clinton and Warren both won Democratic strongholds in and around Tampa.  Clinton also over-performed Warren in whiter suburban ares and precincts with a larger Hispanic population.  Meanwhile, Warren outperformed Clinton in the more rural western parts of the county, as well as Plant City.  Overall there was a strong correlation between the two candidate's shares of the vote.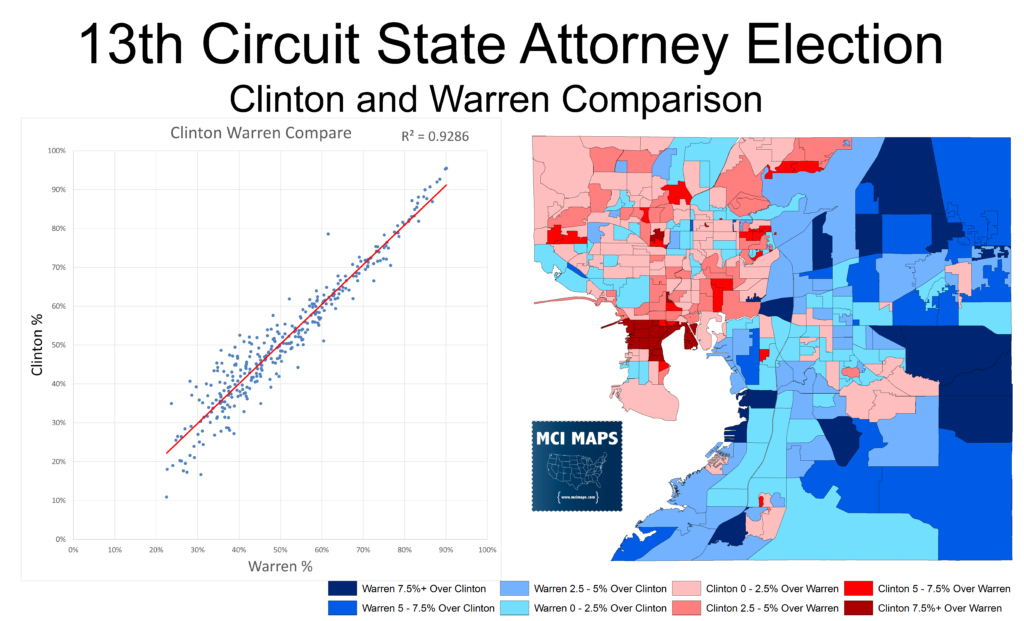 Warren was no doubt aided by Clinton carrying Hillsborough.  It's hard to imagine he could have won if Clinton lost the county.  However, while Clinton won the county, Republican Senator Marco Rubio also carried it in his re-election; so it wasn't just coattails that dragged Warren over the top.  Warren's aggressive campaign and Ober's more lackluster effort definitely played a part.  Ober got some bad headlines for incidents like the case described above and didn't work hard to combat the negative image that was generated.
14th Circuit State Attorney Election
Longtime Republican State Attorney Glenn Hess faced a challenge on his right by his former second-in-command Greg Wilson.  No Democrat or write-ins filed, making the primary open to all voters.  Wilson went after Hess for courtroom attendance and argued Hess used his position to reward political supporters with work.  The biggest policy debate, however, was over Florida's Stand Your Ground law.   Hess, along with the other state attorney's of Florida, worked to kill a bill that would have shifted the burden on stand your ground cases from the defense to the prosecution.  Hess defended his stance and noted all 20 state attorney's opposed the measure.  Wilson argued in favor of the change.  The positions on the bill earned Wilson an "A" from the NRA while Hess received an "F".   Hess argued he wasn't there to do the NRAs bidding, a bold stance in a rural district.
Hess, despite his challenge from the right in a conservative district, won with 58% of the vote.   He won all counties in the district.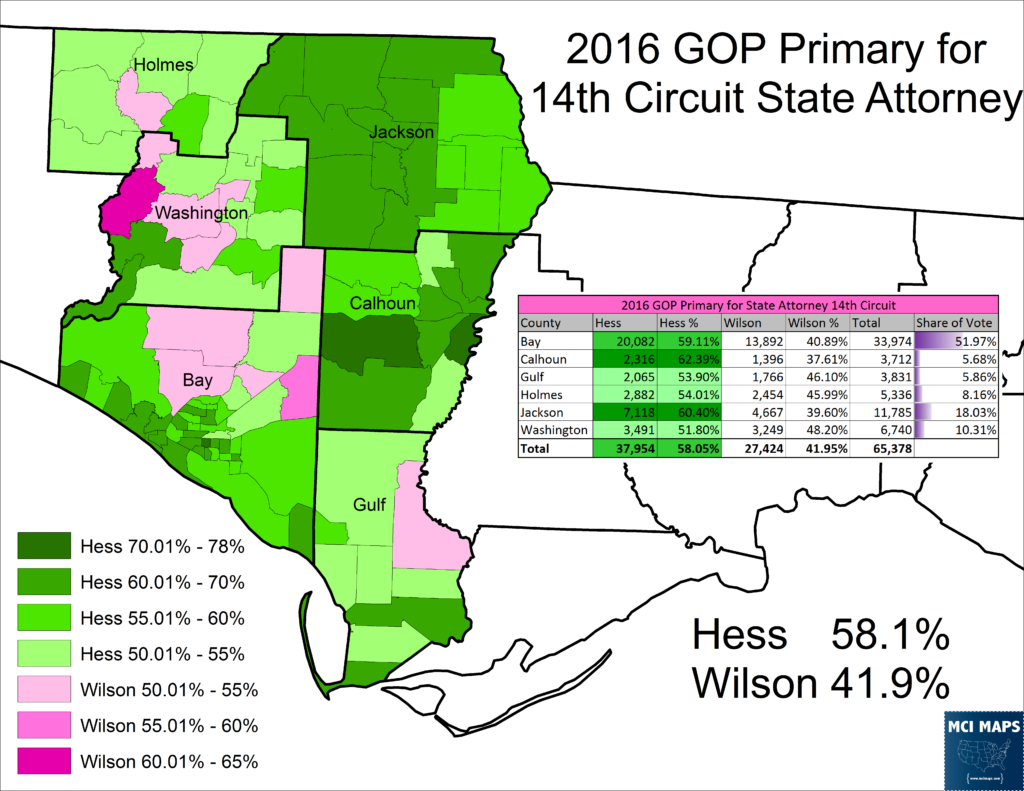 The open primary must be addressed as well.  It could be easy for some to argue Hess was simply boosted by liberal Democrats.  However, knowledge of the district makes one realize quickly that wasn't the case.  The democrats of this region are much more conservative than they are in more urban centers.  This is part of Florida known for its "southern democrats" who vote blue locally and red higher up on the ticket.  Democratic registration has been falling as the older generation gives way to a younger generation of Republicans.  In this primary Democrats made up 37% of the vote.  The precinct and county breakdown is below.
Democratic share was strongest in the east; specifically Jackson and Calhoun Counties.  Just a few cycles ago Holmes and Washington would have been much bluer.
The partisan data gives some conflicting results.  Hess's best counties were indeed Jackson and Calhound.  However, right behind them was Bay, which is decidedly Republican.  Using precinct data, it appears Hess did do better with Democrats. However, he easily won voters of both parties.  Precincts over 70% Democratic gave Hess 63% of the vote, while precincts over 70% GOP gave him 57%.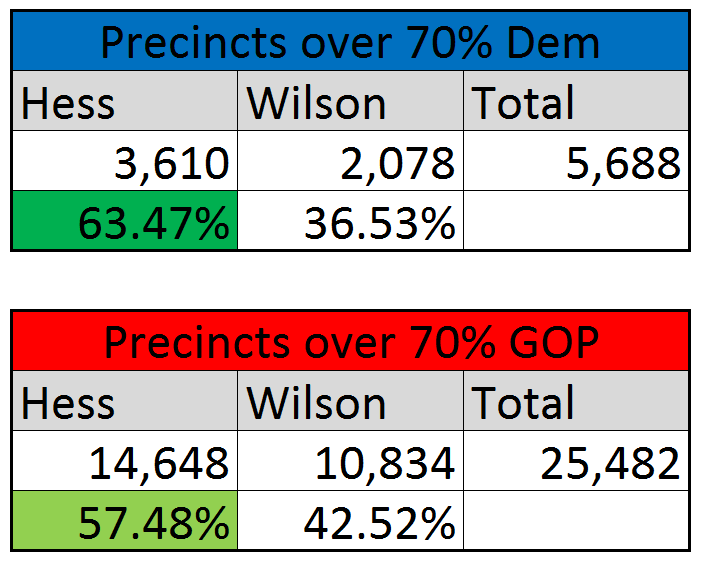 Hess also won over 60% of the vote in the precincts with the largest African-American population. His best precinct (77%) was in the one precinct over 90% African-American. Of course his second best precinct (74%) was an 89% white precinct in Calhoun.  African-Americans made up 9% of the vote vs 88% for whites.   While African-American precincts did see some undervote (folks leaving the race blank), it appears about 90% of those who showed to vote cast ballots for the State Attorney race.
Hess's win was likely boosted a bit by Democrats in Calhoun and Jackson.  However, to what extend that was personal loyalty and support is unclear.  White democrats of the district are much more conservative than their city counterparts, so any claim of a liberal pump for Hess doesn't really hold up.  It does appear clear that Hess was preferred candidate among African-Americans.
16th Circuit State Attorney Election
The final State Attorney election in Florida for 2016 was fairly unique.  The 16th Judicial Circuit is made up exclusively of the Florida Keys (Monroe County).  While the keys are not heavily populated, their geographic isolation means they get their own circuit.  The election featured a rematch of sorts from 2012.  Four years earlier, Incumbent State Attorney Dennis Ward lost the Democratic primary to Catherine Vogel.  Ward had built a reputation for going after public officials for corruption but was at the same time attacked by Ward for grandstanding in the cases.  Vogel ran on her record as a prosecutor from her time working in Miami-Dade.  She had also worked for the former state attorney, who Ward had defeated in 2008.
Vogel beat Ward in 2012, but then in 2016 he came and beat her back.   Ward challenged Vogel in 2016 as a Republican and narrowly won the election.  Both results are below.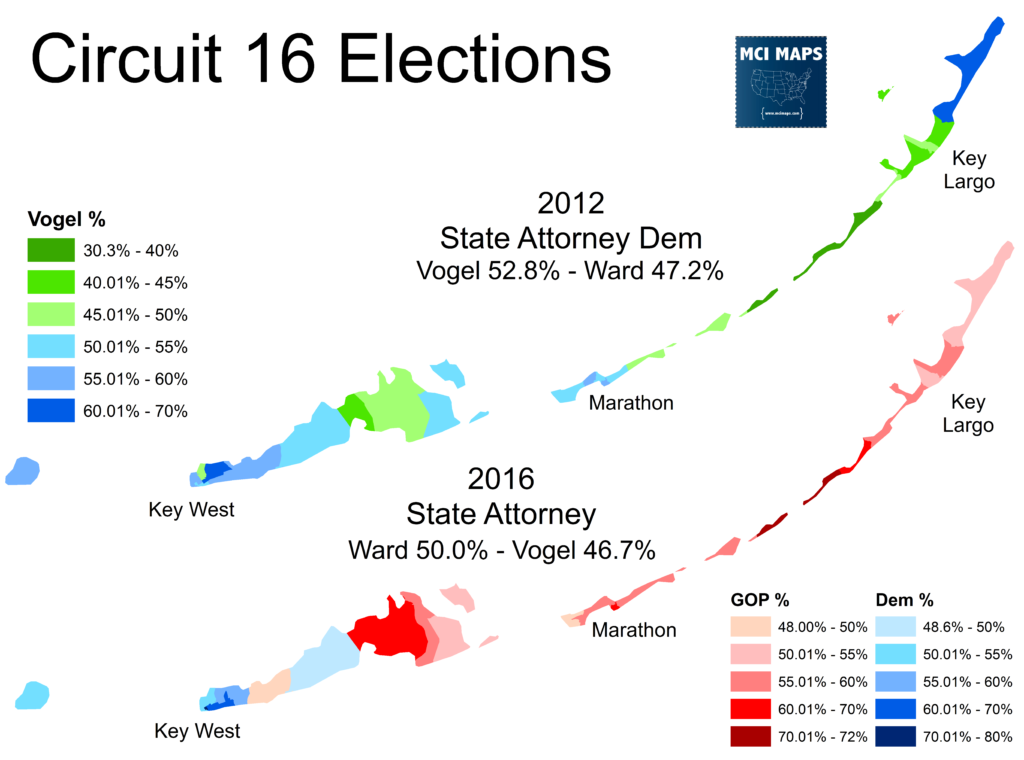 In her primary win, Vogel did best around Key West and Marathon.   She also did especially well in the north end of the county, home to the Ocean Reef Club and some very expensive homes.   In the 2016 general she held on to the more Democratic Key West but lost the rest of the keys.
Precinct maps of the 2016 State Attorney and Presidential results are below.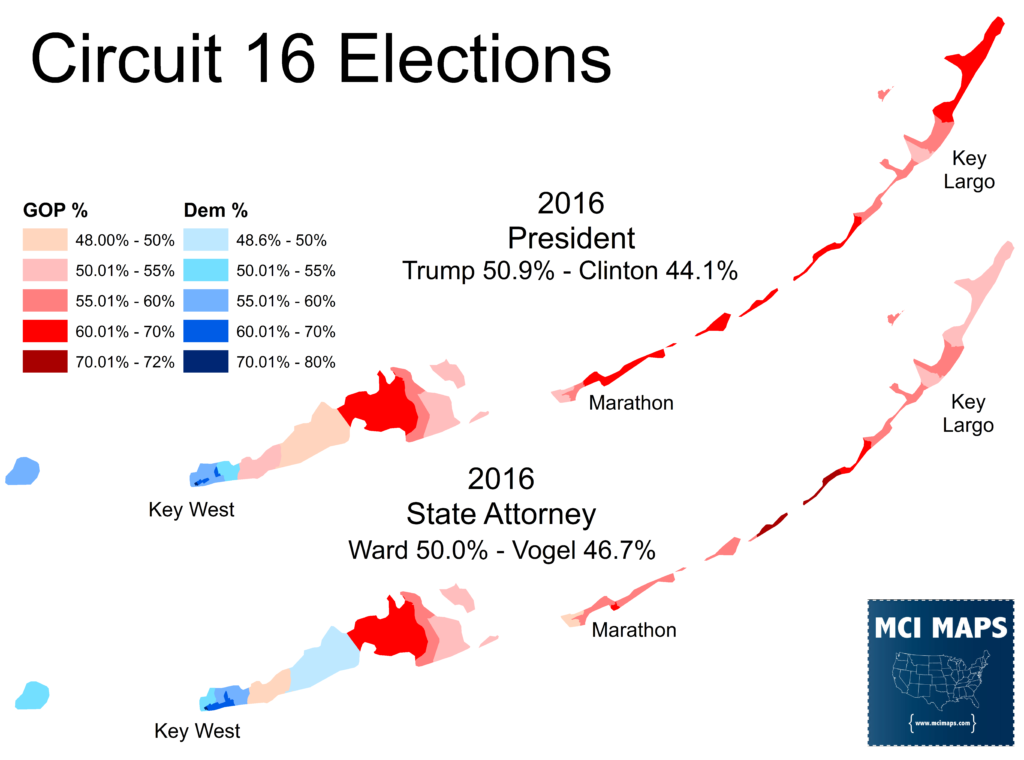 In both elections Key West was a key Democratic base while the rest of the keys leaned Republican.   Politically, the keys have been trending more Republican in recent years as growing home values price-out working class voters, many of whom now live in Miami-Dade and commute to work in the Monroe County.  This has left a growing share of the vote base being those with higher income and more propensity to vote GOP.
The votes for State Attorney and President where heavily correlated.  Clinton did a bit better in parts of Key West but Vogel did better in most of the county.  Vogel outperformed Clinton the most in the high-end Northern portion of the district.  Vogel has always over-performed there.  Whether this is due to Ward being unpopular there or Vogel perhaps living there (such residency records are not public) is unclear.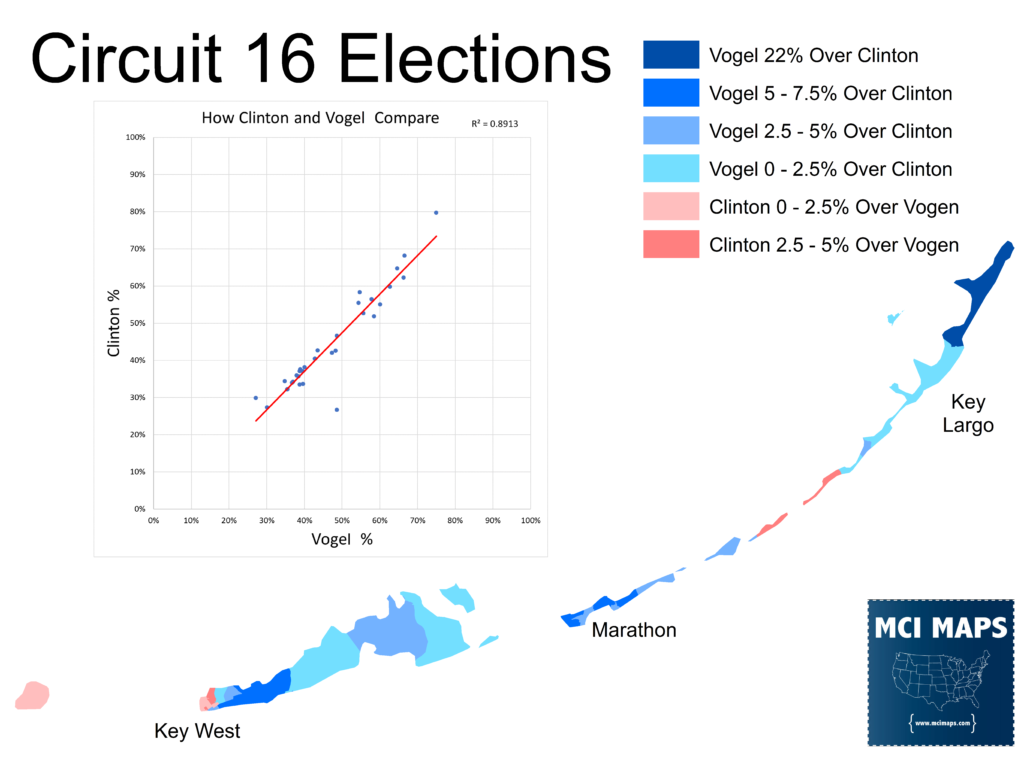 Ward's run as a Republican did not feature any right-wing themes.  In fact Vogel came off as a fairly standard prosecutor that could have passed for a moderate Democrat or Republican.  Perhaps Ward's most conservative critique was criticizing Vogel for not seeking the death penalty in a double-murder case.  However, Vogel's response was related to aggravating factors being insufficient and not an opposition to the practice itself.
Overall its hard to argue the race really fell on stark ideological lines like other races have.   Ward no doubt was aided by the county's GOP lean.
The Future
The 2016 races for State Attorney didn't see as much of the stereotypical "lock them up" talk.  Candidates off all parties talked about reforms being needed to reduce crime as well as properly going after serious offenders.  Near upsets from the left in the 2nd and 17th show a growing shift of the politics of these offices.  Meanwhile, death penalty controversy that erupted from the 9th circuit may not be over.  2020 could more liberal candidates run in the 2nd, 11th, 17th, and 15th with either anti-death penalty views or strong views of cutting it back.  Primaries will likely decided those districts and the non-white (much more open to "reformist" talk) share of primaries is growing.  Expect more reform-minded candidates to run in 2020.