Kenya held its 2017 Presidential Election on August 8th.  Incumbent President Uhuru Kenyatta won a second term in the first round of voting with 54% over Raila Odinga.  This also marked the 2nd election for Kenya where widespread violence and vote rigging did not occur.  The 2017 contest was a repeat of the 2013 race, which saw Kenyatta score a narrower victory over Odinga.   However, some unrest following the vote remains as Odinga has claims the vote was rigged and is challenging the results in court.  The independent election board and international observers all rank the election as fair.  There is a concern of renewed tensions however as the challenge moves forward.  Unrest following the election has left some 25 dead, but this pails in comparison to the hundreds or thousands left dead following the rigged 2007 election.
Ethnic Division in Kenya
Like many African nations, ethnic and tribal tensions remain in Kenya.  Kenya's history has been scarred by ethnic tensions and warfare, which blew up again following major unrest following a rigged 2007 round of voting.  While the situation has improved and 2013's vote was heralded for its relative peacefulness, their is still strong tension between major ethnic groups.  These tensions have spilled over into the political realm with the main political parties organized along ethnic lines.  This map from Odyssey Safaris shows the major ethnic groups in Kenya.  The two major political parties are formed around these groups.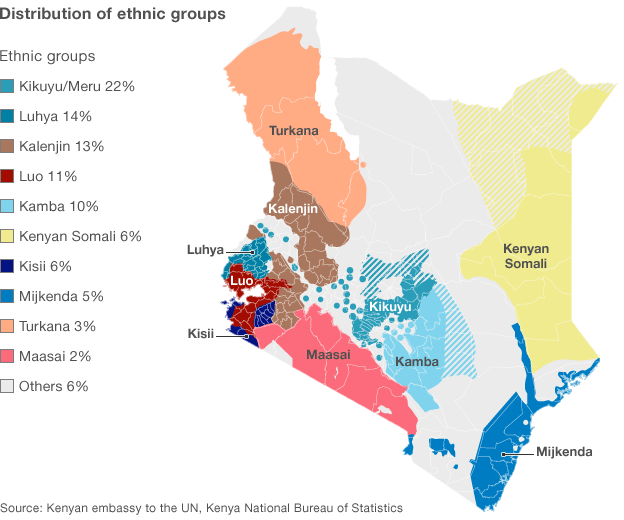 Lets look at the candidates for President compared to the ethnic group they are supported by.
President Uhuru Kenyatta is Kikuyu and his running mate, William Ruto, is Kalenjin.  Both of these ethnic groups support Kenyatta's Jubilee Party.
Challenger Odinga, meanwhile, is Luo and his running mate, Kalonzo Musyoka, is Kamba.  Their ODM party is heavily backed by those ethnic groups.
Of Kenya's "big five" ethnicities, only the Luhya are not on a ticket.  However, they backed Odinga in both 2013 and 2017.  Kenyatta has managed victories by doing well with other small ethnic groups and with the support of the 1st and 3rd largest ethnic groups.
The Results
In 2013, Kenyatta won with just over the 50% needed to avoid a runoff, while Odinga was down at 44%.   The results fell across very stark ethnic lines.  Many counties in Kenya saw a candidate win over 80% to 90% of the vote.   Counties with more diverse ethnic makeups or made up of the smaller tribes saw a more split vote.   In 2017, Kenyatta won with 54% to Odinga's 44%.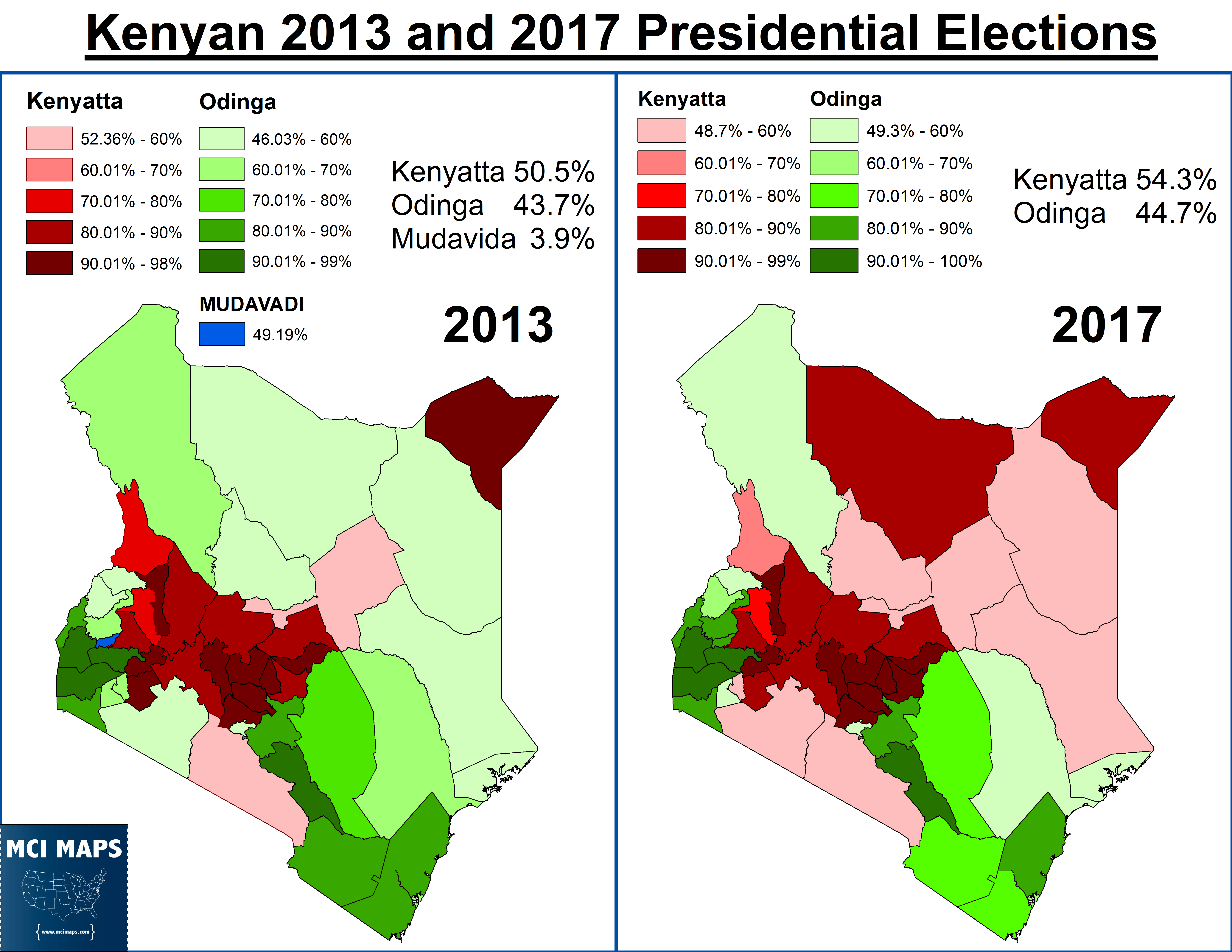 Kenyatta improved in counties made up of smaller ethnic groups, but the loyalty of the "big five" ethnicity remained the same.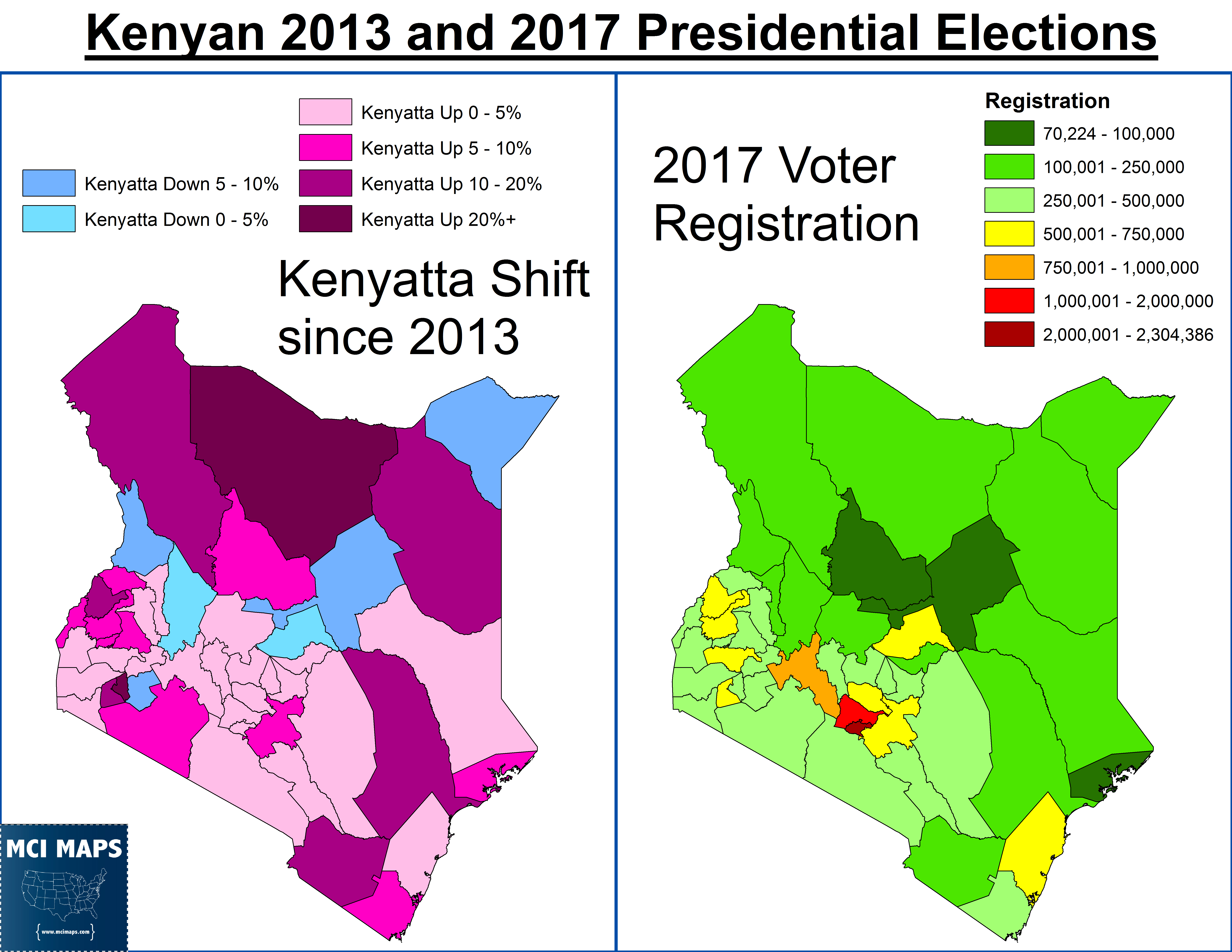 Kenyatta made slightly improvements in most counties.  However, he made major gains in northern counties made up of assorted groups and the the Turkana.  Kenyatta also improved in the Luhya regions, but so did Odinga.  In 2013, Musalia Mudavadi, a Luhya politician, ran and pulled large vote shares in the those counties.  Most of Kenyatta's biggest gains were in lesser populated counties, but his general improvements across the board helped edge his vote total up.
The chart below lays out both elections by county along with the ethnic group that dominates the county most (which are estimates based on county borders and the ethnic maps).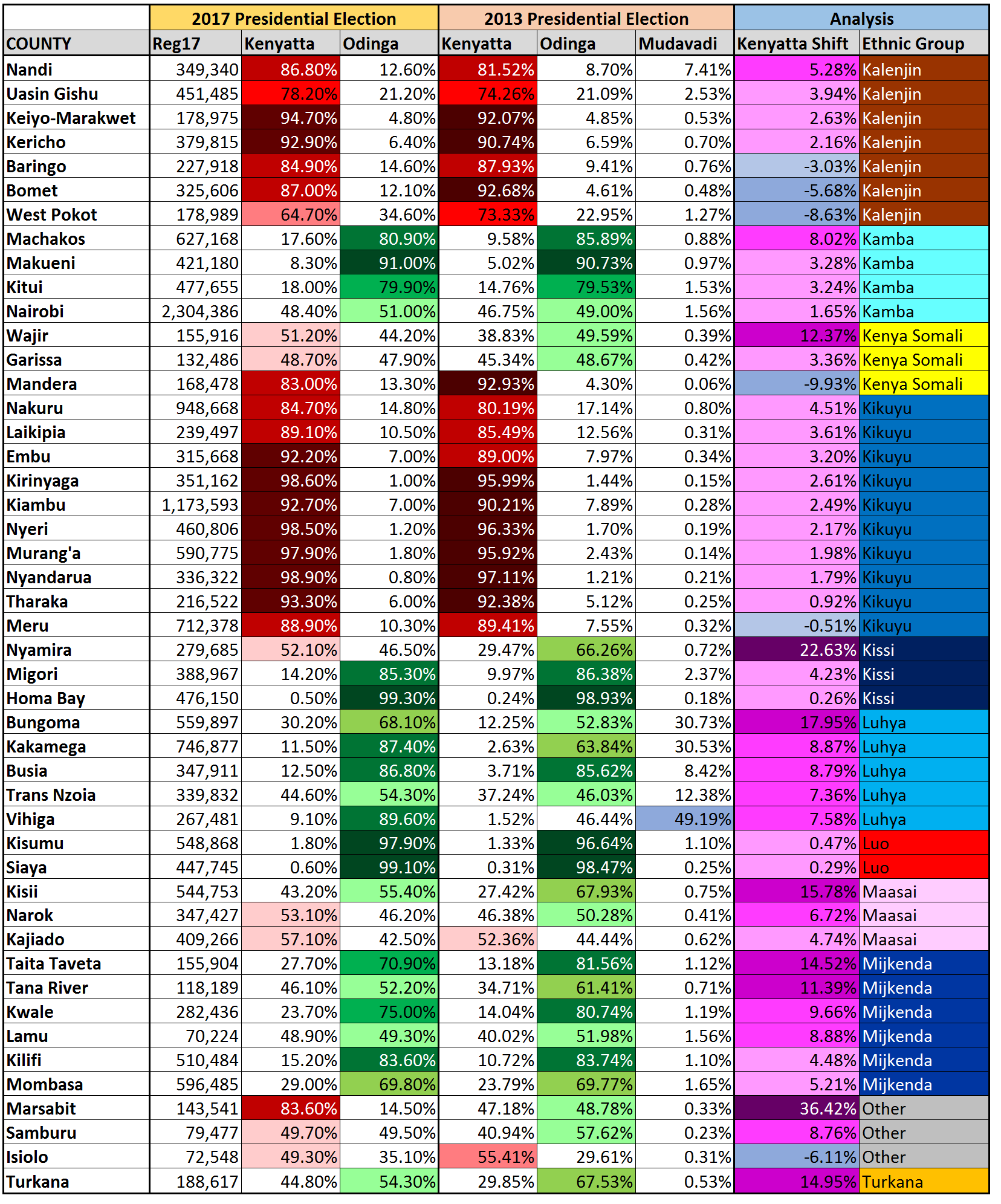 The chart shows how strongly counties in the big five vote for one side.  Counties dominated by smaller tribes are more modest in support and some flipped allegiance between 2013 and 2017.  The limit of ethnic data by county (at least that I could find) is a shame but the general overview shows a clear pattern between the two elections.  Kenyatta held on in counties loyal to his party and was crushed again in those loyal to Odinga.  Meanwhile, most of Kenyatta's best improvements where among the smaller ethnic groups that have far fewer ties to the major parties.
Conclusion
Overall, Kenyatta's win holds up to the historic results and the ethnic makeup of the counties.  Paired with international sign-off, and it appears clear to me that the vote was fair.  Of course, Kenya's stark ethnic divide is driving its political divide, and the current coalition appears to make Kenyatta's Jubilee a solid favorite in any election.  The political health of Kenya would be better served by the parties not forming along such strong ethnic lines.  Unfortunately, that change may not take place anytime in the near future.