In 2010, Alabamas state legislature fell into Republican hands for the first time since reconstruction.  The long-held Democratic majority was replaced with a Republican super-majority in one night.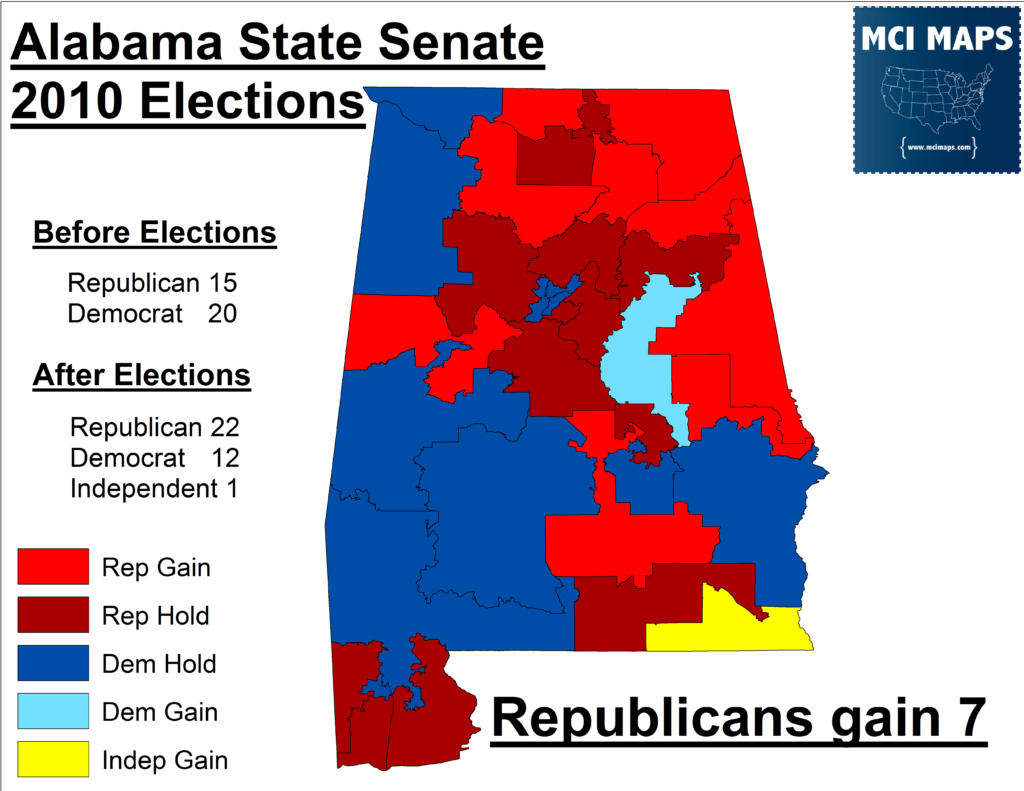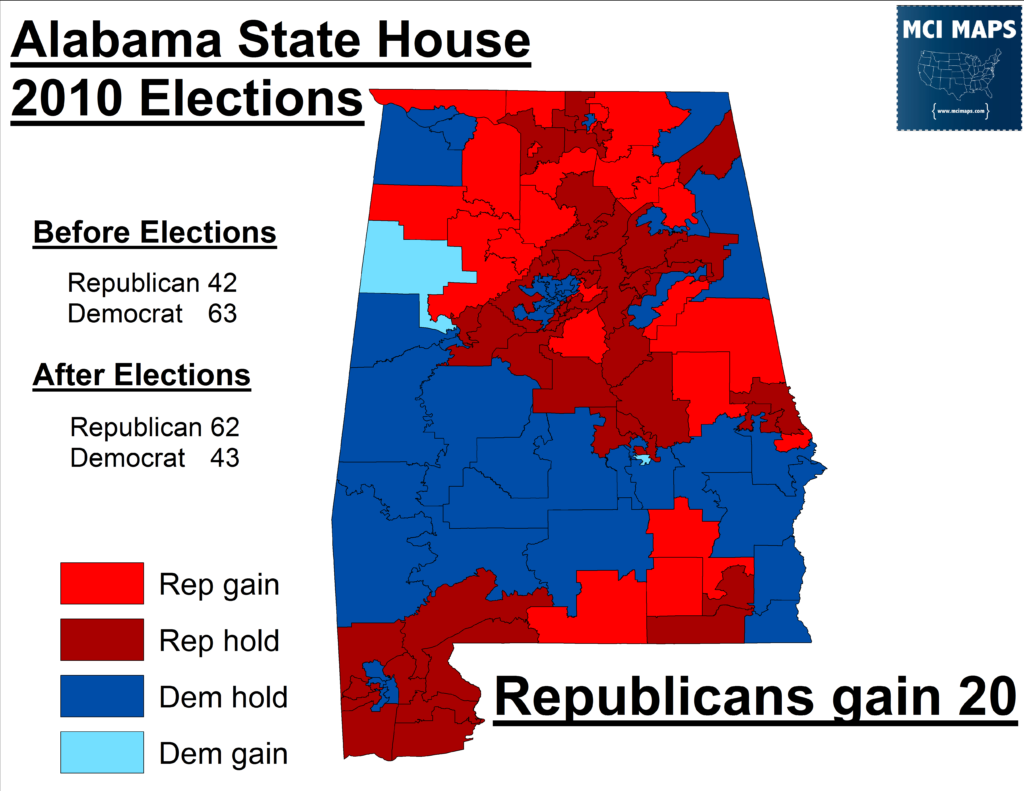 The Republicans of Alabama wasted little time working to cement their hold on power.  They gerrymandered the legislative boundaries to pack in African-Americans, a move so blatant the Supreme Court of the United States ordered the lower courts to review the maps on a case by case basis.  In the redistricting maps, 1/6 of all African-Americans were moved from white districts to black districts, in many cases making black districts over 70% non-white.The goal was simple, take African-American voters out of swing seats and pack them into minority-access seats.  The issue is going through the lower courts again.
The legislature also passed another measure to cement their new majority.  They passed a voter ID law, requiring any Alabama voter have a license to cast a ballot.  These laws sound good but are shown to disproportionately effect the poor.  They also show no evidence of stopping voter fraud, which is shown to be a very rare occurrence to begin with.  In fact, many instances of voter fraud involve absentee ballots, which ID laws cant prevent.
Nevertheless, the voter ID law passed in Alabama.  Then just recently, the state announced that due to budget cutbacks,it was closing 31 drivers license facilities, leaving 29 counties without a venue to acquire a drivers license.  This is the main form of ID for a large majority of Alabama voters.
It should be noted that many of the rural and urban poor of Alabama do not have the resources to drive into another county for a license, or the internet access to purchase one online.
What has caused this story to gain national attention is the fact that the facility closures disproportionately effect African-American counties.  The map below shows the African-American share of the counties and which counties will be left with no license facility.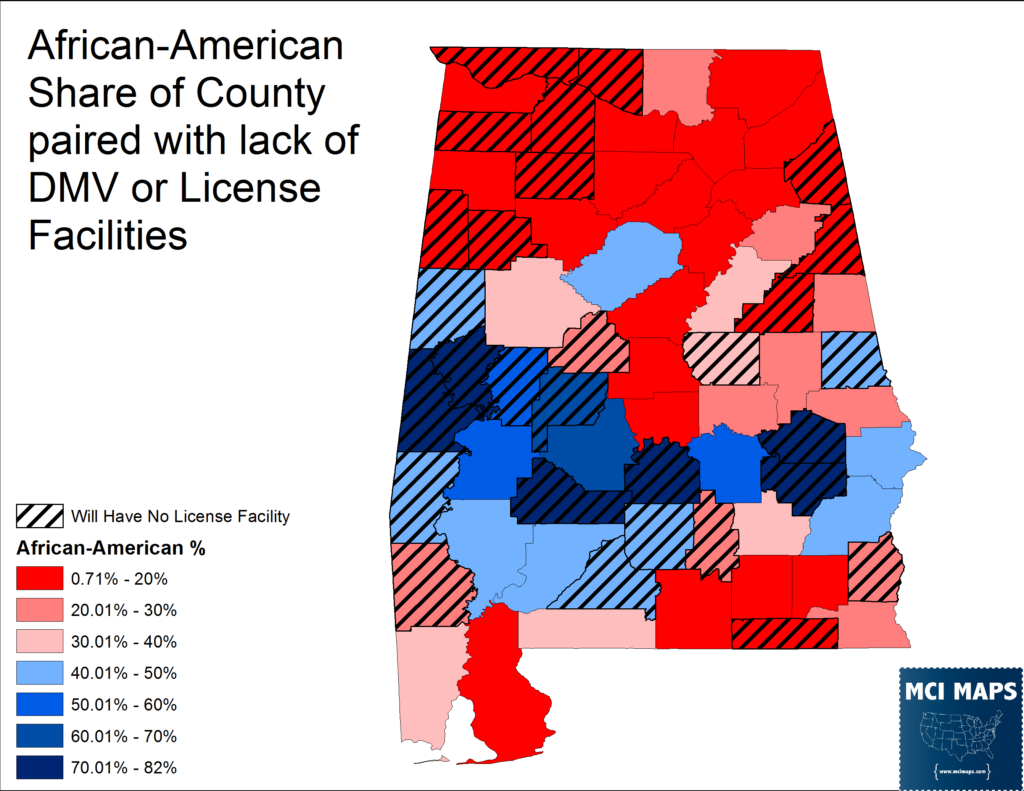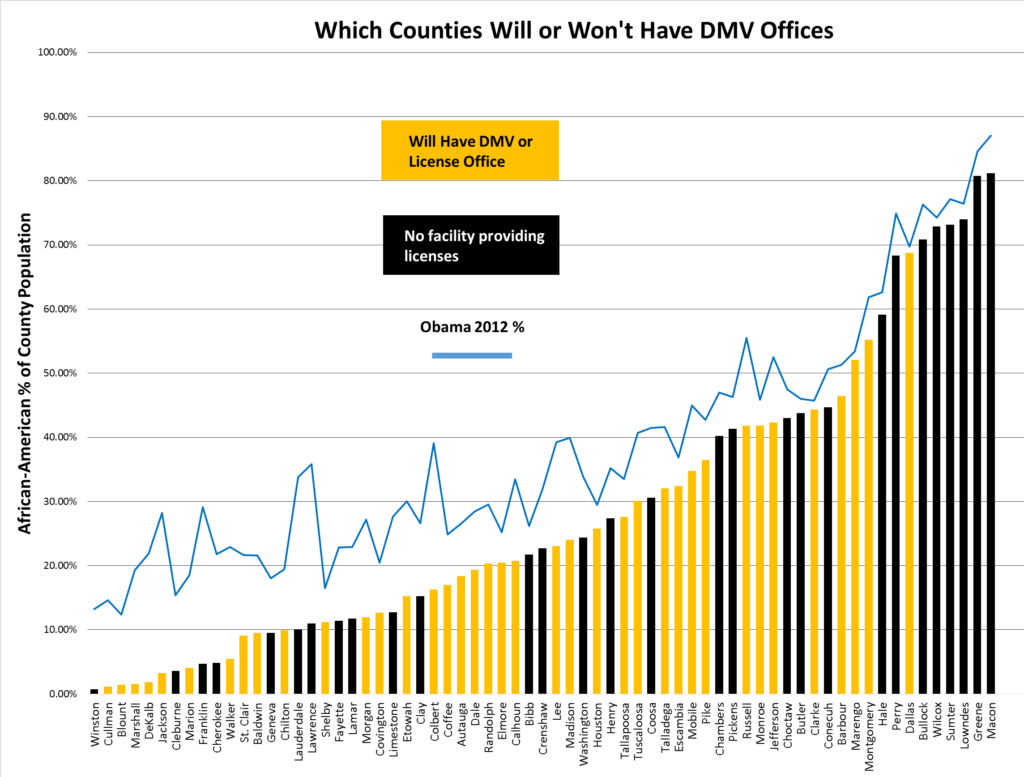 The top six African-American counties will have no facility at all.  13 of the 29 counties with no facility are 40% or more African-American.
The state of Alabama's plan disproportionately effects African-American counties, most of which have higher poverty-levels and cannot easily travel to another county.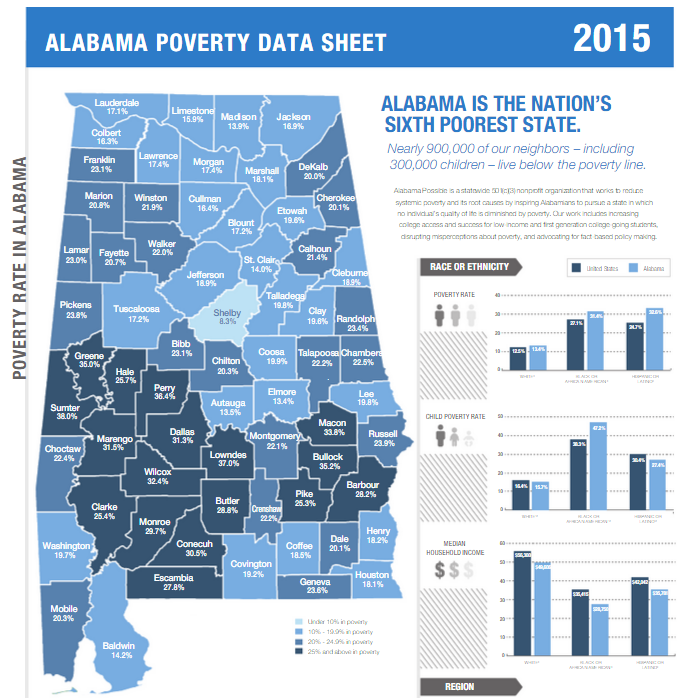 A lawsuit will no doubt follow this decision and it is hard to see a scenario where the justice department doesnt get involved.  Only 26% of Alabama is black but 8 of the 11 majority-black counties will no longer have a facility that helps the citizens comply with a voter law passed just a few years ago.   13 of the 29 counties (45%) with closures are over 40% African-American.  The state of Alabama better prepare to defend these actions in court, because the lawsuits here right themselves.
Update:
Alabama backed down from these proposed cuts in the wake of likely lawsuits.